- - - - - - - - - - - - - - - - - - - - - - - - - - - - - - - - - - - - - - - - -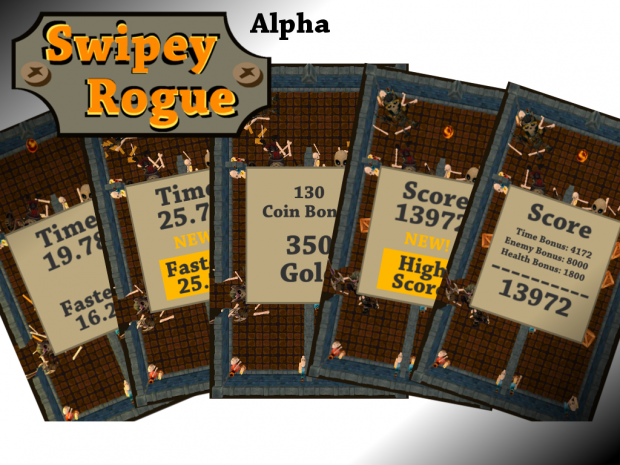 Current Development Logs:
Devlog 1 - Introduction
Devlog 2 - Video Update & New Dungeon Tile
Devlog 3 - Props & Loot
Devlog 4 - Composer, Progression & Videos
Devlog 5 - 2D Art Overhaul Begins
Devlog 6 - Video, New Enemies, 50 levels!
Devlog 7 - Video, Stats & Accomplishments
Devlog 8 - Heavy Construction
Devlog 9 - Road to Beta
Devlog 10 - In-Game Shop & Menus
Devlog 11 - Services & UI Progress
Devlog 12 - Beta!
Devlog 13 - Frozen Area Preview
Devlog 14 - HUD Finalization
Devlog 15 - Gadget Area Preview
Devlog 16 - Magic Area Preview
Devlog 17 - "Free Running" Mode
Devlog 18 - Rank-Up & Perks
Devlog 19 - Full Soundtrack
Devlog 20 - Free Running Polish
Devlog 21 - Finishing Up
Devlog 22 - Last Additions
Devlog 23 - iOS Submission
Devlog 24 - Prize Codes
Devlog 25 - Making a Press Kit
Devlog 7 - Video, Stats & Accomplishments:

In this video I quickly play through a level to get to the end and show you the success screen flow (that I'm calling the "accomplishment parade"). It's the display of all your stats and new accomplishments as you exit the room. All the art is still temporary, functionality and timing are complete, sounds are ~60% complete.
Accomplishment Parade in Pictures:

Still all placeholder, temporary 2D art. Here's a quick run of screenshots showing the flow of stats and achievements while exiting a room.
Time and score are always displayed, gold is only displayed if you collect any.
How Scoring Works:
Your score is based on a combination of a time bonus, an enemy bonus, and a health bonus.
You get points for how much quicker your time is than 1 minute (time limit).
You get points for killing enemies.
You get points for how much health you have when you exit the room.
I feel this is a fair evaluation of a player's mastery of a room and encourages experimentation to achieve the highest score possible.
If either your time or score beats your recorded value for that room, there is an extra moment to acknowledge a new accomplishment.
Any time you complete a challenge for the first time in a room, it is also acknowledged on the exit flow before arriving back at the room summary. In the next update I'll explain how you use your collected challenge tokens to unlock new areas of the mine.
Thanks!

Thanks for dropping by and seeing how things are going. I finished a major chunk of work last night to create the branching paths to the room progression. The world is now divided into 4 areas, each with their own progression path. I'll post a new update soon to outline how that work was done and all the systems it impacted. Work on the next worlds ( areas of the mine) is beginning now! Ice world, Metal world, and Magic world.
- - - - - - - - - - - - - - - - - - - - - - - - - - - - - - - - - - - - - - - - -