- - - - - - - - - - - - - - - - - - - - - - - - - - - - - - - - - - - - - - - - -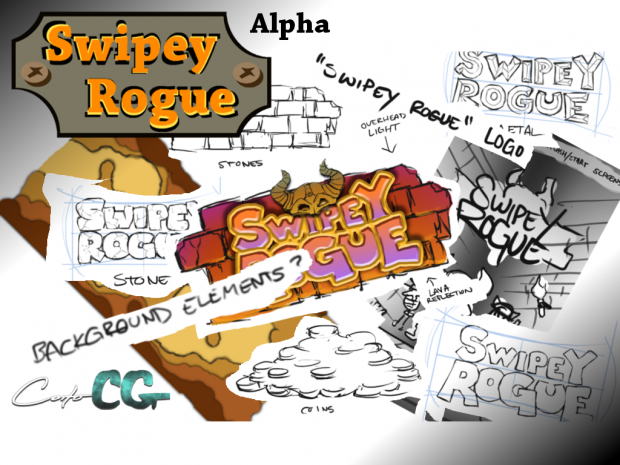 Current Development Logs:

Devlog 1 - Introduction
Devlog 2 - Video Update & New Dungeon Tile
Devlog 3 - Props & Loot
Devlog 4 - Composer, Progression & Videos
Devlog 5 - 2D Art Overhaul Begins
Devlog 6 - Video, New Enemies, 50 levels!
Devlog 7 - Video, Stats & Accomplishments
Devlog 8 - Heavy Construction
Devlog 9 - Road to Beta
Devlog 10 - In-Game Shop & Menus
Devlog 11 - Services & UI Progress
Devlog 12 - Beta!
Devlog 13 - Frozen Area Preview
Devlog 14 - HUD Finalization
Devlog 15 - Gadget Area Preview
Devlog 16 - Magic Area Preview
Devlog 17 - "Free Running" Mode
Devlog 18 - Rank-Up & Perks
Devlog 19 - Full Soundtrack
Devlog 20 - Free Running Polish
Devlog 21 - Finishing Up
Devlog 22 - Last Additions
Devlog 23 - iOS Submission
Devlog 24 - Prize Codes
Devlog 25 - Making a Press Kit

Devlog 5 - 2D Art Overhaul Begins:
Swipey Rogue is a hardcore arcade game that aims to distill the core elements of rogue-likes and action-rpgs (maze traversal, loot gathering, resource management, enemy combat) into a bite-sized, action/impulse experience with minimal controls. Development has hit Alpha (full functionality) so now it's time to make this thing look better. This week's update introduces Anthony Coito who is taking on the task of re-envisioning the 2D art across the entire game.
Introducing: Artist, Anthony Coito:
The whole time I've been working on this game, I've been planning to bring on help to completely replace all the 2D art. The way I like to work is full steam ahead and never let anything slow me down. For that reason, I make all my own placeholder art whenever I need it. For Swipey Rogue, I created the temp logo to set the seed of what I imagined it could become.
Now it's time to realize that vision. Anthony is enthusiastically taking on that challenge. His bright and cheerful work on Polygon Princess, Moku Island, and Easy Eater 2 caught my eye and felt like a perfect fit for what I wanted. You can check out his portfolio here:
anthonycoito.com
2D Art Direction:
While the gameplay art in Swipey Rogue is all 3D, I wanted the front end, menus, and hud to be all 2D. I wanted something that pops up into your eyes and invites you into the world. Although the game is meant to be super hard with elements including insta-death traps, life resource management, and twitch action traversal appealing to core and mid-core gamers, I wanted the presentation layer (2D) to scream accessibility. I believe this is a fun game for everyone, and the 2D art (logo, icon, hud, menus, etc.) is the calling card that communicates who I'm trying to share the game with: everyone. Anthony understood this immediately, and has jumped in with voracious creativity to tackle this challenge. nom nom nom :)
Logo Remake: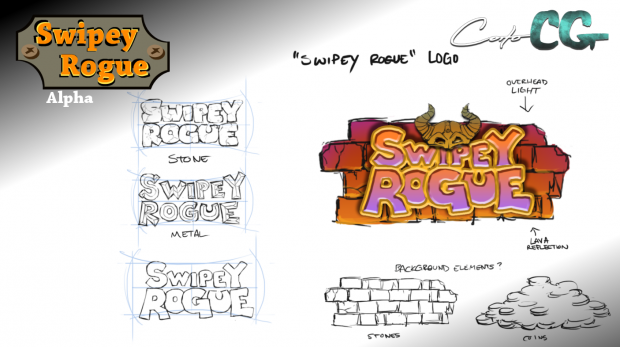 First and foremost, the logo is getting a much needed art treatment. Anthony and I brainstormed and reviewed piles of reference material to identify the key elements for a classic RPG logo: Frame, Lettering, and Adornments. We wanted to go with the classic rectangular shape forming a background frame that hints at the setting of the game. Upon the frame, the lettering will pop out with bright, shiny colors. Speckled around the lettering, gameplay props like armor or loot will adorn the logo.
This is the very first set of draft sketches. It will continue to evolve as it goes through many iterations over time. I wanted to share progress from day one with all of you because I love watching these things progress.
Splash / Main Menu Screen: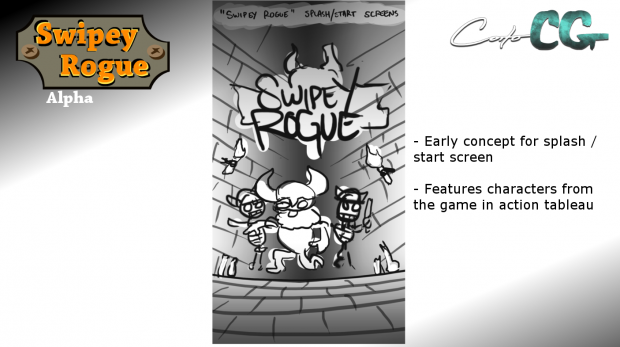 The current direction for the splash and main menu background is a montage of the characters in the game in an action pose summing up the experience: running through crazy rooms! This is the very first concept sketch. I'm excited to see where we'll end up when it's finished.
Progression Map Background: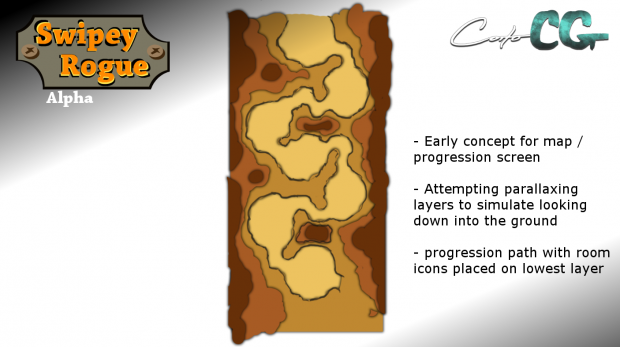 Swipey Rogue features 2 modes of play: Adventure Mode, and Gauntlet Mode. In Adventure Mode, you progress linearly through the sequence of rooms. The progression map is your interface to your adventure progress. It is a familiar vertically scrolling style progression map with a long winding path full of icon buttons for each room.
Since you tend to interact with progression maps like this a lot when playing the game, I wanted it to feel cool in some way. The setting of Swipey Rogue is an ancient, mythological mine rumored to house inconceivable treasure for those brave enough to enter its depths, and escape with their lives. The room exist under the ground, so I thought it might be fun to try to visualize the map like you're looking down, through rock layers, into the earth. We're going to try to layer the different rock elements and parallax them slightly while you scroll to simulate depth. I'm excited to try this. The concept phase has just begun, we'll be prototyping with block out assets shortly and I'll share progress.
Menu Panels: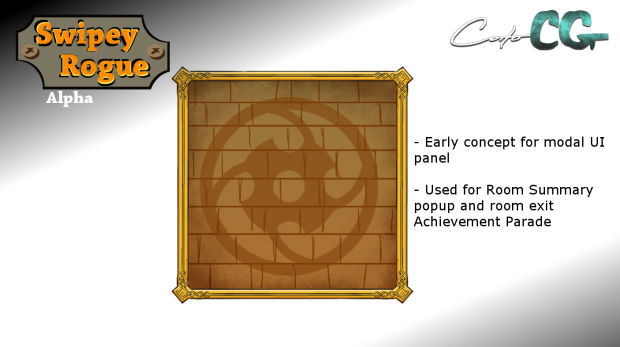 The overall setting theme of Swipey Rogue fuses elements of Dwarven and Norse mythology. Arch-typically, Dwarves are renown for their prowess at mining the depths of the earth. The main player character is a Viking inspired Dwarf, and the musical theme is meant to evoke a feeling of epic saga. Norse culture is rich with creative pattern work on wood, tapestries, metal, and leather. We aim to inject elements of that patterning into the menu and HUD elements to re-enforce that theme.
The basic building block for many of the menus will be a background panel. Anthony has begun very early work sketching concepts of framing and background elements for the panel. This panel will primarily be used for the room summary screen which appears off the map screen, on the pause menu, on the death screen, and on the success screen. A variation of it will also be used for the achievement parade as you exit a level.
Thank You!
As always, thanks for tuning in. Now that all the basic groundwork functionality for all features of the game has been developed. All that remains is this massive 2D overhaul, the sound effects pass, and the really fun part: the completion of all the levels and addition of new level elements.
- - - - - - - - - - - - - - - - - - - - - - - - - - - - - - - - - - - - - - - - -