- - - - - - - - - - - - - - - - - - - - - - - - - - - - - - - - - - - - - - - - -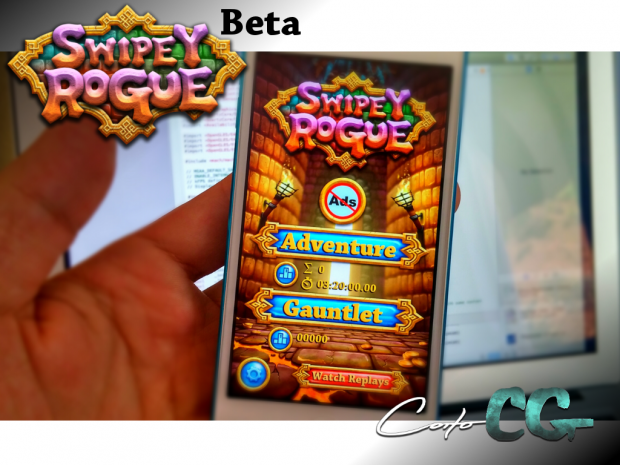 Current Development Logs:

Devlog 1 - Introduction
Devlog 2 - Video Update & New Dungeon Tile
Devlog 3 - Props & Loot
Devlog 4 - Composer, Progression & Videos
Devlog 5 - 2D Art Overhaul Begins
Devlog 6 - Video, New Enemies, 50 levels!
Devlog 7 - Video, Stats & Accomplishments
Devlog 8 - Heavy Construction
Devlog 9 - Road to Beta
Devlog 10 - In-Game Shop & Menus
Devlog 11 - Services & UI Progress
Devlog 12 - Beta!
Devlog 13 - Frozen Area Preview
Devlog 14 - HUD Finalization
Devlog 15 - Gadget Area Preview
Devlog 16 - Magic Area Preview
Devlog 17 - "Free Running" Mode
Devlog 18 - Rank-Up & Perks
Devlog 19 - Full Soundtrack
Devlog 20 - Free Running Polish
Devlog 21 - Finishing Up
Devlog 22 - Last Additions
Devlog 23 - iOS Submission
Devlog 24 - Prize Codes
Devlog 25 - Making a Press Kit

Devlog 12 - Beta!:
I have been concentrating on completing all service integration for the first target platform (iOS). Some services (replays, advertising) automatically work on iOS and Android. Others (purchases, share, leaderboards, achievements) have to be done per platform. I haven't decided what services (if any) I'll integrate for PC/Mac/Linux platforms.
But, this is great news. With everything done for my primary platform, I'm now at Beta (which I define as feature complete and almost all content complete). There is still some level design work for the remaining areas of Adventure Mode, and some polish for Gauntlet Mode, but the core game mechanics have been created so I'm calling it! :)
Final Logo:
The logo has been finalized, it is in the game, and all the promotional material is now updated. I'm happy with it. It looks fun and inviting. The goal was to make everything 2D very cartoony and vibrant.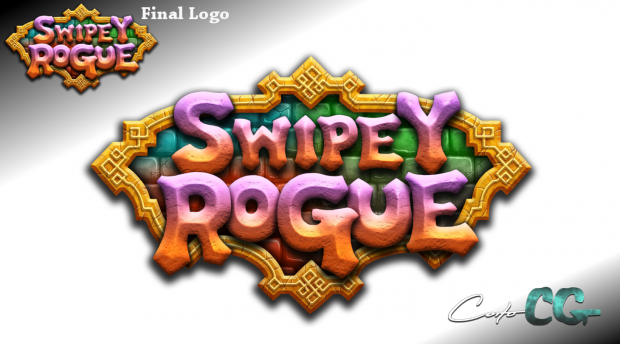 In-App Purchases
In-App Purchases are completed. The whole game is completely free and can be played without purchasing anything. There is advertising though (currently video ads). You can pay to remove the ads, and pick your price while doing so. I figured that since this is THE ONLY IAP IN THE GAME, it might be nice to give people the opportunity to choose how much they would like to support the developer.
I repeat, there are NO OTHER IAPs IN THE GAME. There is no energy meter, there is no level paywall, there are absolutely no continuous payment monetization schemes in this game.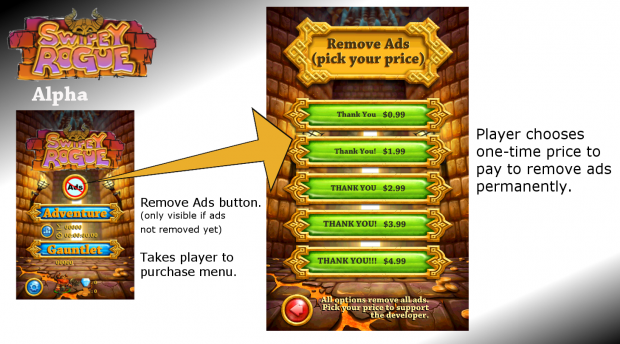 video demo
Social Sharing
The share button has been implemented to allow you to share your run with friends. It pulls a screenshot of the current room summary and will include a link to the app store in the message.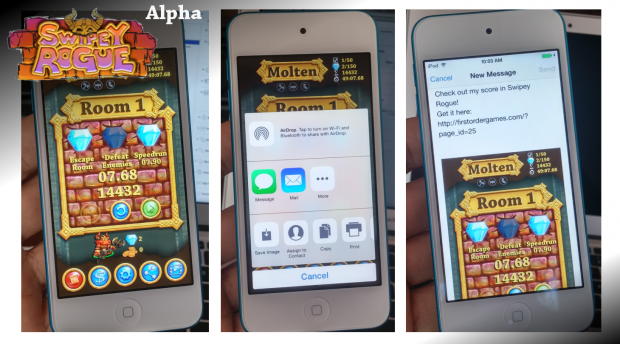 Video Replay Metadata
Kind of a boring topic, but this was one more thing I needed to get done that is now complete and out of my way. The game features video replays so you can share your solutions, high scores, and speed runs. I've added all the appropriate meta-data so videos will have info for area, room, score, and time (which also pre-populates the video replay title).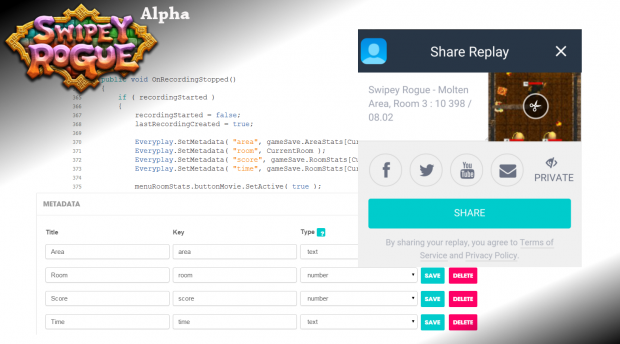 video demo
Onward to Release!
I still have a lot of work to do, but it feels amazing to have all the service integration done. Everything that is left to do is very quantifiable in my mind. I know exactly what content needs to be created and what game mechanics need polishing. I know how to do it all and there are no unknowns remaining in my path. I'm glad I forced myself to finish all the integration work before finishing and polishing all the game content. Now I get to sit back and really enjoy making the rest of the levels, and game modes, and polish polish polish to release. :)
Thanks for dropping by and checking in on my progress. Feel free to comment and share. It's always nice to know someone found any of this interesting.
- - - - - - - - - - - - - - - - - - - - - - - - - - - - - - - - - - - - - - - - -