- - - - - - - - - - - - - - - - - - - - - - - - - - - - - - - - - - - - - - - - -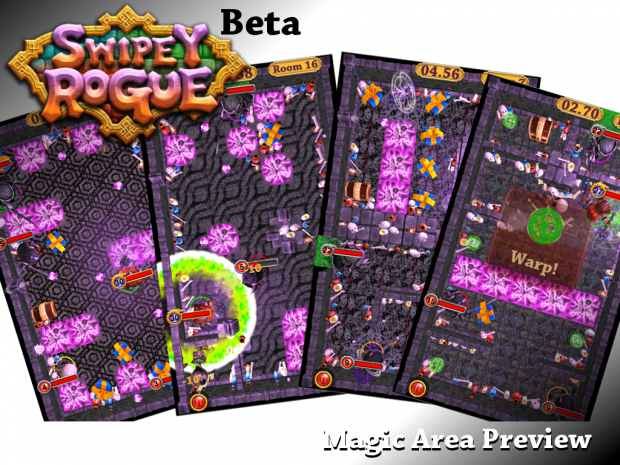 Current Development Logs:
Devlog 1 - Introduction
Devlog 2 - Video Update & New Dungeon Tile
Devlog 3 - Props & Loot
Devlog 4 - Composer, Progression & Videos
Devlog 5 - 2D Art Overhaul Begins
Devlog 6 - Video, New Enemies, 50 levels!
Devlog 7 - Video, Stats & Accomplishments
Devlog 8 - Heavy Construction
Devlog 9 - Road to Beta
Devlog 10 - In-Game Shop & Menus
Devlog 11 - Services & UI Progress
Devlog 12 - Beta!
Devlog 13 - Frozen Area Preview
Devlog 14 - HUD Finalization
Devlog 15 - Gadget Area Preview
Devlog 16 - Magic Area Preview
Devlog 17 - "Free Running" Mode
Devlog 18 - Rank-Up & Perks
Devlog 19 - Full Soundtrack
Devlog 20 - Free Running Polish
Devlog 21 - Finishing Up
Devlog 22 - Last Additions
Devlog 23 - iOS Submission
Devlog 24 - Prize Codes
Devlog 25 - Making a Press Kit
Devlog 16 - Magic Area Preview:
So the Magic Area in Challenge Saga is 'basically' complete. I've coded all the new gameplay mechanics, created all supporting assets for SFX, VFX, and UI prompts, and I've designed 25 of the 50 rooms needed for the area in Challenge Saga mode.
I posted up a new video devlog with a full preview of all the new gameplay. I demo outside at dusk for extra Magical effect, haha. Check it out, enjoy!
Gameplay Gifs:
Here's a couple new gameplay gifs showing off the Player Warps and the Enemy Warps, both new gameplay features recently added to the Magic Area.
Mode Renaming (again!):
I've renamed the game modes again for clarity. Check it out. I've also updated the Challenge Saga overworld menu. The new background looks better, and I've included links to the leaderboards for each section. The titles look tilted because they are, all titles rock back and forth now to give the menus a little bit of life.
Puzzle Mode - is now - Challenge Saga
So the point of Challenge Saga is to have a huge pile of pre-designed rooms to play that both introduce all the gameplay mechanics for each area, and offer challenges that you can thrash on and try to 100%. Each area has its own progression menu with stats showing your progress in the area, and how many challenges you've completed in each room. This meta-gameplay is very reminiscent of games like Retry and Candy Crush Saga, so I wanted to include something in the mode name that hints at a vast progression. I may keep the name, I may change it to Challenge Quest. I haven't decided yet.
Rogue Mode - is now - Rogue Run
Rogue Run felt like a more interesting name. I didn't want to use the word "mode" since it's so boring. I hope it also conveys the "one off" nature of the mode since it's just a quick run until you die with no progression or saving.
Tweak & Polish Time!:
Since the core content and functionality is winding down, I've allowed myself to get into a little bit of polish. Here's some of the things I've been working on. Lots of little details. :)
Updated Challenge Saga Room Editor Tool with new controls for Magic Area:
New sounds for Gadget and Magic area gameplay mechanics:
Enhanced Prop Placement System and Tile Corner Rounding System:
Thanks!:
As always, many many thanks to you for dropping by and checking out the progress since last time. Still lots to do but it feels like that light at the end of the tunnel is getting brighter (maybe it's getting closer!). I'm going to move on to getting Rogue Run in a polished / playable state then I'll have a nice test/press build I can share while I'm wrapping up creating the rest of the rooms for Challenge Saga.
- - - - - - - - - - - - - - - - - - - - - - - - - - - - - - - - - - - - - - - - -