Current Development Logs:
Devlog 1 - Introduction
Devlog 2 - Video Update & New Dungeon Tile
Devlog 3 - Props & Loot
Devlog 4 - Composer, Progression & Videos
Devlog 5 - 2D Art Overhaul Begins
Devlog 6 - Video, New Enemies, 50 levels!
Devlog 7 - Video, Stats & Accomplishments
Devlog 8 - Heavy Construction
Devlog 9 - Road to Beta
Devlog 10 - In-Game Shop & Menus
Devlog 11 - Services & UI Progress
Devlog 12 - Beta!
Devlog 13 - Frozen Area Preview
Devlog 14 - HUD Finalization
Devlog 15 - Gadget Area Preview
Devlog 16 - Magic Area Preview
Devlog 17 - "Free Running" Mode
Devlog 18 - Rank-Up & Perks
Devlog 19 - Full Soundtrack
Devlog 20 - Free Running Polish
Devlog 21 - Finishing Up
Devlog 22 - Last Additions
Devlog 23 - iOS Submission
Devlog 24 - Prize Codes
Devlog 25 - Making a Press Kit
Devlog 15 - Gadget Area Preview:
The Gadget Area has been completed! Lots of new gameplay awaits the intrepid explorer who ventures into its depths... muhahaha. But really, lots of fun stuff going on. In this video, I show off the completed art in the scrolling progression menu, then get down to business and demo all the new gameplay mechanics in the Gadget Area. Enjoy!
Mode Renaming
The Game Modes have been renamed.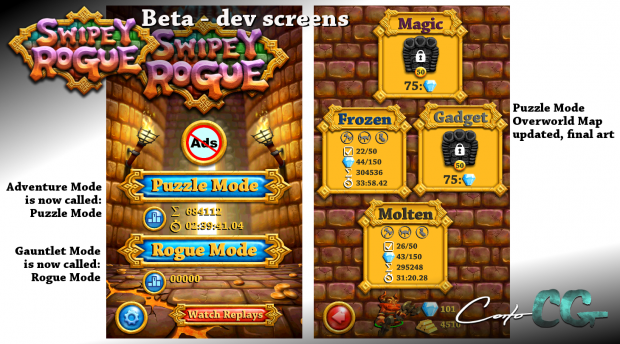 Adventure Mode - is now - Puzzle Mode
I noticed many people assuming "Adventure Mode" would play like a traditional "Rogue-like" because of the word "Adventure". This mode was always the meant to be the puzzle mode with pre-designed levels meant to act like challenges/training for the core gameplay mechanics that you also use in the other mode. I used the term "Adventure" to reference the progression of designed rooms and their accompanying challenges (like how "saga" is used in King's progression based puzzle games). But, I've realized this is confusing so I've changed the mode name to be completely blatant: Puzzle Mode.
Gauntlet Mode - is now - Rogue Mode
Gauntlet mode is now called Rogue mode. The name was also changed for the sake of being as obvious as possible what the mode is. This mode (which I have not yet revealed publicly) is the more traditional "Rogue-like" mode that you would expect from a game with the word "Rogue" in the title. I've seen some criticisms of Swipey Rogue claiming "It's not a rogue-like!", blah blah, huff puff. I can see how someone might feel that way if they've only seen the Puzzle Mode so far. Fear not, I'm a rogue fan as well and I'm well aware of what they are. I hope you'll enjoy it.
Gadget Area Gameplay Gifs!
A couple quick gifs to show the Homing Rockets and Throwing Axes pickups.
Bonus Gifs!
It has been way too long since I've made any gifs, so I made some extras. Here you go! :)
3 gameplay gifs showing off the Molten, Frozen, and Gadget areas.
Thanks!
Feels so great to be focusing on gameplay. It's my favorite thing to make. All the little bits are falling into place now as the polish comes together with the remaining 2D art and music. Still a long way to go, but so much completed! Thanks again for tuning in. Catch you again soon. Feel free to comment, share, etc. :)