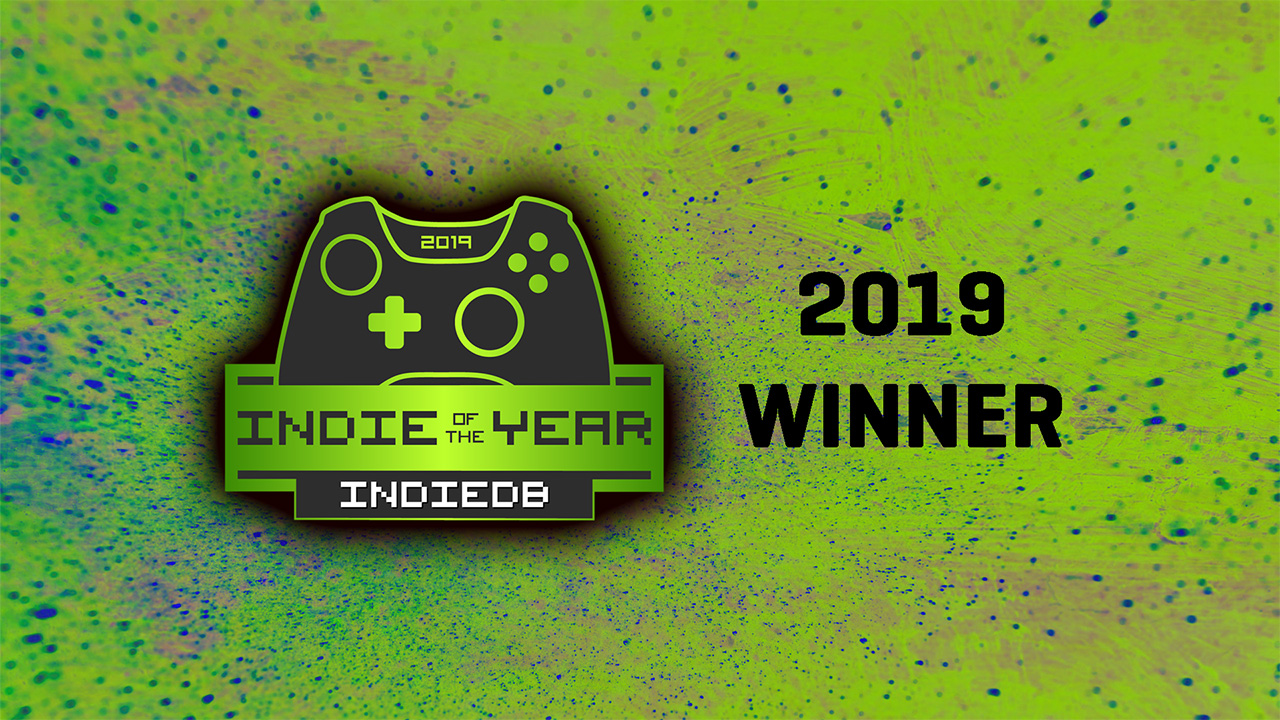 Welcome to the 2019 Indie of the Year results! After 10 days of top 100 voting, the results have been tallied and it's now time to announce this year's winners. Below, you will find the Top 10 Indie Games of 2019. Additionally, you can check out the Top 10 Mods of 2019, or register with IndieDB to add your indie game to the site and be eligible for participation and voting in the Indie of the Year awards for 2019.
Honorable Mentions
It's been an incredible year for indie gaming, and while the Top 10 winners are locked in, we want to take a moment to bring your attention and recognition to some games which just missed out. A honorable mention is given for polling strongly in the awards, but being ineligible due to placing higher in a previous year, or if a significant update was not released in 2019:

Experience accurate warfare through the ages, with state of the art physics-based simulation to provide you with never-before-seen insight to our greatest battles of history.
---

From the developers of Action Henk, Descenders is a fast-paced extreme downhill biking game that's easy to pick up, but difficult to master. Utilize freestyle bike controls to master procedurally generated worlds while building your rep as your grow and become the king of extreme downhill biking!
---
Green Hell is a sweltering struggle for survival in the Amazonian rainforest. Clinging to life, the player is set on a journey of durability as the effects of solitude... On this journey, you won't get any help from the outside world. Equipped only with your bare hands you'll have to learn actual survival techniques to build shelters, make tools, and craft weapons in order to hunt and defend yourself. Constantly threatened by the jungle you'll fight with both wild animals and tropical sicknesses. Players will also have to face the traps set by your own mind and fears that crawl in the darkness of the endless jungle.

WRATH embraces the timeless elements of classic titles such as DOOM, QUAKE, DUKE NUKEM 3D, BLOOD, UNREAL and HEXEN and carries them into the 21st century. Equipped with an arsenal of 9 weapons of exceptional might and an inventory of 10 powerful artifacts, you must traverse ancient crypts, sunken ruins, corrupted temples and howling forests to bring death to your enemies.

Levelhead is a level building platformer with a challenging campaign for 1-4 players. Run, jump, and power-up through tons of levels in the handcrafted campaign, then build and publish levels for the world to play!
A groundbreaking blend of hardboiled cop show and isometric RPG. Solve a massive, open ended case in a unique urban fantasy setting. Chase down leads, interrogate suspects, or just get lost exploring the gorgeously rendered city of Revachol. What kind of cop you are — is up to you.

Flashing Lights is an emergency services simulator with both single player and online multiplayer. Choose to enroll with the police, emergency medical services or fire department and climb the ranks of each role to unlock new missions and rewards. Each department has its own variety of vehicles, equipment and abilities. Players can work together to tackle a variety of incidents taking place across a shared open world.

DAYMARE: 1998 is a third-person survival horror game that recreates the mood of iconic titles from the '90s, with a fresh storyline. An incident that turns a small town into a deadly zone, three characters to play with and little time to find the truth, before its mutated citizens abruptly end your mission.

Noita is a magical action rogue-lite set in a world where every pixel is physically simulated. Fight, explore, melt, burn, freeze and evaporate your way through the procedurally generated world using spells you've created yourself. Explore a variety of environments ranging from coal mines to freezing wastelands while delving deeper in search for unknown mysteries.

3D Realms (Duke Nukem 3D, ROTT, Prey, Max Payne) is excited to bring back the famous Build engine, which powered Duke Nukem 3D, Blood, Shadow Warrior and other 90's hits. Of old-school throwback games, ION FURY is the real deal, using the original tech from that famous era that launched the FPS genre.
---
A huge congratulations are in order to all the indie developers, and community voters, for participating in the 2019 Indie of the Year awards! IndieDB would like to wish you all the best for your continued indie development efforts through to 2020, and we hope to see you again for next year's awards!