Last Blog I was able to share exciting news and the great potential that was Tobias joining Sails of War as its main coder. As the year draws to a close and we reflect on it we indeed see great progress, especially the last couple of months.
After quite some design discussion and great ideas to further shape gameplay and game design we set to work on what internally we called "Gameplay Alpha". This milestone was to bring us actual online gameplay between multiple clients. Elevate the game from its loose prototype stage to something actually fully playable.
It is thus to my great enjoyment that I can present the following video, not only showing working online play but also talking about design and future goals.
To put what was mentioned in the video to paper. Sails of War will in its main Deathmatch Gamemode pitch teams of 4 against each other. Players will set sail either as a Pirate or Captain for the Coalition Forces.
Our main focus is to produce a fun and exciting but also deep and challenging game. Something to easily pick up and get into, but something that is also still just as fun hours in.
For this, each ship handles differently, some favor speed and maneuverability, some heavy arms and armor. Each ship is also equipped with multiple different shot, giving its captain a wide range of options. Fast ships maybe slowed down with chain; heavy ships may get their crews reduced by grape.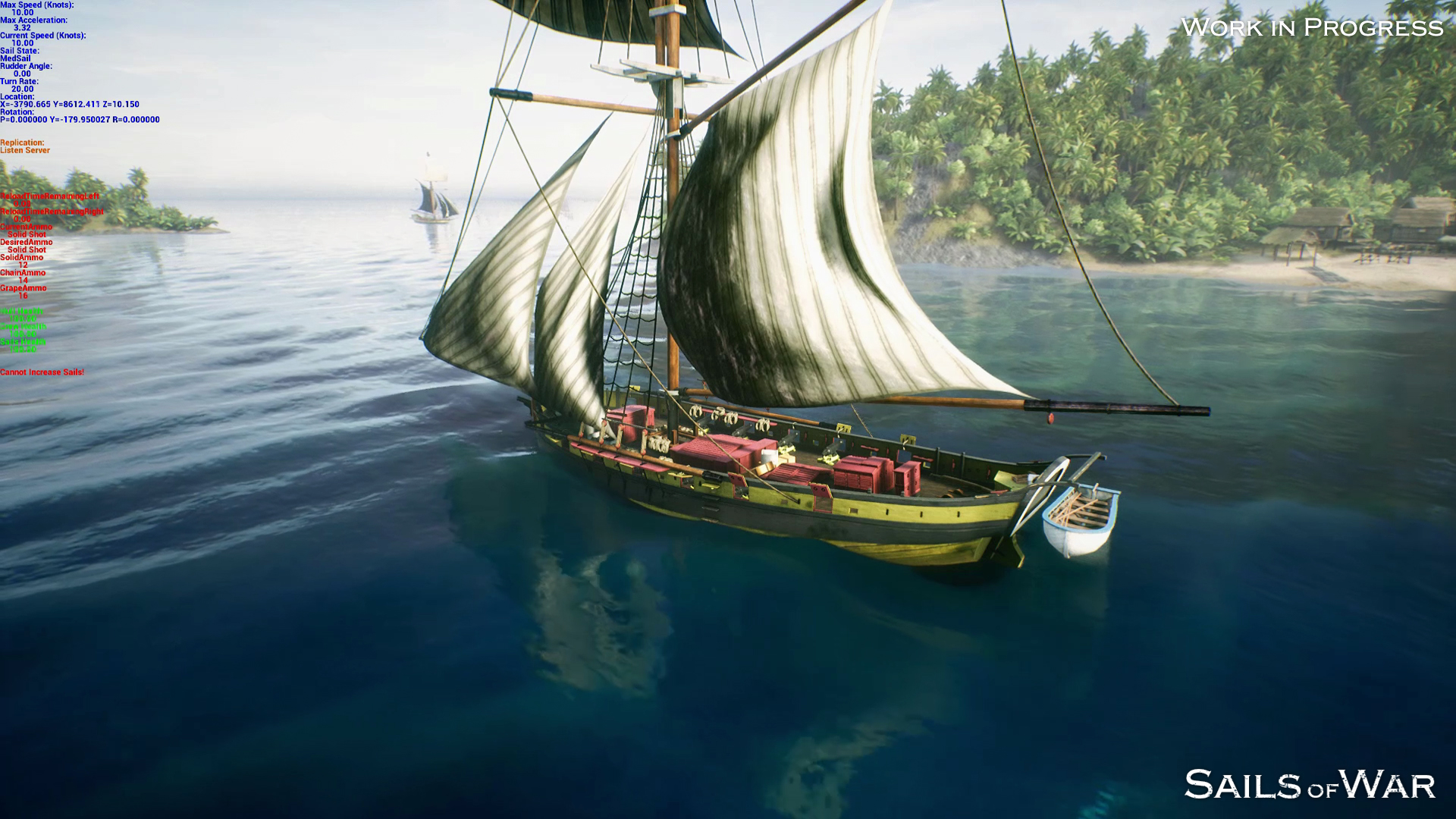 These core gameplay aspects are what we will focus on. That said, however, we are also thinking about, and looking into additional game modes. Anything from a free for all to a capture the flag style "Capture the Cargo".
---
But let's not get ahead of ourselves. First things first:
Now, everything you have seen thus far is a work in progress. Our next milestone "Buoyancy Alpha" will see us reworking everything to do with water.
In an effort to synchronize replicated CPU based waves for buoyancy calculations with their visual shader and GPU based counterparts we went to rewrite the material from the ground up.
I could write for hours and share technical details and ideas, I will, however, shorten it and sum it up like this:
As talked about in a blog earlier this year our water still makes use of Gerstner Waves. This math function describes surface points on the water and is great for making great looking moving bodies of water.
To detect shores we are looking to simply use our terrain height information. In an effort to create better - more realistic - looking worlds we are exploring options such as World Machine or Gaea. In industry standard programs as these one can author great looking terrain and use exported heightmaps straight within Unreal Engine 4.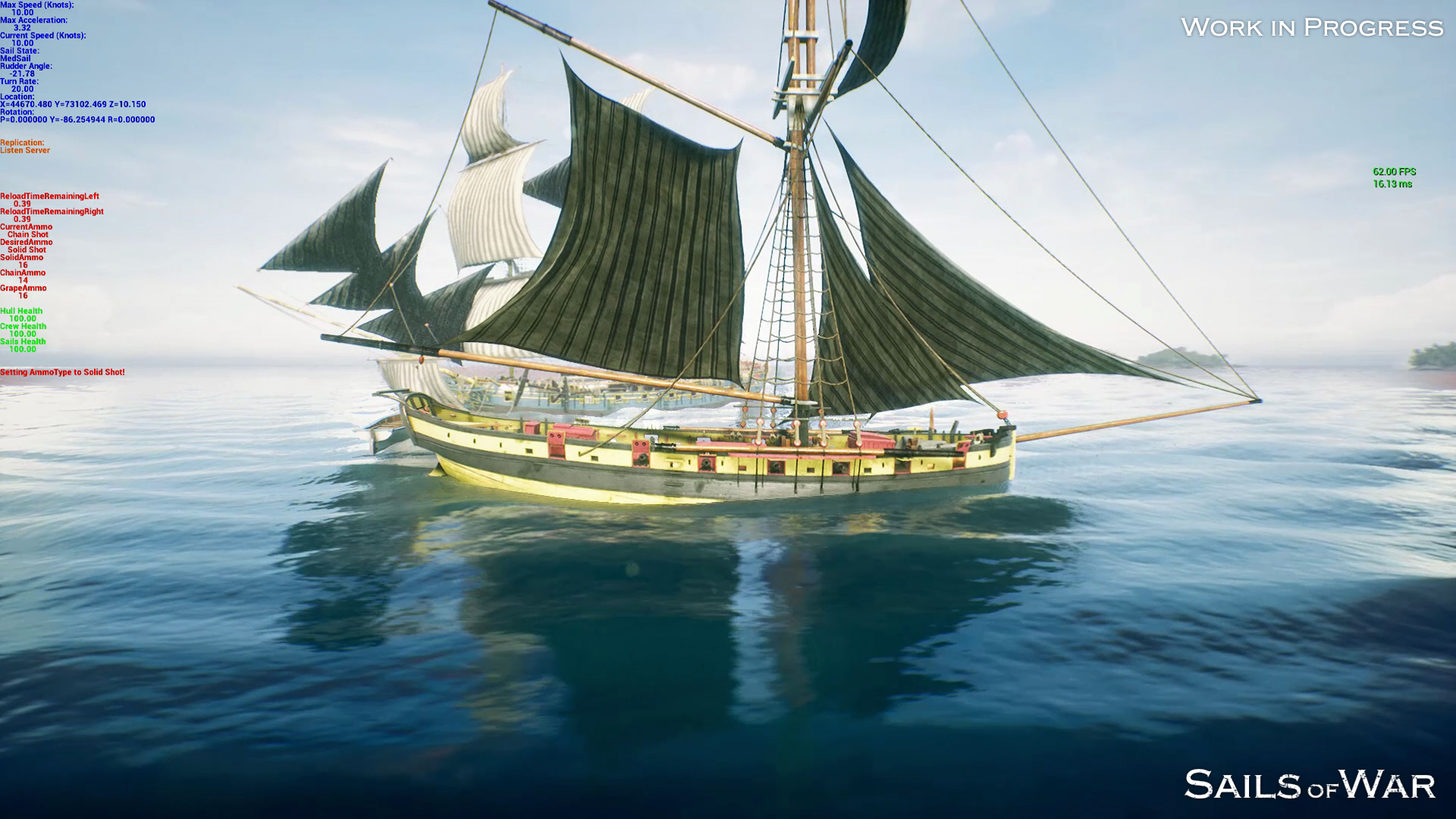 Once we get to a point where the water looks great and more importantly has an influence over ships, we will turn towards pacing and gamemodes. It is then that we will have to decide which ones we ship, and what ideas to cut.
---
Also to come - in the next months - will be proper Alpha testing. Both Tobias and me have worked on multiplayer games before and are keenly aware of the importance and need for extensive gameplay testing. We will turn towards our Discord and announce and select community members for Alpha testing there. We will also want and look at a wider more open beta test further down the line.
Discord has been amazing already. Join here: Invite Link.

Thanks for reading, until next time.
- Lukas