Hello!
The 0.47 version will be up shortly!
Changelog V0.47
New features:
– Food processing plant added.
– Cisterns and water treatment plants added. This allows storage of water and cleaning "used" water.
– Recycling center and trash incinerator buildings added.
– Trash "resource" added.
– Board of citizens added. When the city has more than 10k citizens, citizens will form a group that will make requests and demands similar to those of conglomerates (lower taxes, better services etc.). This will be expanded upon in future updates.
– Nuclear waste storage facility added.
Changed UI/UX:
– Issue where hologram shader would be nearly fully transparent when seen from certain angles fixed.
Glitches/Bugs/Poor optimizations fixed:
– Threads moved to background threads to avoid garbage production upon starting the calculation and connectivity threads.
– Bug where vicinity check fails when building "bads" on the other side of blocks fixed. (Thanks to RedEventStudios for finding this issue!)
– Bug where roads built in the corner between two blocks would not connect to the rest of the road system fixed. (Thanks to TheGeekCupboard for this obscure discovery!)
– Bug where bugs built in the corner between two blocks would cause blocks to not be demolishable fixed.
– Worldsize variable added to templates.
Other changes:
– Crime calculations changed.
– French translation implemented. The translation is somewhat incomplete, so some text elements are missing.
– Spanish translation updated.
Known issues:
– Roads cannot be built facing other roads when the distance is only one grid unity wide. (fix scheduled for v. 0.48).
– Spanish translation missing a few text elements (scheduled for v. 0.48).
– Decoration tile causes a null reference error (fix scheduled for v. 0.48).
Pushed to later update (an outtake):
– Quicksaves (scheduled for v. 0.48).
– Additional concrete foundations, fancier concrete foundations.
– Fix for sun (currently breaks on build…) (scheduled for v. 0.48).
– Russian localization implemented (scheduled for v. 0.48).
– German localization (scheduled for v. 0.48).
– Nuclear power plant (scheduled for v. 0.48 along with the remaining buildings).
This week, I've mostly focused on various fixes, both bug fixes and performance fixes. A few issues remain to be fixed for the next version, but overall, the game should be more stable now. Aside from fixes, I've also added in a few more systems. These will be developed further for the 0.48 version.
Cisterns are now fixed, so that water can be stored and consumed later on. Having fixed storage for water, I have now been able to add the nuclear waste storage facility. However, there's no use building it yet since the nuclear power plant hasn't been added yet. But it's a nice looking building.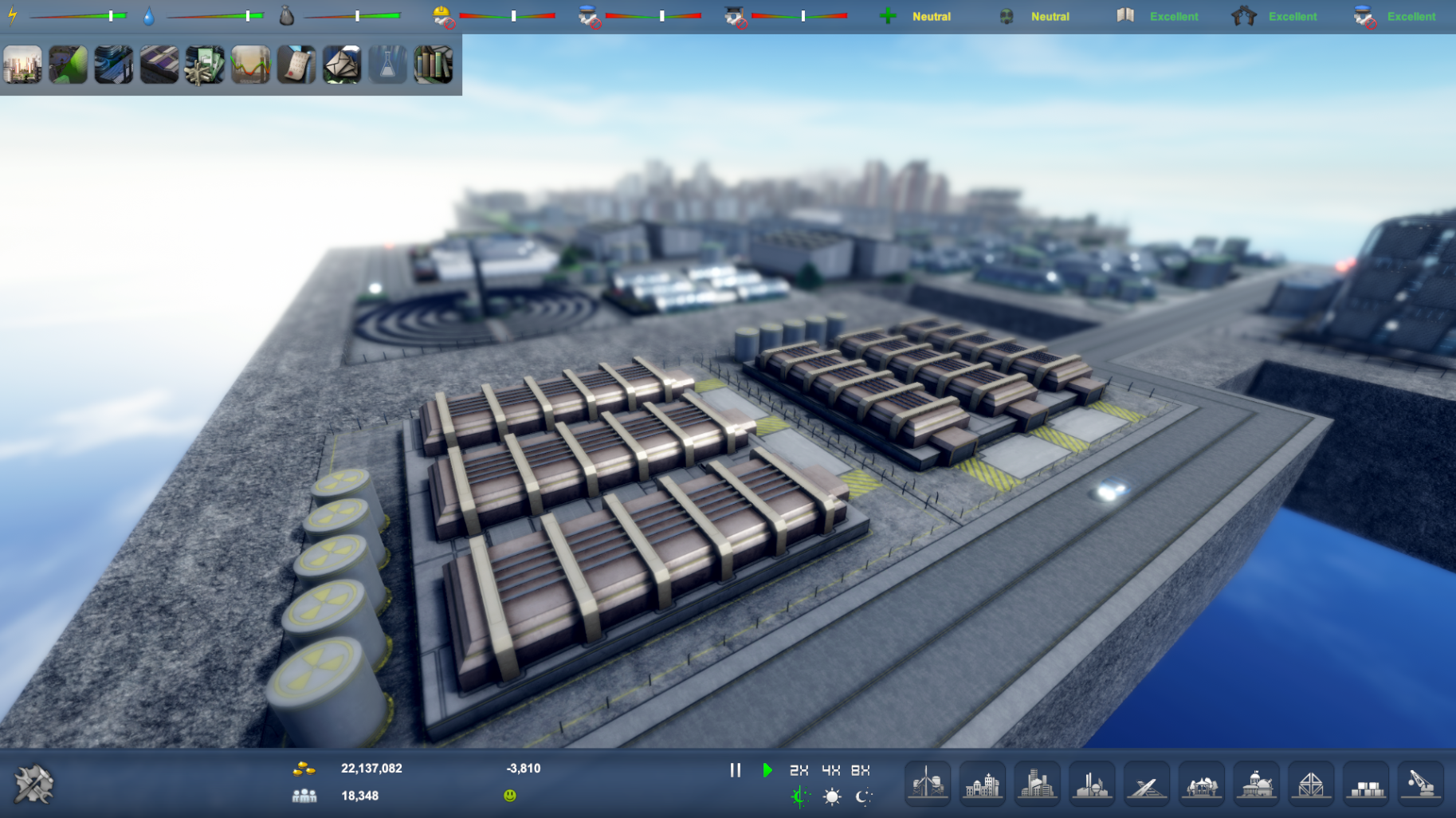 I've started working on the translations more. I received the French translation and have started implementing it. Some things are still missing, but it's getting there. The spanish localization still needs to be updated and the german localization is still behind schedule.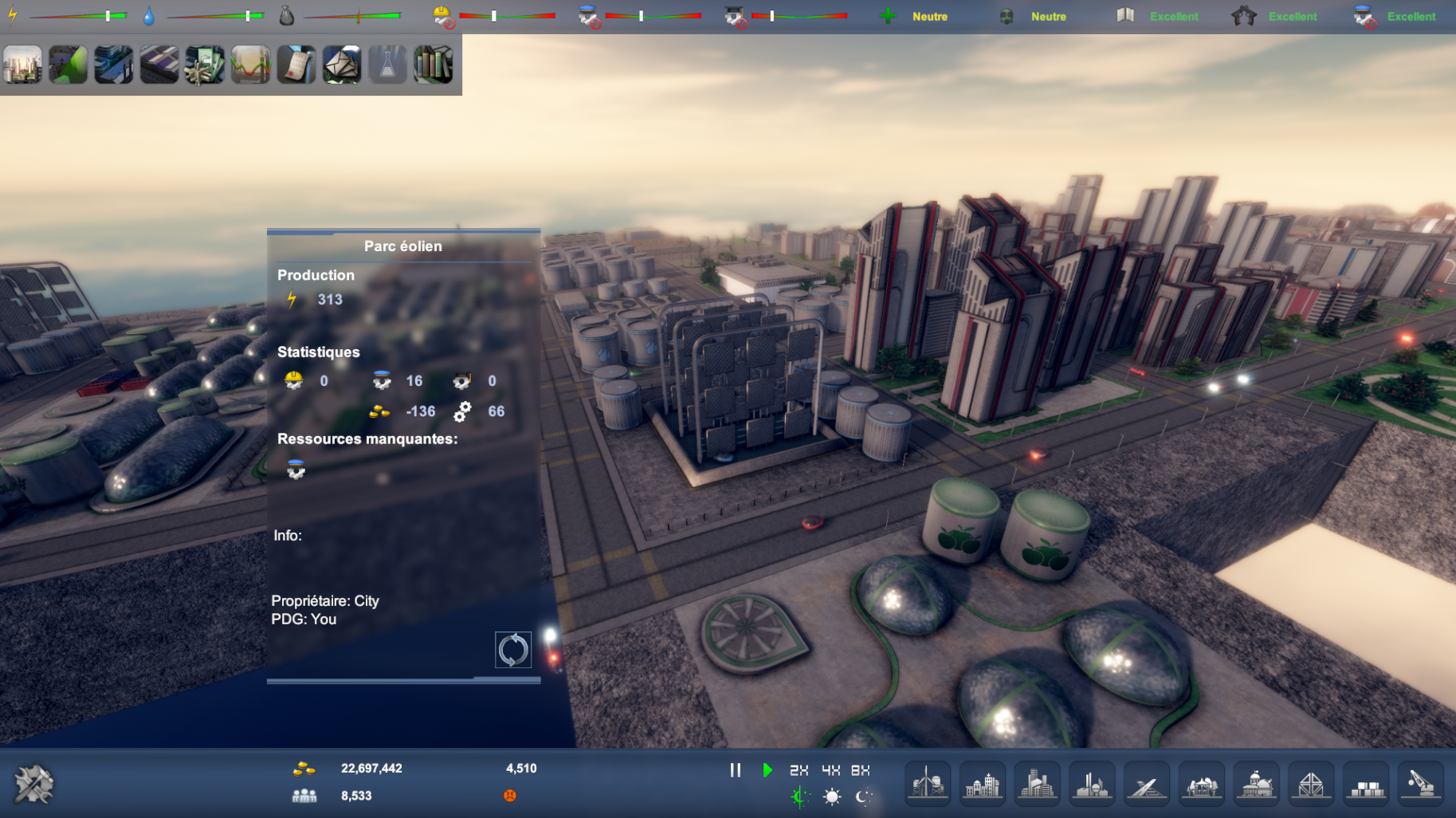 I've started finising up the policies available at the early access release. Some funding options are still missing, and some of the policy options are not fully implemented and tweaked yet. But most of these now affect things like labour availability or health.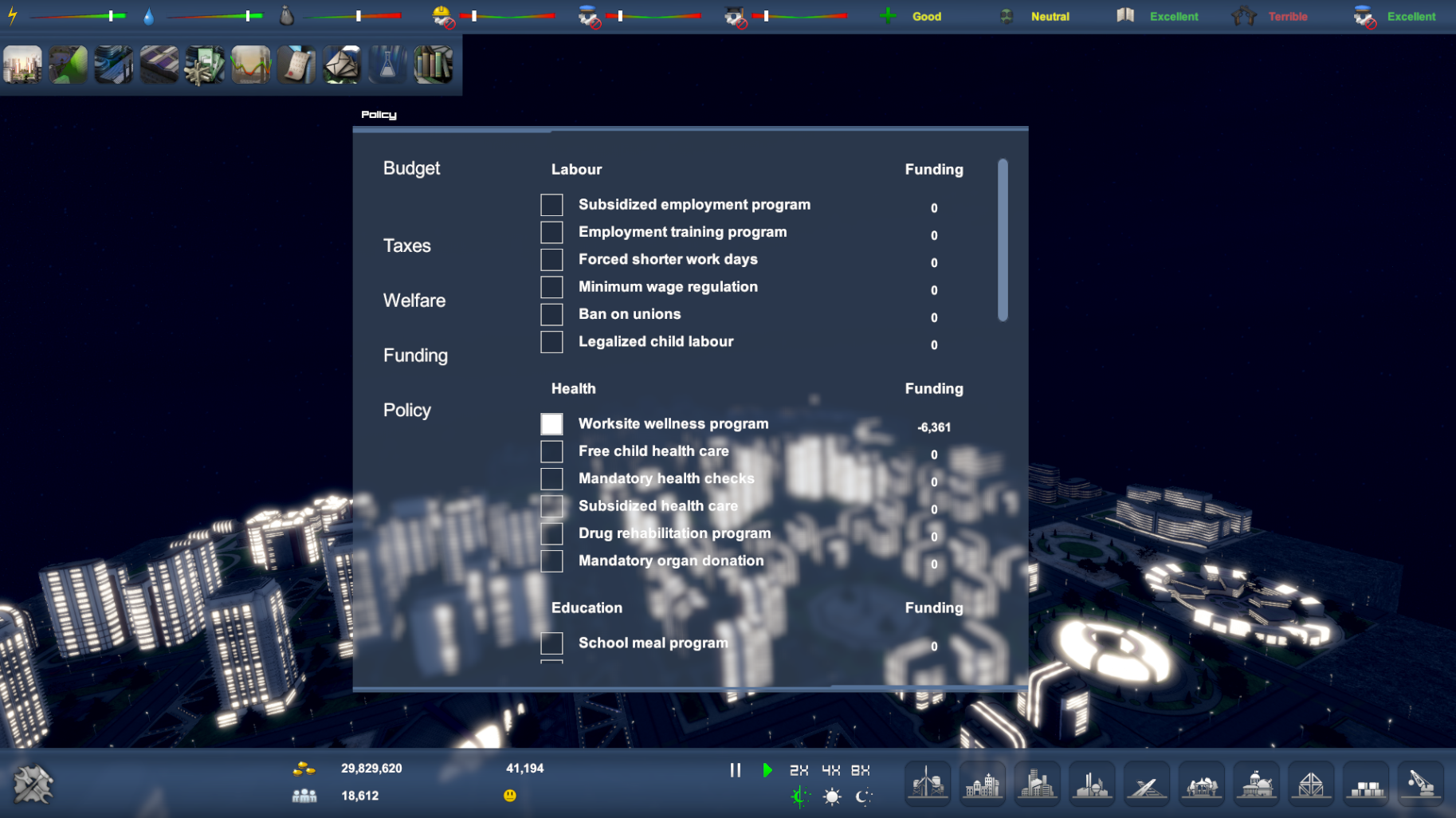 I'm still working on fixing some value stability issues. At times, the economic calculations will cause things to spiral out of control (more so than I would like ). These issues should be fixed in the next update.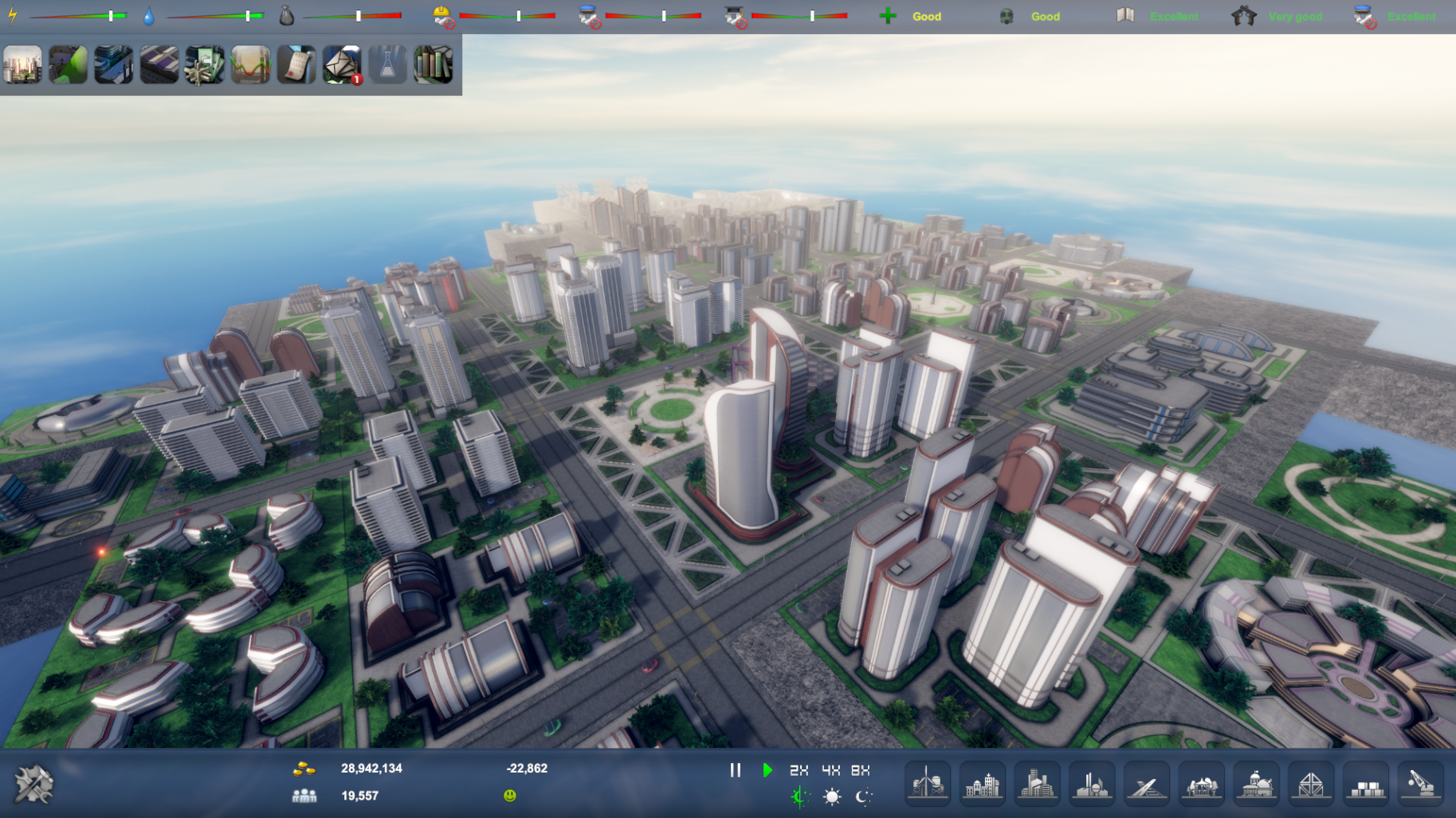 Aside from what has already been mentioned, the next update should feature the remaining seven buildings. Achievements will be added in the upcoming week. One of the big remaining features is the so called "retro" mode. Which is retro in the sense that cities are built on the ground. It's still uncertain whether this will be finished for the next update, but I should have some more information about it in the upcoming weeks. The 0.48 version is scheduled to drop the 31 of march!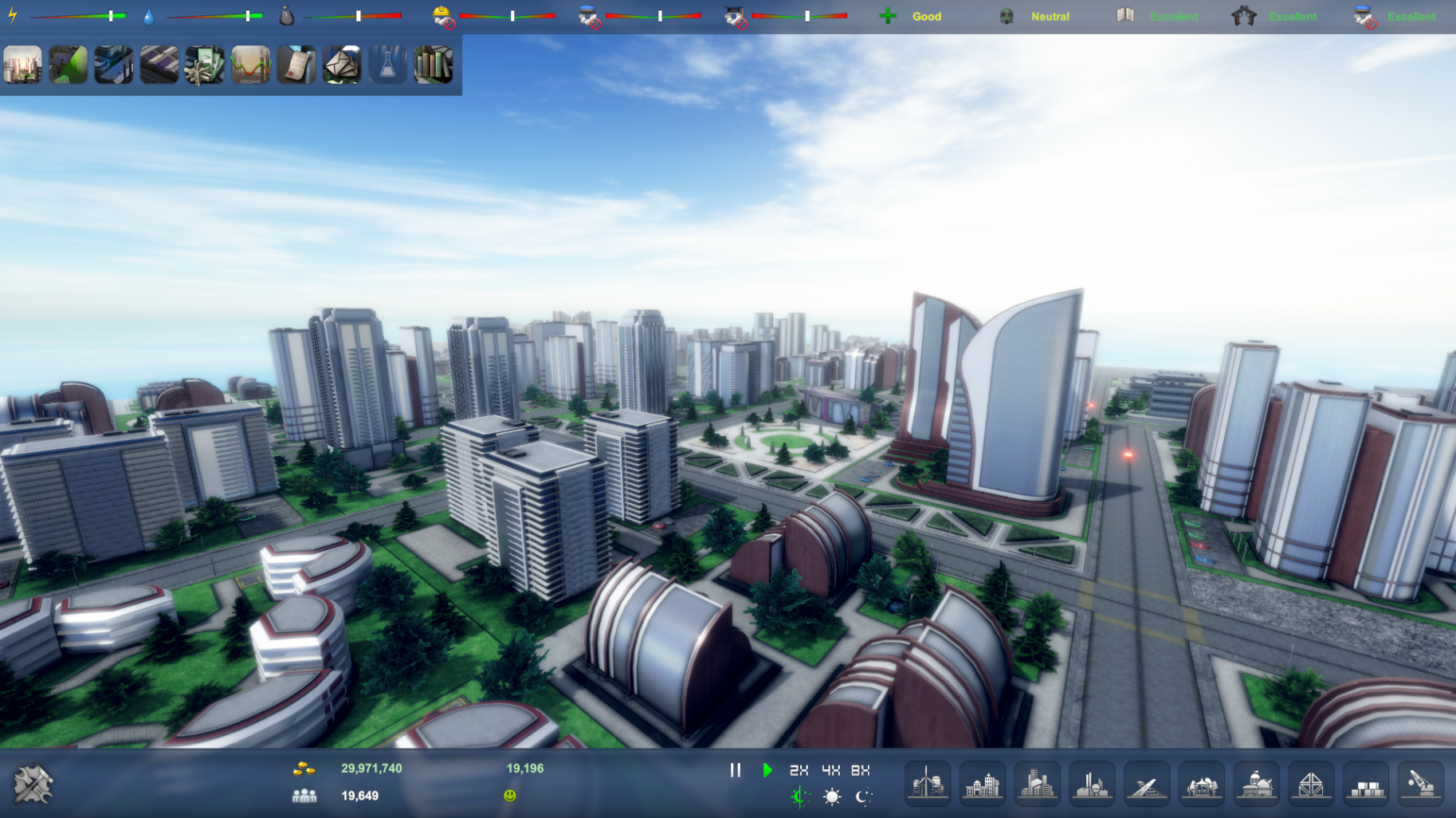 / Dispersing minds