Greetings and salutations!
This week's screenshot shows an updated end-of-demo screen--albeit redacted somewhat to eschew spoilers. You'll have to wait for the next demo to see what it says beneath the coverings! ;)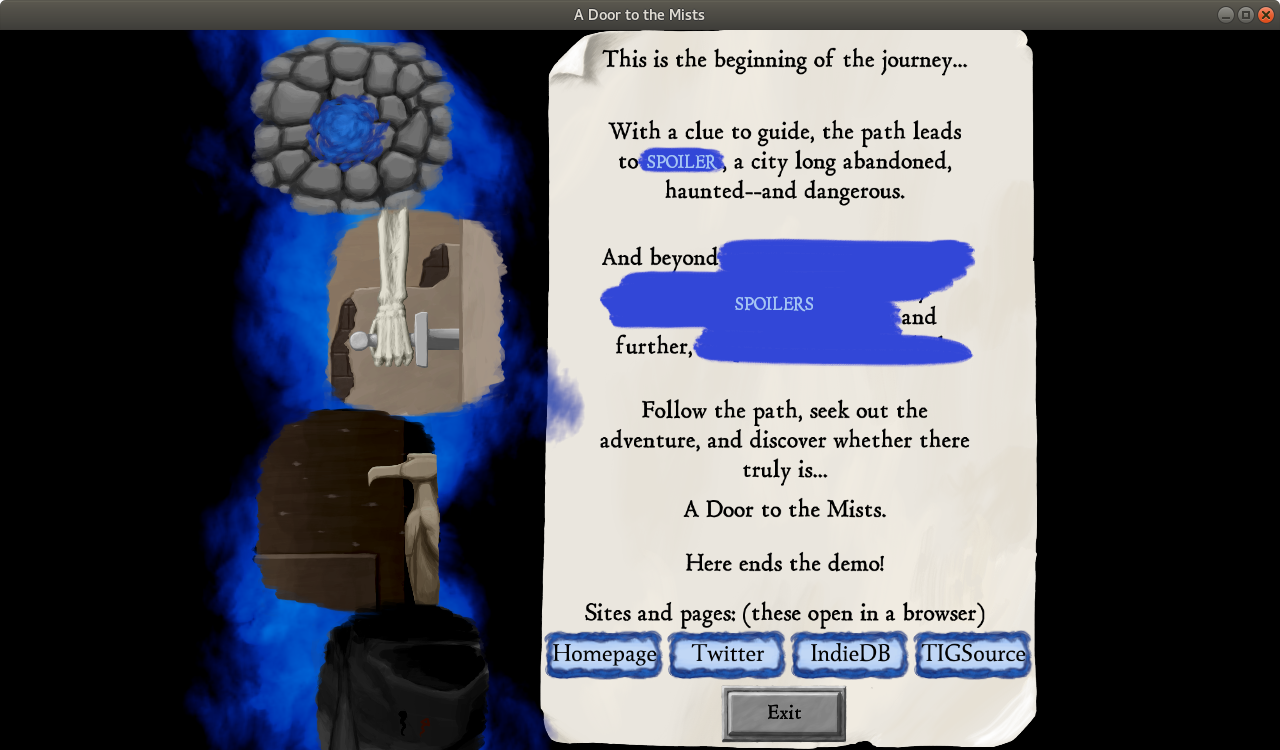 The work of the week just past was somewhat of a miscellany: there was puzzle-design; graphical work; bug-fixing; and even a little bit each of music, level-detailing, and writing!
Perhaps the most salient piece of work done in the week just past was once again the development of the upper puzzle of level five.
I believe that I reported last week that I had implemented a simple minigame to form part of this puzzle; a matter of searching through a page full of words, aiming to find, if present, one relevant to the puzzle's objective.
However, it was pointed out that said minigame was somewhat lacking. And indeed, I think that I agree: as presented last week it was a fairly insipid thing, just a page with lines of arbitrary text.
So, in the week just past I put further work into improving it.
For a while my primary focus was on reworking the puzzle entirely. I went through several potential mechanics: overlapping pages that had to be moved; papers that one examined to reveal their contents; and perhaps other things besides. Possibly my favourite was the idea of overlapping pages, potentially leaving the player uncertain of whether they'd seen everything. But still, none quite worked for me.
So in the end I retreated somewhat: I returned to the previous mechanic of finding a single word amongst many, and instead reworked its presentation. Instead of words lined up on a page, they're now each placed on a separate scrap of paper, and those scattered more widely. This, I think, makes for a more interesting appearance, and perhaps even makes the search just a little bit trickier as a result of visual clutter.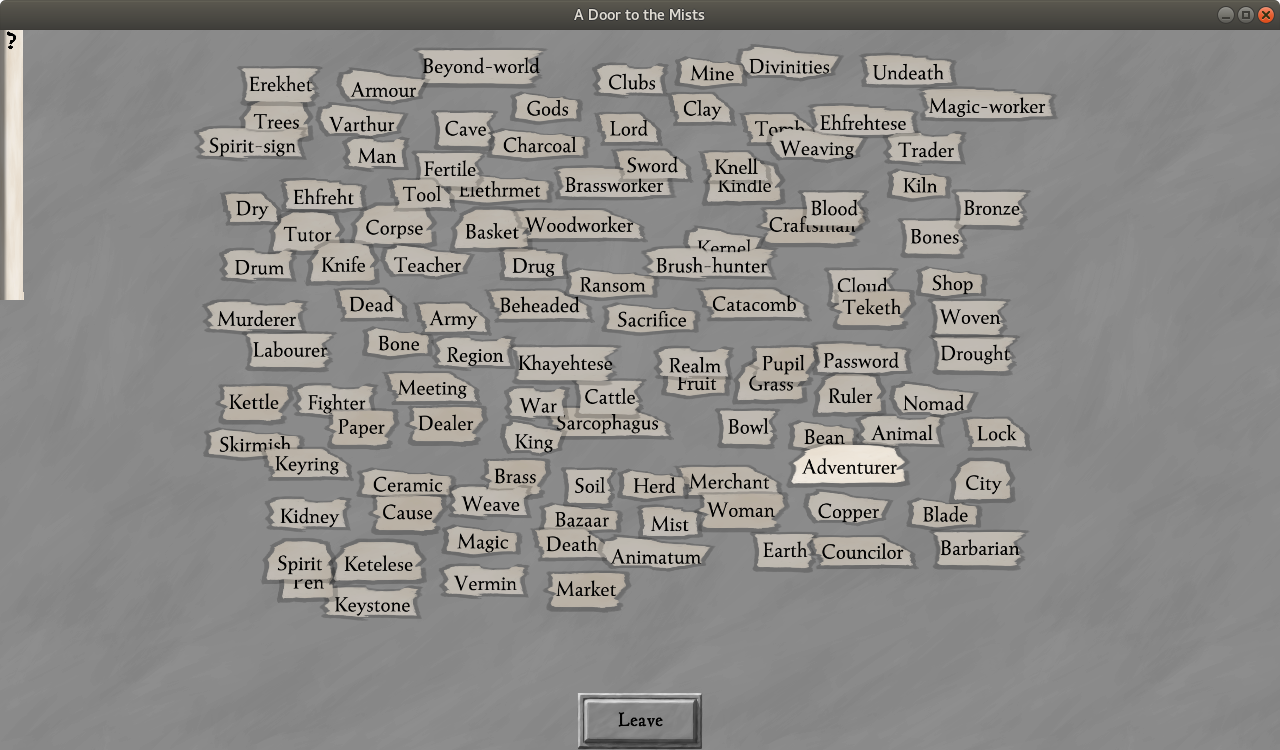 The other largish change of the week just past is the one shown in the screenshot above: I've significantly reworked the end-of-demo screen!
Previously, this was simply text against falling mist, with a few vague images flanking, and some buttons at the bottom.
Reworked--and rewritten--the text has a paper backdrop and is shifted to one side. To the left, the falling mist now backs a series of more-specific teaser-images. Amongst the link-buttons at the bottom, a link to my TIGSource dev-log has been added. Furthermore, those link-buttons have been reworked--and I'm rather happier with this button-image than its predecessor, I do believe! And finally, I'm experimenting with a new choice of music for this screen.
On the level-editing side, I did a little work on the geometry of level five in the week just past: the railings of the mezzanine now ward the open ends near the doorway as well as the long curve; and pens, inkwells, and papers have been added to the central tables.
Furthermore, music has been assigned to both level five and level four. In the former case, this is much as with previous levels. In the latter, a different piece of music is used--and logic has been added to change it as the enemy found there goes to the attack!
And finally, a number of changes were made that don't seem worth detailing here: pieces of writing related to the upper puzzle of level five; the hiding of the item -icon and -name when fading to black for "cutscene mode"; a few tweaks here and there; and a variety of bug-fixes!
That then is all for this week--stay well, and thank you for reading! ^_^