Three months have passed since our last update. It's been a while, we know. But we sure have made some progress over these past few months and things have kept us pretty busy. We're happy to reach new milestones though and therefore be able to share with you some of the new progress that's been going on with Grimmstar. Below is our latest devlog which you can watch:
To get things started, the team has worked to change the Monolith level somewhat. Before, we had an asteroid that was basically sliced in to pieces, with the monolith lying inside, as seen here: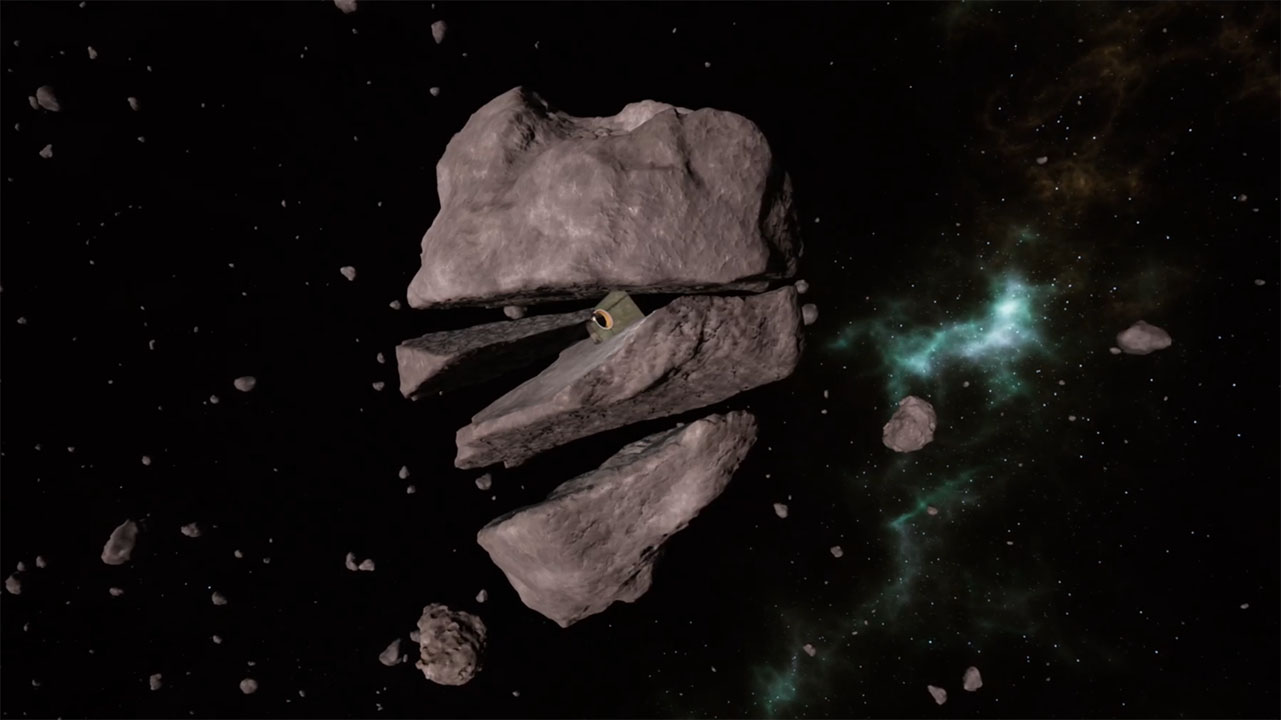 Now, we've actually created a 3D model of an asteroid and simulated fissures inside to give a more accurate replication of a large asteroid was cracked open from mining. Now there are multiple pieces involved and they not only create a more visually interesting presentation of the Monolith hidden inside, but there are additional gameplay opportunities with being able to use the asteroid shards and pieces as cover from enemies. Here's the new Monolith level: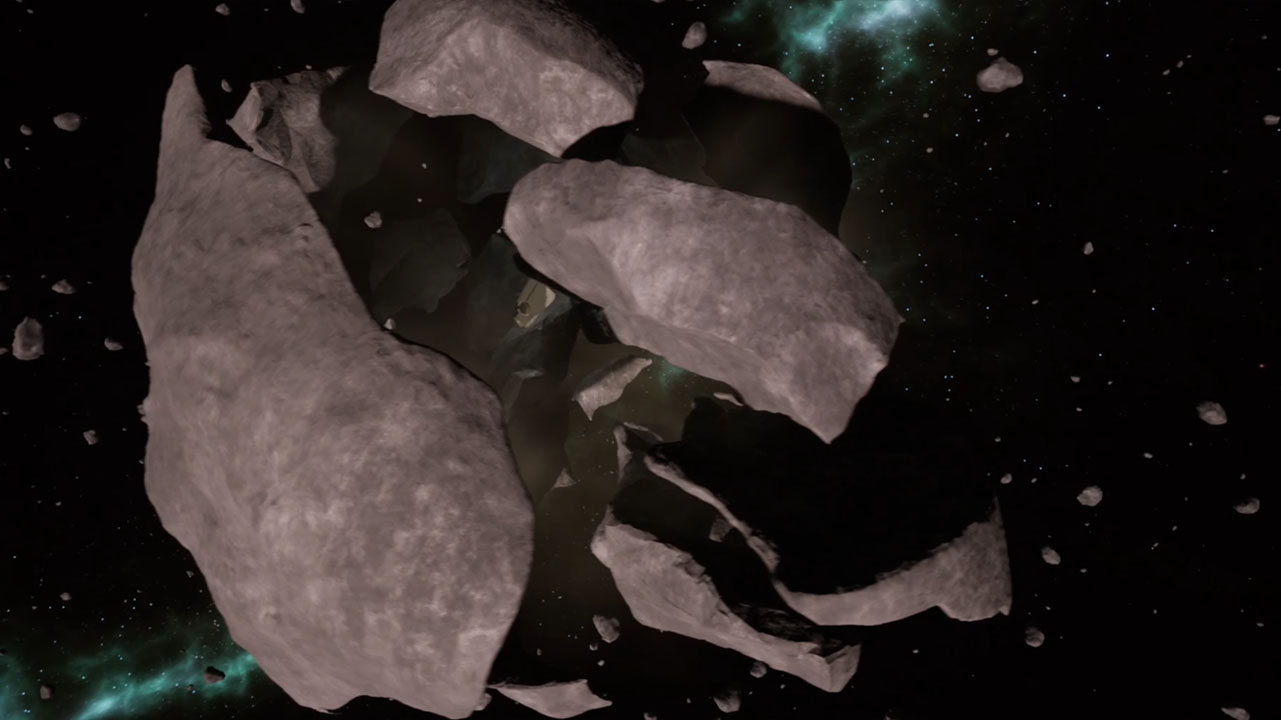 The Monolith itself has undergone some changes. Not directly to it, but rather to the "event" that occurs when it's activating. We can't go in to detail about what happens with this event or what exactly is activating, but the particle effect being used has been replaced.
With Unreal 4.25 going live, Niagara has come out of beta and is now in full release. We've moved over to Niagara for our particle generation as it has a wealth of improvements and customization available with it. We begun transitioning the older Cascade systems over to Niagara, starting with the particle activation effect. Take a look at it now:
This transition process has been ongoing and will continue until all current particle systems are moved over to Niagara. We've already moved over the play ship warp effect, which has a slightly new look, as well as some ship thruster particles.
In big news – literally – a new space station has undergone development and is already approaching grey box phase. The meshes for this station are so very close to being finalized before we being the process of material generation for the station. What you see in these pictures is the in-progress station with placeholder materials as we work out forms and shapes for the station. This thing is massive though!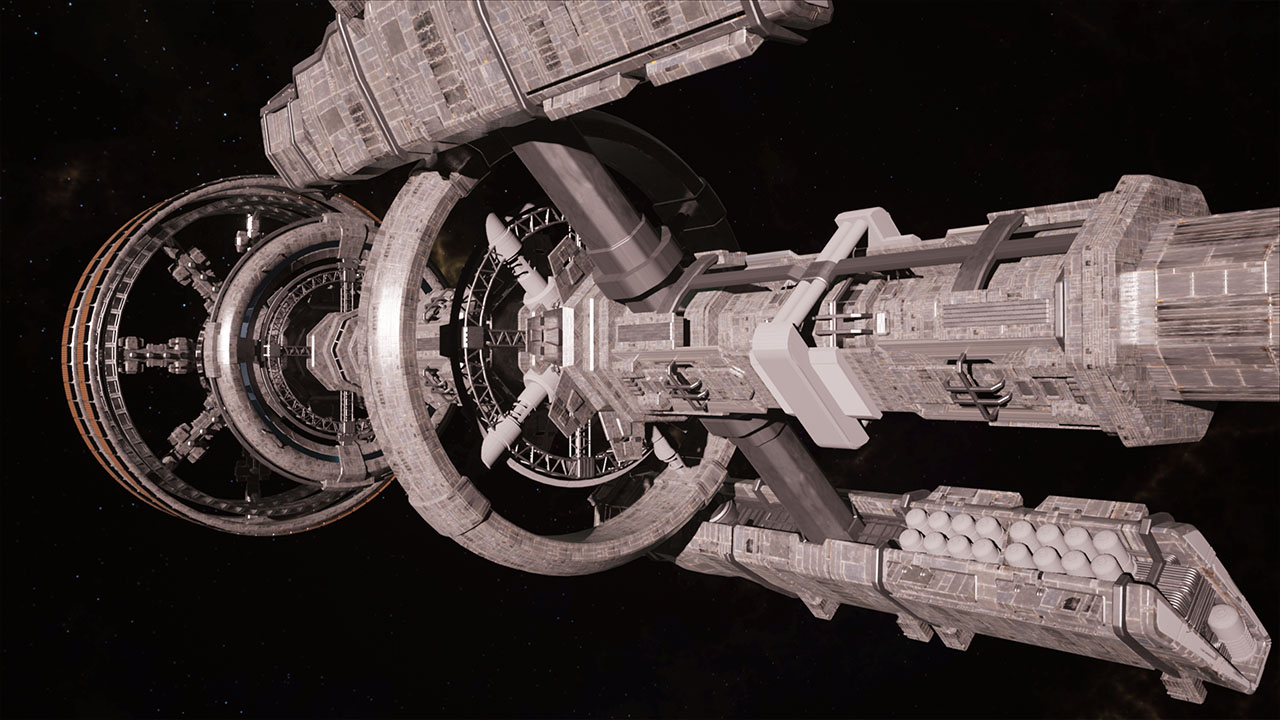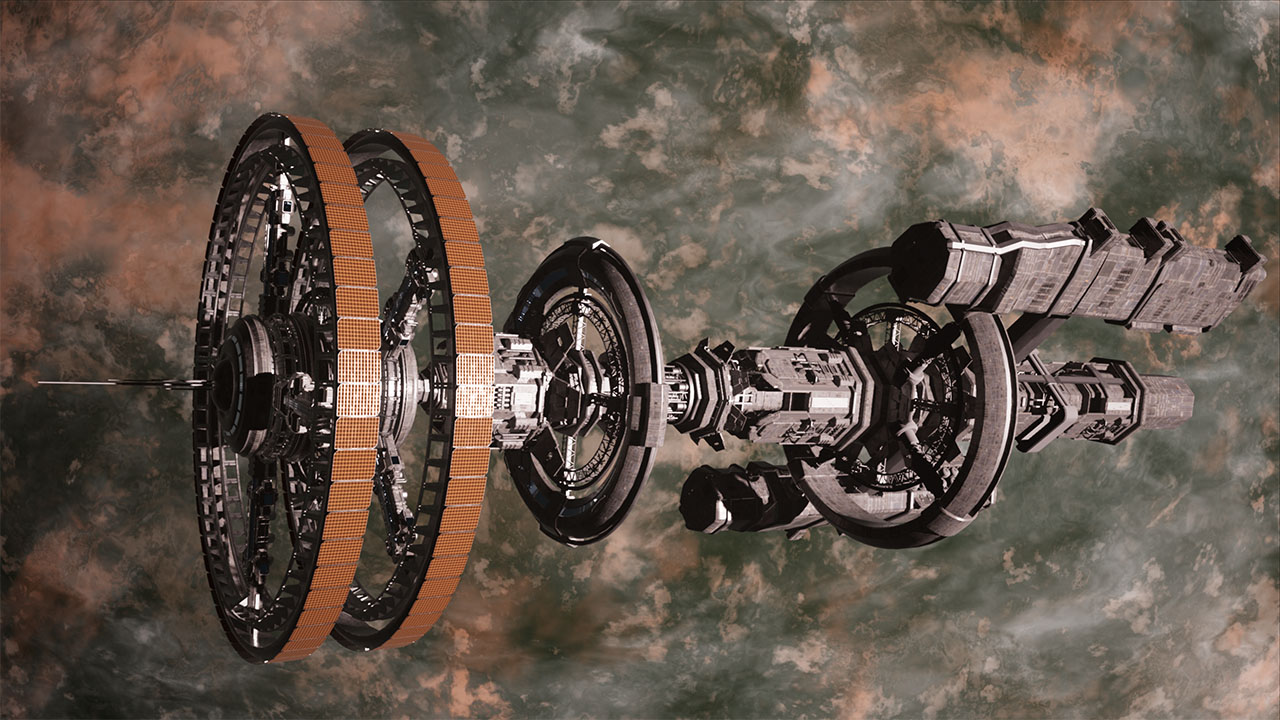 Part of the material work under development is the creation of material atlases that utilize Parallax Occlusion Mapping, or POM for short. POM offers additional levels of detail without having to use 3D geometry. The shader technique fakes 3D depth in to textures so that we can keep poly counts reasonable. The material shown here is on a completely flat plane with no added depth. The depth you see is all shader work and essentially "faked" to look like it's actually going in and out.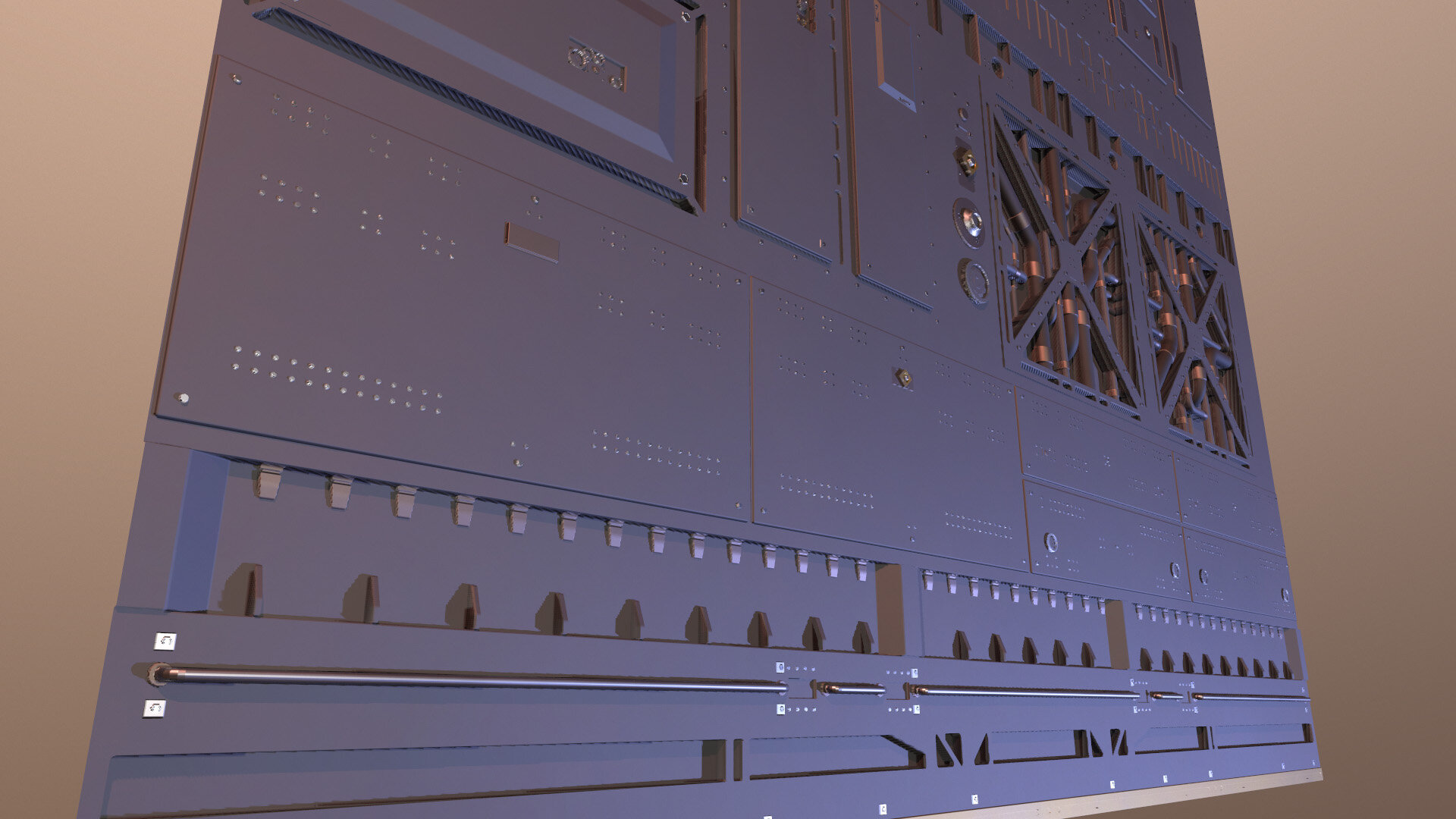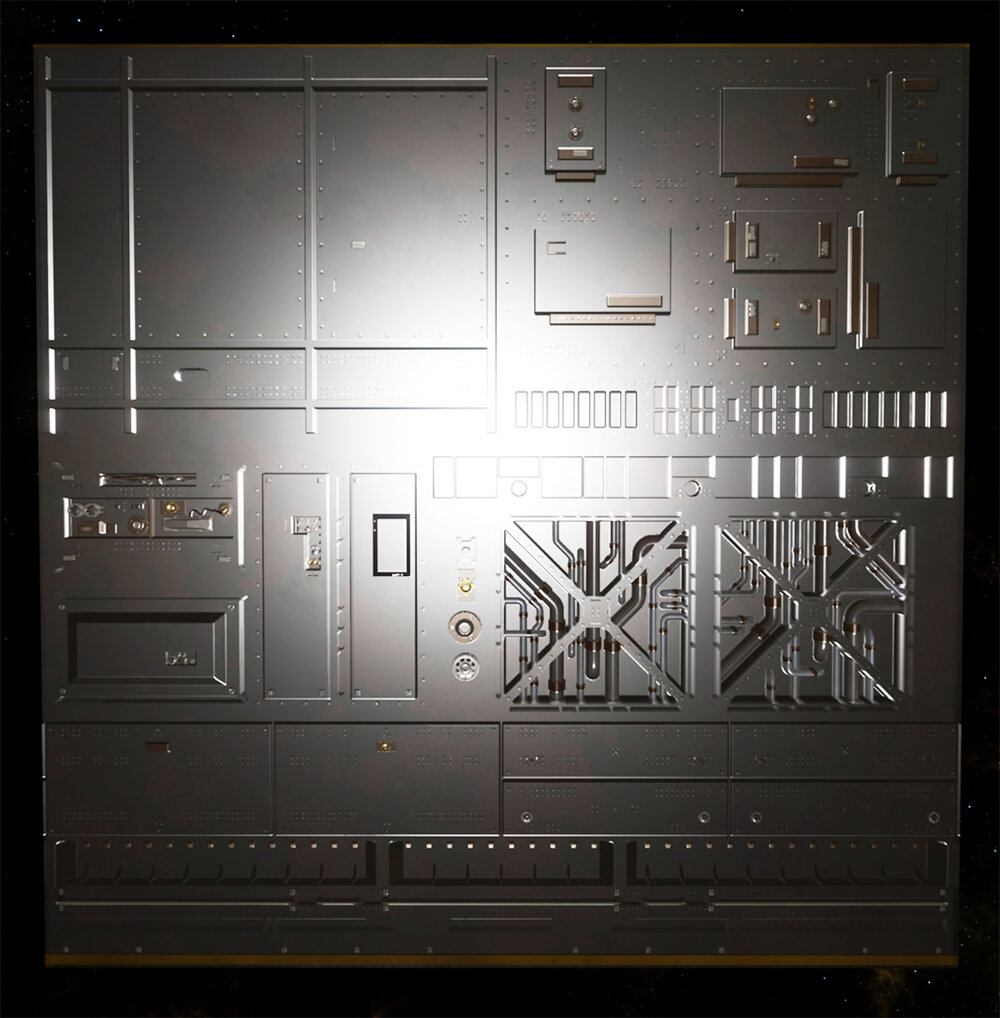 On to the actual gameplay though! We've been experimenting and having a lot of fun trying out new things and implementing new ideas over the past couple of months. One of the first things we did was implement a new mission type: the Escort Mission.
With these escort missions, you'll be in charge of keeping an object alive while it's in transit. Our first iteration of these missions has you protecting the large Atlas Freighters as they scurry to safety. This brought with it some fun new parts of Grimmstar as well.
As the freighters take damage, they risk losing their cargo containers. Not only can the containers become hazardous objects that other ships could fly in to and be damaged, but some of the containers may split open and spill out the hundreds of materials kept inside. These materials are done as particle effects so that we can have thousands of these pieces on the screen at once. They sure can look pretty cool.
To help you with all missions around the system, we put in a new weapon type: the minigun. The minigun has replaced what used to be the 40mm cannon. Instead of a single shot, high damage and slow rate of fire cannon, the minigun fires at a super high rate of fire, able to deal large amounts of damage if you hit consecutive shots with it. It takes a bit of time for the minigun to spool up, but once it does, whatever is on the receiving end is not in for a good time.
The minigun alone will not be enough to defeat the Grimmstar and its forces though. To do that, you'll need the help of the resources available from your very own fleet. This brings forth our first implementation for one of the main focuses in terms of gameplay mechanics within Grimmstar: the ability to call in fleet reinforcements.
Using the Radial Menu, players are now able to call in reinforcement to help them in battle. Because Grimmstar features large scale battles, it's very easy to get overwhelmed. Having some reinforcements by your side will be pivotal to changing the tone of battles. Right now, reinforcements consist of fighter pilot wings and have no cost associated with calling them in. There's also no limit to the number of reinforcements you can request. Future iterations of this mechanic will have resource expenses as part of their cost, as well as a limit on how many fighters you can bring in together. On top of that, we'll be expanding this mechanic to include the ability to call in corvette class and capital class ships as well.
Lastly, we've finished up the preliminary work to be able to utilize each mission type planned for the Vertical Slice demo. This is a huge milestone for us, as we've now been putting in work to finalize the simultaneous mission handling that will allow us to bring everything together and create yet another unique experience for Grimmstar. We're already able to track progress of multiple missions at once, even when loading and unloading levels where these mission take place. What this all means is that we are now working on connecting the dots to deliver a story-based progression system that will complete our Vertical Slice demo. Everyone on the team is getting super excited to see these things come together and we can't way to show more!