Hello everybody! Because of tons of work, I had no opportunity to introduce you some more updates. I've been implementing a lot of features, and finally, It's time to show you some of them!
What's new?
The game gets more and more details and changes to its gameplay. It's not a simple visual story for an hour anymore. I'm continuing implementing new storyline details, yet new gameplay mechanics! I can't say all details right now because most of them are in work together with my programmer Kris, but according to what we're going to do, it's supposed to be a true revolution in such exploration games!

And that's not even a joke! I'm trying my best to implement the best possible stuff I could even imagine, so I could be proud of myself later. That postpones the game a lot, so it definitely won't be released this winter, and even spring is a question for me now.
BUT! Being proud and satisfied of the things you're doing is most important in my opinion. Like you already know (if not, check the previous part), this game initially was "invented" for making some money on the coronavirus hype. However, my concept hasn't been so easy, and I've made a decision to make this game a little better at least. I'm not that person who just trying to get money from his art; that is, it was mentally painful for me to develop this game until now! After the changes, it automatically gave me some boost and energy to finish this project to look at the final result!
What I was working on?
During last couple of months (and a month or so in summer) I've been working hard to get my location finished in "alpha version"; it is without too much much details still.
I also realised, that it's not so hard to create VFX by myself, and so I made my first dynamic effects in Unreal Engine 4 Niagara just within a couple of weeks! The results are just amazing (I'll be also showing making of them in my course), but need slightly more time to polish!
The gameplay is also about to get first results soon! Since I started mentally visualise it, I realised that my game was a little bit boring, an so, I added even more details for my gameplay! There will be AI ghosts, some additional devices, and most importantly - the time glove! It's already designed, modeled, textured, and done with all animations. But that will be topic for the next update, which I hope to release really soon!
So today, let me show you some of my apartment interiors!
Problem?
You may think that designing interiors for apartments in modern games is not rocket science. However, it is, if we're talking about the apartments that are realistic as possible for a particular type of location and buildings.
So what's the challenge here? Well, they're the same as with the buildings itself, like I already mentioned that. You wouldn't find on Google so easily what apartments in London, Paris, Rome, or Berlin, look like. Moreover, the task becomes insanely complicated when we're talking about particular styles of apartments in brutalist buildings in the UK or France for example.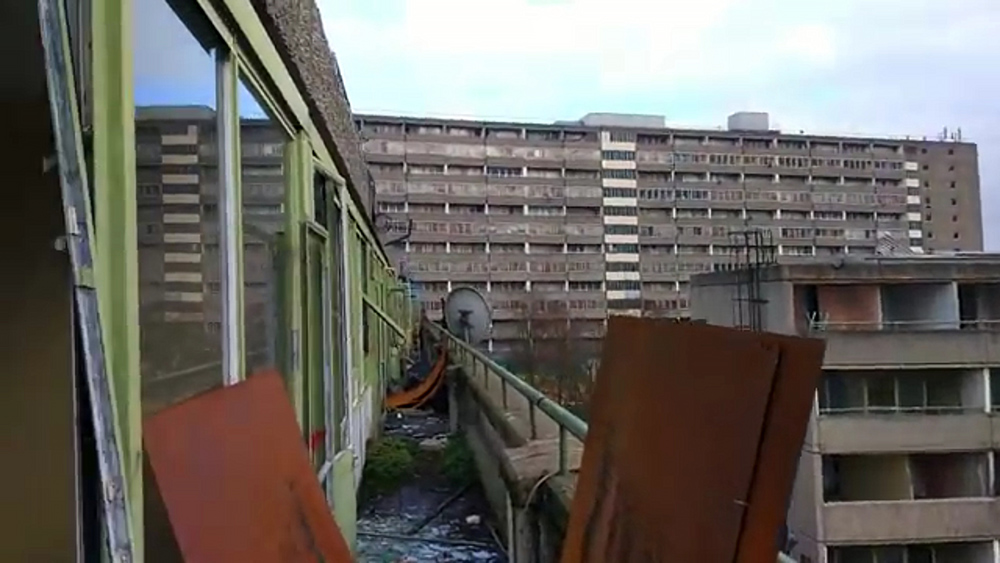 But why might you need photos of real life apartments if Unreal Engine Marketplace (and Epic Games + Quixel in general) provides you tons of content, including the asset packs with the proper interiors completed?
And the answer is fairly simple. You need proper references just for two purposes:
You have to figure out how plans of such apartments looks like, so you can make walls and rooms in each of your apartments believable and with right sizes,

It's all about immersive experience. No matter how good quality textures, models or materials you're using; if they're doesn't match each other and have some real life analogues , your players would believe such game easily. Plus, you would get a nice bonus from players who really live in such buildings and apartments. I think the feedback from them will be the most pleasant thing for you :)
Solutions.
Like I'm always advising you, you have to think different. If you couldn't find something on Google, try other resources! I started from Pinterest, and ended up with some very specific sites which gave me some nice and precise results.
That is, I also used that YouTube channel of London brutalist buildings where I found some really nice footages of abandoned apartments in such buildings! It gave me an idea how actually plans of such apartments looks like, and how it could look abandoned in real life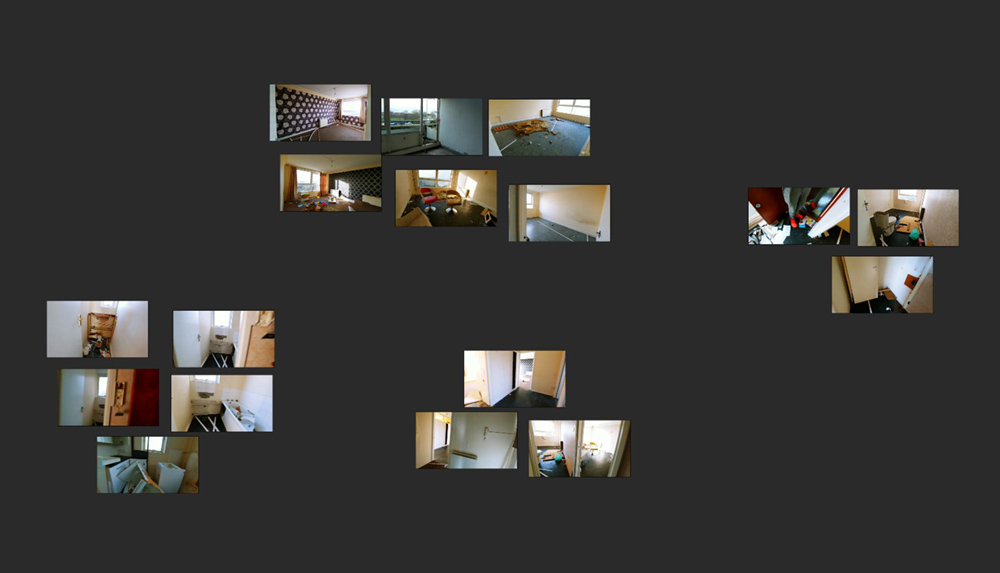 So, using PureRef software, I grouped all the footages found by type of room (I.e. living room, bathroom, hallway, bedroom, etc) and created a united reference board like you may see above.
Nevertheless, that hasn't been enough for me. I was looking for real living apartments which people are still living in 2020, and you know? After some complicated searching (more details and sites will be given in my course), I found some! I was looking for apartments in brutalist buildings all over West Europe.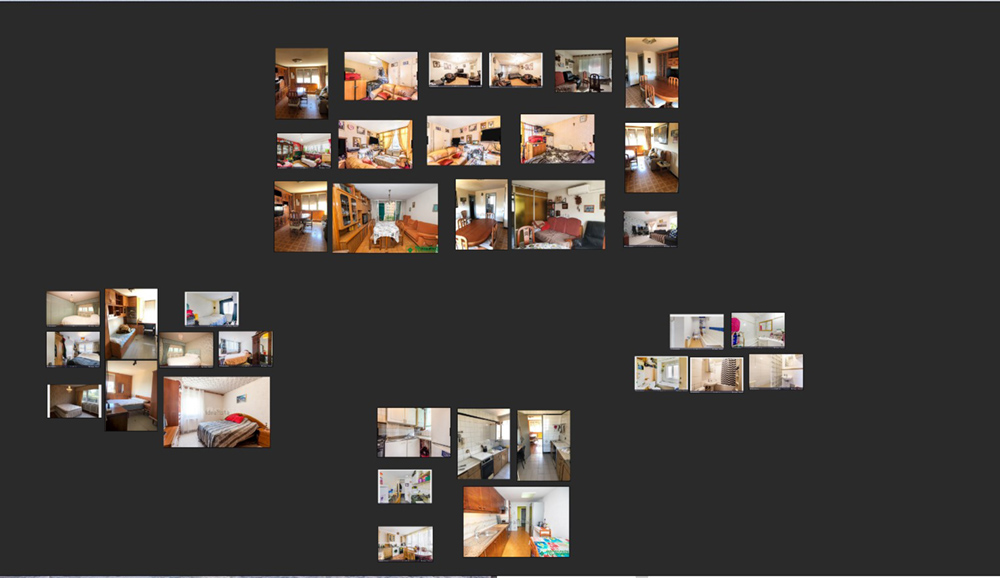 I've been surprised how different apartments could look today. In videogames and movies you could find mostly very stereotypical mid-class apartments of Americans, or sometimes, very high aesthetic apartments of rich people. However, in reality some people are still living in kinda oldschool apartments which I thought exist only in ex-USSR countries. Such apartments have vintage furniture, colourful wallpapers, and even carpets that normally associated with USSR only! So I grouped such apartments in the same order, as you can see in my reference board above.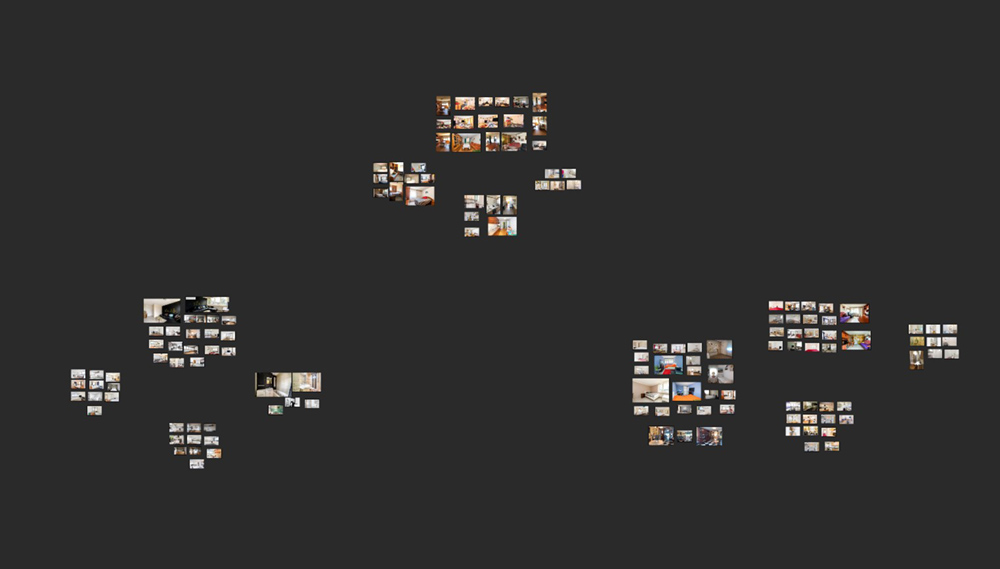 And of course there were "typical mid-class apartments" as well as "modern aesthetic" ones, despite that's quite difficult to find them in brutalist buildings because rich people don't really love them much. So this is how it was done.
Some progress.
And it's how I built my interiors this August and early September.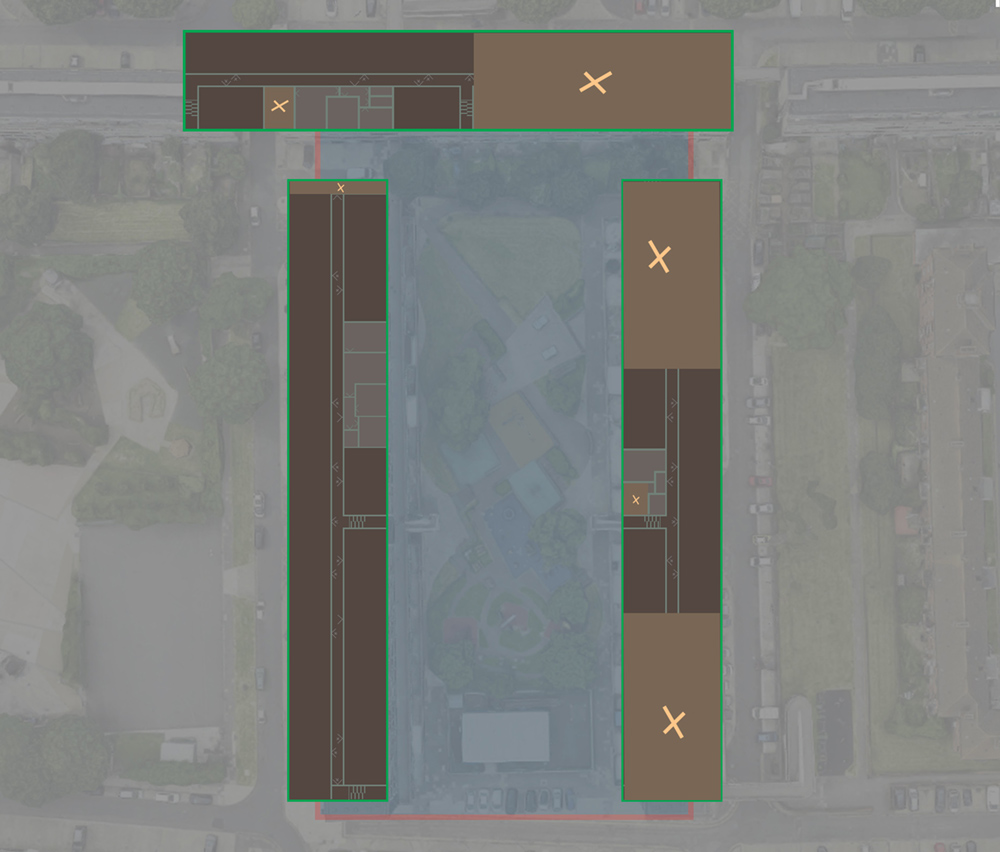 I was using my plans which I created in the early beginning of my game for making buildings, and delfines some apartments on these pictures, and then, using a modular approach and many asset packs I started building my interiors, with a goal to show as many different interior styles as I can.
Here is my progress. They're still drafts tho.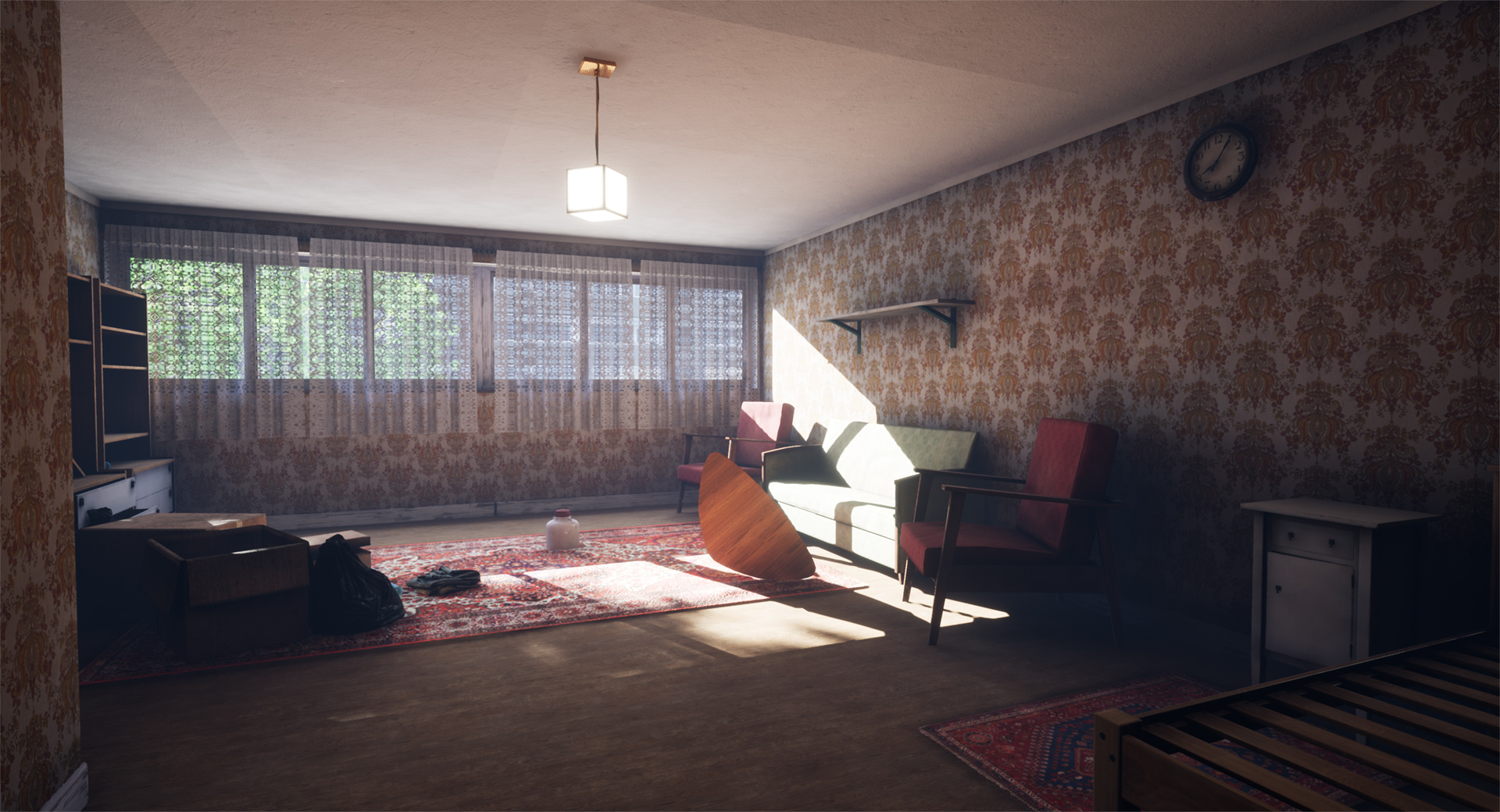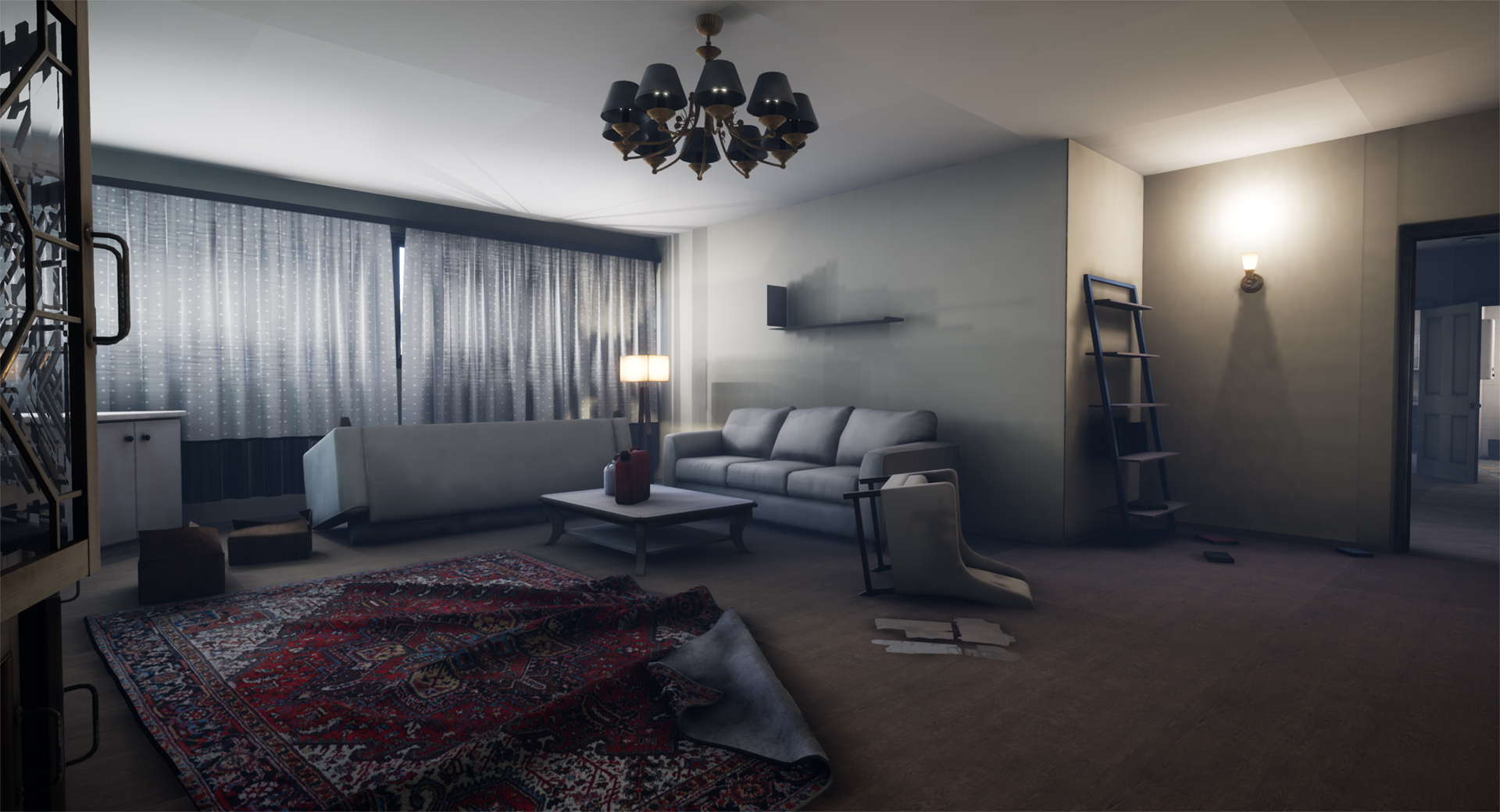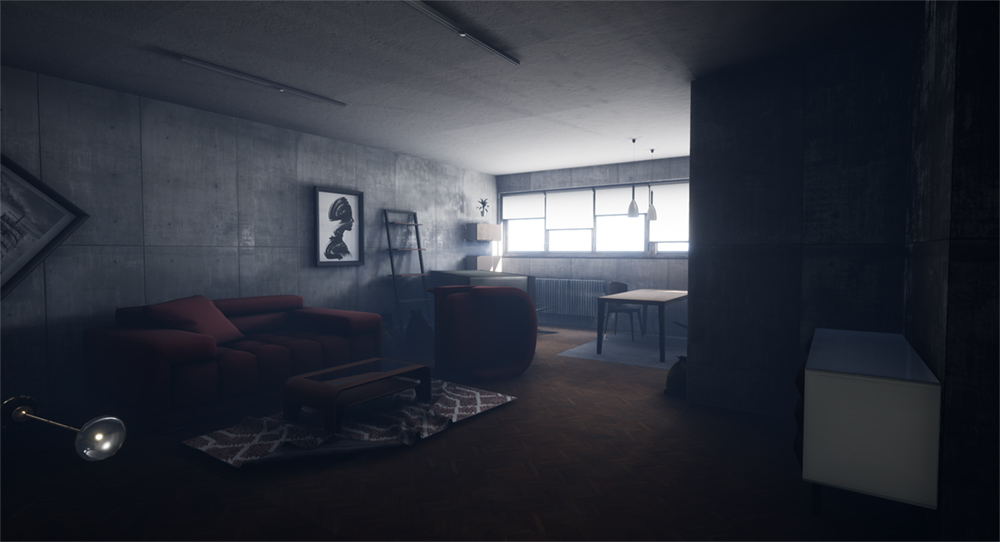 What do you think?
There's much more apartments been made, but they will be shown when their time will come; and of course, you could speed it up with your comments here and by following the game page on Instagram ;)
Keep in mind, that I have much more progress at this moment! Please, check my game page here and on Instagram to look at the current screenshots and details.