Hello there! This is my first article here, and I'd like to share you some of my approacheы of creating this game.
Introduction and Background
First, let me tell you the story behind this project. My initial goal was creating something related to the current pandemic (and my personal feelings) in the short time (1-2 months). However, during the progress, I realized that this project is something bigger and more important to me. And yet, it's more complicated for creating. In the end, I told to myself: "let it be in development as much as it should be for myself to be happy with the results".

The main concept of the game is developing a unique project about quarantine in solo and using the most efficient tools. This concept is still exciting. The game is mostly (70-80%) developing by me, Alexander Voщakin, in solo using Unreal Marketplace assets, and some help from my friends with things like coding, animation and concept art.
I'm making this game since late March 2020, and for now I think I already have something to show you. Let's start from the early beginning.

My goals
I was searching for some concepts of the game related to the current situation. They shall be interesting for playing but easy at the same time for a solo developer.
I started from some real-time strategy concepts (like Plague Inc), and finished with something which really easier and interesting for an artist - 1st person explorational adventure.

I was inspired by quarantine zones in my city (when government blocked the most infected living complexes) and wanted to create something realted to them, but using assets I have - Unreal Marketplace ones.

I'd like to have something that would be interesting for Western audience as well, unlike my local typical buildings from Soviet Union. So that's how I started.
Initial process
Everything is starting from collecting references and defining your final goal.
I was looking for a complex which has a "closed" outside garden or parking which could be quarantined. It should be something like a micro-district. Surprisingly, such complexes almost doesn't exist in North America, so I was focused on Western Europe.
So I'm started. Collecting references doesn't seem a big deal nowadays, but actually it is. You could find billions of photos of Eifel Tower or central streets in Venice, but you wouldn't find much info on a specific residential complexes. Western community don't really like to show their Soviet-like modernist/brutalist buildings which actually exist in many places in Europe, so you have to find them in unexpected places.

I was using Google Streetview, some YouTube videos (I'll tell you more about them in the next episode), some old encyclopedias, and more often - videos and photos of a famous urbanist/travel from Russia called Ilya Varlamov.
Here are some of the refs I got: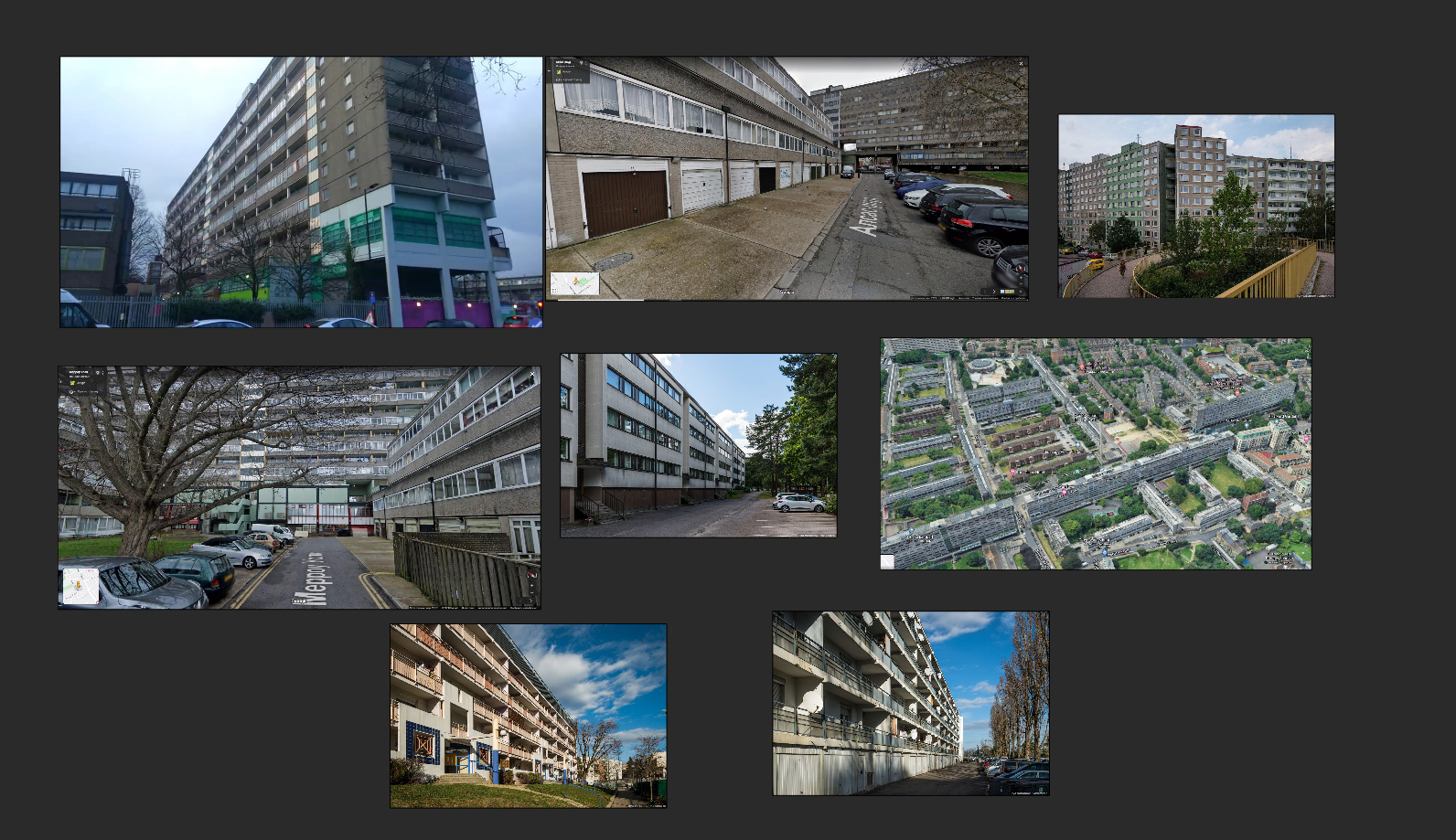 Productions steps
In the end, I figured out, that UK and French buildings seem quite nice and unusual for me. Plus, they're easier and more believable for integrating English signs and other Western stuff (unlike typical buildings of Eastern Europe).
That's how I started. I was looking for such living complexes on the outskirts of Paris and London. They're all quite different to be honest. However, I found one living complex in London, which internal playground/parking part suit me well (in terms of closing this zone for a quarantine), so I take it as reference and modified slightly.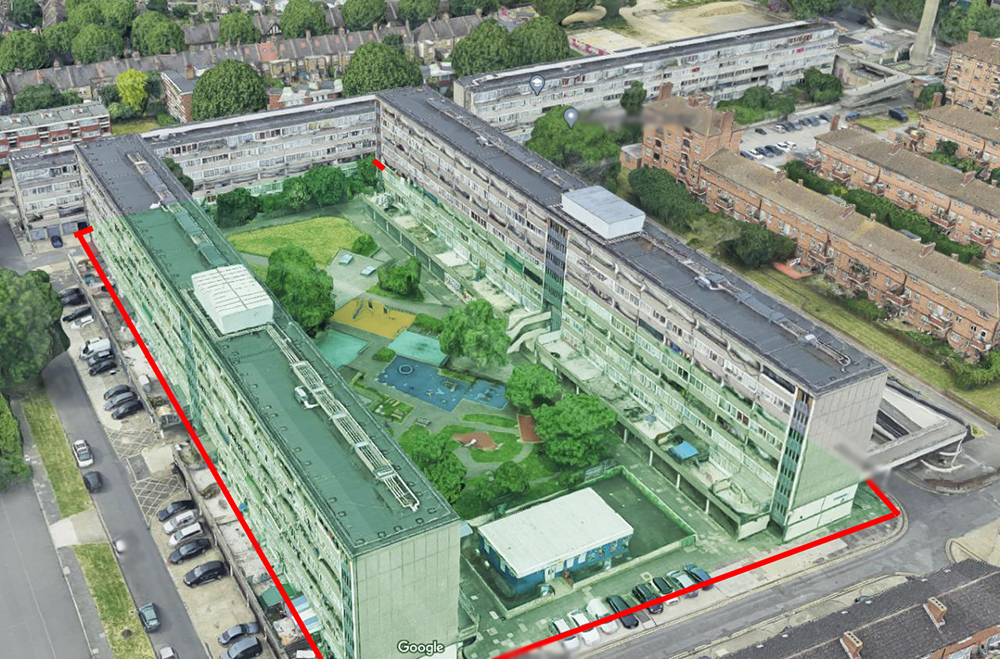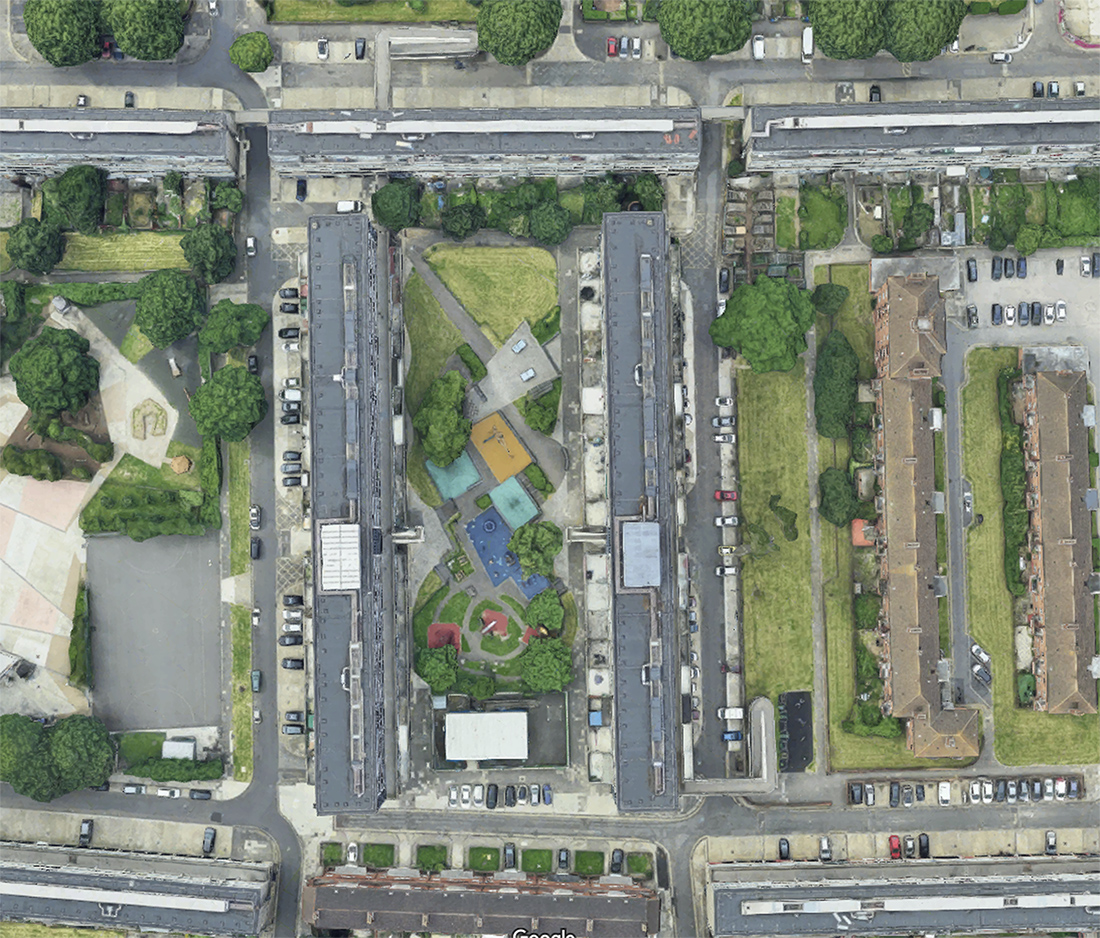 This location suits me perfectly in terms of planning buildings locations and adjust correct sizes for everything. Thanks to the Google Ruller tool, I measured these buildings and the frame itself and developed a special measurement scale - 1 real meter = 10 pixels of the image. That's how I started building the entire plan of my game world.
The next important step was making a graphic simplified plan of this location in purpose of importing this image inside Unreal Engine 4 and use it as a base for building levels.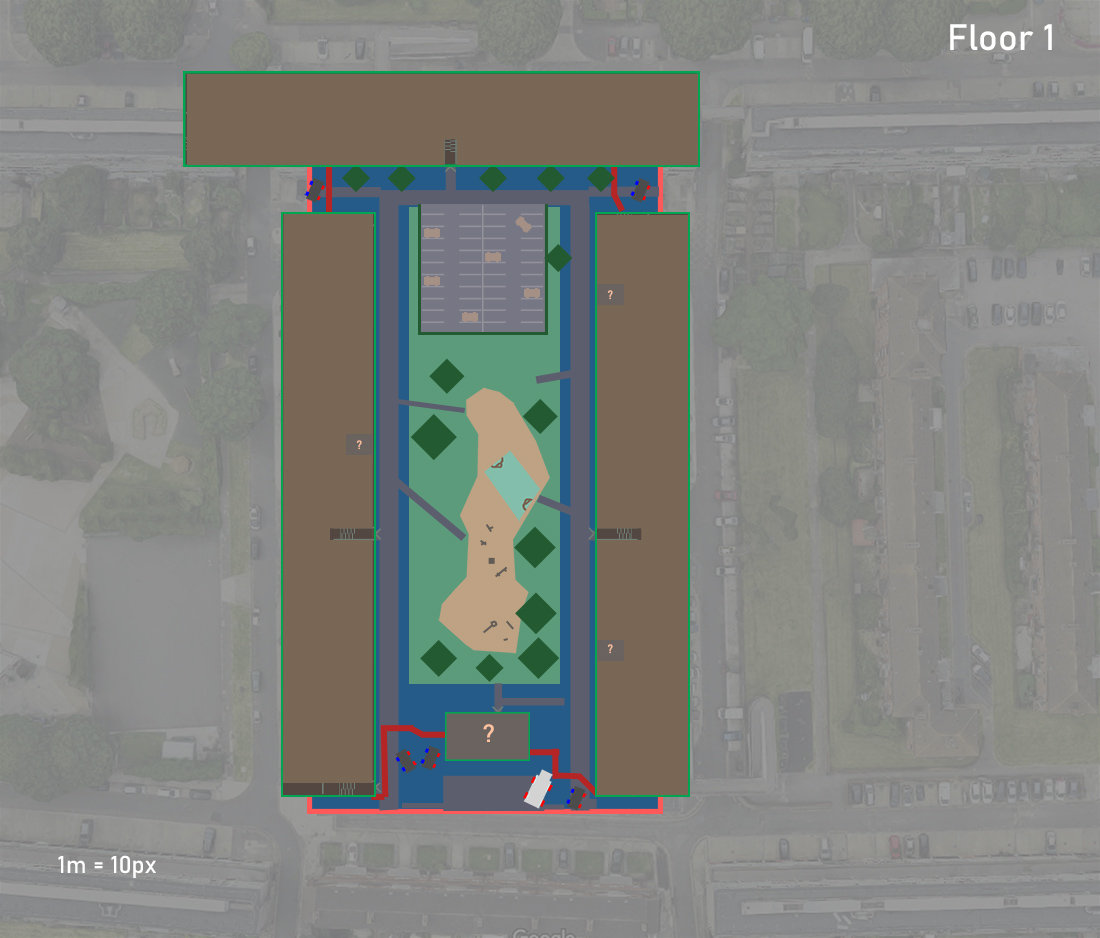 This is how it look like. That actually took me over 2 weeks to make all the floors look really accurate and realistic. I also added a lot of extra details, such as parking, but I'm going to cover this later.
So for today, I only going to show you the last shot on how It looks inside Unreal Engine 4. This was the earliest version, when I put simple cubes just to check if my scale correct. I was really happy when I realized that 2 weeks of works was quite useful. The scale was perfect right from the first import!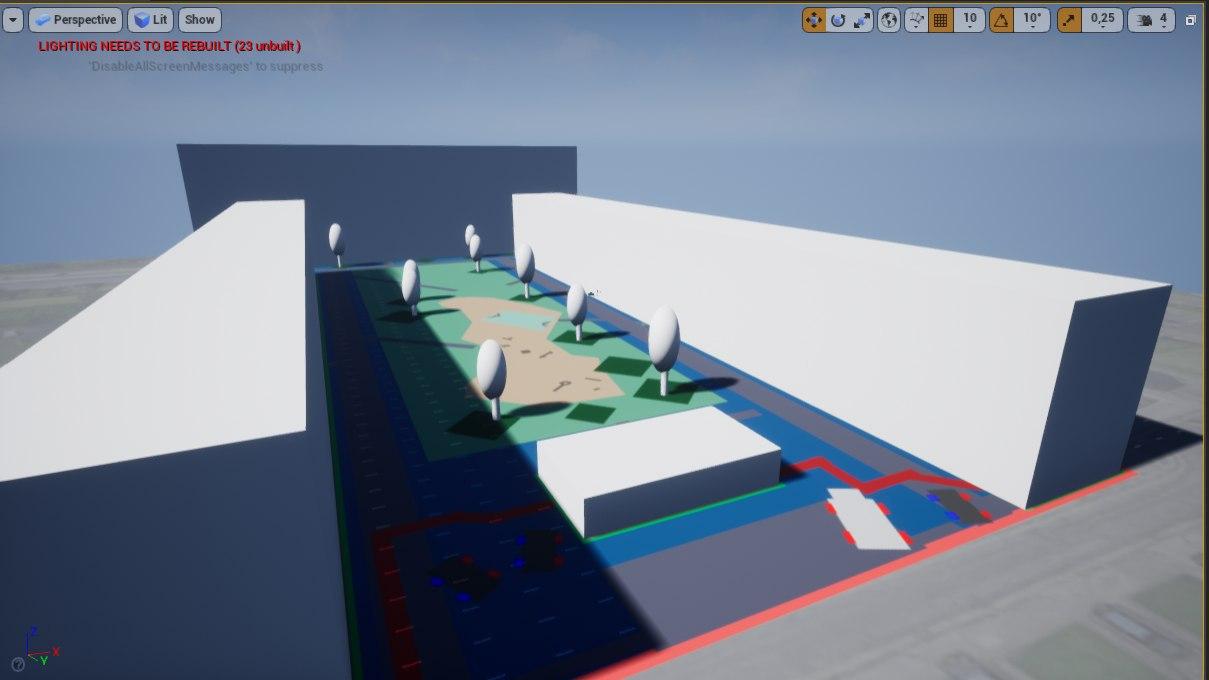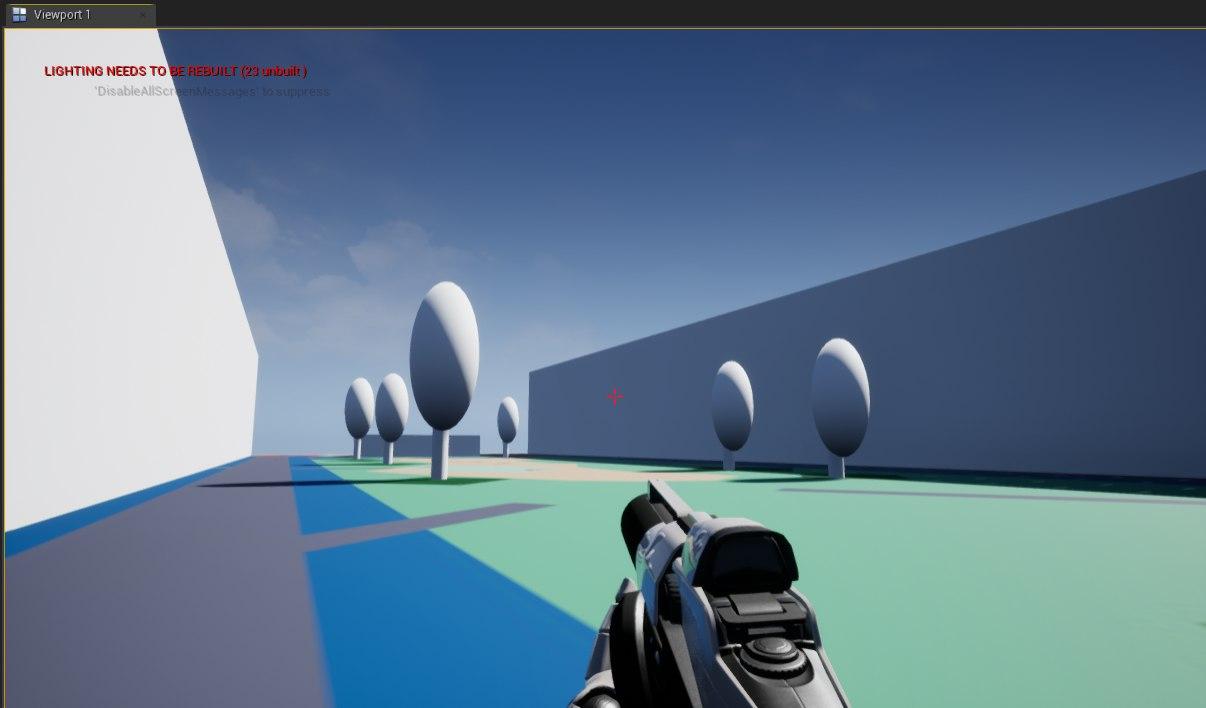 I think that's all for today. Hope it was interesting for you. Please, leave a feedback so I'll know if you want to read more of such stuff!

Thank you for reading!
Keep in mind, that I have much more progress at that moment! Please, check my game page to look at the current screenshots​ and articles.
You could also follow me on Instagram
and look at my current progress.