Devlog #7 - Character Design - Part 1/4
There's been a lot of character reveals for Vagrus - The Riven Realms here on our website and on our social media since we began posting about a year ago. We figured it behooves us to talk a little more about who these characters are and what their role is in the game.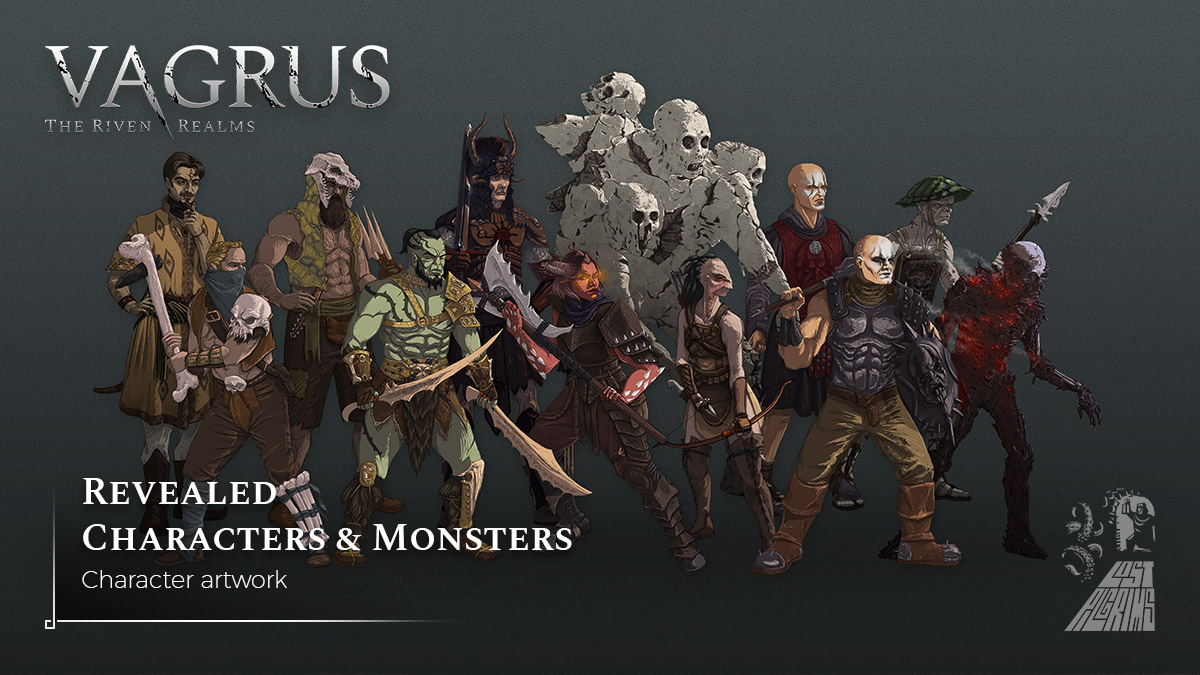 The vast majority of the characters you see revealed are enemy characters, even if sometimes they can be allies in the game for short periods of time (or versions of them, anyways). Although Events will involve these enemy characters often, you will mainly see them as shown in the artwork in turn-based combat. All of them have their unique combat skills and synergies with other enemies.
The other category is Companions. Companions in Vagrus are full-fledged, named characters with varied backgrounds, skills, alignments, and personalities (for example, Javek or Sedarias). Each of them can join your comitatus and do various things for you:
They can fight for you in combat. Each of them have combat skills that you can use to defeat your enemies. Their stats and skills can be upgraded using your own Insight, essentially levelling them up. With each level up, you can give them new perks and improve their combat skills.
Each companion has their own personal storyline you can follow. These stories can go in different directions, eventually upgrading the companion and driving the overall narrative. You can also talk to them at camp and learn more about them, their goals, dreams, past, and so on.
Companions can also fill special roles in the comitatus, becoming what we call Deputies. Essentially, Deputies are your officers and most trusted traveling companions. Each of these positions can be filled by a single available Companion and the filled position provides you with passive and active boons. For example, having a Companion as a Scout Master gives you bonuses to Movement Points, raises the chances of successful scouting and improves the quality of information gathered from scouting.
Each Companion and Deputy position also allows you additional choices in certain Events you come across, widening your chances to successfully navigate these stories.
Devlog #9 - Character Design - Part 2/4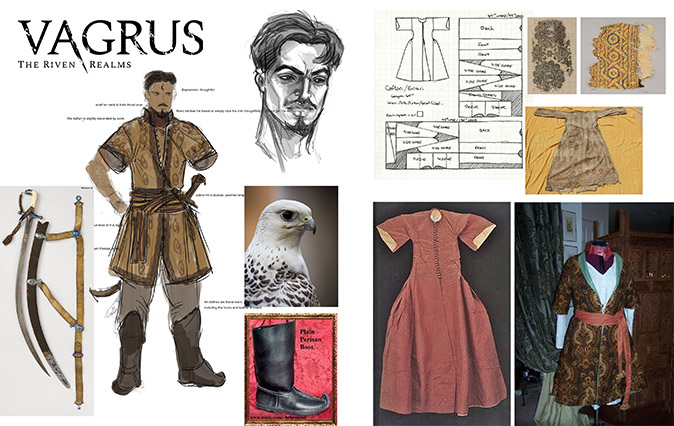 Art Style and Animation
First and foremost, a few considerations on the choice of art style. Vagrus is a 2D game and character art leans distinctly towards a comic book representation but on the serious, more realistic, and darker side instead of a cartoonish approach. The reason for this choice is manifold and the primary one was that we liked it and it matches the setting. It is also relatively easy to handle and iterate, which is important when you have so many characters and enemies as we do. Bazsó helped with the initial choice of character art style and we also found Szonja who wanted to work with such a design so it was a match made in heaven.
Then there's the choice of the animation style. The use of parallax movements and effects instead of detailed animation for combat skills lives its renaissance now thanks to hit games like Darkest Dungeon. We love the way it looks and also meshes well with the more comic book look of the characters, so the choice was a no-brainer. With the right timing and effects it looks visceral, which fits the setting better, too. The exception is the idle phase of characters, which will be slightly animated to avoid a still-image-like rigidity.
So with all the design choices behind us, let's see how we approach character visual design at Lost Pilgrims.
Briefing
It all starts with a call for a character art asset to go with a character design established sufficiently by the designers. Because of the vast amount of lore for the world, there's already a good idea of how the character and its combat skills should look and feel. The briefing also includes background information on the character, about its intended role, and appearance.
Cultural Influences, Materials, and Mutants
People in the Riven Realms partially take after real world cultures more often than not. What makes it extra interesting is that since this is a post-apocalyptic world, we often have to start out with choosing one historical influence for the times before the cataclysm and then modify and blend that reference into another one that's more appropriate for the current times. You can see an example with the Sadirar, who were once similar to the ancient Greek civilization of real life Earth but were forced to live in endless deserts later. Their features may still resemble that old look but now as desert dwellers, their traditional apparel shifted to a more tribal-looking one. Of course, cultural influences are usually set for a roster of characters from the same background before working on them, and very rarely on a character by character basis.
We have strict rules on what type of materials are available in each region and in general as well (it's a metal-starved world, after all). We have to consider each environment from different perspectives. What kind of animals live there that people can harvest to produce armor? What resources and materials are available for crafting tools? While people of the Ashlands have huge snails roaming their lands, the shells of which they can integrate into their armor, the Sharduk would use the hides from their fallen giant lizard mounts to create clothing.
Since many beings were mutated or were mixed with other creatures, for example, the half-draconic Dragonkin or the Tainted, we often design fairly weird-looking characters that match the overall dark fantasy design.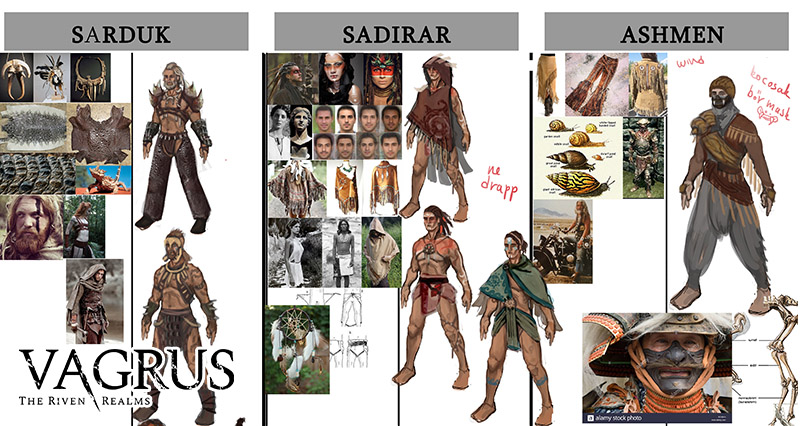 Moodboard
For the most important characters and for distinct cultures, the next step is the creation of the moodboard with all the above in mind. Szonja gathers images and creates sketches that will serve as a basis for the look and feel of the characters or culture, and some of it will be incorporated into the character designs.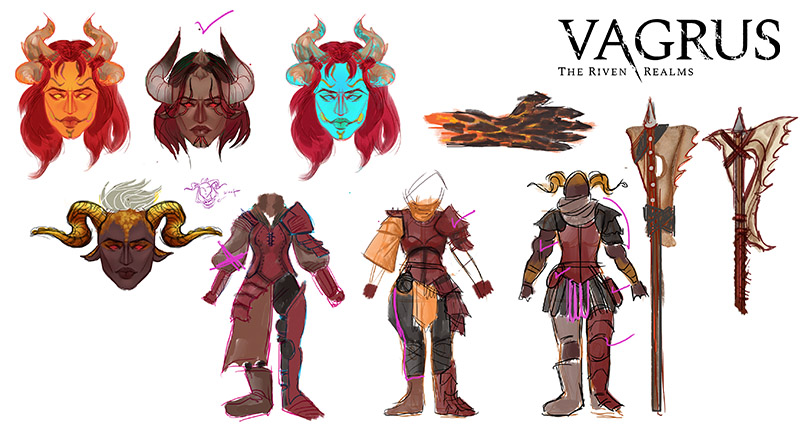 Devlog #10 - Character Design - Part 3/4
Now it's time to discuss what actually happens after the initial phase of concepts and moodboards. Mind you, this will probably have information that is well-known by any graphic designers who work on 2D character art; yet others may find it intriguing.
A Sketch
Often - but not always - Geri prepares sketches for the individual phases of a character. Other times we take photos where one of us poses as the character and these can be used as references. The sketch or photo is then taken by Szonja who makes several improved sketches and concepts before she gets down a primary that we decide to roll with.
Linework
Working in Photoshop, Szonja does the linework for the 'idle' position of the character. There are usually several iterations of this until everyone is happy with all the aspects of the sprite. This is also the phase when a lot of detail gets placed and parts get more definition.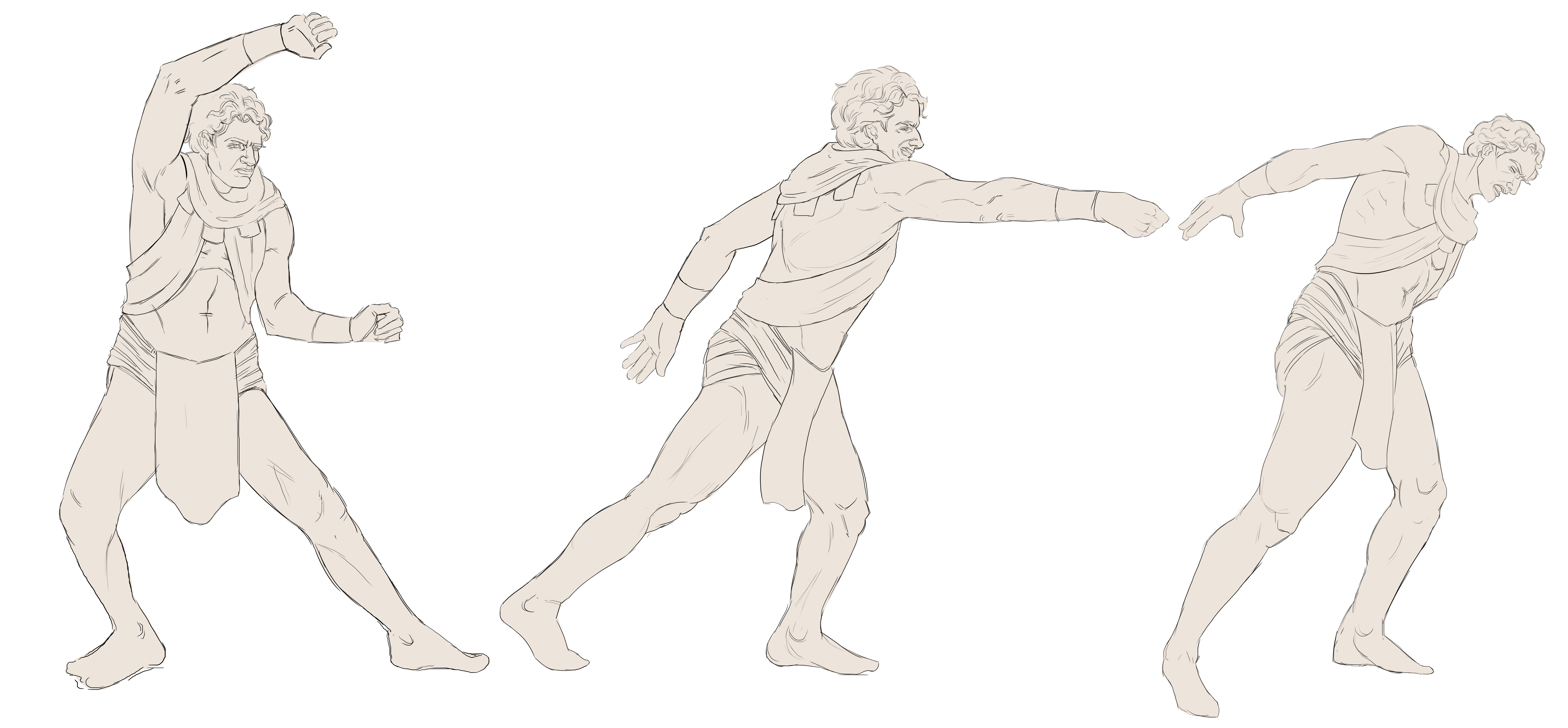 Coloring and Shading
The idle phase image then goes through coloring. This is usually not something we iterate much, as most of the time the color scheme is already set during the concept phase. This is where a lot of surfaces get details, like textiles. Everything is done with hard brushes, no texture brushes are used.
Shading is the last step, following the guidelines set by Bazsó in his initial character art direction to achieve that specific comic-book look. This involves applying a shadow layer first and then subtracting parts of it being hit by directional light. Finally, contact shadows and highlights are added.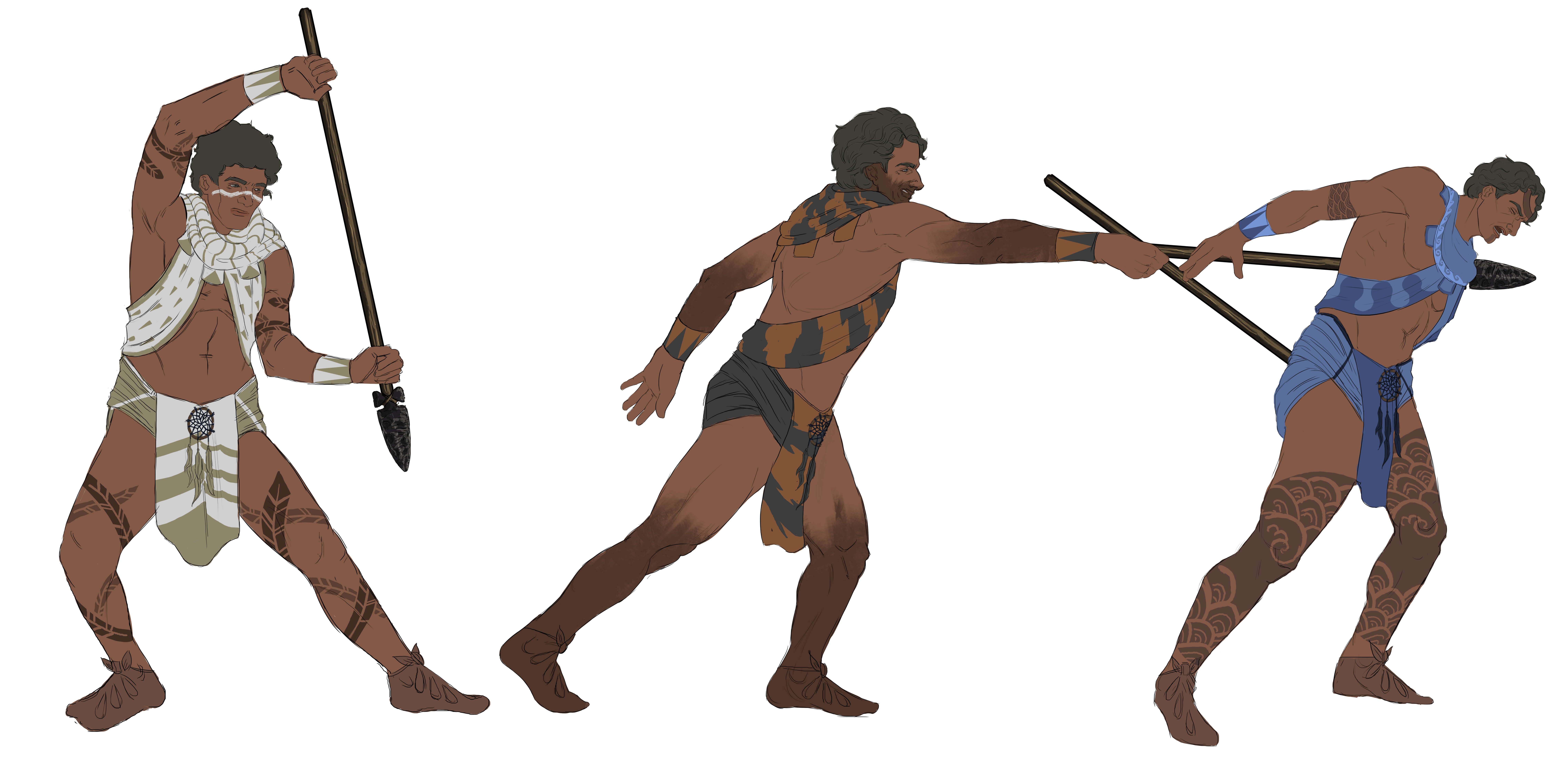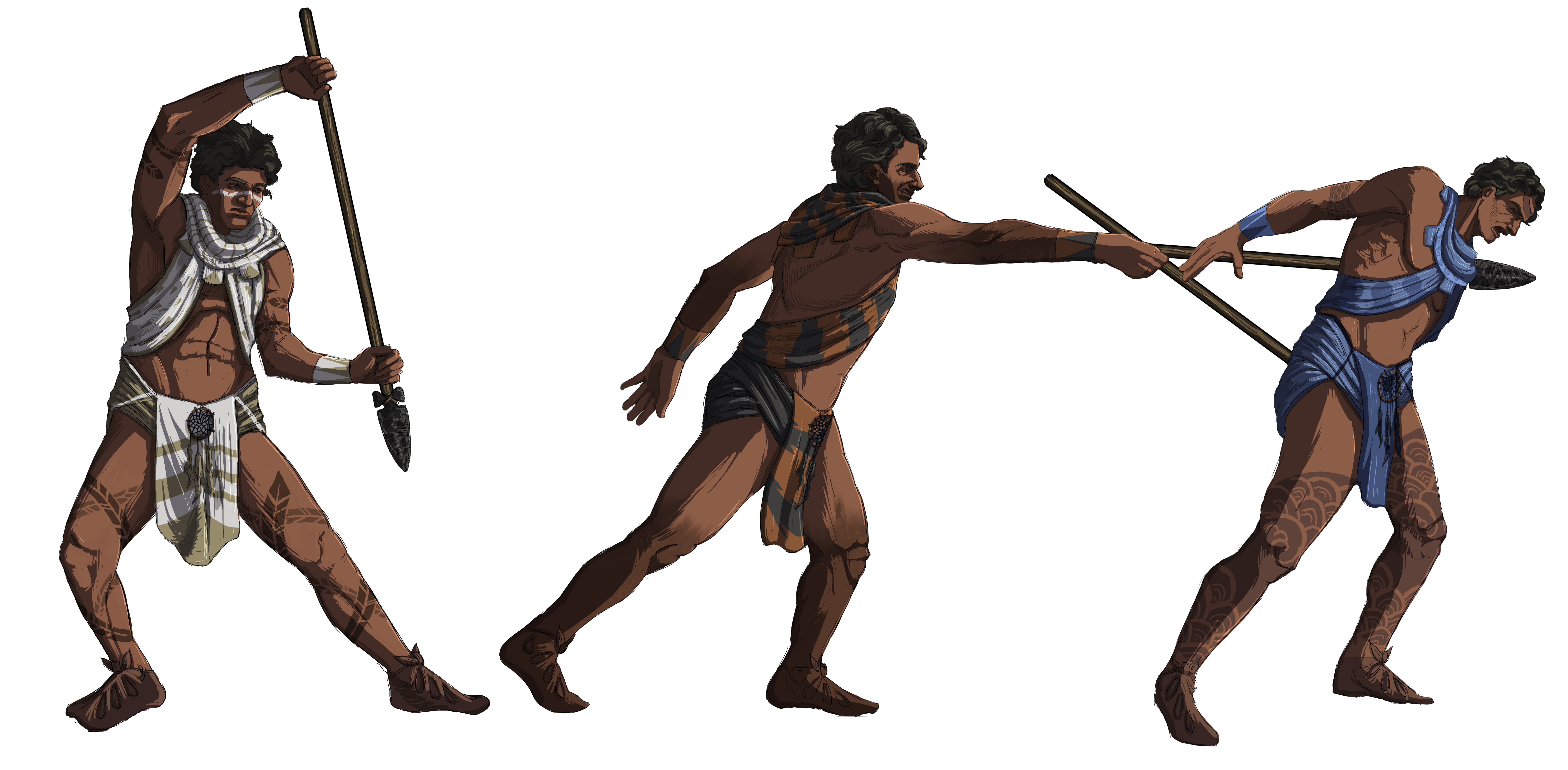 Further Phases
This above process is then repeated 4-7 times (once for each pose), depending on the number of poses. Short review rounds are between each phase before the poses are accepted. After all that, the character's base art assets are done. Except...
Finishing Touches
Once the images are finalized, they are exported to .png format and are plugged right into Unity, where pivot points are set, placements are tweaked, and effects/decals are added, which is a whole, complex process in and of itself.
Challenges
Currently, the most challenging parts of this process are encountered when a character - due to variations in apparel and paraphernalia like the elemental shamans or tribesmen - has to have overlapping layers in the source files, matching perfectly with the other layers.
The other source of considerable headache is that the idle poses have to be ready to be skeleton-framed and animated later, so we have to think about that and draw 'behind' the future moving parts.
Devlog #11 - Character Design - Part 4/4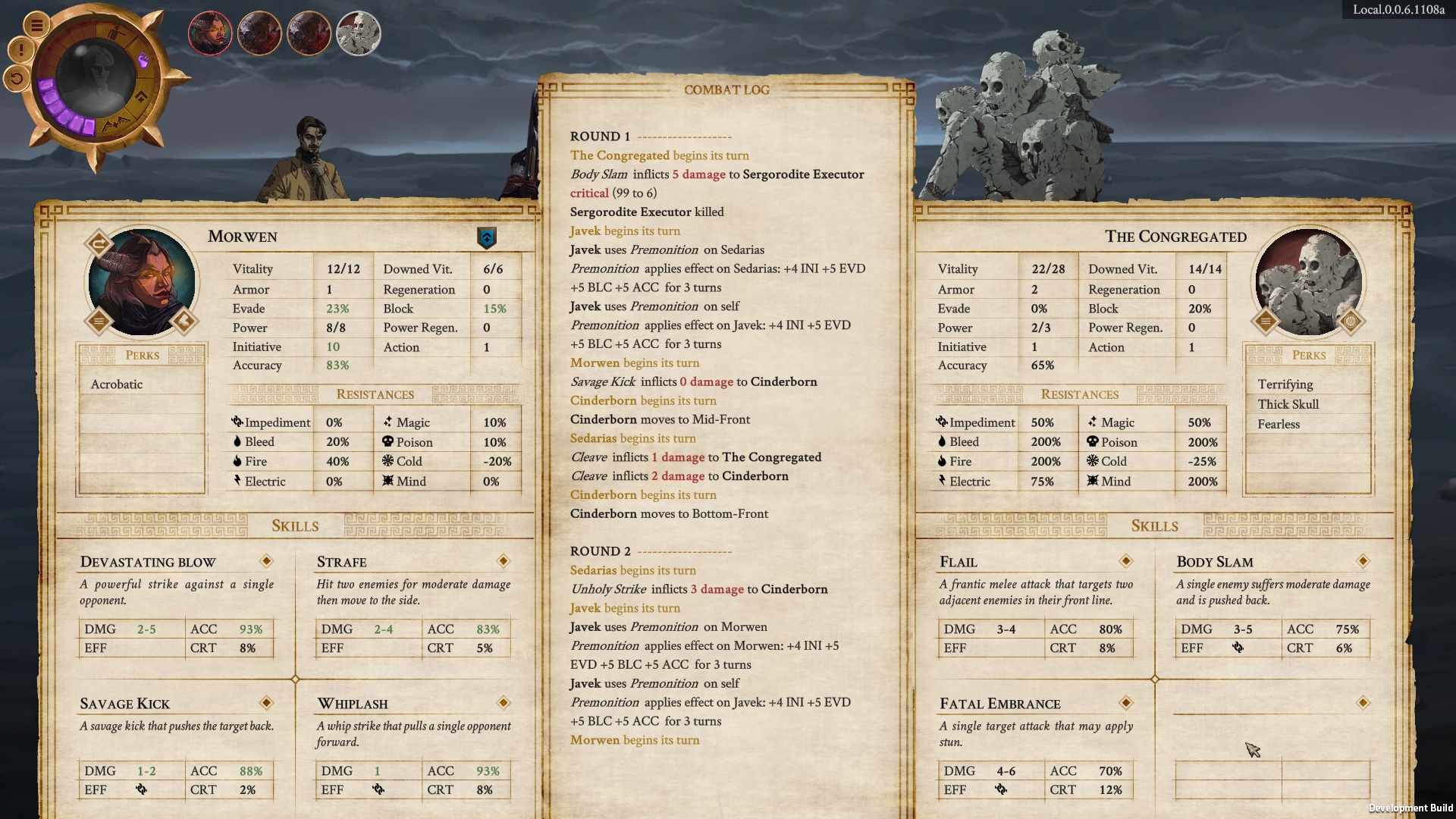 In Part 3 of our Character Design series, we discussed how a character concept gets to its final artwork state that is placed into the game. In this last part we'll talk about how characters are given stats, skills, and roles in game, especially in combat.
Vagrus has turn-based combat because we wanted to capture the tabletop RPG atmosphere and flow we know so well. It is also a fantasy game which comes with a few expectations of what roles characters fulfill in a party of adventurers. The similarities to DnD and other roleplaygames can surely be seen when observing combat and related character stats. It was along these lines that we designed our heroes (even though few of them are actually heroic) and enemies.
The Basics
When we design a character for Vagrus, we first settle on who they are, where they come from, and what kind of a combat role they can fulfill given their background story, skills, equipment, and so on. Are they sturdy enough to be a frontline character? Are they good in a support role? Of course, sometimes it goes the other way round: we know we need a ranged damage dealer, for example, so we find a character in a long list of potential Companions who we can add to the game. This list comes from many years of tabletop roleplaying using the Riven Realms as a campaign setting, so there's plenty of material. This is also the time when we decide if the character will be able to fulfill a Deputy role or not.
Combat Skills
After setting the general idea and role of the character, we start developing its combat Skills. Each of them has four (some enemies have fewer), so the challenge usually becomes having to make these several Skills different enough as well as satisfying enough, plus even at this stage, we have to think about synergies with other characters, not only between their own Skills. Many combat Skills have what we call Effect Props, that is, secondary effects like bleeding, poison, stun, buffs, debuffs, etc. These are usually not set in stone at this stage but many of them are such a vital part of a combat skill that we have to agree upon what to include.
Statistics
Finally, each character's main stats are created and added. We do not dwell on this much and thus stats are assigned fairly quickly. I believe it is thanks to the fact that we've been playing RPGs and consequently designing encounters for decades now. That does not mean we get everything right the first time - extensive testing of combat helps us fine-tune character stats later on.
Follow-Up
This gameplay-related design usually goes hand-in-hand with the artwork and when both are completed, the character is added to the game where we can test their Skills, stats, synergies, and even their decals or effects, making adjustments if necessary. What takes much, much longer is story development for the Companions. We may have the larger steps of their quests and story outlined but expanding that takes time and these are often concluded only months later.
That concludes our series in which we discussed facets of character design for Vagrus. This was, of course, a mere cursory glance into what such work entails but we hope it was successful in at least giving a picture of how we go about designing our characters. Thank you for tagging along!
Contacts
Press and Content creators (KEYS!)
- PressKit: Vagrus.com
- Woovit: Woovit.info
- IndieBoost: Indieboost.com
Follow us on your favorite media channel:
- Vagrus Homepage: Vagrus.com
- Steam Store page: Store.steampowered.com
- Itch.io: Lostpilgrims.itch.io
- GameJolt: Gamejolt.com
- IndieDB: Indiedb.com
- Facebook: Facebook.com
- Twitter: Twitter.com
- Instagram: Instagram.com
- Youtube: Youtube.com
- Patreon: Patreon.com
- Discord: Discord.gg