This is a repost of City of Steam Art Dev Journals
Welcome to the New Year, to usher it in we're going to talk about another thing that's also been renewed, guard uniforms! Dev Journals were on a bit of a hiatus during Closed Beta, but we're back on track now; thank you for your patience!

Special report:

-Nexus, The Refuge, 7th of Wintercrest 256 NE
Nexan guards are important figures in their society, they are there to protect the innocent, investigate crimes and crack down on organized crime, amongst numerous other tasks. What follows is a report filed by Captain Twyne's secretary on why they are wearing new outfits.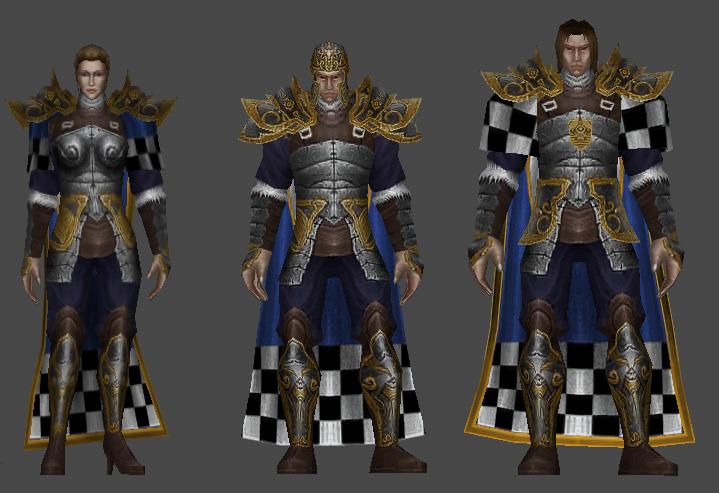 "The day started off like any other day, while not fully rested after last night's drinking at Vander's the late shift the day before, with some coercion guiding words Twyne was able to get his two subordinates motivated for another day of patrolling the Refuge streets. After hanging around for an hour or so doing a round or two they heard a loud voice…."
That was you, screaming: Make it STOP! MAKE IT STOP! Well FINE, here is some actual information about why we made new uniforms and what actually changed, pfff…
Most of you might not have even seen this design as it was changed before the Closed Beta, but as you can see in the picture above, it differed too much from the overall theme of the world. It was too ornate, the large pauldrons, the silly looking cloaks and the helm all looked rather out of place within the game. Every guard looked like either of the two left guards with Twyne being a special case.
About Twyne, the guard on the right; having won the "Most Talked-to NPC" contestback in Alpha, we drew up a special uniform for him. We made his armor bulkier, more detailed and gave him a good ol' fashioned makeover; even now he's still the only unique guard walking around in the Refuge. As you can see on the picture below, he grew a goatee (wonder if that makes him Mirror Universe Evil Twyne?) and now wears a uniform fit for an officer. He was special before and we made him even more special, go Twyne!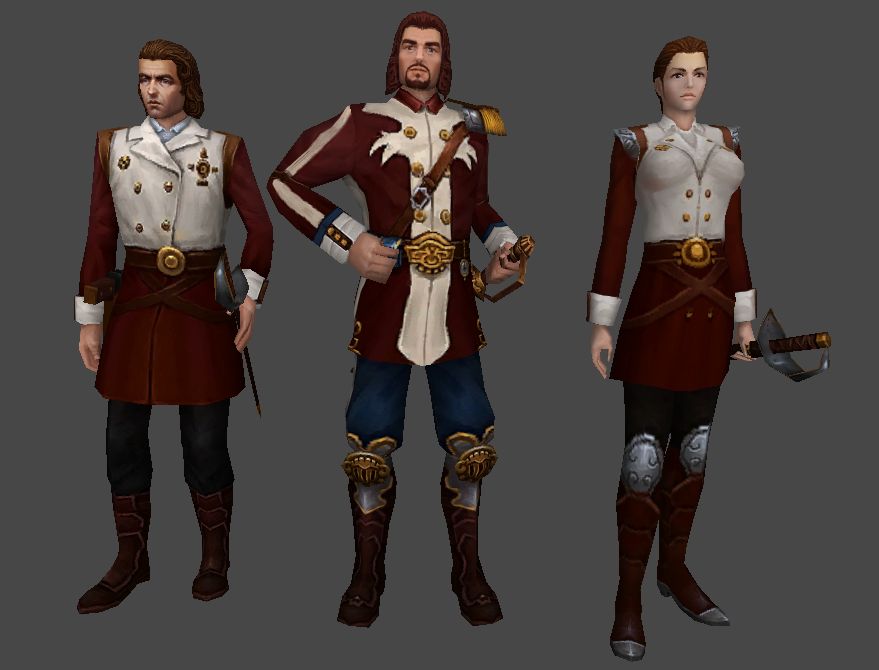 So yes, these are the new uniforms we've been talking about, if you've played the game you've probably already seen them but there they are, we've gone for a more Victorian design, much more respectable and far less gaudy. The colors are inspired by the Heartland fashion and they are now visibly armed, as a guard should be.
What follows are a few glamour shots of guards running sitting and looking around; it's like a fashion show without, you know, the show!
Their inner search for a new identity.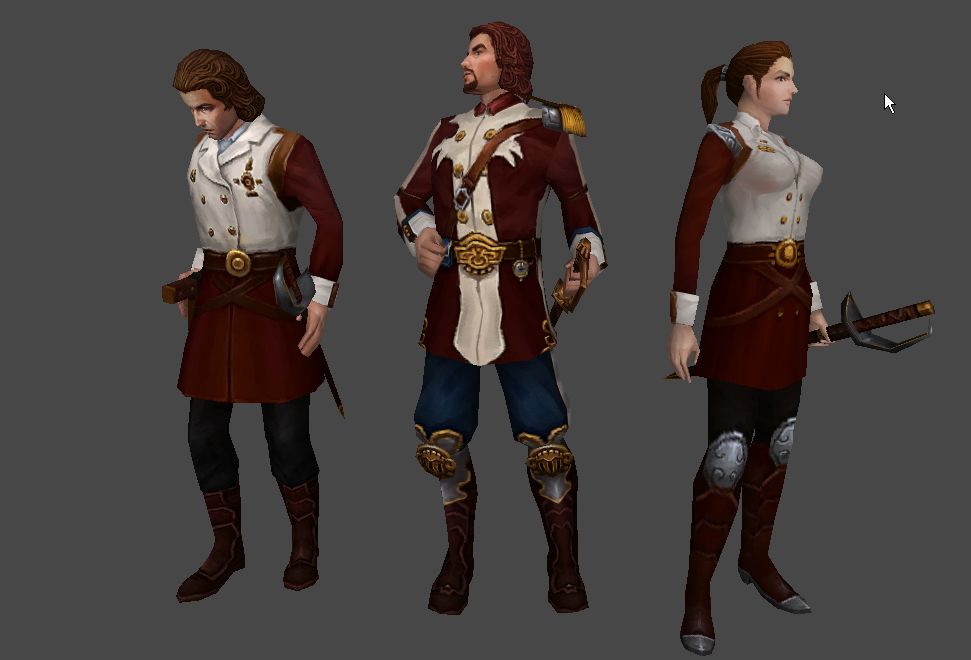 Chasing after a better future; Life, liberty and the pursuit of happiness.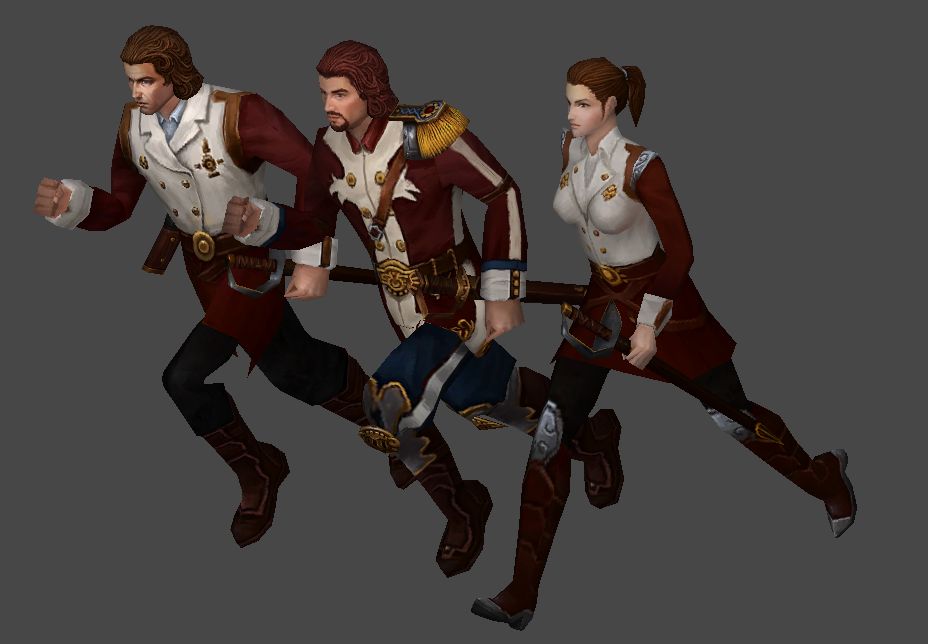 ...And taking a break...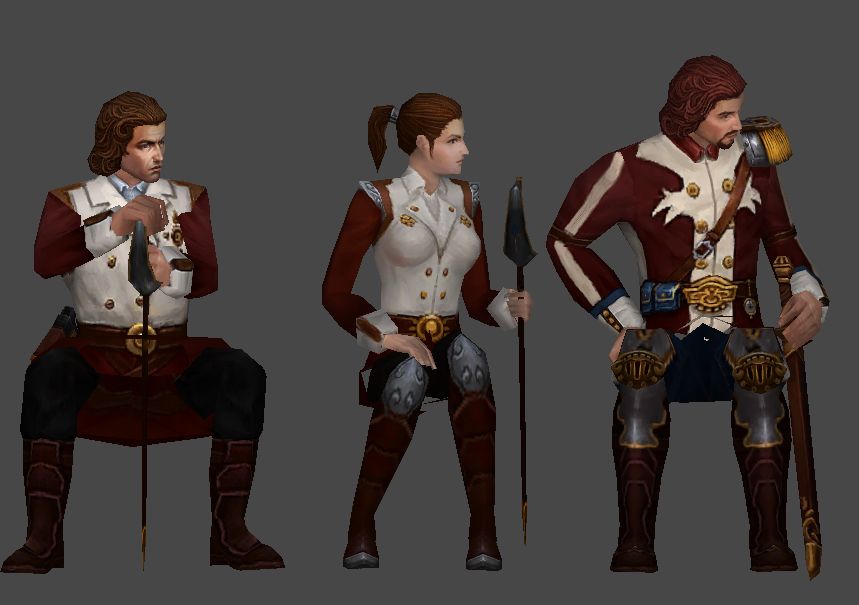 So there you have it, the new design! We're very happy with the changes; we hope you are as well!

"…and caught him! Even though the old uniforms were lost, the day was saved and we have new and improved uniforms to show for it! The mixture however was viral in nature, thus the warning was given to not wear any of the contaminated equipment for at least 120 days.
- Signed Twyne"So now the last question remains, "Who the torque are you?"
- City of Steam dev team
Please vote for us on Greenlight and discuss the new uniforms here!