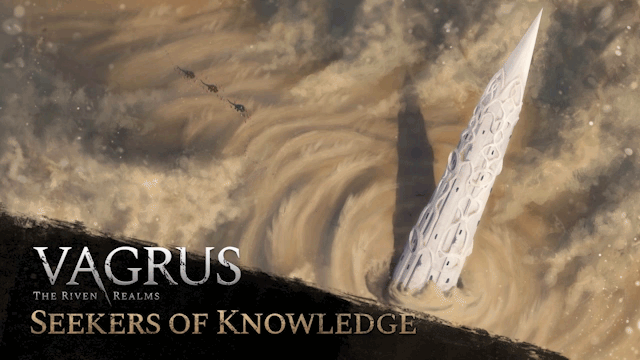 Hey everyone,
This time, we've got a new free DLC for you, along with revamped Scouting, a Glossary to clarify gameplay mechanisms and UI elements, as well as major backend improvements. It would be no understatement to say that this is a huge stepping stone for us and the Riven Realms.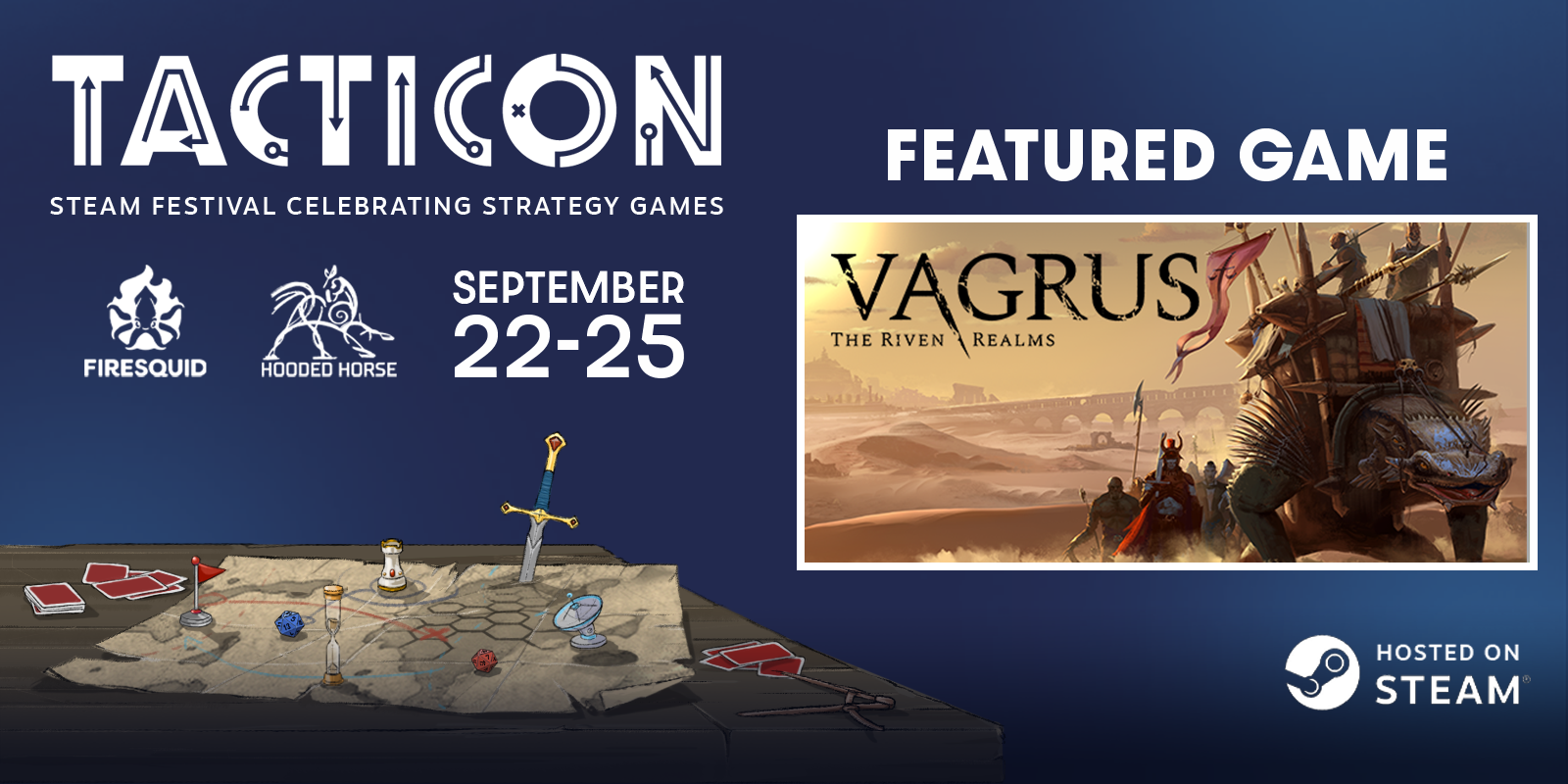 Before we get into anything, feel free to check out our highest-ever discounts as Vagrus - The Riven Realms is participating in the TactiCon sales between September 22nd and 26th.
Having already touched upon some elements that this patch will be covering, let's get into the most important points and details.
Scouting Rework
We think we have managed to enhance player agency by bringing Scouting to a place where it offers a great deal to those who are willing to make use of its more niche qualities while incorporating enough concrete drawbacks that it does not become a default or even mandatory choice for vagri traversing the wasteland. To support that, scouting results remain visible for three in-game days (or turns).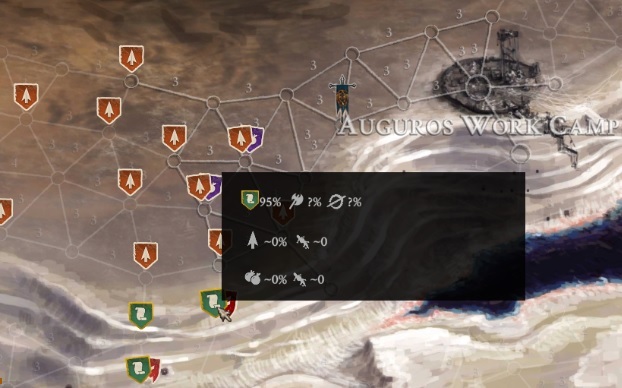 Manual Scouting is conducted in your general surrounding area, which can be expanded greatly if you have enough scouts at your disposal. Covering a large area can be a great way to find specific things you really need or want; for example, great hunting and foraging nodes, or combat encounters if you play an aggressive comitatus. It is also important to note that the more distance covered, the lower the chance of success becomes in general. Also, Vagri may now use Resourcefulness to guarantee success during manual scouting, which can be especially useful if you absolutely need to know specific results.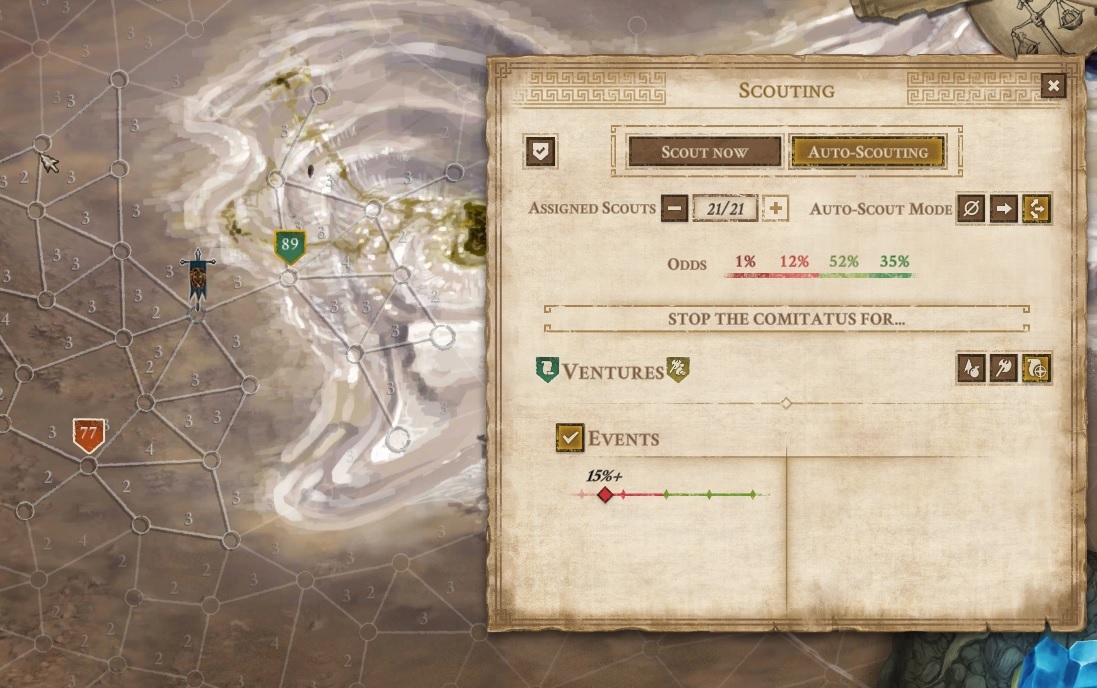 While out traversing the wasteland with Auto-scouting on, you are not prompted by results in the same way you are when you initiate Manual Scouting. Results that can be moused over will show on the campaign map, but to get a full overview, you will need to click the emblem in the top left corner. Contextual options allow you to set up rules about when to stop the comitatus if you want to investigate something you found along the way.
Glossary
The Glossary does not contain story or lore content but rather it is aimed at clarifying game mechanisms and UI elements. It is accessible in the game by pressing 'G' or clicking on the eye icon in the top-right corner of the screen.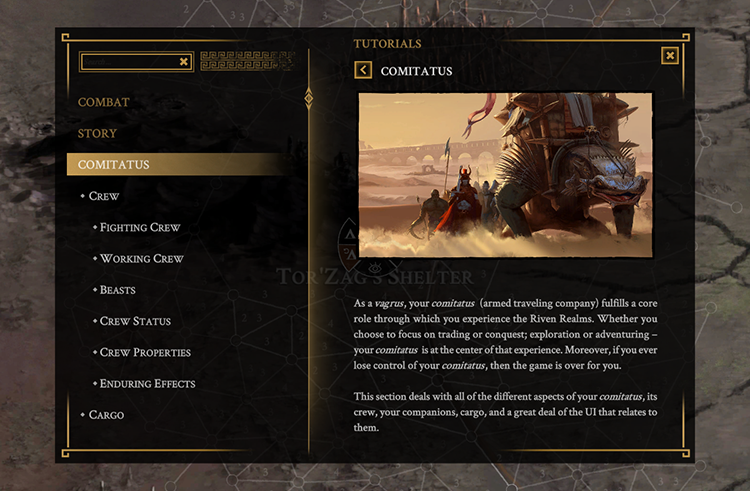 The Glossary is structured into seven main categories representing the main facets of Vagrus's gameplay mechanics. These categories are Story, Combat, Comitatus, Factions, Trading, Settlements, and the Campaign Map. All of these have subcategories, which in turn have their own subcategories, making the Glossary appear in a three-tier structure. Thus, when you browse the Glossary, you can read more about a certain topic by navigating to subcategories, after which you can easily switch back to higher levels.
Entries contain references to other entries of relevance. You can just click on a highlighted word or expression to navigate to its entry. There is also a search function that comes in handy when you know what you are looking for, but you're not sure where to find it.
Please note that the Glossary is still very much in Beta; by no means do we consider it final. Therefore, we would appreciate your feedback so that we can improve its usefulness to players (the easiest way to provide feedback is always our discord server or via the bug-reporting in-game tool).
Seekers of Knowledge Free DLC
We are also releasing our second free DLC – Seekers of Knowledge! With it, we are aiming to enrich the already vast playable realm and to further add to the victory paths available to players. The DLC introduces the Sunken Tower, a massive new dungeon and the focal point of the release's new stories.
Vagrus - The Riven Realms: Seekers of Knowledge
Once known as the Tower of Akarius, the Sunken Tower was home to a host of esteemed Elven, Human, and Dwarven scholars – all of whom worked tirelessly toward the unified pursuit of knowledge. Millennia have passed since that time, however, and due to the Calamity, the Tower now wrestles with a different fate. A fate where its once proud denizens languish in the recesses of its hallowed halls, seeking respite, unable to escape the terrible curse that has beset the place.
This free DLC introduces a variety of new enemies, NPCs, quests, and the new Knowledge Ambition, which tasks the player with amassing and uncovering all kinds of knowledge to achieve victory. The quest encompasses a story that will inevitably see vagri descend into the darkest depths of forbidden knowledge and madness-inducing truths that are best left forgotten.
And now, let's jump into the patch details:
Important Note: Considering the extent of the improvements, there is little to no chance that we broke nothing in the process. Assume that we did not want to make anyone's life harder. If you see something amiss, please flag it to us using the usual channels, like the inbuilt reporting tool (F1 button), forums, and our Discord server.
--------------------------------------------------
Patch 1.1.25 - Codename: Seekers
Seekers of Knowledge Free DLC
The Sunken Tower can now be unlocked via questing
A massive storyline centered around the Tower was added (it can be played through without doing the new Knowledge Ambition)
The Tower is a massive dungeon that changes each time you enter - it can be explored bit by bit, unlocking more dangerous locations, secrets, and precious Insight
A number of new enemies, Gear, and commercial Items were added to give the Tower its own challenges and rewards
The Knowledge Ambition can be selected during vagrus creation or switched to from Freeplay
Content Update
A number of new opportunities added to obtain certain Codex entries to already existing locations and Events
Two new achievements connected to the newly added questlines
New or Updated Features
Scouting update (new representation of results and a revamped Manual Scouting)
Added the Auto-scouting feature
Added the Glossary
Design Tweaks
The Renown Victory condition raised to 40 Renown to be more on par in terms of difficulty with Wealth and Knowledge Ambition victory conditions
The Church of Sergorod is now the opponent of both the Ratharnak Alliance and the Scythichnis Covenant (and vice versa)
Significant combat AI improvements (the game may have gotten harder)
User Interface Improvements
Added a new text template to the Gamelog
New Prowess tooltip was added when there is insufficient Insight
A new Prowess button has been implemented
Companions now have 5 status lines instead of 4
Bug Fixes
Finndurarth storyline crash was fixed
The Block/Evade button is available only after the tutorial in Pilgrims of the Wasteland
Companions are no longer falsely indicated as wounded
Events that negatively effect Movement and Autocamp will now calculate MPs correctly
Double position character markers form a single block now
"Damage" text in Crew Combat Actions is no longer white
The tutorial will recommend Aid instead of Inspire when there is a Downed Companion
Goods tooltip will mention Price History only after Price History has been unlocked
A lot of minor tutorial-related polishing
The bottom choice box text is no longer obstructed in Events
Fixed some cases where Companions occupied the same position in combat
The long tooltip on the Factions tab has been fixed
Event tests are no longer rigged massively in the players' favor
Dragonlands-related Points of Interest (POIs) will not offer slaves as passengers
The bug related to incorrect percentages shown for Odd Jobs has been fixed
"Due to" Game log text will not be displayed twice
Skills with self-targeting phase in the Combat Log have been fixed
Players can no longer receive Yrg beasts through crew combat but will receive Supplies instead
Various settlement background art-related bugs fixed
A large number of mistakes, typos, and issues with texts all across the board were corrected
What's Coming Up Next
Optimization to Steam Deck and other tablets
Controller support
Currently Known Issues
Escort tasks-related anomalies
Crew combat chance percentages are sometimes shown in reverse
Since we are adding a massive amount of content, revamping Scouting, and changing backend technology by implementing Unity addressables, there are bound to be issues that neither we nor our testers realized or flagged, so we will be taking all feedback sent by next Monday and address serious issues in a hotfix the same week.
Stay tuned and conquer the wasteland!
The Lost Pilgrims Team
---
Don't forget to wishlist and follow Vagrus on Steam and GoG!