𝕬 new purpose for Itch.io and Steam's updates as well
as changes to the game's presentation coming.


Currently making changes to not just the game but my life as well. Weeks have passed in which I was not working on the game as I was sorting things out. After much waiting, I have now created a schedule to organize myself. I am now working on the game every weekend as the weekday is being reserved for other endeavors. You can find more about this in the alternative blog I set up, which I will now describe before going into the news about the game.
-New blog purpose for itch and Steam-
One of my previous blogs I posted here on IndieDB started talking about what was going on in my life. I was going through some issues and wanted to share my experience. After publishing the blog, I realized the IndieDB devlog was not suited for it. It clashed with the rest of the article about the game's development and it has limited space to talk about such things. But since the change in development coincides with the change in my life, I felt that it was as important enough to mention, I just wish I had more space to do so.
That is why I decided to move that particular topic to the itch.io page. Since I was simply parroting what has been mentioned here on the devlog, I figured it might as well have its own purpose and use that space to write about my personal experiences as a gamedev. Thus all activities pertaining to my life can be found there.
And while I was at it, it was also important to keep the Steam store page active as I didn't want people thinking the game was dead but didn't have an idea how. I figured since the game's demo was available on that site as well, and I was already posting a version history on the forums, then I can keep the Steam store page alive by updating on the present changes to the game in detail. What that means is that the Indiedb devlog will be utilized for prospective features and WIPs while the Steam store page will be reporting on the latest demo updates and currently implemented features.
After receiving feedback from various players, I have come to the conclusion that the game simply looks too complicated and it gives the impression of difficulty. I feel that may be the reason it is alienating potential players as it can't be discerned what one does in the game by merely looking at the screenshots or video. I felt I needed to simplify its presentation to something much more familiar.
My initial idea was to update the way the player is presented on the opponent's screen. The way the split-screen is designed is that you have to keep your eyes on your opponent while your opponent keeps their eyes on your character. A very basic split-screen modification that a lot of games use, except it wasn't working for Child Arms. I once got a suggestion to add the shadow of your character in front of your opponent and lower it a bit for visibility. This is what that currently looks like.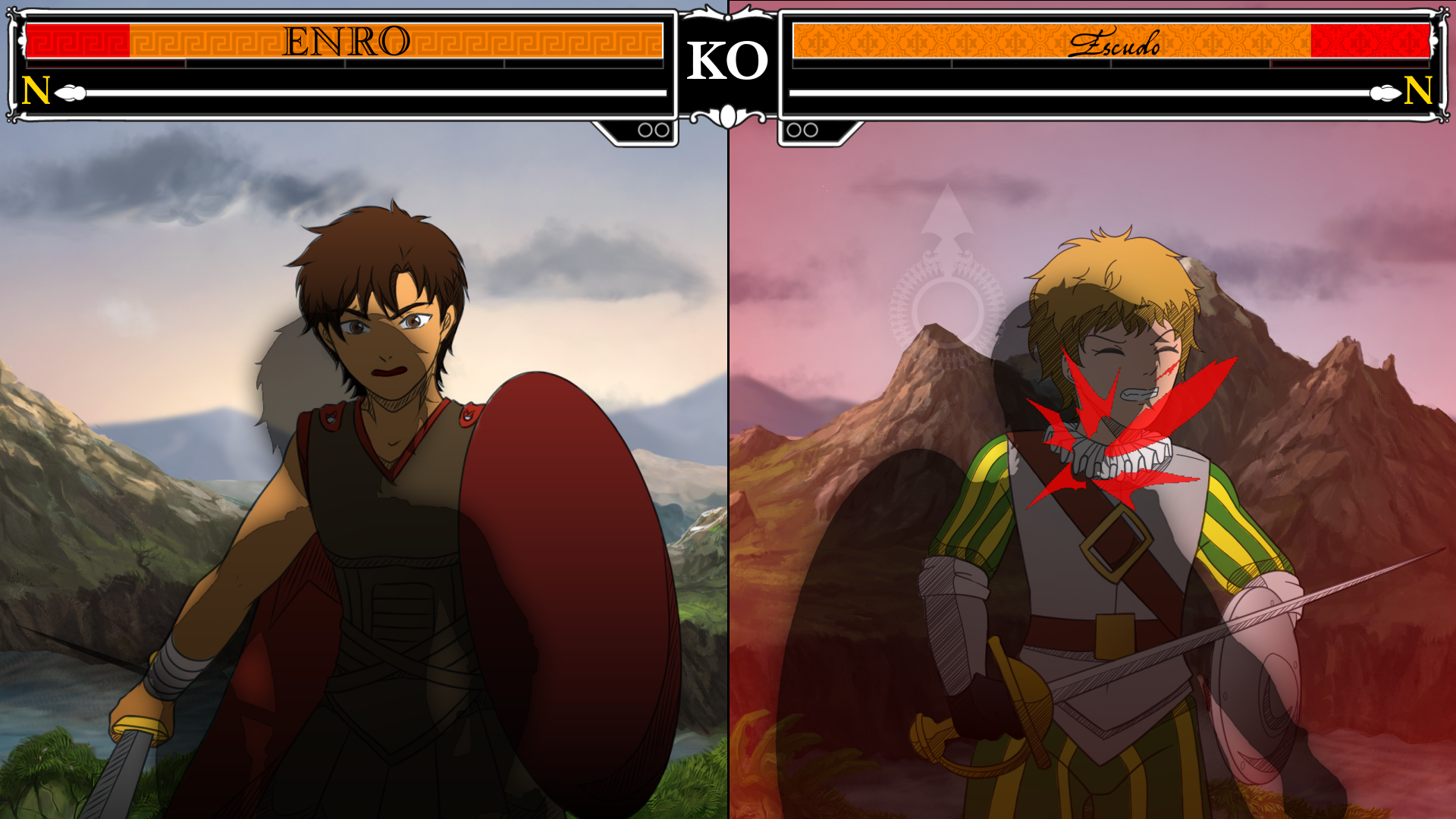 This feature has been in the game for years now. I turn it off for screenshots and video recordings which is why you seldom see it in promotional material.
I will need to more feedback from test players to figure out if this needs improvement. In the meantime, I decided to experiment a bit and come up with an alternative to the presentation. I thought of these ideas: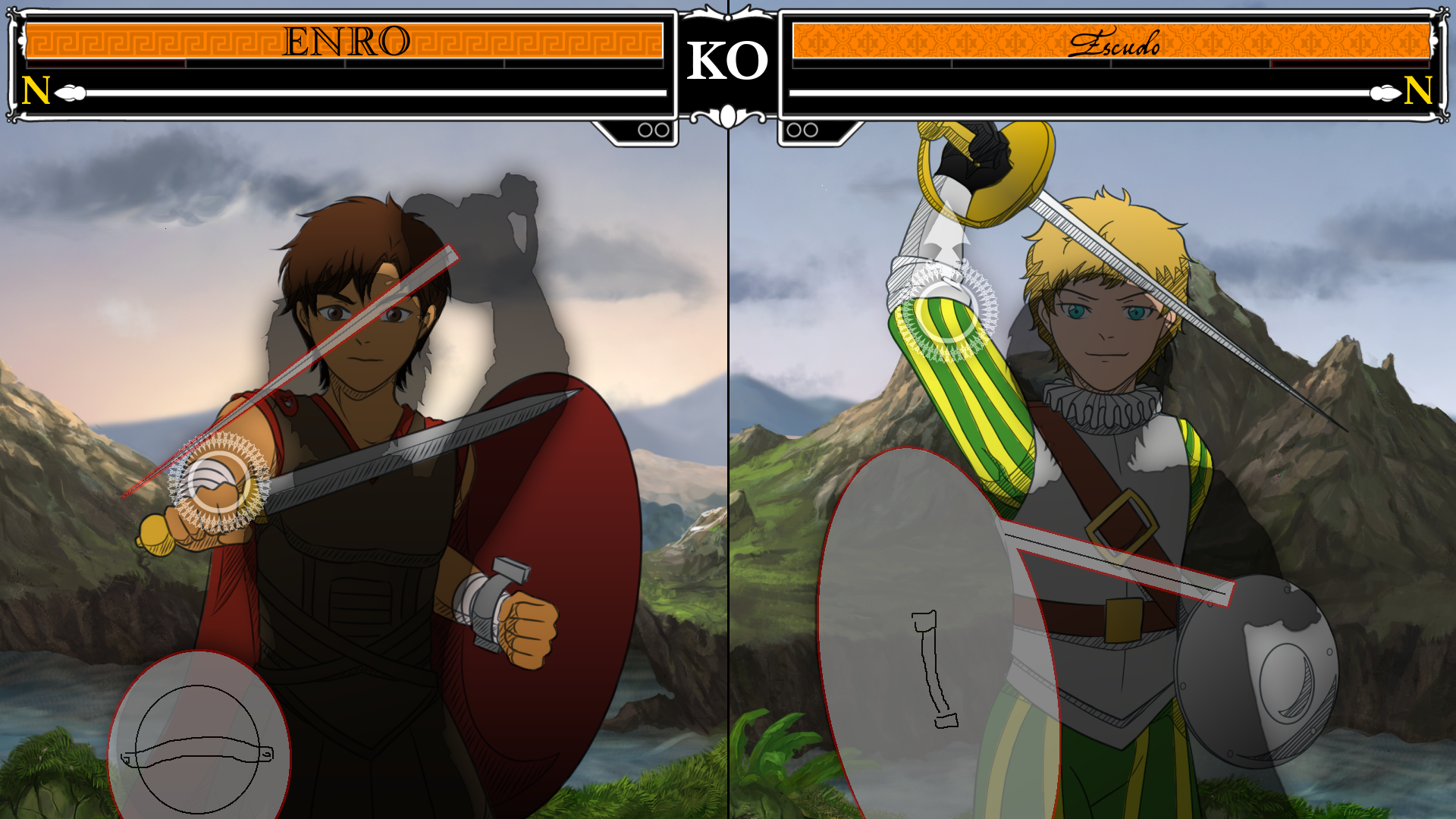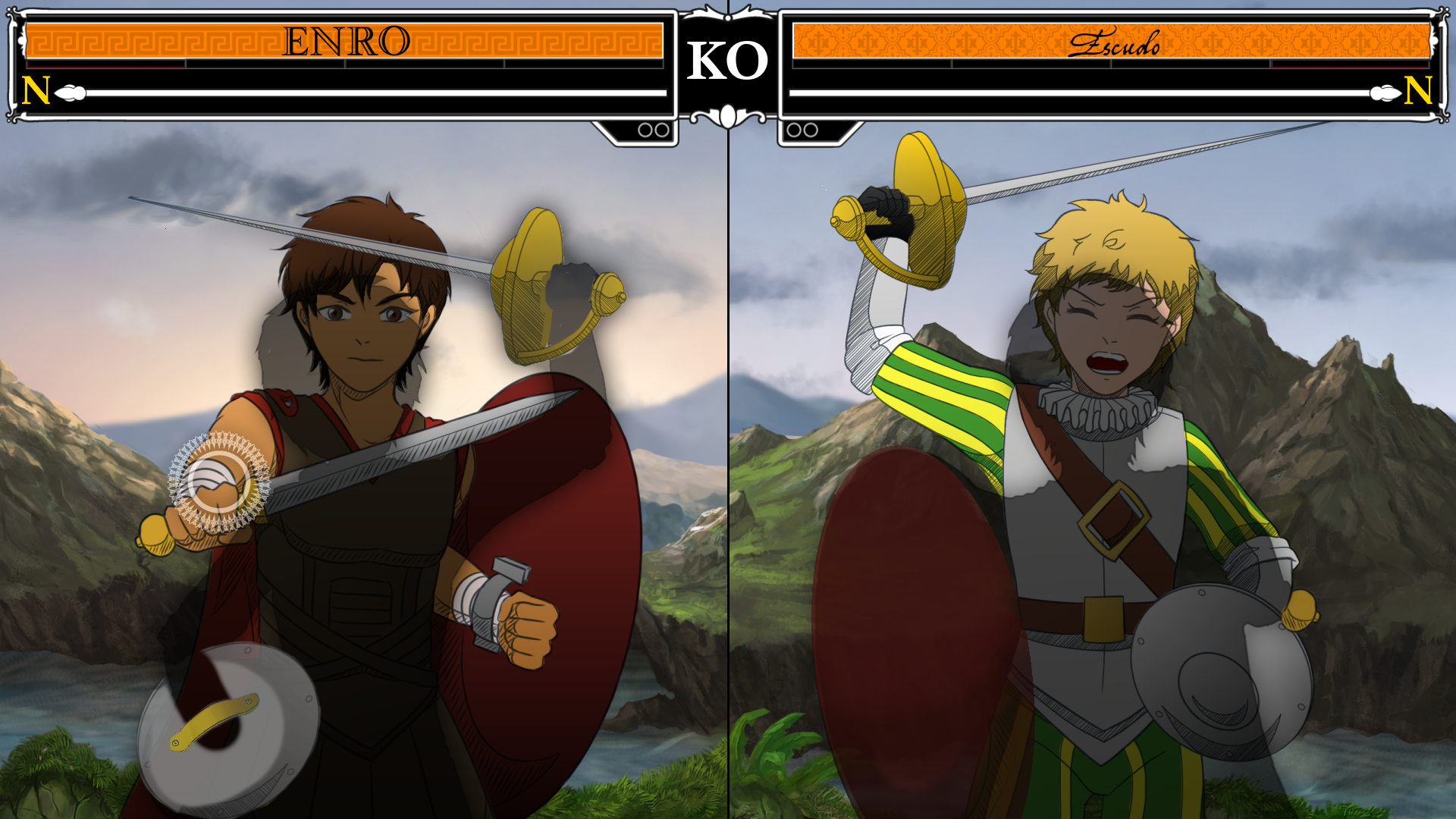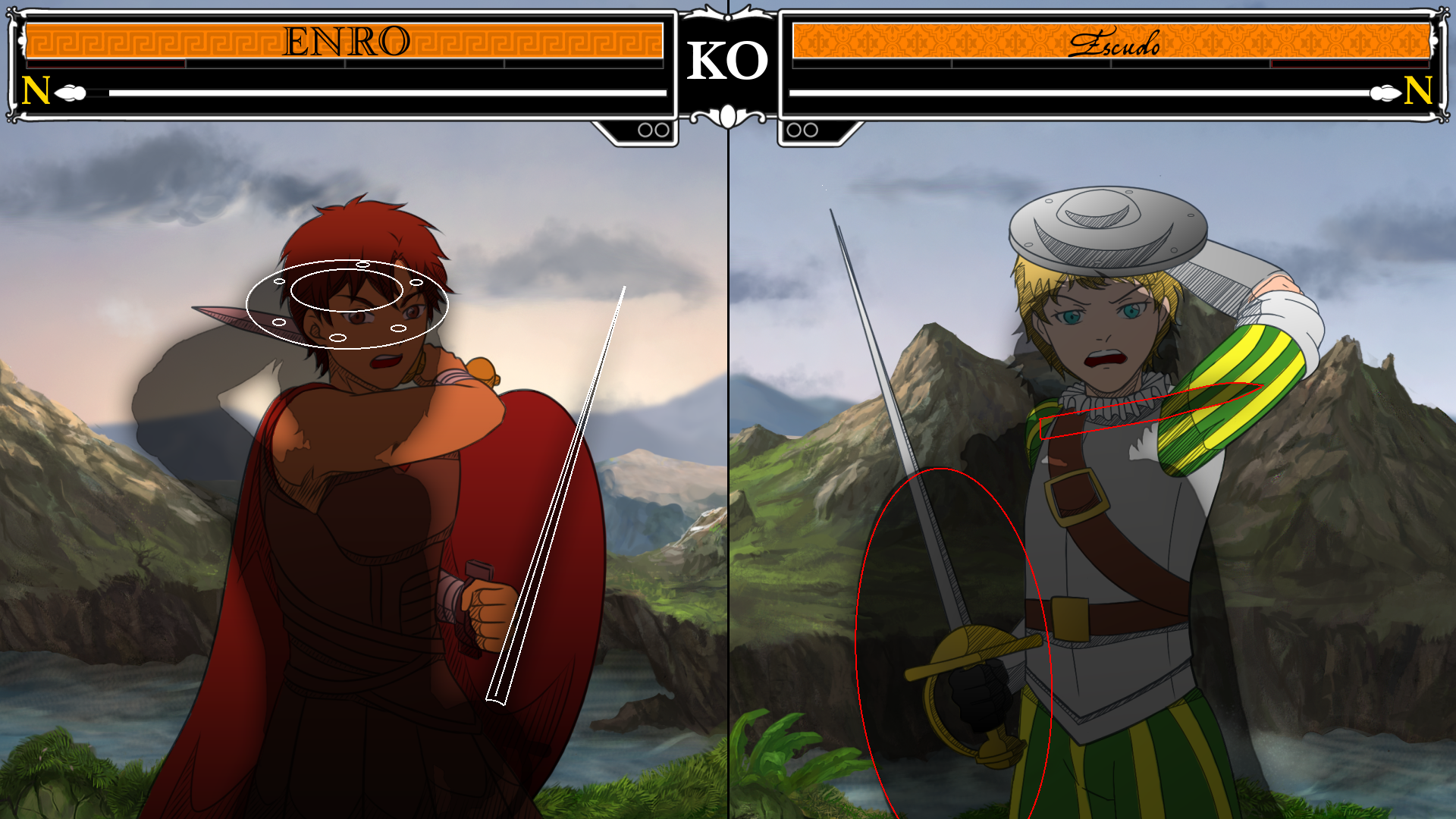 My idea was to highlight the arms of the player in front of the opponent. This is a tactic used in these types of games, where the character is shown in front of the opponent as a silhouette or have the character with transparency. The weapons they are attacking with are highlighted to stand out. Despite my use of outlines, wire frames, or adding the weapon itself, nothing seemed to click. It all looks convoluted and confusing.
But that wasn't the only thing I wanted to improve. I wanted to work on the second aspect of improving the presentation, single-screen. The game was always meant to be split-screen ever since the early days in 2014 when the game was just getting started. I can't remember the reason why but I recall thinking since this game was competitive in nature and required balance, I needed to show both characters at the same time. But over time things started to change. After years of competitive games of a similar style such as "For Honor" and "Arms", I realized that it was possible to create a balanced third-person fighting game without needing to use a split-screen.
Now I'm in the process of switching the single-player and online content of the game to a single screen while leaving the split-screen for local play. Thus I made mockups of what I planned to do and began experimenting.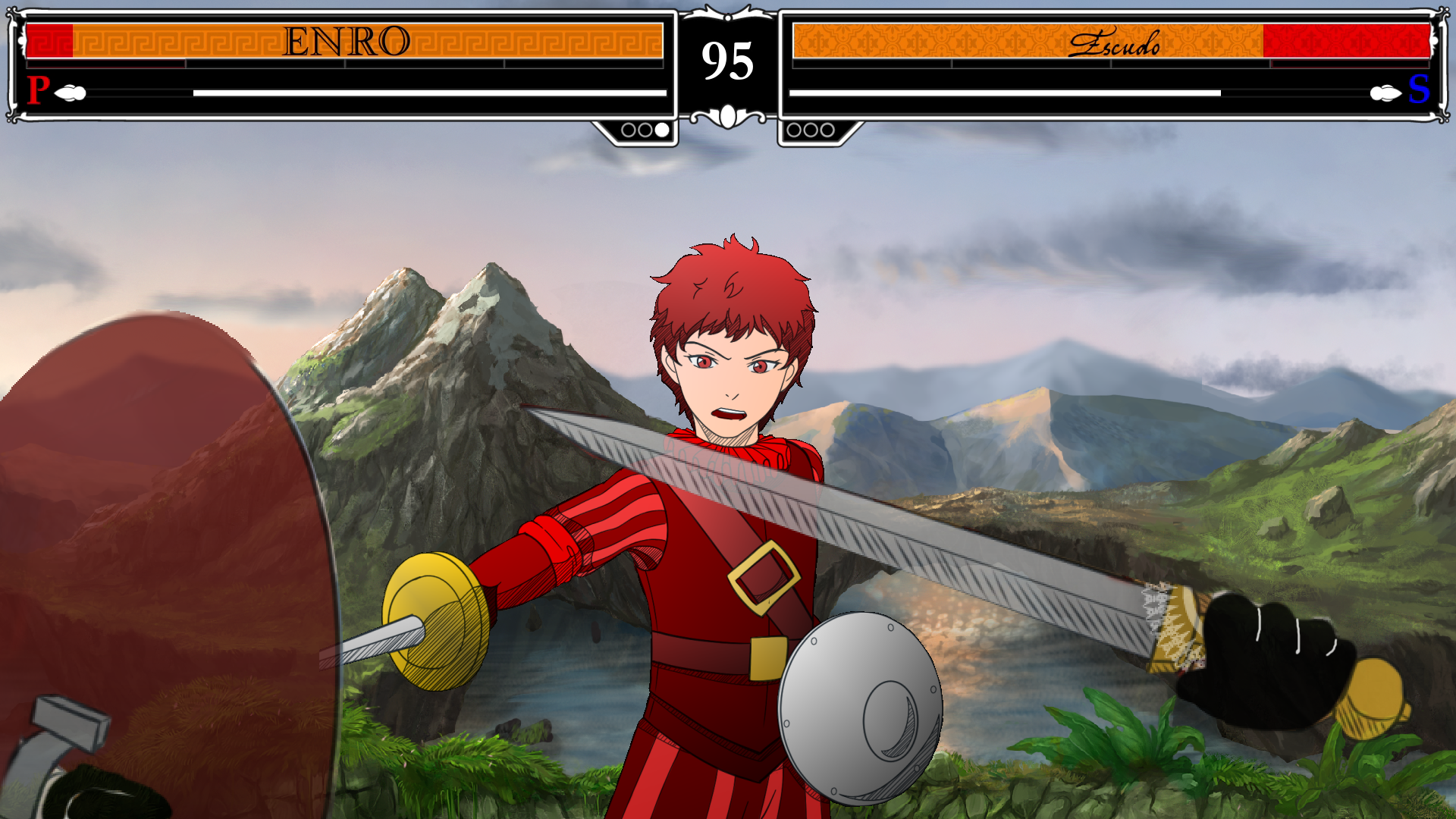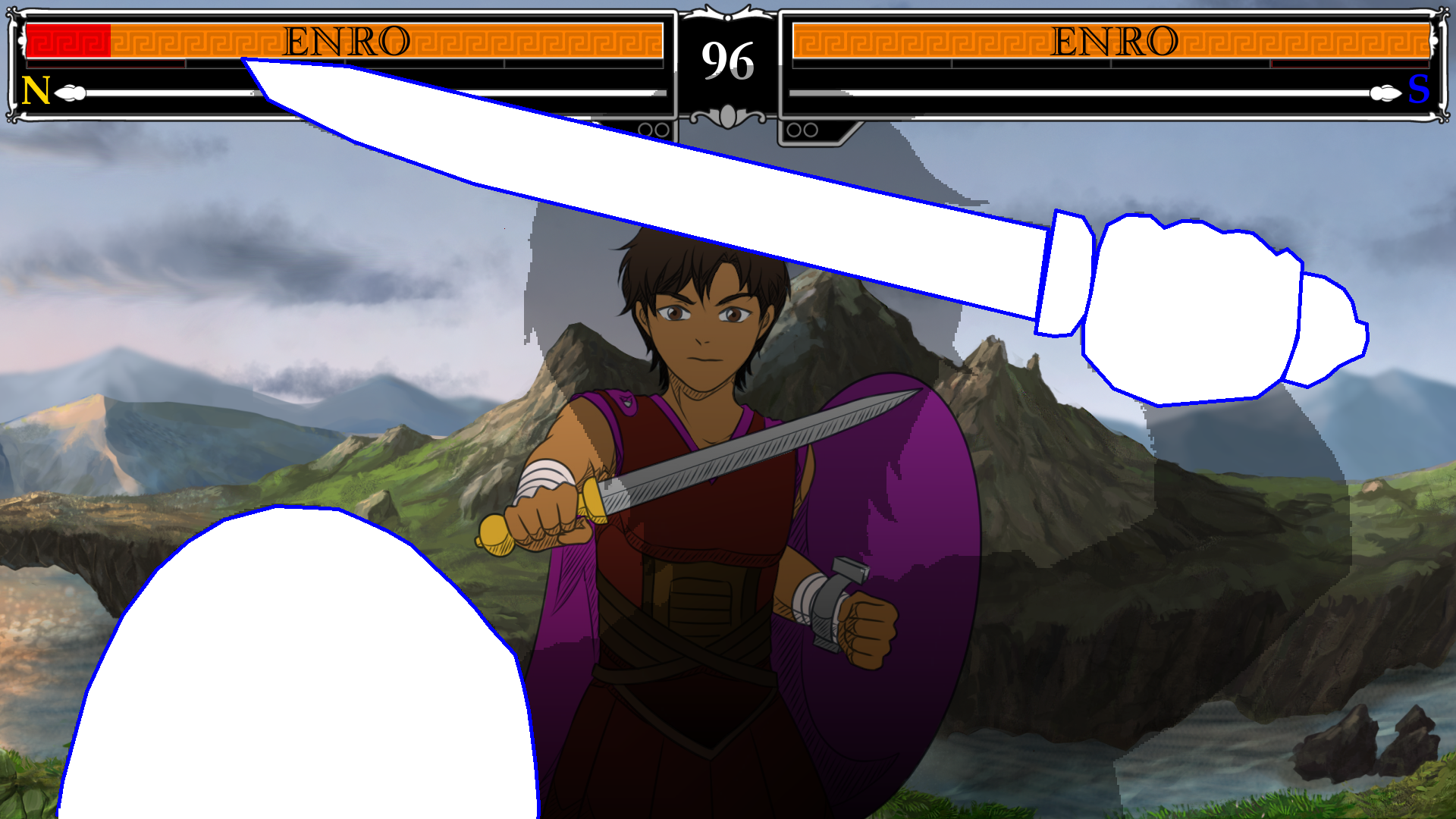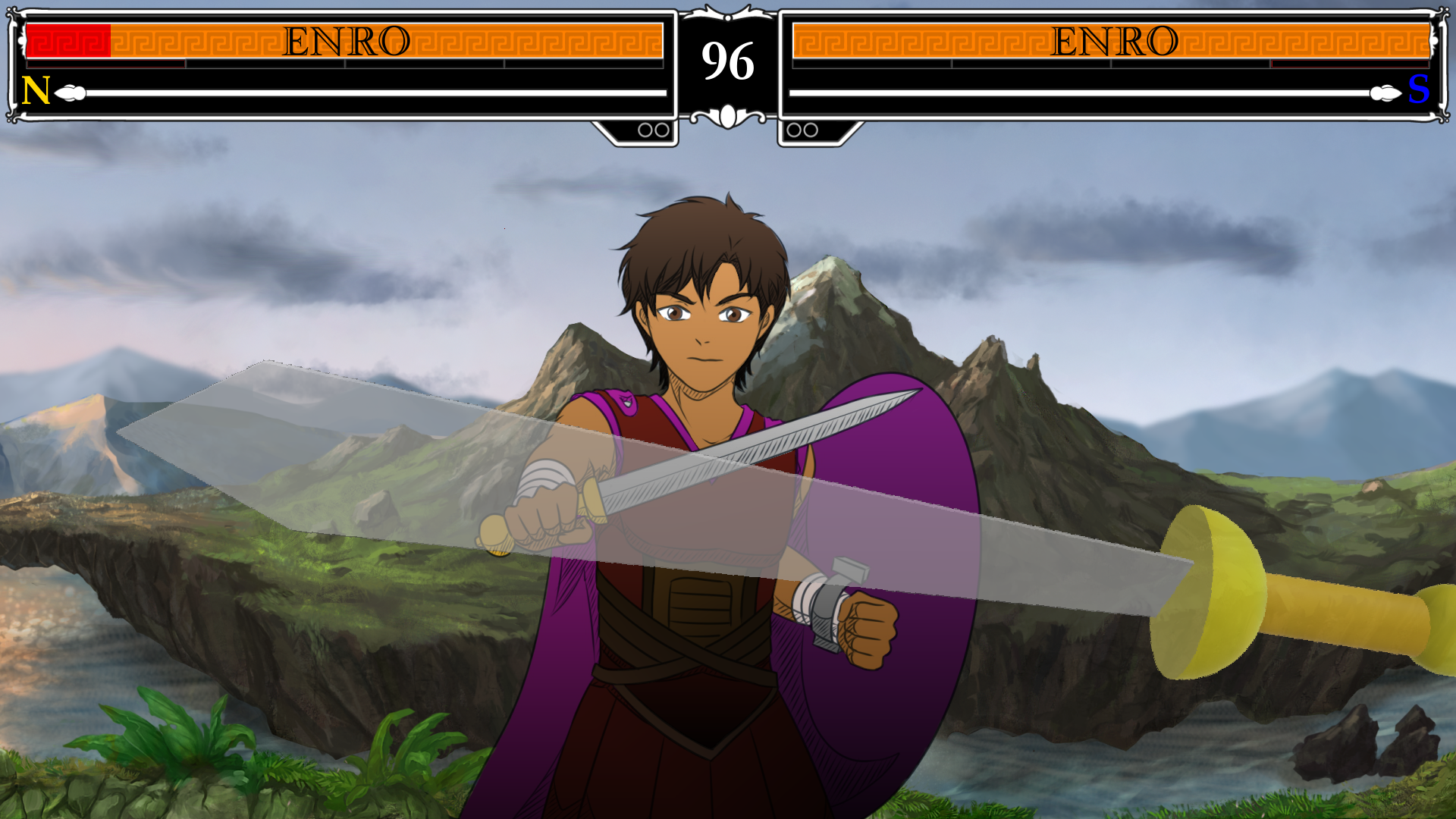 It's not perfect, I'll be experimenting with it, but this may be what I need to showcase the game. Everything looks much clearer and concise compared to the current look. I believe this may convey the message that my game is a sword-fighting game you play from a first-person perspective.
I am now working on implementing this single-screen first-person style and experimenting with it. I'll be looking for playtesters to give me feedback but I have a strong belief that the game will be monumentally improved by switching to this perspective and leaving the split-screen for local play.
The fourth character in the game, Mayana, is more or less underway. I say "more or less" because things are still turbulent in terms of his development. For one thing, the artist for the game have lost their DeviantArt account and are concerned about it. They've been doing business from that site and is of importance to them to get it up and running. In trying to fix this, they haven't been able to communicate with one another and thus Mayana's sprites have been put aside. That means that I only have the rough drafts to work with at this time.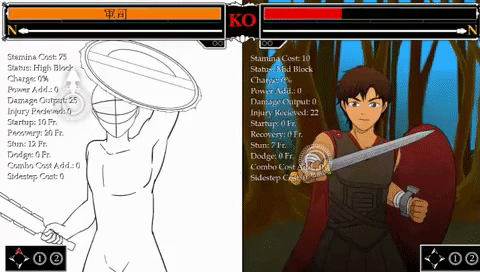 They are obviously far from final but not just from their looks but poses need changes, which I will have to wait until they have settled things on their end.
From what I received, we can at least get a good idea of how Mayana is going to play. I'll go more in depth with Mayana as I continue working on him. I'm sure you can tell some things are in an unfinished state and I would prefer to fix them before I can confirm anything.

Please be sure to follow us on our TWitter for announcements and posts.

And check out our Itch.io page for further information about the game's development.
Don't forget to download the demo and wishlist on Steam: