Warm greetings from the Torpor Games team. After some rest following the intense pre and post-launch period, the team set out on to make the first minor content patch. While it still heavily focuses on bugfixing and polishing the core experience, it does add some content for our players to enjoy!

This patch addresses several of the concerns raised by the community and we hope it improves the overall experience for new players! We wish you all a great holiday and as always many thanks for your support.

Remember to drop a review if you liked Suzerain and you can always talk to the devs directly at our Discord and let us know about your thoughts: Discord.gg

A Morgna her coren!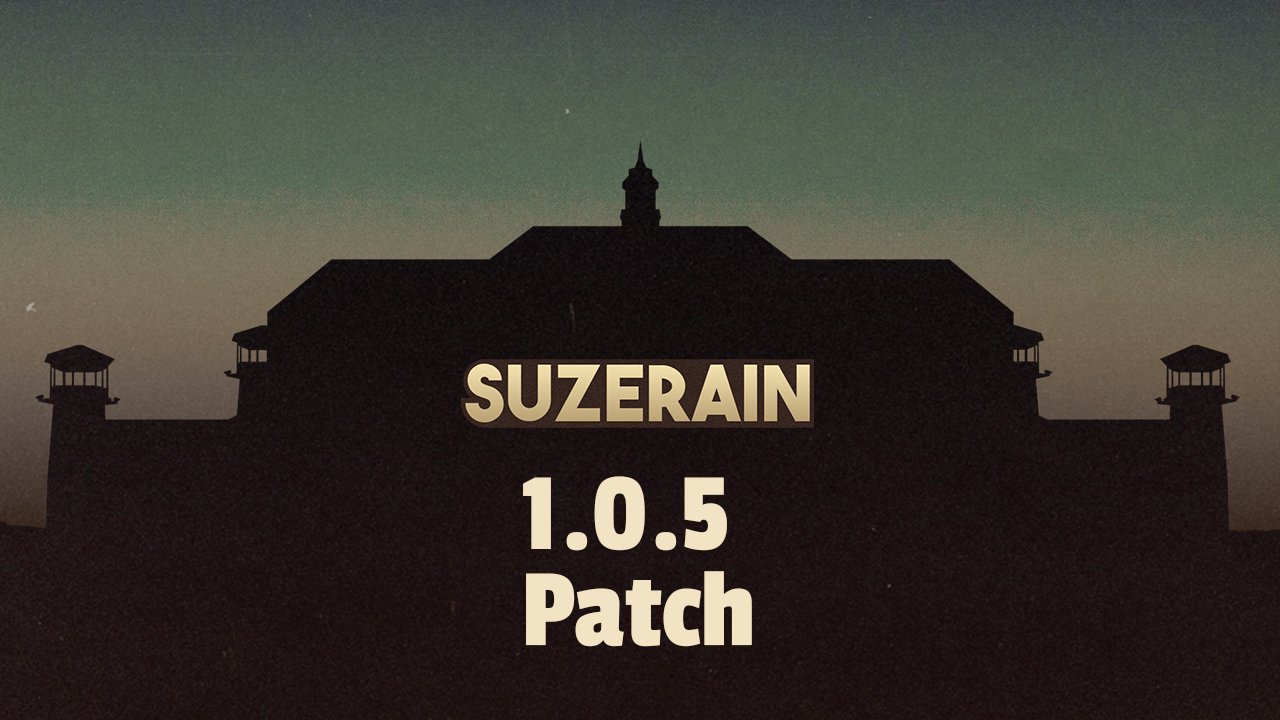 [CLASSIFIED DOCUMENT - CONTAINS SPOILERS]
[FOR YOUR EYES ONLY]

1.0.5 (18/12/2020)

The changes require a new game to apply.

Features
Added load previous checkpoint to in-game escape menu
Checkpoint designations are scenes, bills and decisions

User Interface
Added military strength section to other country panels
Added four different military strength levels
Added allied relation type to other country panels

Balancing
Reduced starting economy by 1
Improved election calculation and added bonuses to certain actions
Improved conditions by adding new factors
Made conditions more complex
Added negative economic damages of canceling
Added new economic damages to not controlling
Increased the economic and public opinion damage of
Added late-game economic damages to having uncontrollable debt
Made more difficult
Made economic bonus checks for combined decisions more complex
Balanced bonuses
Some balancing on
Government budget losses for early taxes and trade choices are instantly changed
Balanced conditions of the old public opinion related reports
Made slightly less likely and slightly more likely

Dialogue
Added more hints about the
Improved the flow and addressed some loopholes
Added more feedback to military choices and added a final straw section to the
Deivid gives more consistent advice on potential dangers and mentions certain optional events
Iosef gives more logical advice to the player about the Rumburg situation
Added a heroic moment with
Added feedback about the to a scene
Small addition to Turn 02 security overview about Rumburg
Expanded flexibility with and
Added some more content to the
Added to the ending

Narrative
Added situation to the early game for feedback
Added situations for
Added new reports for election to give feedback on calculation parameters
Added missing reports and news for
Added news about the negative debt situation in turn 09
Added news and reports about diplomatically
Added more hints about the danger the military poses to the administration
Added updates to different military strength variations of Sordland compared to other countries
Improved some journal entry texts
Improved consistency of military-related reports
Fixed some misleading news and reports. Also one should not fall prey to their biased media!

Bug Fixes
Fixed dozens of wrong triggers on news and reports
Fixed several wrong situation triggers
Fixed condition error on Iosef advice logic
Fixed several wrong dialogue conditions
Added missing conditions to some dialogues
Fixed wrong Valken condition
Fixed dozens of typos and text errors
Fixed accidental time travel in Epilogue
Fixed jailed minister working from jail
Fixed missing Queen article
Improved keyword linking and improved the selection
Fixed wrong Lespia government type
Fixed wrong condition responses in budget meeting
Fixed some wrong journal entries
Updated the description of some decisions to make narrative sense on optional paths
Fixed narrative support error around minority rights
Improved some journal entry text
Fixed wrong situation variable name
Sordland no longer can have two active Vice Presidents
The Colonell won't smile without a reason