DISCORD
First of all, we've opened a Discord server for Rise of Titans, where we'll update exclusive content and you'll be able to talk directly to the devs!
COUNTRY RELEASE ROUNDS
For the early access we have planned to release the game in three different rounds. We are doing the releases this way to make sure the servers are going to work correctly for you and grant you the best online multiplayer experience.
Can you see your country listed?
First Round

America: Antigua and Barbuda, Argentina, Bahamas, Barbados, Belize, Bolivia, Brazil, Chile, Colombia, Costa Rica, Cuba, Dominica, Dominican Republic, Ecuador, El Salvador, Grenada, Guatemala, Guyana, Haiti, Honduras, Jamaica, Mexico, Nicaragua, Panama, Paraguay, Peru, Saint Kitts and Nevis, Siant Lucia, Saint Vincent and Grenadines, Suriname, Trinidad and Tobago, Uruguay, Venezuela.
Europe: Albania, Belarus, Bosnia and Herzegowina, Bulgaria, Croatia, Hungary, Moldova, Montenegro, Romania, Serbia, Slovakia, Slovenia, Spain, Ukraine.
Second Round

America: Canada
Europe: Andorra, Armenia, Austria, Azerbaijan, Belgium, Cyprus, Czech Republic, Denmark, Estonia, Findland, France, Georgia, Greece, Hungary, Iceland, Ireland, Italy, Kazakhstan, Kosovo, Latvia, Lietchtensten, Lithuania, Luxembourg, Macedonia (FYROM), Malta, Monaco, Netherlands, Norway, Poland, Portugal, Russia, San Marino, Sweden, Switzerland, Turkey, Ukraine, Vatican City (Holy See).
Africa: Algeria, Egypt, Libya, Morocco, South Africa, Sudan, Tunisia.
Asia : India, Indonesia, Kuwait, Malaysia, Myanmar (formerly Burma), Pakistan, Qatar, Saudi Arabia, Taiwan, Thailand, United Arab Emirates (UAE), Vietnam.
Oceania: New Zealand.
Third Round

America: USA
Europe: Germany, United Kingdom.
Asia: Japan
Oceania: Australia
ROADMAP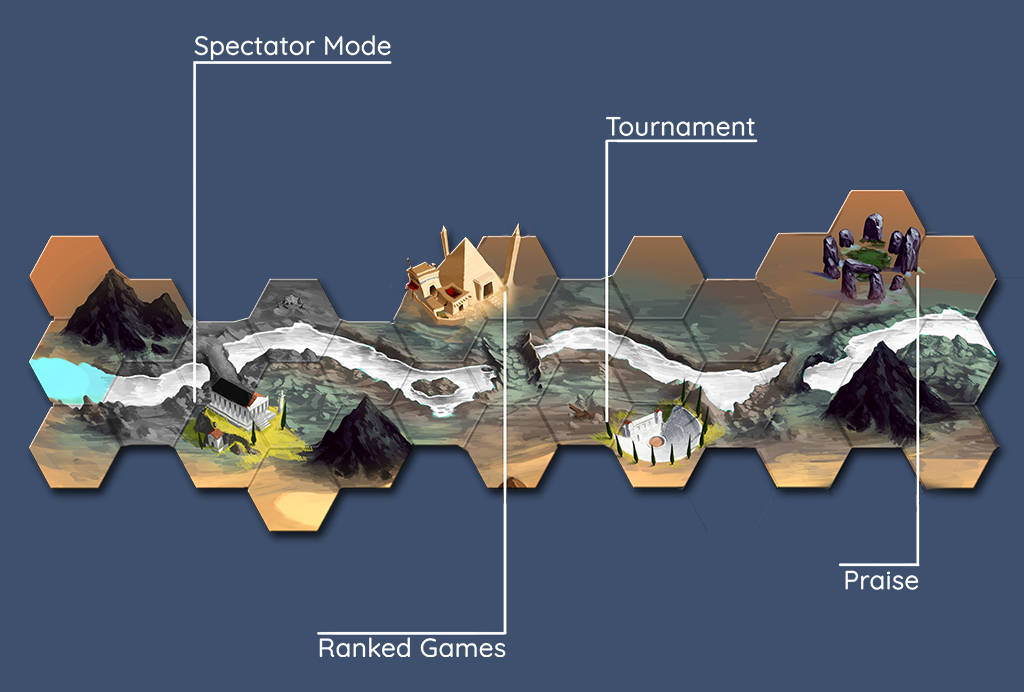 We want you to be informed during the early access, that's why we've created this Road Map, listing all the features we want to implement during the early access. This graphic is a progress bar and will be updated as we work on the features.
As you can see, there are 4 main goals that will expand the game represented as buildings. There will be also other various features that we want to work on. Obviously, your feedback will be really valuable and we are actively listening your ideas and suggestions. Make sure to tell us them on our Discord Server ;)

Features Status:
Unavailable

, Working on

, and Done

.

Main Goals
Spectator Mode

Your friends will be able to watch your games while playing against another person or the AI. You can combine it with the in-game chat to help each other (or make fun 😉)
Ranked games

The game will rank you based on your skill level and will match you up with other people with similar skills, providing a fun and challenging combat.
TournamentFor all of you who are competitive and want to be the very best. Compete against other players and prove your skills in a competition mode. Become the best in Rise of Titans and win various prices.
PraiseIf you want a card but luck is not your style, you could sell your cards to obtain Praise, and use it to create specific cards.



UX features


New library search engine. With these features you will be able to search for cards with specific characteristics, for example the use of mana, abilities, tribes, etc. You will also be able to sell all your cards at the same time instead of doing it card for card.


New in-game notification system. You'll be always informed on your daily missions' progress, whereas you've completed or are halfway.


Making room for new items in store.Transforming the store into a modular format, easily expansible, allowing us to add new or temporary items, for example DLCs, Discounts…


Localization. Game translation in different languages like Portuguese, German, French, Russian…


Mixing console. A new submenu where you can manage game's audio separately: music, general fx, cards fx…


Error report.Sometimes (luckily a really tiny bit amount of times) there could be unexpected errors in the game. This will help you know what happened, how it happens and how can you (or us) fix it.

Visual features


New loading screens. We know that staring at a simple text with the word "loading" on it is quite boring. We want to make a dynamic and fun loading screen when you are waiting for a game, with tips and small animations.


Improvement on menus' transitions. Adding subtle camera movements when you enter the different menus, making the transitions more visually appealing.

Development features


Possibility of releasing the game on other platforms. We'll create a new input so we can release the game on other platforms if we want, easily and faster.


Control System. Improving the game experience in different areas: selecting cards, moving units, etc.


AI balancing. AI will adapt to your skill level, making more interesting and appealing game.


New developing environment. Making the project more accessible for the team, providing mobility and efficiency to the team.