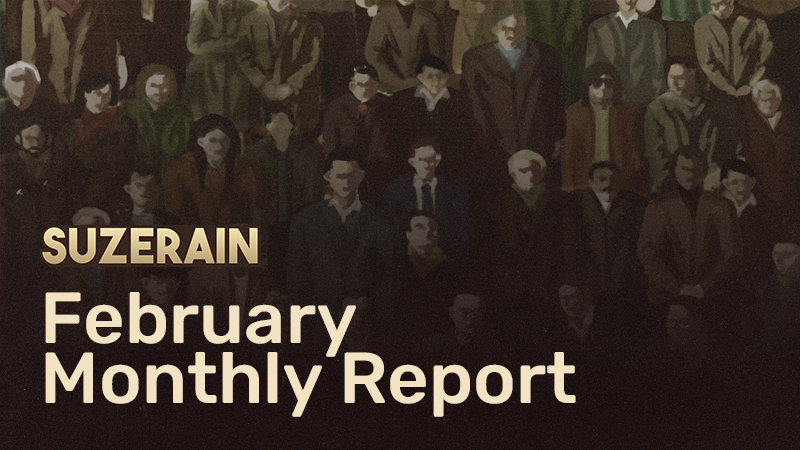 Heartfelt greetings to all of our citizens residing in Sordland! Today we welcome you to our February monthly report, sponsored generously by the Ministry of Information. In this segment, the Torpor Games team will be sharing recent developments of Suzerain. Let's kick it off!

In February we had the awesome opportunity to sit down and talk face to face with Des Gayle, the production manager of Fellow Traveller who visited us in Berlin. Internet communication is practical, but these occasional personal meetings make everything much more fun and easier. Here is a neat picture from the visit!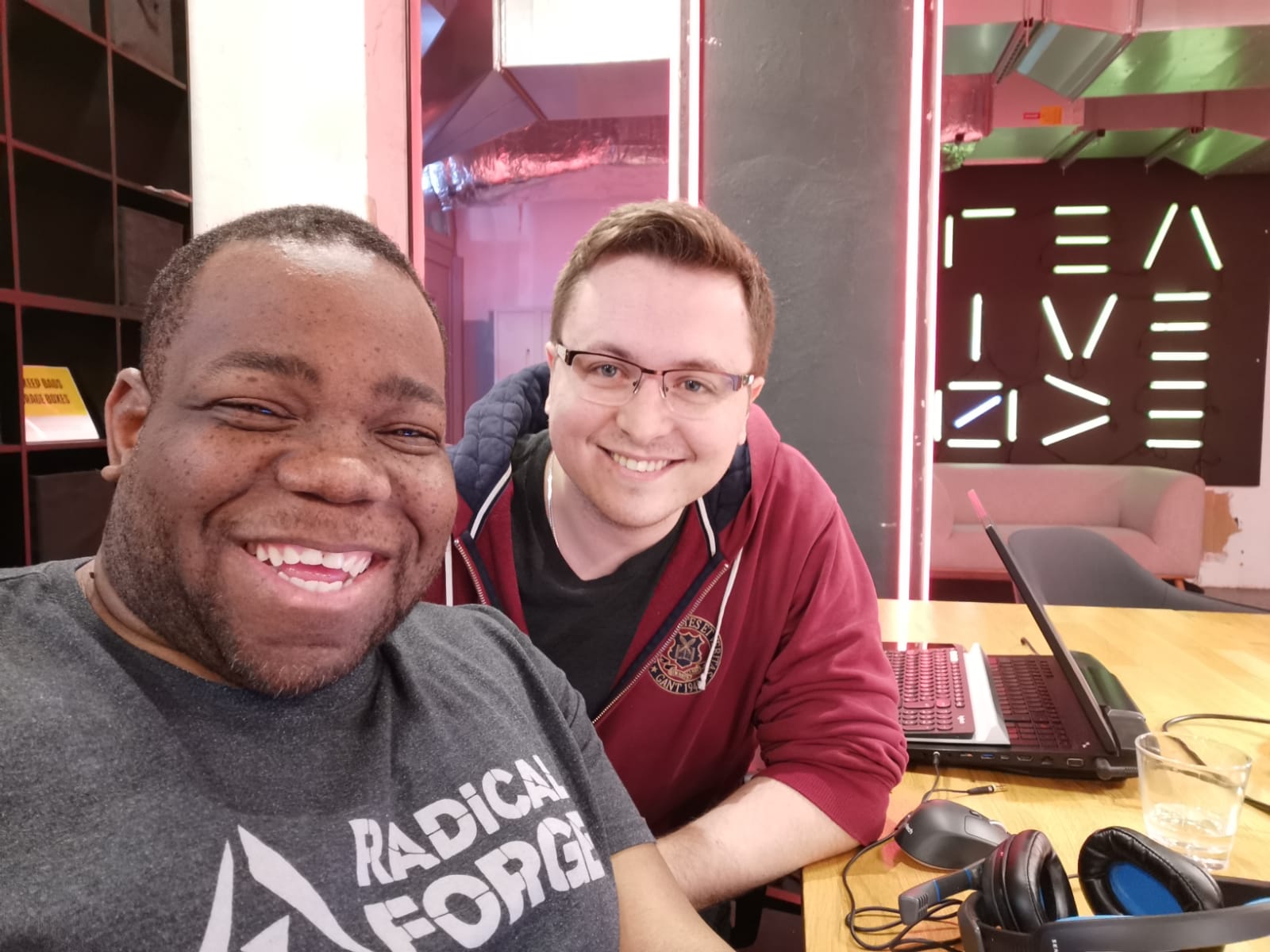 We started our narrative review for the entire game which consists of the Prologue, 12 Turns, the Epilogue and Summary. While this process will take a few months, we have broken it down to several smaller manageable quarters. For example, this month we have specifically focused on the Prologue and the first three turns of the game. The team is making additions where necessary: reviewing and polishing our existing content alongside all the other elements that are tied to it like news, reports, codex entries etc.

Furthermore, there were also a couple significant changes that we addressed in our design reviews. One of which was the month concept which we thought restricted the game a little too much narratively. Most of our conversations are essentially moments; we internally call them 'scenes'.

We thought that making months more arbitrary feels better while also contributing to the reality of the slow pace in political change especially in policies, constructions and layered unfolding events. Previously, each turn represented one month; now one turn encompasses four months. 12 turns perfectly represents your four year presidential term between 1954-1957.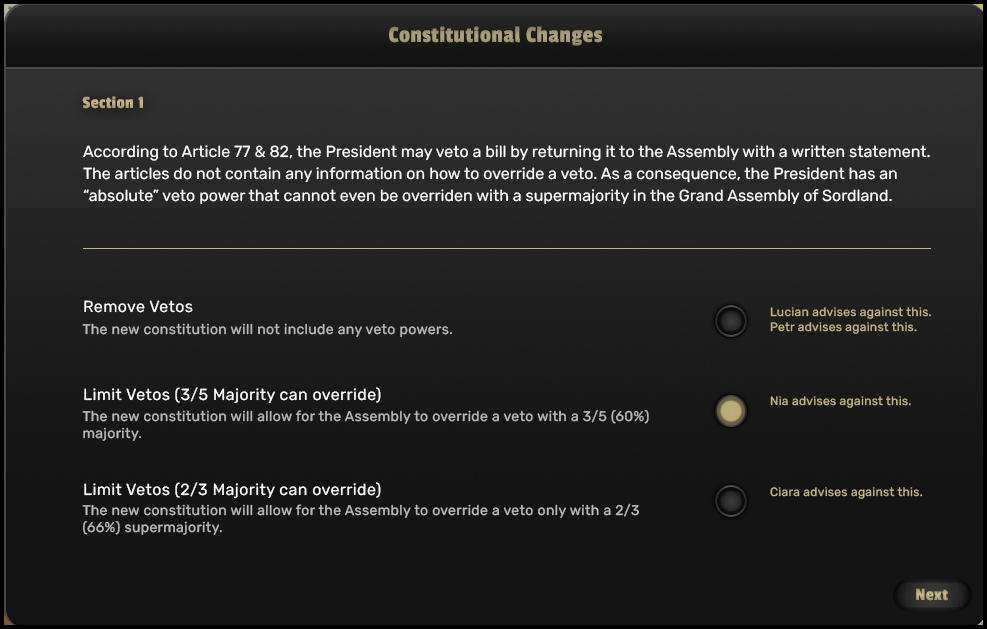 Our reform redesign has finished, and work is going forward with full speed! A much more detailed and unique content tree is being developed in comparison to the old one. Even though the work is very complex, we really think it will be worth it in the end due to more customisation and player input. The designed political paths of the Reformist, Dictator and Autocrat all aim to be unique and interesting in their own right which compliments the rest of the game.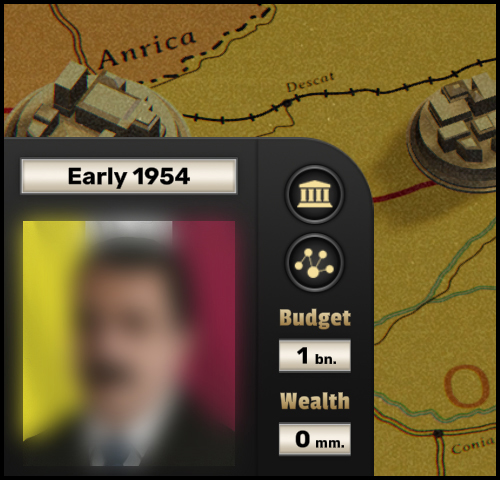 Last but not least, we have also added a personal wealth value that will keep track of Anton Rayne's own money. This separates the budget of the government from your personal wealth, giving us as designers and you as agents more greed-based avenues to explore.

This change came along with a significant UI update, moving the political connections, country overview, budget value and the newly added wealth value to the bottom-left corner of the screen. To make sure they don't feel sad and lonely in the corner, we added the portrait of the President who will gaze into your soul as you make your (im)moral decisions. Smiles in boatloads of money...

Enjoyed the report? Sign-up to our newsletter to get breaking news.

Duty calls and the country needs you. Display your approval for the rising star of the United Sordland party Anton Rayne, by heading over to our Steam page and wishlisting Suzerain. Let's win the upcoming 1953 elections! #Rayne1953

See you next time citizen, Glory to Sordland!
#gamedev #indiedev #Rayne1953 #Election2020 #Suzerain #TorporGames #indiegames #indie #games #videogame #narrative #political #politics #government #election #policy #seriousgame #games4change #game