Hello everyone!
It has been a little while since our last article (we took a short summer break!) but we are back now with the newest devlog of Farmwand!
Today we are bringing you a whole new series of cute wardrobes and lots of mystical and magical artifacts. Let's start!
Wholesome wardrobes
In the last devlog we showed you 3 basic wardrobes for your character's bedroom that are fully customizable, but actually there are so many more possibilities for you to unlock besides these classic styles.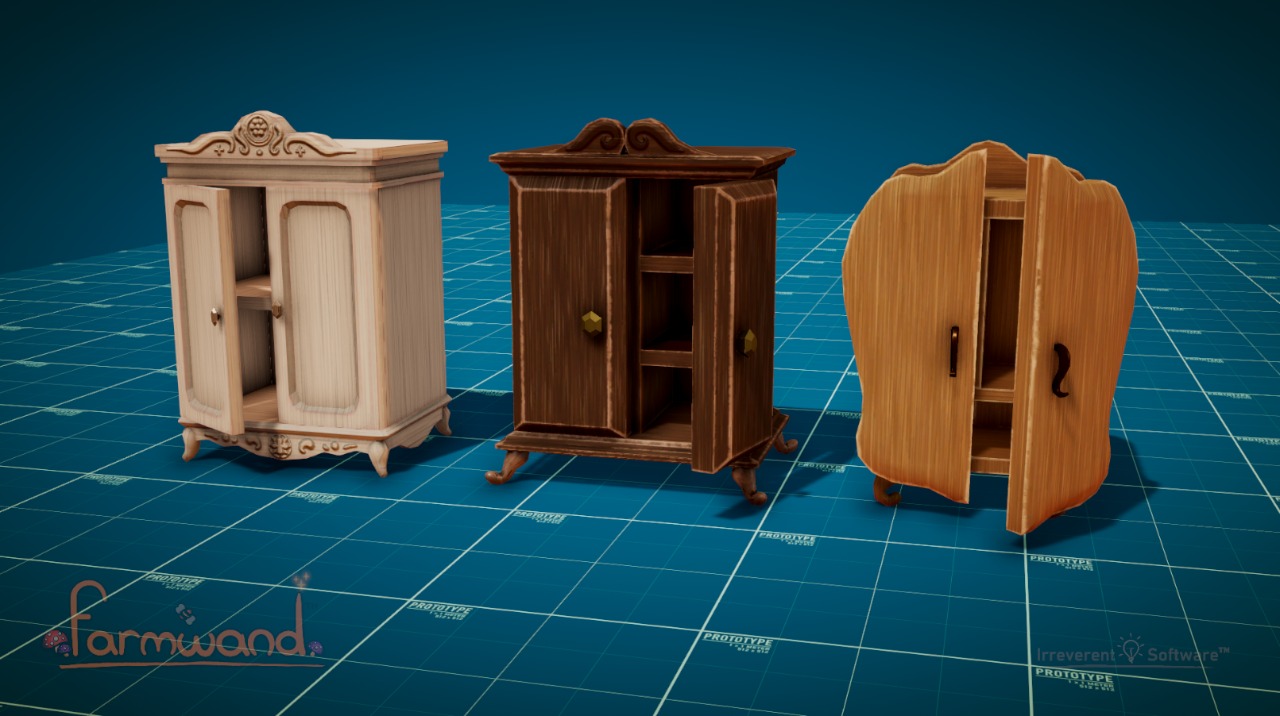 During the game, as you obtain more experience and reach higher skill levels, you will be able to access many more different kinds of wardrobes in the shapes of cats, frogs, owls, butterflies etc. And of course when you upgrade this personal magical beauty station you will also get a lot of new outfits and appearance options.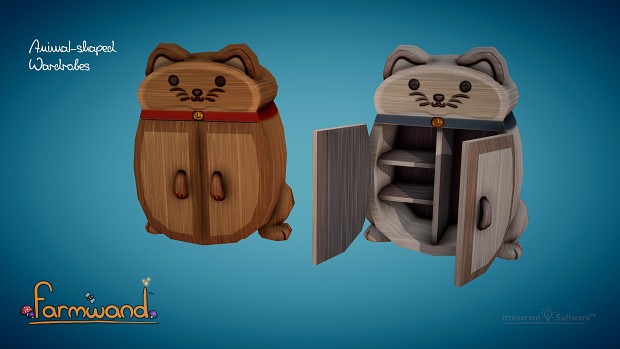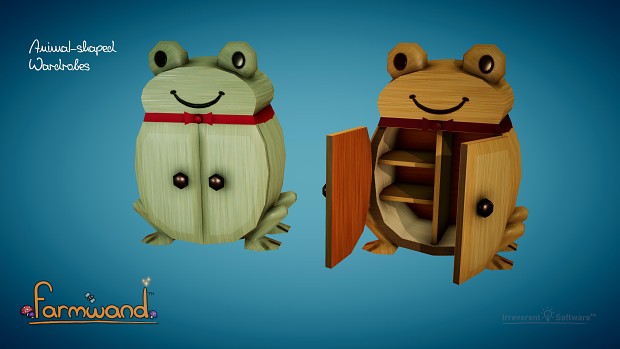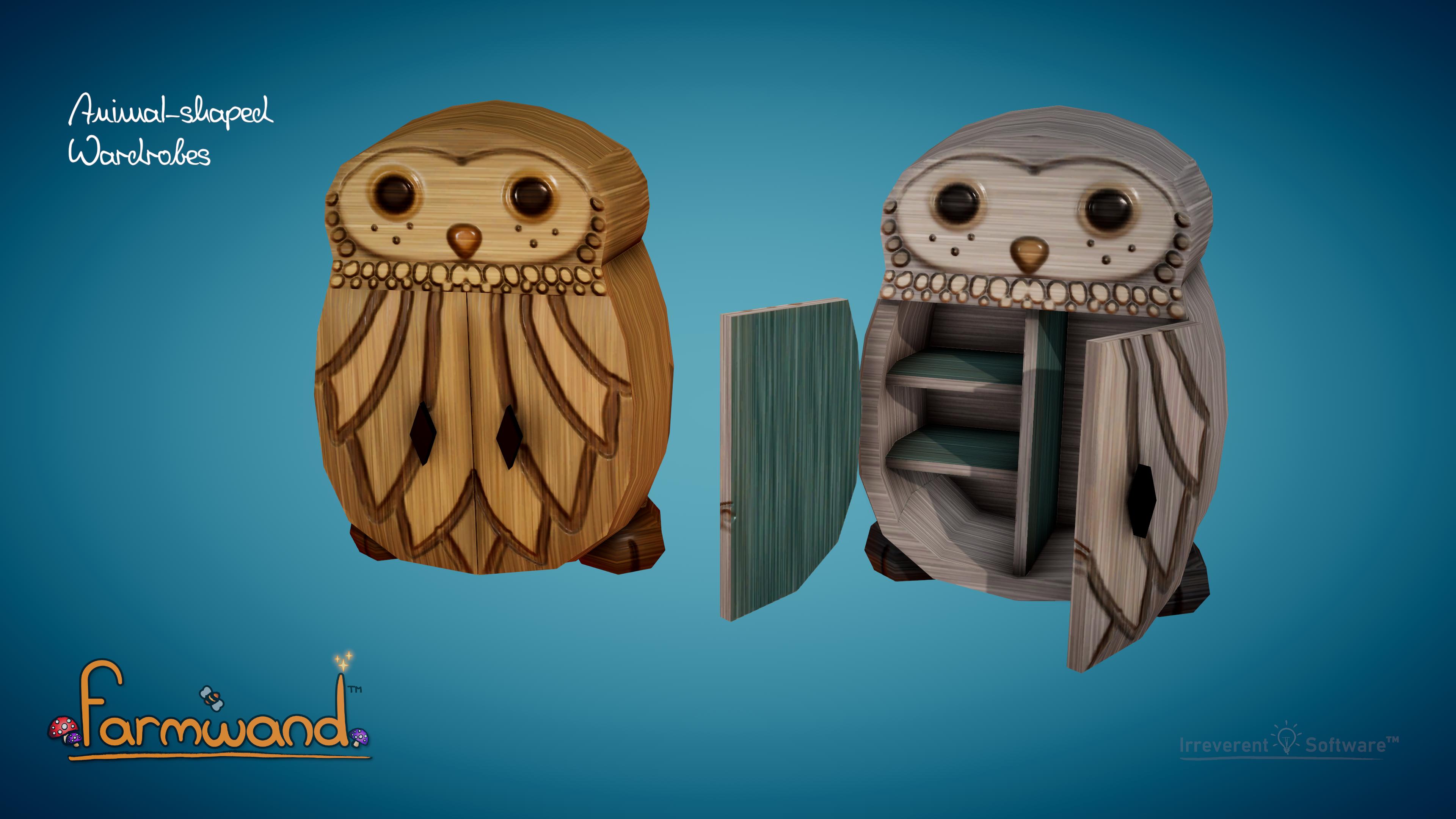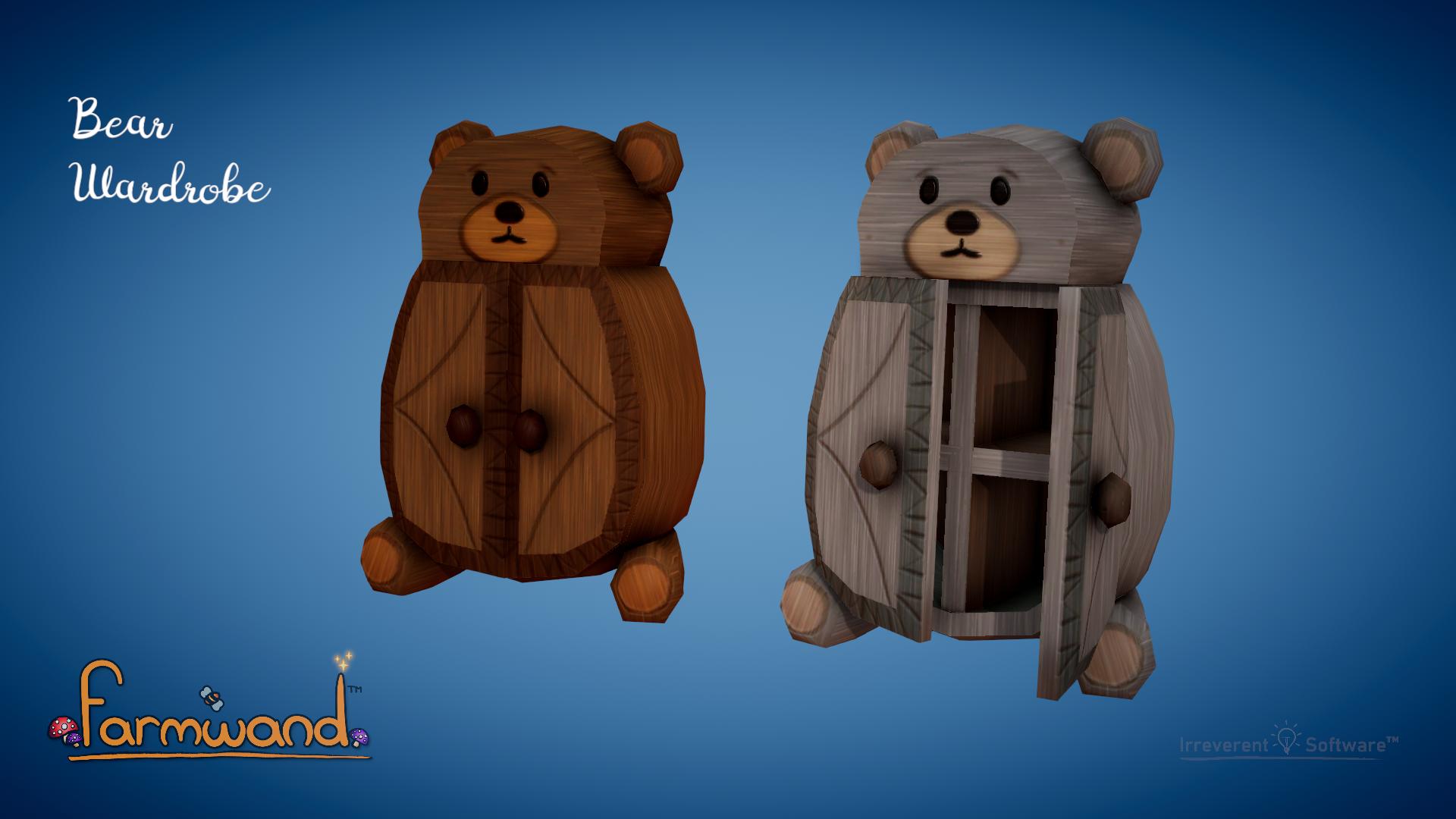 The owl one is our favorite, but please let us know in the comments which one is yours :D
NOTE : Here is a small peek behind the scenes for the cat wardrobe. I suppose when your wife is the 3D artist, you just don't put that much effort on the instructions any more -_-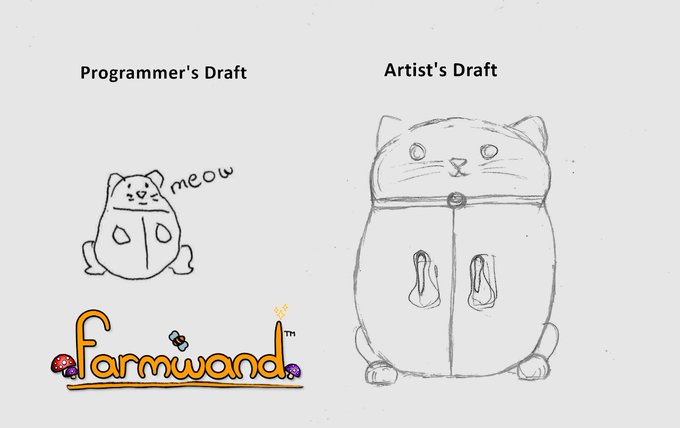 Ready for some treasure hunt?
Have we mentioned that we took a short vacation this summer? And look what we've discovered in the woods of Farmwand...a mystical chest of an ancient deer spirit!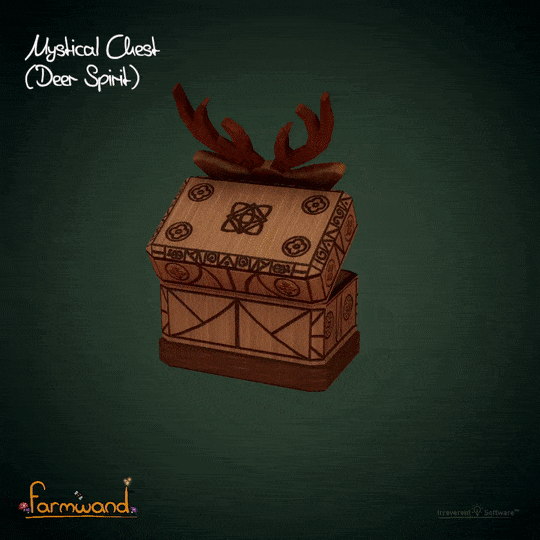 You may find these chests while fulfilling a quest or just uncover them by accident when you are wandering through the mountains and forests. We have prepared all kinds of "surprises" at every corner in Farmwand, but whatever hides inside these chests may not always be delightful.
Treasures or horrors may lurk within, so adventurers beware when you try your luck with them.
A wizard who can't do alchemy is no true wizard
So far you have seen some very handy equipment in Farmwand : seed extractors for farming, crafting tables for making tools and all sorts of items, cauldrons for brewing potions...
But the greatest wizards are always masters of one ancient practice : alchemy. To perform this archaic process and turning all sorts of resources into magical elements, refining them and transmuting them to your will, you need an Alchemy Table.
By interacting with the alchemy table you will be able to refine and mature certain elements and components into useful magical ingredients, extract the essence of all sorts of things and use them to brew more potent potions.
A magical doorway
There are many different ways of traveling in Farmwand. Sometimes the distances you need to cover are much too large for the good ol' broom to handle, let alone a horse or your own two feet. When the destination is far, far away and there is no time to waste, the most instant and efficient method will always be teleportation through a magical doorway, a Portal.
Portals are ancient tears through reality that connect two or more points in the world. They are mysterious artifacts created with powerful magic eons ago. Most of them are in a very sorry state and you may find their remains scattered across various places in the world of Farmwand.
However, if you are smart and powerful enough, there should always be a way to restore them to their former glory and cross through them into unexplored lands.
Each portal presents its own unique challenges, and as you can see they all come with a handy summoning altar. The runes on its surface allow the experienced witch or wizard to summon all sorts of creatures and powers from beyond the realms of mere mortals...but be careful. One never knows what may respond when you start calling through magic spells who have been long forgotten.
Building the farm
We have been seeing a lot of magical stuff today, so now it's time for us to go back and continue building our little farms as well. And speaking of that, a solid fence for the animals could be very useful.

So this is some of what we prepared for you while we were away, hope you enjoyed reading this article and liked these new things we have been adding to the game. Have a nice weekend!