Greetings Pioneers!

Debugging and balancing party! Much more needed testing has been done, and the results are promising, most importantly the crashes are few and far between at this stage. A large re-balancing pass for the minerals and their location placement has been implemented with the team testing these changes in multiplayer for extended periods of time, which is a very good sign.

In the mean time we have a multiplayer sneak peak video we made! so you can check us out taking on an ugly Thunderfoot beast.



Here's a breakdown of what we've been upto in house!

John - Lead Designer

BUGS! We've been smashing them and now i've gone back to balancing and organising the team to fix more BUGS. Testing on the new Multiplayer is well underway and we are starting to invite a handful of people to help test the alpha builds very soon. Beyond that Matt and I have been cleaning up some of the introduction, placing enemy spawn points and have also started implementing new food names and types. You'll no longer cook meat, but instead you'll process nutrients and extract proteins to create functional sustenance in keeping with the game-world and setting.

Matt - Art Director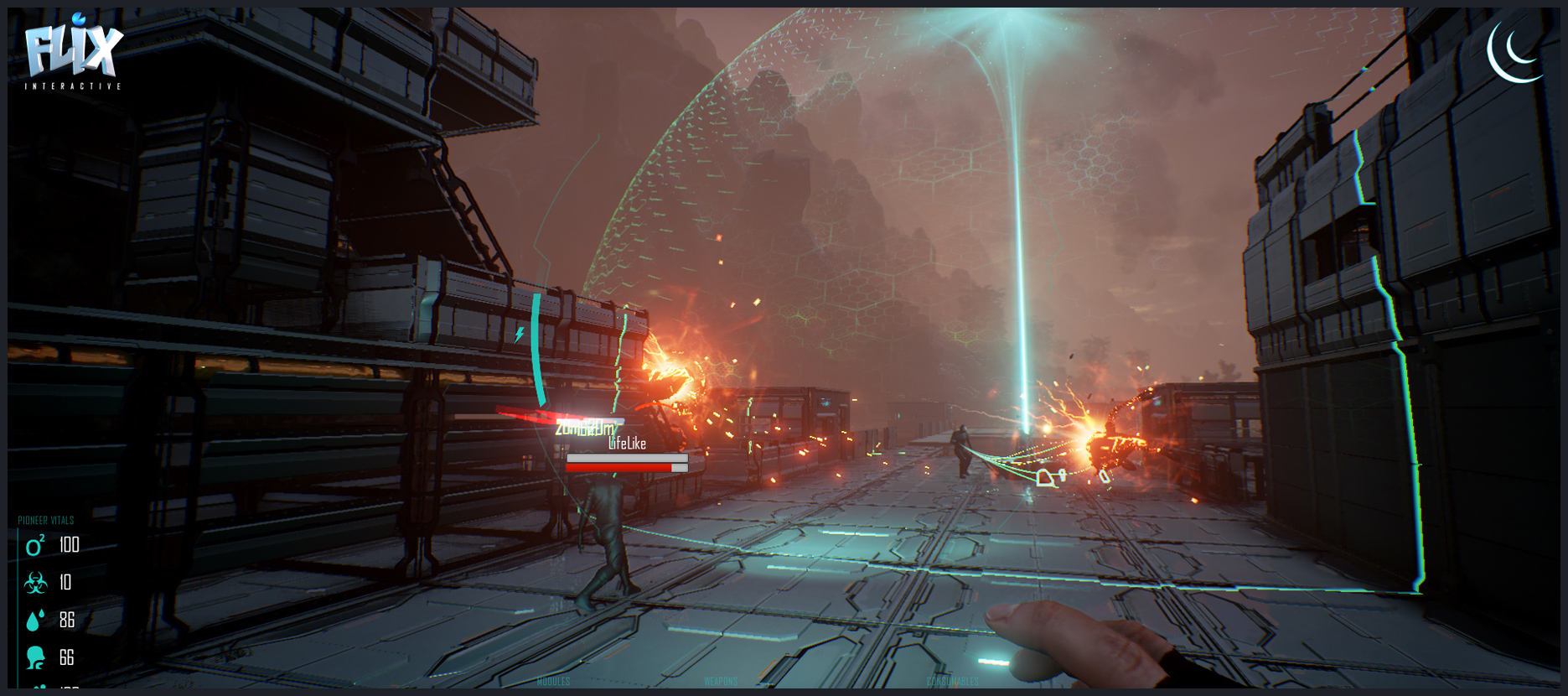 So I've migrated to the testing department for a few weeks to help with balancing of the game and to get a bit more hands on with debugging some minor visual issues. Without a doubt Andy is enjoying my company. I'm sitting right next to him as I type this. giving him the determined 'let's do this' look, we then proceeded to smash our foreheads off the desk in one single moment before grunting in an outwardly determined fashion, ready to tackle the impossible.

Lee - Technical Director

So this week I have been looking at trying to tweak our navmesh generation because we are not getting the results we would like from it. I've also been trying to add more debug functionality for our AI for some hard to track down bugs.

Tristan - Senior Developer

This week I have been looking into some more bugs like uncapturable structures. I have also started profiling for some more possible optimisations of the structures.

Yves - Senior Developer

Fixed up some hard to track down client crashes with Andy.
Also went base rading :)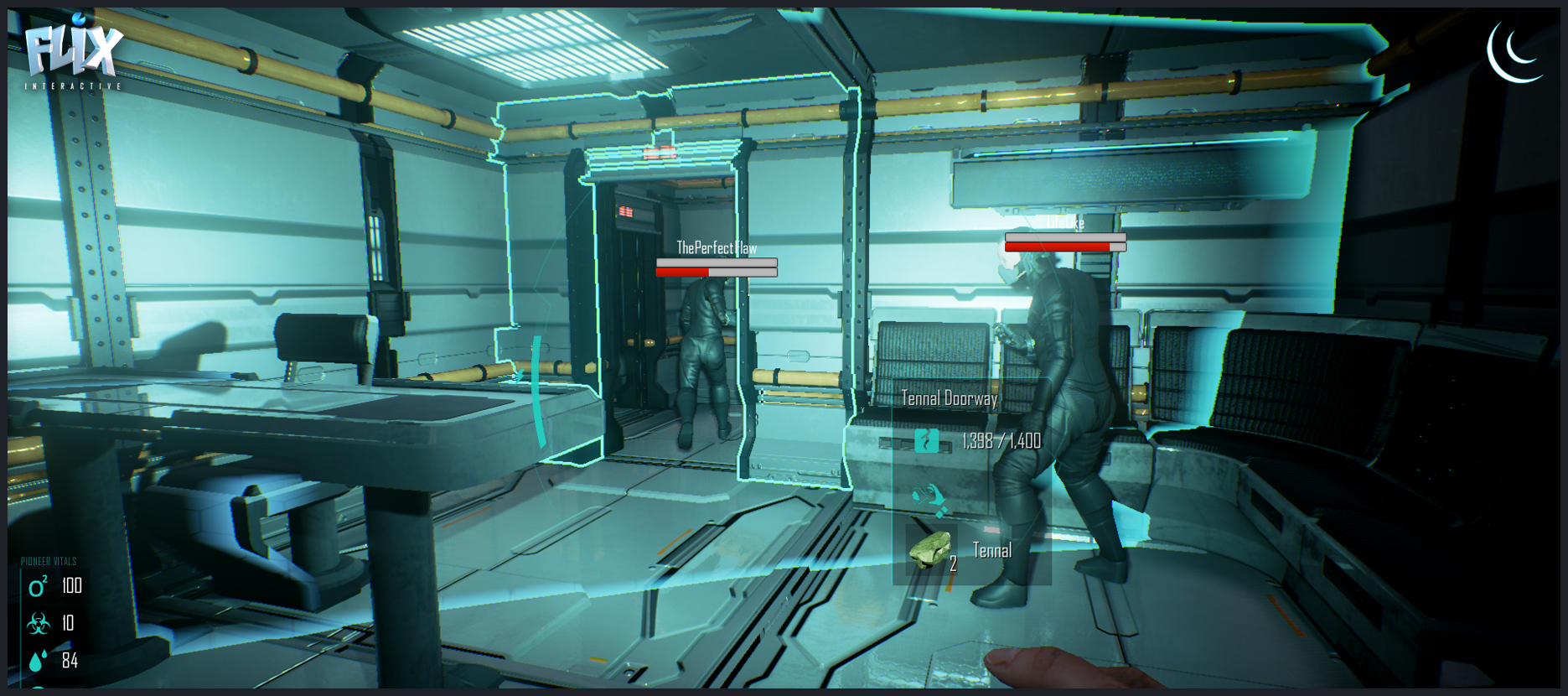 Ricky - Developer

Helping test out the new multiplayer gameplay and working on bugs we've found from this testing. We're also looking into extra possibilities as to why some players have not been able to see certain servers or their own servers at different times to see if we can streamline this process.

Carlos - Developer

This week has been another multiplayer focused week. I've been debugging some of the inventory replication issues that we're having. As well as making sure we're updating blocks built to avoid any complications when replicating them.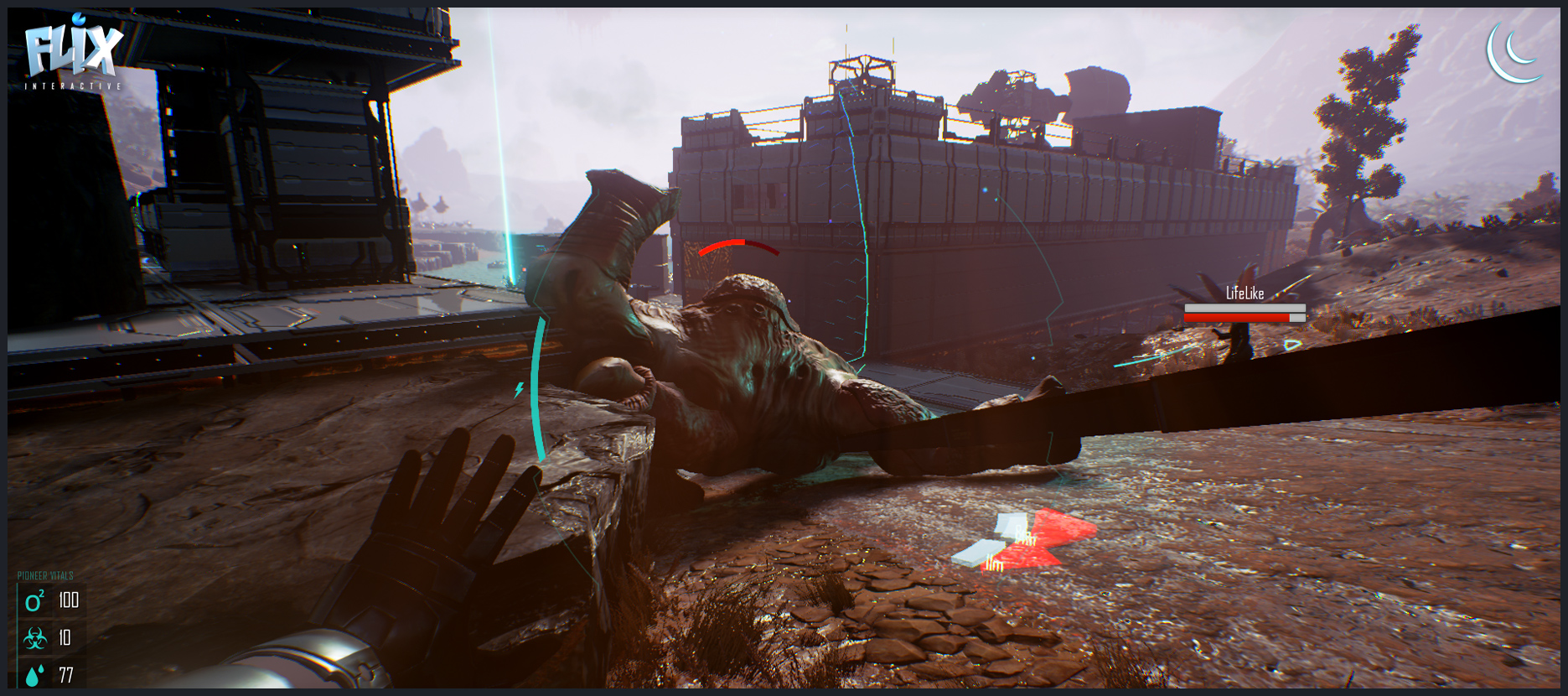 Also have been getting killed by our very own Art Director as he attempts to hit enemies.

Marcin - Designer

Since the last blog I have been working almost exclusively on debugging. I had a few visual bugs to fix with the buildings, such as removing the last of the logic that made lights reliant on the power network or the laser turret not always switching off when it should. However the main two systems I was chin deep in this week were the IKs and the navmesh.

It was quite apparent by the jittering of the elephant's legs that not everything there was happening as intended, so I took a long hard look at my logic and found just how convoluted it was. I cleaned it up and immediately the feet stopped jumping up and down on steps. Now I am working on aligning the body to the slope, but that's still work in progress.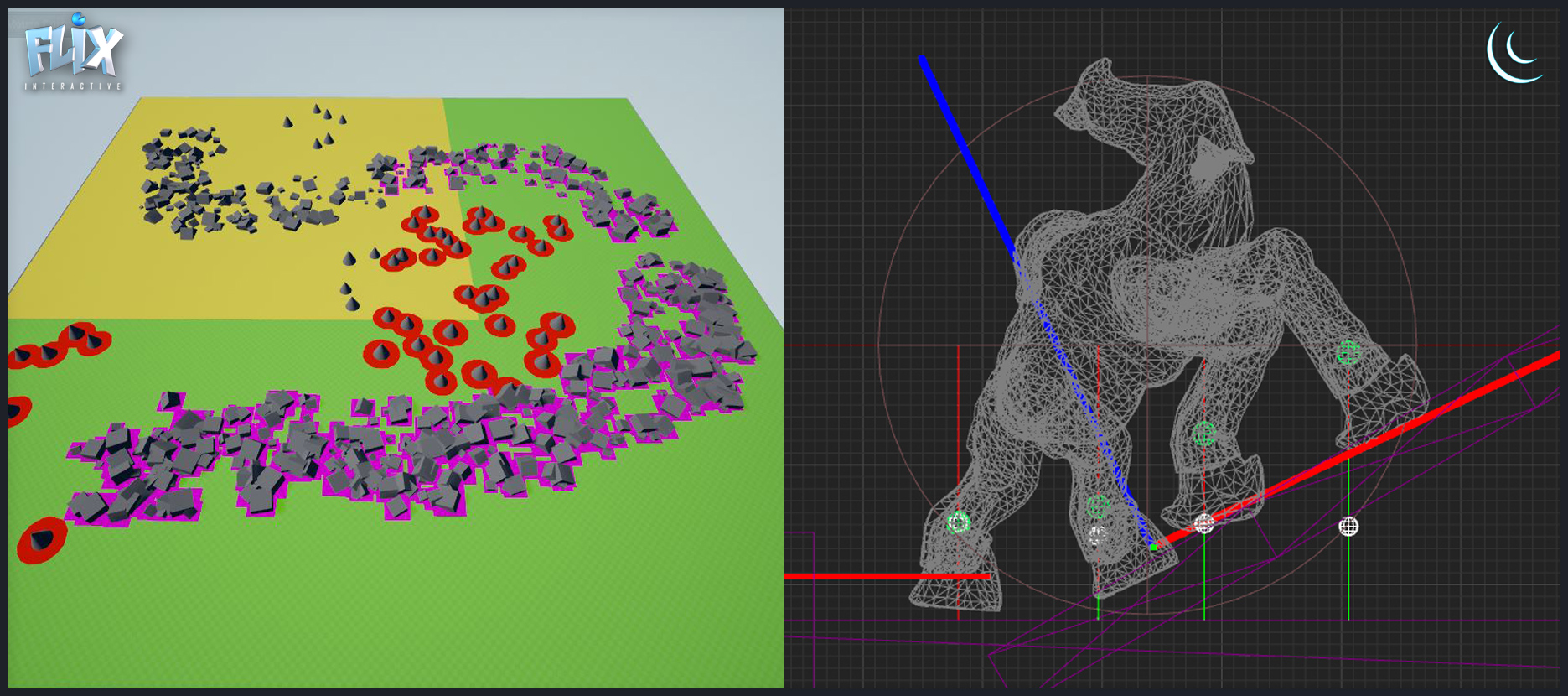 The other big one was the navmesh. Oh yes, more navmesh. We are currently suffering from 2 bugs which are causing our poor unfortunate creatures to get stuck on random objects. Here you can see from my debugging test that sometimes, and only sometimes, which is why it's so hard to catch this, the avoidance areas around obstacles get lost inside biomes. It's a complex one, but I'll get to the bottom of this… eventually. :)

Joe - Environment Artist

This week I finished the placement of our Onyx/Mountain biome Basalt rocks. It's a simple change on the surface but we hope it'll drive more exploration and interaction in areas of the map that were lacking previously. We want players to have to explore and experiment to find what they need - rather than hoping the random number generator Gods will work in their favour. I've also placed Obsidian rocks in - these are extremely rare and contain Diamond and Uranium Crystals which you couldn't previously get. Be sure to trek to high altitudes and dangerous biomes if you want any hope of finding them.

I also did a balancing/fixing pass on Material distribution, added early new visuals for Basalt, Obsidian and Sandstone, and fixed a bunch of level-related issues, again. Don't blame me, it's a big map ;)

Lauren - Animator

This week I have been working with the rest of the team in smashing multiplayer bugs and carrying on with implementing and debugging hit reactions and staggers for various creatures. I have started with the Cerberus and the Splintermite but more hit reactions will be coming because it is so satisfying to hit them in the face. I can't wait to play the new map with you all very soon!

Andy - Lead QA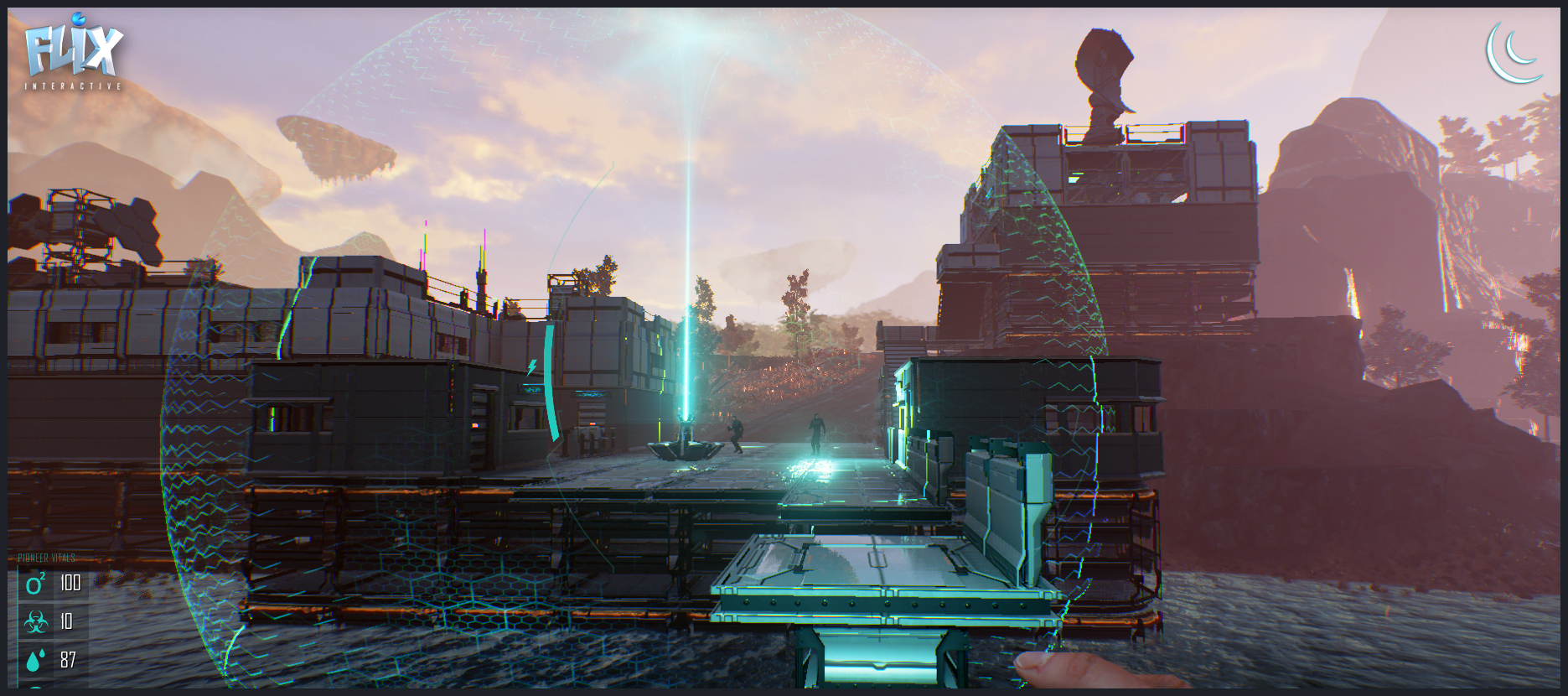 The majority of this week was spent working on multiplayer issues such as inventories disappearing, unable to craft in various utilities and server crashes. You will be happy to know that the guys worked their fingers to the bone and got so many fixes, tweaks and balancing in I've been rushed off my feet trying to confirm all of them. Late night and little sleep has all been worth it as the game feels like it's really coming together.

See you in the fray!

-Team Flix