Hi guys,
Before getting to the since part of the Daedalus, I'd like to share profiles of the six crew members of the Daedalus-22 Mission. I feel to remind you that the game takes place in year 2111, that time line of the After Reset setting, when artifacts of the aliens already appeared but before the Reset happened.
25,724,767 miles away from Earth aboard the Daedalus Space Station orbiting Venus. These people, the crew, you will be interacting with or taking control of during the game had became a small family during the one year mission...
I would like to start from the mission commander - Hiroto Yoshida...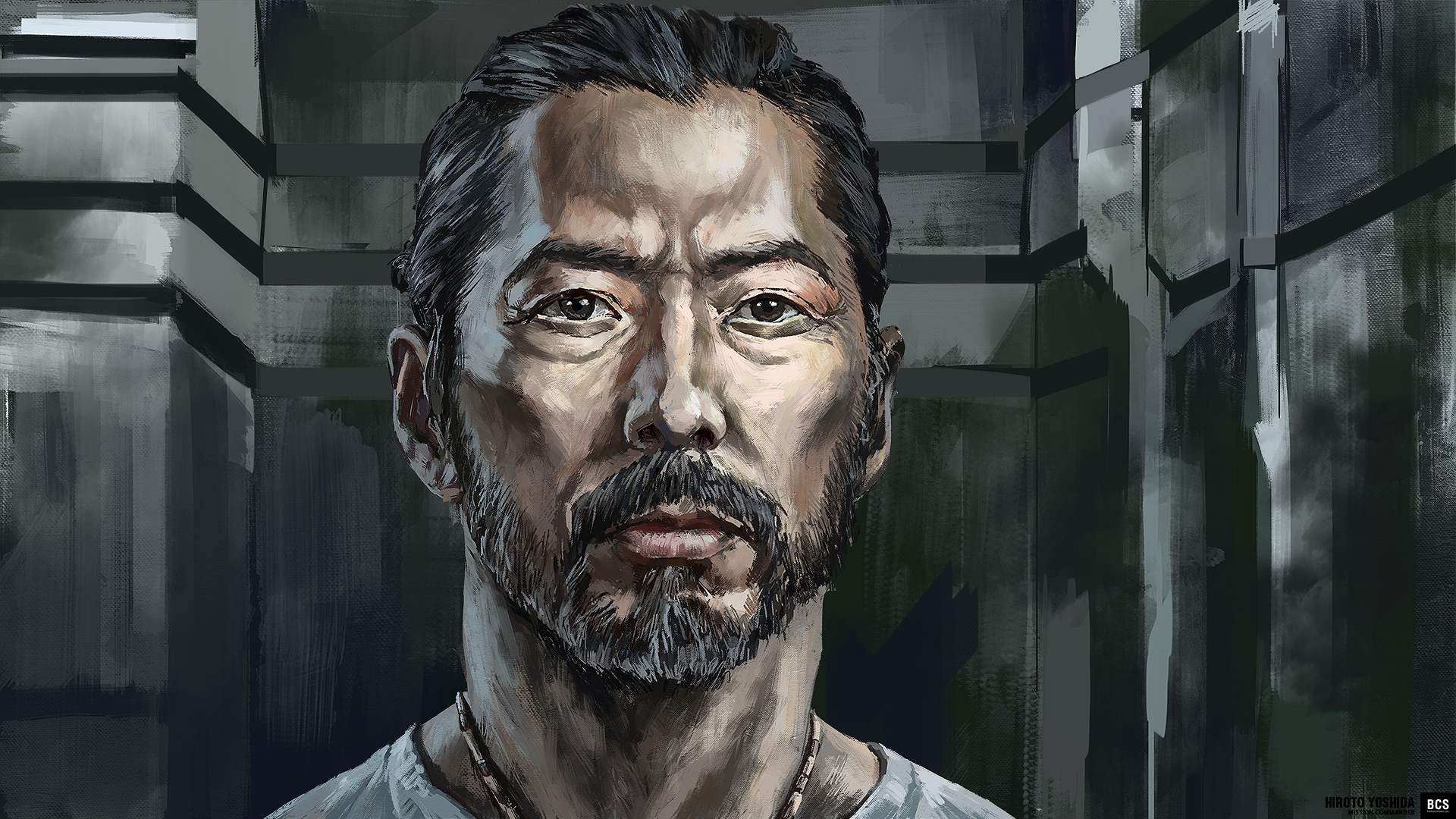 Agency: JAXA.
Occupation: Mission commander responsible for the overall mission success, safety of crew, and also pilots the "Sunlight" transport spacecraft with his co-pilot, Ron.
Nationality: Japanese.
Marital Status: Married, two children.
Age: 46, born November 1, 2066 in Kawakami, Nagano, Japan.
Other Occupation: Naval aviator and test pilot.
DESIGN NOTES:
Feature: concealed.
Personal item: Old school (21th century) augmented reality glasses.
Temper (first impression): Traditional, conservative, strong-willed, the kind of man who speaks volumes with his silence. Inner temper: concealed.
Myers Briggs: ESTJ – The practical, ruthless executive.
Introduction gameplay puzzle: concealed.

EXTRA LORE:
• Hiroto is the captain of the mission, and as the oldest member of the crew this will be his last mission into space.
• Hiroto is highly intelligent, with an IQ of 151.
BIO:
Born in Kawakami, Nagano, Hiroto inherited a rich but sad history from a venerable family.
Hiroto, from Nagano Prefecture, enrolled in the Japan Air Self-Defense Force after he graduated from the National Defense Academy of Japan in 2095. He has piloted a fighter (as test pilot), and worked in the Air Staff Office's Defense Planning Division as a Lieutenant Colonel until December 2102 when he was selected for astronaut candidacy. He was forced to retire because of the historical Japanese policy that keeps scientific research and military service separate.
After completing the Astronaut Basic Training domestic program at the Tsukuba Space Center in Japan, and NASA's Johnson Space Center Astronaut Candidate Training program in Houston, Texas, he was certified as a DSS astronaut in July of 2104.
Hiroto joined Daedalus Space Station Expedition 16 as a specialist and mission 18 as a pilot, spending more than 24 months on the DSS prior to commanding the Daedalus-20 mission. His talents and experience also warranted him a second command on the Daedalus-22 mission, which will likely be the last extraterrestrial mission of his astronaut career.
Being a veteran of multiple missions on Daedalus Space Station, Hiroto is the oldest active Japanese astronaut from the Japan Aerospace Exploration Agency.
By the time of the mission, his parents are alive and live in Tokyo along with his wife Nara, his elder son Isao, and younger daughter Sakiko. His daughter plans to attend college in California.
Marginalia:
Hiroto's ancestors are humanists who lobbied against Japanese Unit 731 in 1935-1945. They remained loyal to the Emperor's court and not the army's militant faction. Sadly, most of his direct family was killed in Hiroshima when US forces dropped their nuclear ordinance. Hiroto's great-grandfather is the only who survived Japan's capitulation and continued the family bloodline.
Hiroto was raised in a traditional, conservative, and restrained atmosphere. He keeps that unspoken mark of a sad Ronin just as his father, grandfather, and great-grandfather before him. He is an intelligent, purposeful, effective leader and a professional pilot with a reserved poker face. Though he is a capable and fearless commander who is unafraid to bellow out orders in the heat of the moment, he is an extremely private person who takes refuge in peaceful contemplation and meditation.
* * *
I would like to give the ability to play for each of the crew member at the beginning of the first act so that you get more closely impression of each of the crew to take a different look at the world of 2111 through the eyes of them, to empathize their personalities so that you would really care about them.
So that you treat your chooses carefully. That is the feature of After Reset setting when I could track actions of all the players through the Steam Dev Analytics and reflect your actions in the canonical setting. E.g. the future of each of this people, even if they are fictional characters (though no one of them do not regard themselves as such... m.b. except for Lia as even I can't really understand her qualia sometimes) - their future and lives in the whole setting will depend on you.
Well, once again, meet...

Agency: NASA.
Occupation: A NASA astronaut who studies the relationship between Venus and the Sun, and facilitates the release and recovery of probes from Venus' atmosphere.
Nationality: American.
Marital Status: Single.
Age: 33, born November 1, 2079 in Cocoa Beach, Florida.
Other Occupation: Engineer.
DESIGN NOTES:
Feature: concealed.
Personal item: Photo of the crew from the start of the mission.
Temper (first impression): Takes risks, bores easily, stubborn, a brilliant but emotionally distant mind that is often insensitive to the needs of others. Inner temper: concealed.
Myers Briggs: ISTP – The brilliant but flawed virtuoso.
Introduction gameplay puzzle: concealed.
EXTRA LORE:

• Matt is the Protagonist.
• Inner temper inspired by Isaac Clarke, the protagonist and ship systems engineer from the Dead Space (1st game).
• Matt is having an affair with Jill, a married woman.
BIO:
Matt was born in Cocoa Beach, Florida, but considers Huntsville, Alabama, to be his hometown. Matt graduated from Huntsville High School in 2097. His earned his Bachelor of Science in applied physics from the Georgia Institute of Technology in 2101, and another in mechanical engineering from Auburn University in 2103. He received his masters in 2108 and a doctorate in 2110, both in mechanical engineering at the University of Alabama in Huntsville.
Matt married right after he graduated from Georgia Institute at 2101 (at age 22) but divorced after only six months. A year later in 2102, both of his parents died in a plane crash.
Plagued by tragedy, Matt joined Texaco in Bellaire, Texas, after graduating from Auburn University in 2103 and worked as a petroleum engineer in tertiary oil recovery. In 2105, he left that job to work for NASA's Marshall Space Flight Center as an aerospace engineer. In 2108, he was named team leader in the Structural Analysis Division. His team was responsible for the structural analysis and verification of the Charles Bolden Space Telescope (CBST), the CBST maintenance mission, and the Advanced Boson Astrophysics Facility (ABAF).
Selected by NASA in May of 2110, Matt became an astronaut in June of 2111 and a mission specialist (in engineering science) aboard the Daedalus-22 mission.
Marginalia:
In the aftermath of his divorce and the death of his parents, Matt became increasingly distant from his friends to the point of social awkwardness. He buried himself in work to keep distracted and eventually hit rock bottom during his stint as a Texaco employee, where he caused a workplace accident that severely injured three coworkers. After two months of sobriety and humble reflection, Matt finally found his calling as NASA as engineer. He now dedicates his life to science and donates the majority of his personal wealth.
When Matt met the rest of the crew, he immediately pursued a romantic relationship with Jill Scott in spite of, or perhaps because of, her recent marriage. However, their affair did not truly begin until after they reached Daedalus by Sunlight transport spacecraft.
Matt's scientific background made him an ideal candidate for studying solar activity related to the behavior of alien artifacts, and he is very curious as to their potential origins. However, he doesn't have a clear opinion on sophisticated global and international problems and prefers to focus on the people surrounding him in the here and now.
* * *
We work with our programmer from the first engine we used for the Fall of Gyes project on assembling special build to be able to present Daedalus on full Greenlight this week. And you guys, enjoy the third member of the DSS' crew - Jill Scott.
I hope, you will like her...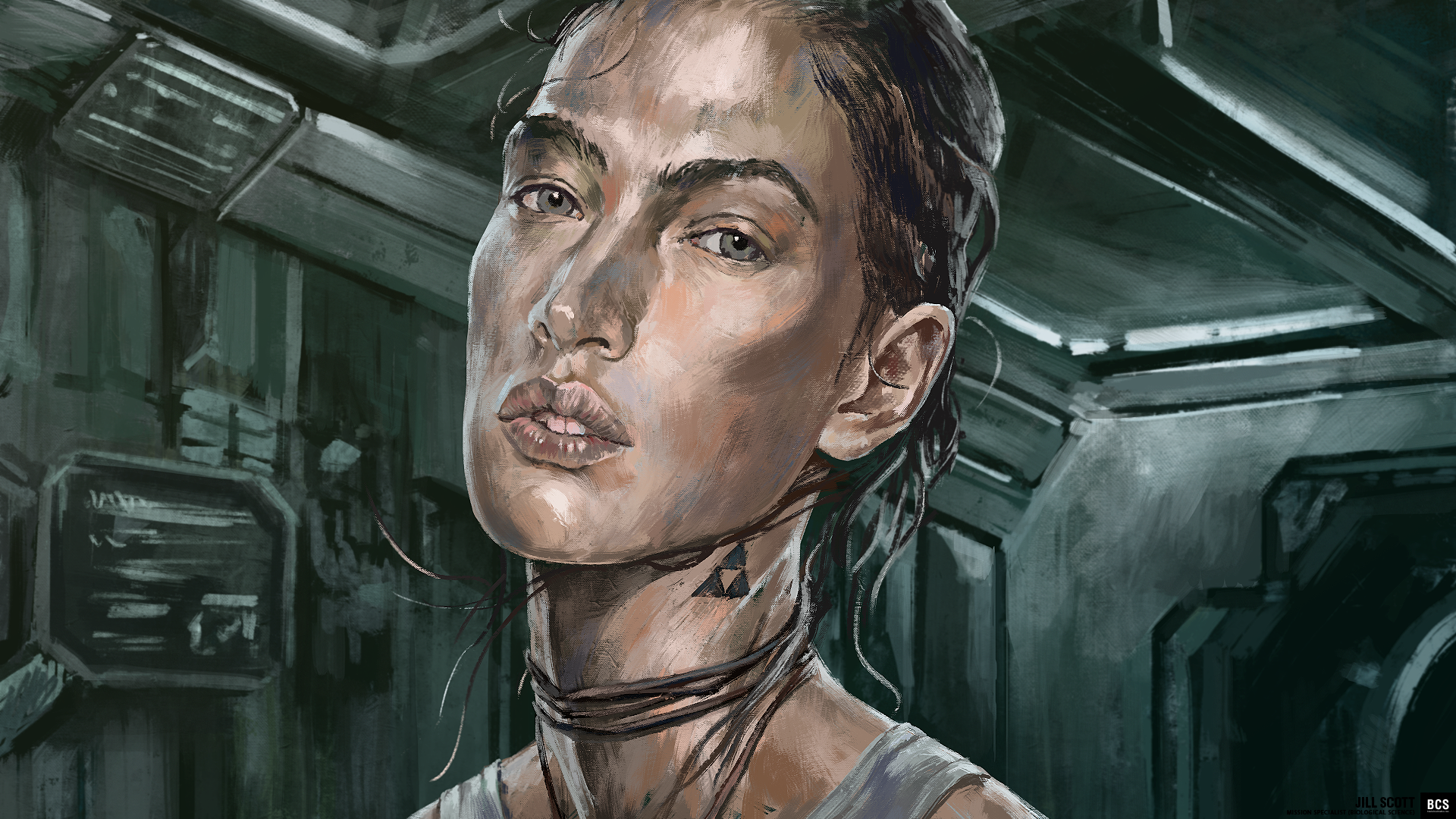 Agency: NASA.
Occupation: A NASA astronaut who studies new life forms and facilitates the release and recovery of probes from Venus' atmosphere.
Nationality: American.
Marital Status: Married.
Age: 30, born April 27, 2082 in Fayetteville, North Carolina.
Other Occupation: Medical doctor, biochemist.
DESIGN NOTES:
Feature: concealed.
Personal item: Black cross necklace.
Temper (first impression): Calm, selfless, kind, she always champions a worthy cause. Inner temper: concealed.
Myers Briggs: ISFJ – The stalwart defender.
Introduction gameplay puzzle: concealed.
EXTRA LORE:
• Jill sleeps with Matt and the rest of the crew pretends they don't know about it. Likewise, Jill and Matt pretend that the crew doesn't know. This back and forth often results in games, intrigues, and other diversions that spice up the crew's somewhat boring lives.
• Jill married Peter Stone two months before the Daedalus-22 Mission.
• Jill usually works on hydroponics and other biological ECLSS modules.
BIO:
Jill is the daughter of Mel and Claire Scott and born in Fayetteville, North Carolina, but raised in New York City.
Graduated from Bayside High School in Queens, class of 2099. She received a Bachelor of Science in biology from the University at Buffalo in 2103. She completed her doctorate in medicine at Cornell University in 2107, the same year alien Artifacts appeared.
After graduating from medical school, Jill trained in internal medicine at the University of Texas Health Science Center in San Antonio, Texas. In 2108, following her parents, Jill joined NASA as a medical officer at the Lyndon B. Johnson Space Center. That same year, she completed the Air Force Aerospace Medicine Course at Brooks Air Force Base in San Antonio, Texas. Prior to her astronaut candidacy, she served as a physician in the Flight Medicine Clinic at the Johnson Space Center.
In 2110, after three years of training, she received her certification from the American Board of Internal Medicine.
Selected by NASA in May 2110, Jill became an astronaut in June 2111 as a mission specialist (biological science) aboard the Daedalus-22 mission.
Jill married Peter Stone in April 2111, a couple months before the mission launch.
Jill's parents still live in New York City, her husband in Huston, at the time of the mission launch.
Marginalia:
Jill wears a catholic cross from Rhenium that is a kind of family relic first belonging to her grandfather and passed down to her mother. Her mother is deeply religious and treated the appearance of alien artifacts as a sign of the end of the days. Her father is a scientific atheist who regarded the appearance of the artifacts as a possible solution of the Fermi paradox. Living in a dualistic but united family household, Jill has adopted traits from both parents into her character. These traits manifest through various aspects of her behavior and interests that she dedicates herself to.
Jill's personality also affects her opinions about the origins of the alien artifacts and their purpose. Caught between her catholic faith and her scientific principals, Jill lacks the reliable data necessary to end her internal conflict with a definitive conclusion. She often pursues unlikely and unorthodox experiments that her peers think irrational.
* * *
When we speak about space exploration we speak about international cooperating between all space agencies of humanity. Shortly before the Daedalus-22 mission, with the United Governments establishment, they were untied under patronage of Global Space Agency (GSA) which logo you might see on the space glove art on the project's main page. Though the roles of "older brothers" in that union belonged to NASA, CNSA and, of course, Roscosmos.
The representative of the last one I'm glad to share in this update. Meet Lia...

Agency: Roskosmos.
Occupation: A payload specialist and technical expert who accompanies special modules that channel a multitude of data sources (from satellites, observatories, probes, etc.) into a real time data stream that she can 'feel' through her cortical brain implant.
Nationality: Russian.
Marital Status: Single.
Age: 27, born March 30, 2085 in Moscow, Russia.
Other Occupation: Writer, data scientist.
DESIGN NOTES:
Feature: Cyborg.
Personal item: A creepy/cute Japanese plush toy.
Temper (first impression): Extrovert-misanthrope, cynical, curious, honest, a frank individual who causes trouble and stirs controversy. Inner temper: concealed.
Myers Briggs: ENTP – The debater who loves to play devil's advocate.
Introduction gameplay puzzle: concealed.
EXTRA LORE:
• The science behind the hard sci-fi universe of AR and real "Cyborg" stuff: Ted.com
• Another reference for "Cyborg" as it is in hard sci-fi: En.wikipedia.org(Watts_novel)
• Lia is a misanthrope, though she has own very popular InLife page (like modern Instagram) as well as mixing her own music.
• Lia accepts a courtship from Eitan, regarding him as someone who lives his life with open eyes.
• Lia shares Eitan's passion for unique t-shirts.
BIO:
Lia Vladimirovna Medvedeva was born in Moscow, Russia in March 30, 2085. She maintains Russian citizenship even through she was raised in New York City.
Lia graduated from Forest Hills High School in 2102 and received a Bachelor of Science in neuroscience from Cambridge in 2106, where subsequently she obtained a doctorate in neuroscience by 2110.
In several months after the artifacts appeared (in 2107), Lia founded a small startup "EvaCon" which is a Cambridge -based cyber-technology company developing and implanting nano-cortical augmentations that enhance human senses. When several research institutions and popular scientists announced a theory about neutrino emissions correlating the artifacts with plasmoids from the Sun, Lia's startup received significant and unexpected attention from the government. It turned out that experimenting with various input sources and implants allowed the human brain to occasionally modify its own architecture. The resulting changes provided some cyborgs with the ability to feel 'neutrino conversations' (together with the proper input electronics connected to the implant), though they still lacked the ability to understand or describe them. Allegedly, this rare ability is affected by the location of the cyborg perceiver as well, but further study is required to determine whether these sensations have any meaning.
Lia was the fifth person with EvaCon-augments implanted and one of a dozen cyborgs with A-sensitive ability detected. Lia made a deal with the government and received significant media coverage because of her popularity on social media (she has one of the most popular pages on InLife). Combined with her family's political influence, Lia received a seat on the Daedalus-22 mission as a Payload Specialist for EvaCon. She became the first privately employed individual to board the Daedalus Space Station.
In 2109 she got attended astronaut training courses in Star City, near Moscow. She was selected by Roskosmos in May 2110 and became an astronaut in June 2111.
Marginalia:
As most of other children of Russian political families, Lia was raised outside of Russia and studied in the United States. Lia kept her Russian citizenship by going back home each Summer to one of her parent's villas, but she considers herself a citizen of the world.
Despite her online popularity, she is misanthrope and despises the majority of humans for their lack of consciousness. The irony is that the mass media and her fans love her for that. Augmenting her brain with the EvaCon implant has also increased this gap tremendously. Having the ability to feel in electromagnetic spectrum allows her to perceive the world in a unique way. However, just as with the disabled, it is difficult to share or explain what these sensations are like.
None of the above interferes with Lia's passion for good t-shirts, a passion that is also shared by Eitan.
* * *
And now it's time to present another cool guy from the Daedalus-22 mission – Eitan Levy. That is his mug with "BEST DAD EVER" sign you might see in the trailer.

Agency: ISA.
Occupation: A Mission Specialist and assistant to the commander and his co-pilot. He also tracks CAPCOM information and sets milestones.
Nationality: Israeli.
Marital Status: Widowed, one daughter.
Age: 31, born June 20, 2081 in RaMatt Gan, Israel.
Other Occupation: Engineer.
DESIGN NOTES:
Feature: concealed.
Personal item: Best Dad Ever mug.
Temper (first impression): Kind, cheerful, energetic, a dutiful companion.
Myers Briggs: ESFJ – The warm and sensitive sidekick who is stubbornly loyal and selfless in adversity (consul).
Introduction gameplay puzzle: concealed.
EXTRA LORE:
• Eitan has a 10-year-old daughter, Avishag, on Earth (Class 4, Primary School).
• Eitan courts Lia and shares her passion for unique t-shirts.
BIO:
Eitan was born in RaMatt Gan, Israel, to Aliza and Amit Levy. He grew up in Beersheba and graduated from high school in 2099. In 2108, he graduated with a Bachelor of Science in electronics and computer engineering from Tel Aviv University.
In 2100 he married Tonya Golan. Two years later, their daughter Avishag was born. Unfortunately, in 2104 his wife died from SCD in her sleep. Eitan now relies on his parents to raise his daughter while he pursued a career in the air force.
In 2101, he graduated as a fighter pilot from the Israeli Air Force (IAF) Flight School. From 2101–2104 he participated in Basic Training and Operations.
Eitan went on to receive a Doctor of Philosophy in Solar Physics from the University of Colorado at Boulder in 2108. By the time of the Artifact appearance in 2107 he was the senior staff scientist with the Space Sciences Laboratory at Lockheed Palo Alto Research Laboratory in California.
As a research scientist, his principle duties included conducting scientific studies of the Sun and other celestial objects using advanced space instruments.
Eitan joined the international Solar Physics Group at Montana State University as a Research Professor of Physics, and an Israel representative, after the discovery of a possible connection between solar activity and neutrino emissions from the alien artifacts. He oversees the solar physics group, which carries on an active research program under NASA/ISA support.
Selected by ISA in May 2110, Eitan became an astronaut in June 2111 as a mission specialist (physical science) aboard the Daedalus-22 mission.
By the time of the mission, his daughter Avishag lives with his parents in Bozeman, where she attends 4th Grade Primary School.
Marginalia:
As Avishag lost her mother when she was only 2 years old, Eitan has raised her as a single dad but eventually turned over responsibility to his parents. He adores his daughter and that feeling is mutual, though as time marches on they grow more and more distant. Like many Jewish families, they remain very close and tend to live in the same household long after children mature.
The only personal item Eitan took with him on the Daedalus-22 mission was the Best Dad Ever Mug made by Avishag when she was seven. She modeled and 3D printed the mug herself, and though it is cracked is no longer useful as a vessel, it is a sentimental reminder to Eitan even in the cold depths of space.
* * *
And finally I'm proud to present the final crew member of the Daedalus-22 Mission - a military advisor and assistant pilot and to the commander (Hiroto) - Ron Armentos. His ring you might notice in the trailer.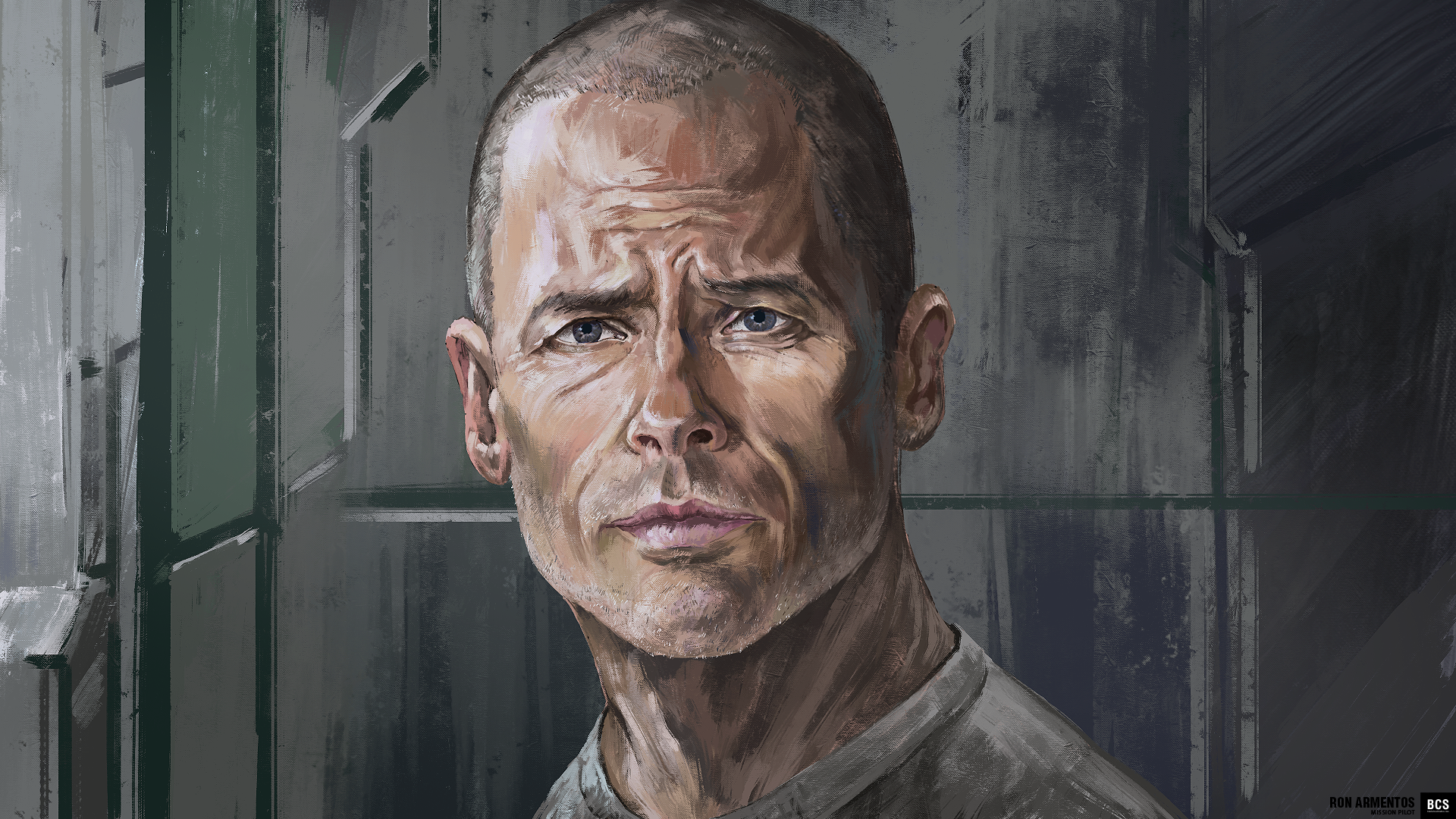 Agency: AES.
Occupation: A military advisor and assistant pilot and to the commander (Hiroto) in maneuvering the "Sunlight" transport spacecraft.
Nationality: Brazilian.
Marital Status: Married, but separated.
Age: 41, born March 11, 2071 in Bauru, Sao Paulo, Brazil.
Other Occupation: Army aviator.
DESIGN NOTES:
Feature: concealed.
Personal item: Engraved wedding ring.
Temper (first impression): Sad, somber, reflective, he is a proud man whose confidence has been broken by events he cannot explain.
Myers Briggs: INFJ – The mentor and advocate of wisdom, patience, and virtue.
Introduction gameplay puzzle: concealed.
EXTRA LORE:
• The official information about Ron is concise and modest. He appears to be a military advisor aboard the mission.
• Officially, there were no casualties when the Incorporeal's artifacts appeared on Earth, but many people were reported missing. Ron's wife was one of the unlucky ones who vanished without a trace.
BIO:
Ron Cesar Armentos was born in the town of Bauru, in the southeastern state of Sao Paulo.
Ron is one of the most experienced jet and suborbital pilots in the Brazilian Air Force (FAB), where he holds the rank of Lieutenant Colonel and has flown for more than 1000 hours in 25 different aircraft.
In June 2106, he was selected by the Brazilian Space Agency to train in the NASA space program after he acquired a space-related background in the Aeronautical Engineering division of the Instituto Tecnologico de Aeronautica (the Aeronautics Technological Institute, or "ITA"). Ron began his NASA training in August 2106. In 2108, a year after the Artifact appearance, he was commended to Agencia Espacial Sudamericana's (the South American Space Agency or "AES") active Astronaut Corps. He qualified as a Space Mission Specialist in December 2110.
Selected by AES in May 2110, Ron became an astronaut in June 2111 as a second pilot and mission specialist (payload) aboard the Daedalus-22 mission.
Ron was married to Ana Clara Oliveira in 2093 but they have had no children. By the time of the mission, his parents live Rio de Janeiro.
Marginalia:
Despite being friendly and kind to the other crewmembers of the Daedalus-22 mission, Ron has shared very little about his personal life or his family. Apparently, he joyfully participates in team activities or games to brighten up the yearlong mission. Outside of his work, however, he remains very private and follows military protocol. His precise, articulate nature only comes out when discussing mission parameters with Hiroto (the commander of the mission). They each treat the other with mutual respect, laugh at inside jokes, and generally behave in a manner indicative of a long-standing relationship that neither would admit to publically.
Due to their proximity within the confined space of the space station, the crew becomes very close to each other over the course of the mission. They have their own atmosphere outside of the official channels, just as many astronaut crews before them. During one of their 'evening gatherings' when they usually share personal life stories, Ron yielded to Lia's inquiries and talked about his wife.
According to Ron, despite the official statements that there were no casualties when the Incorporeal's artifacts appeared on Earth in 2107, there were numerous missing persons including Ron's wife, Ana. Since then he focused his military career on special operations related to the artifacts. Most of them are classified but they granted him an advantage during crew selections for the Daedalus-22 mission not only as a second pilot but also as a military advisor. Since one of the main purposes of the mission is to study and potentially contact the Incorporeals, all Daedalus missions since 2108 include a military advisor in order to operate independently during the 2-14 minute communication delay between DSS an Earth.
* * *
I hope you've enjoyed knowing better those people and already got some sympathy and empathy towards them. Suddenly, Lia is the most liked character on Reddit's voting. Though, I'm putting Ron there only today, so we'll see.
Thank you for your support and stay tuned for more content we're putting with Kisktarter updates!
Sincerely,
Richard.