Greetings and salutations!
This week's screenshot shows the corpse of a king, entombed and preserved, to be found in level eight: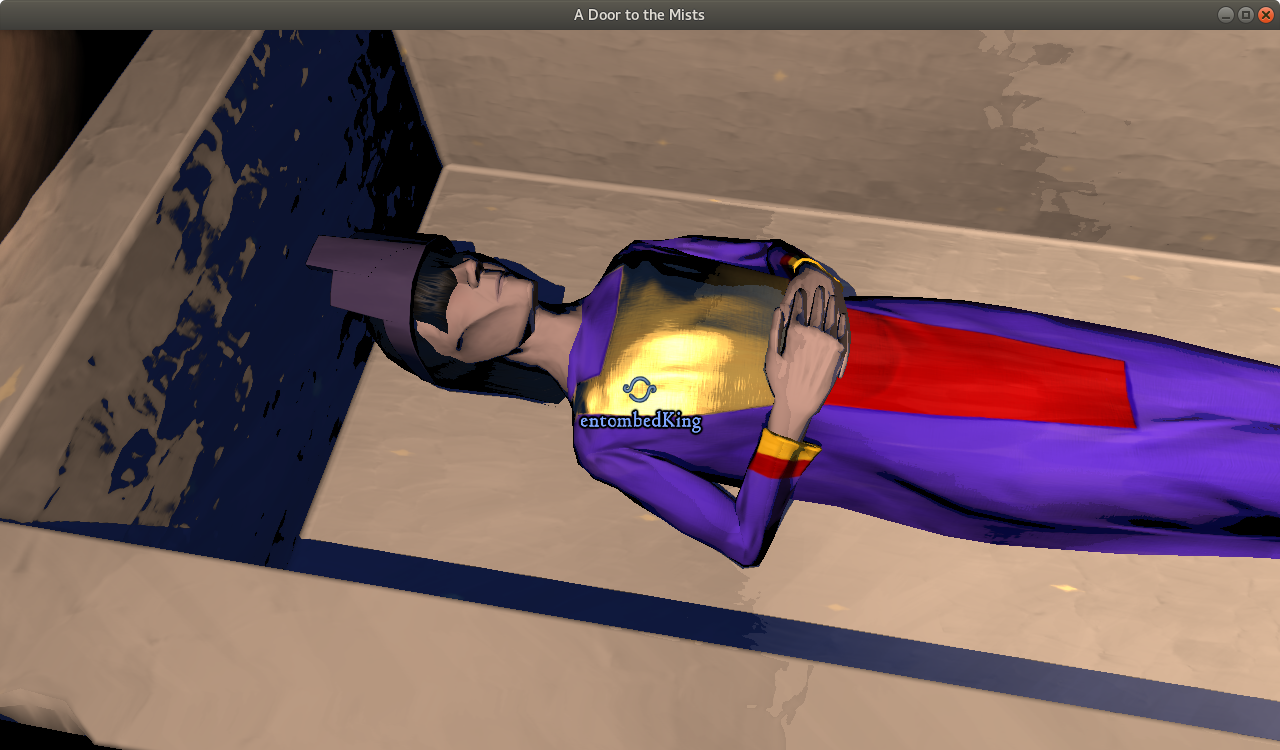 The week just past once again focussed on level-building, with just a few other things done besides:
As shown above, the tomb found in level eight now has an "occupant": in the week just past I modelled and emplaced the body of the king whose tomb it is.
This modelling wasn't done from scratch, however--indeed, it makes use of a number of previously-made elements: The base model was that of the adventurer-enemy, edited, posed and then modified further; parts of the textures likewise are modified from that adventurer; and the robe uses in part a previously-made "cloth" normal-map.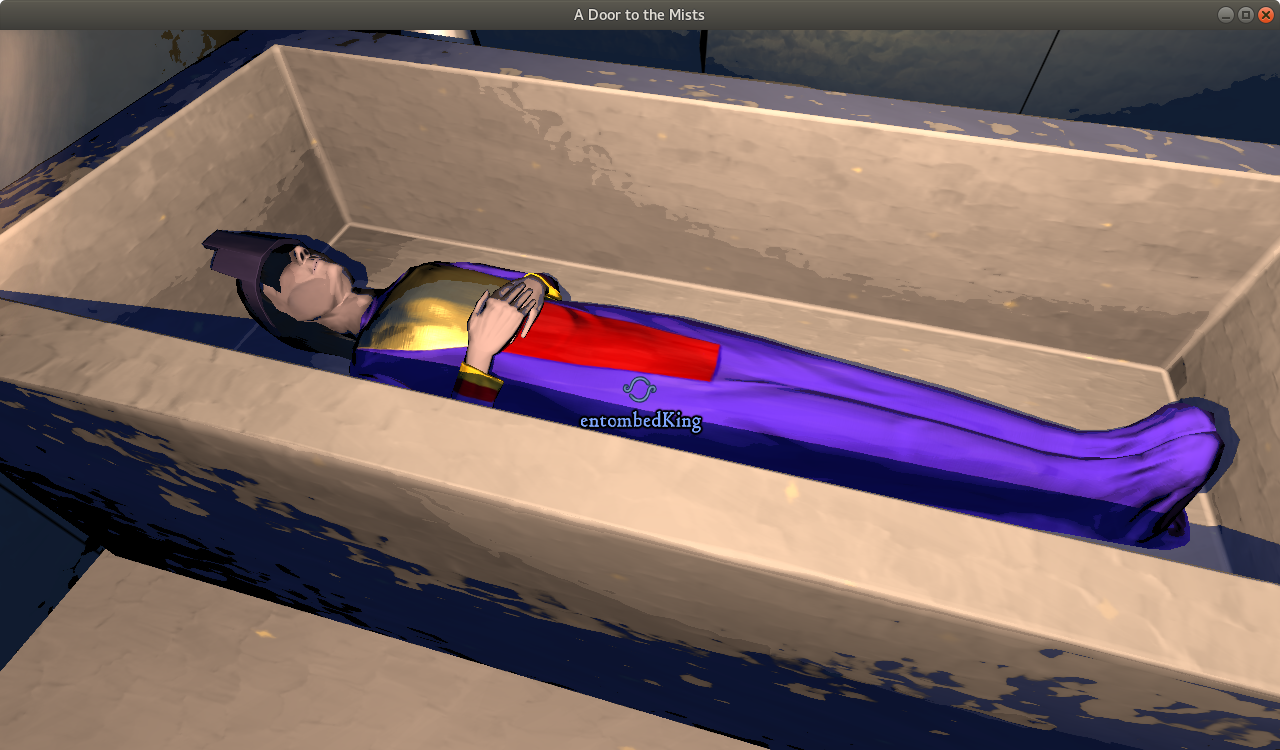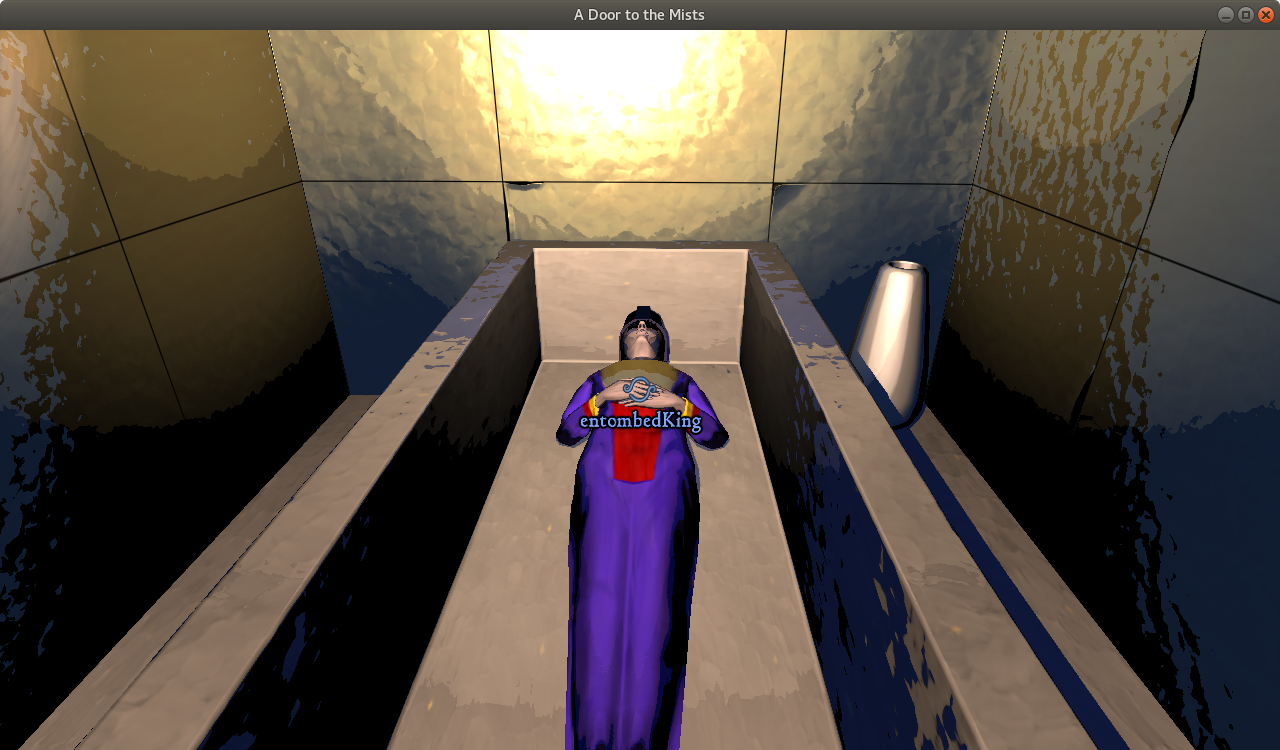 With the king done, I moved on to an accessory found with them: a dark half-crown, balanced on the forehead of the corpse. This model isn't yet quite done, but is largely so, I think.
Why is this modelled separately? Because it's an item that can be taken.
However, in the week just past I also began implementing some logic that is run upon taking and returning said crown, and with engaging a certain trigger while carrying it... ;)
(And on a related note, I've added one new entry into the list of collectibles. ;) )
The tombs themselves saw some updates in the week just past, too. Perhaps most notably, I worked further on the cleft that joins the two interiors--it's largely done now, I think, barring one or two minor issues. Less-notably, I also made a minor update to the UV-maps of the "ribs" on the ceilings, hopefully rendering them a little less uniform.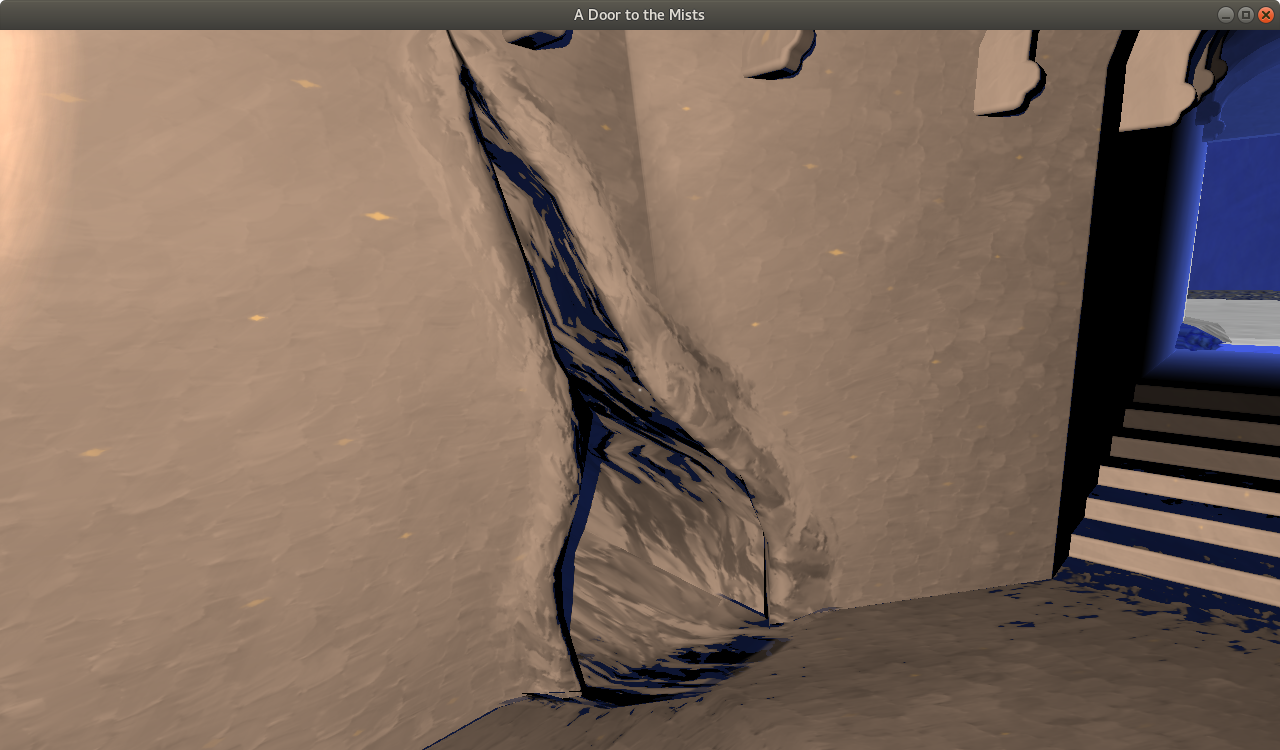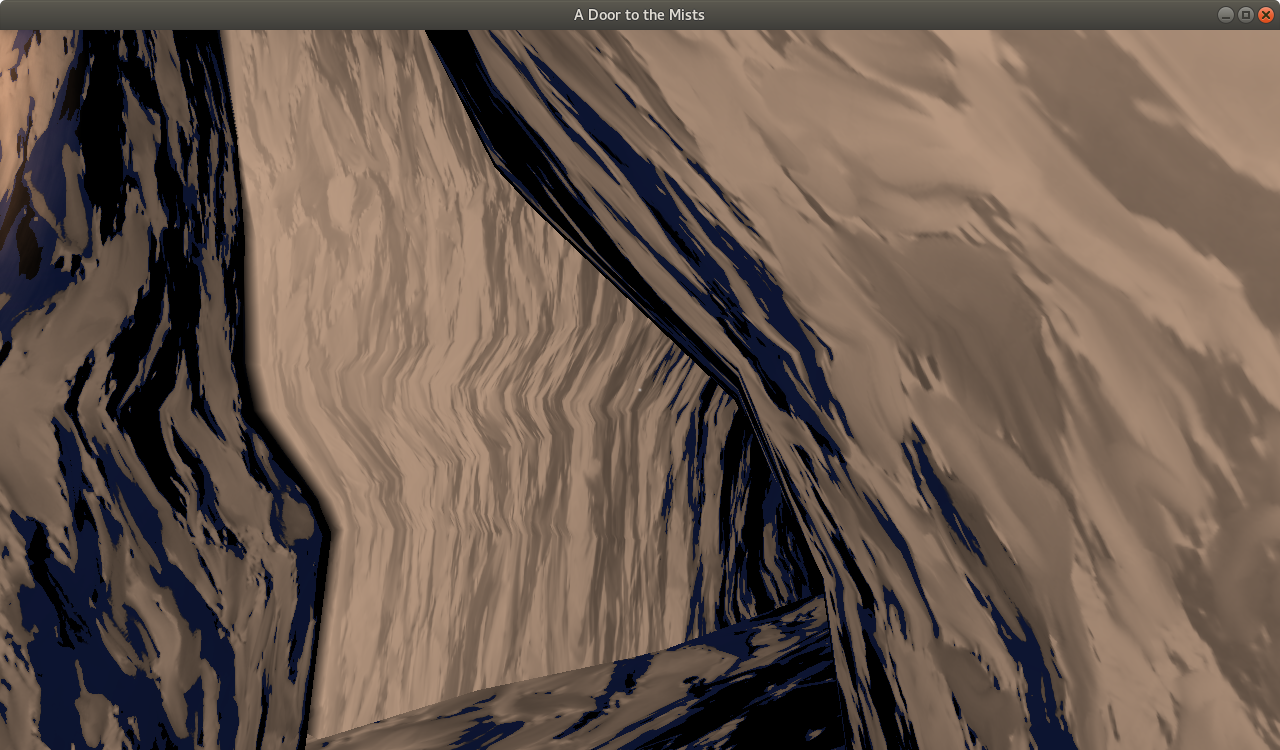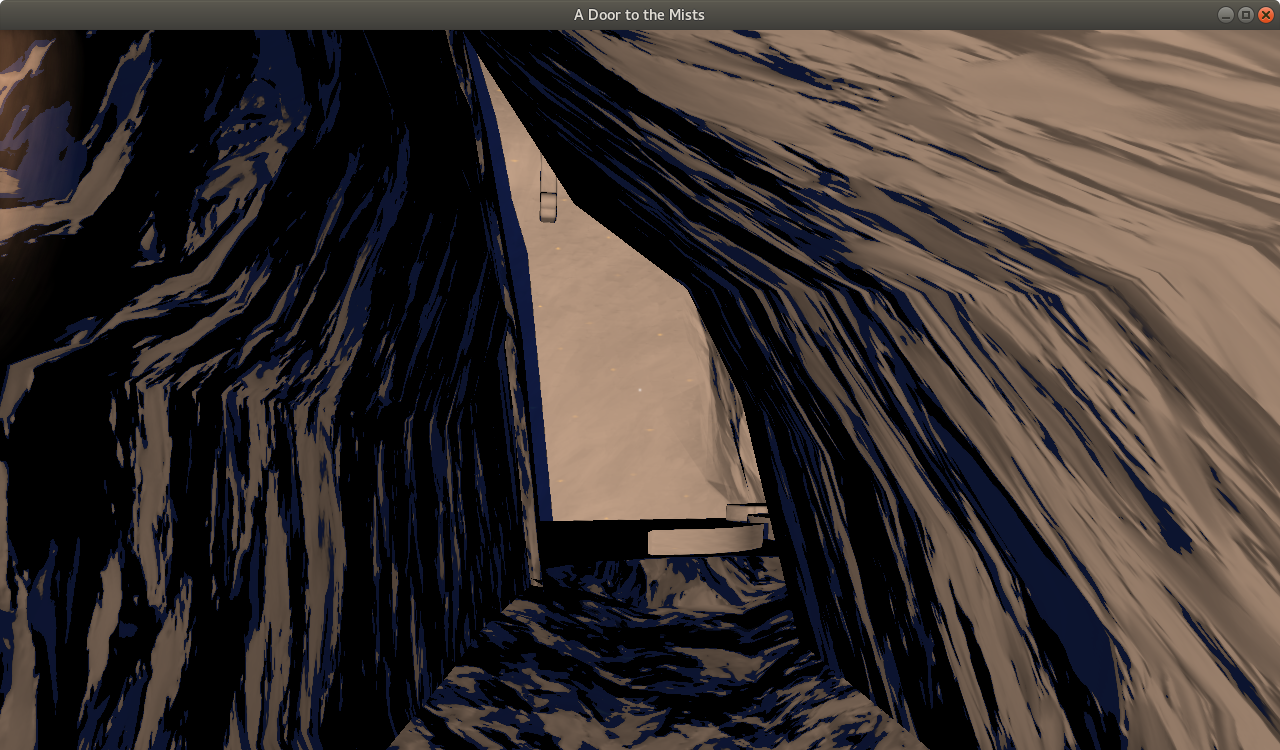 Moving to the exterior of the level, I did some work on its distant extremities. At one end the gorge now narrows greatly, almost closing; at the other, it narrows only a little, and a hill is just visible beyond its gap.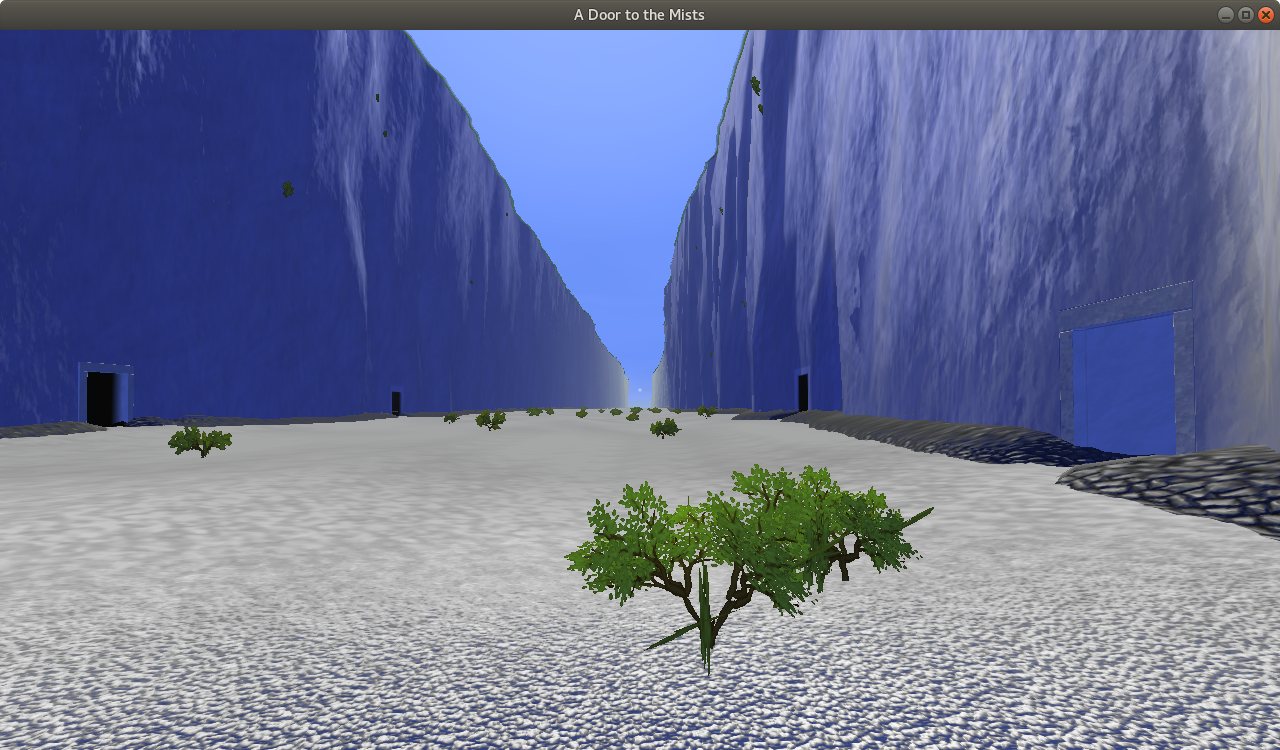 I also updated the exits that bound the playable part of this exterior: I made them initially "locked", and gave the one that leads in the wrong direction a separate text-ID so that it can provide a different response to the other.
And finally, in the week just past I enacted the last of my second wave of publisher-pitching! All pitches should be out now, I think; all that's left, I believe, is to wait... o_o
That, then, is all for this week--stay well, and thank you for reading! ^_^