With the completion of several updates, I was recently able to record a 28-minute gameplay video of RIZN. The clip below is unedited and depicts everything from the character selection screen to shortly after the start of the second day of gameplay. I did my best to include a bit of everything that's been done up to this point and opted to keep zombie counts fairly low since it takes a significant amount of time to clear a quarantine zone packed with hundreds of zombies.
There is a brief pause in the gameplay as I enter the second quarantine zone since I need to wait as it is filled with undead; this delay will be removed shortly since I'll be putting a pooling system in place to recycle RIZN for use in future areas. What takes several seconds now will soon happen over the course of just a few frames. Aside from that, everything is working as expected, including the recently added features which I'll cover in more detail below. I'm very happy with the results here and after taking a short break from the project, I'll be focusing on a pooling system and zombie attacks next.
Workstations
There are now three different types of workstations that the player will come across as they make their way through this (as of yet unnamed) city. Depicted in the screenshot below, there's now a workstation dedicated to crafting medical items, one for crafting lethal/utility items, and finally one for modding weapons. Each station has a raggedy teddy bear sitting atop its surface to aide with quick identification, and players are now required to be at the appropriate station to perform their accompanying tasks, which adds a bit of strategy to the gameplay given that Powder Kegs and Brain Stims can no longer be produced at will.
Warping Time
The time-warping mechanic has been present in RIZN for a long time, but I recently decided to tie it directly to an item. The bottle of meds in the screenshot below is now the trigger for slowing game time down, triggered with the Q key - up to this point, the mechanic was based on a cooldown timer and was activated via the spacebar. This new config adds to the reward factor when searching structures for loot, since the sight of a bottle of pills now immediately denotes to the player that they have essentially looted a powerful skill, one that slows time to a crawl and can provide some breathing room if things get a bit overwhelming.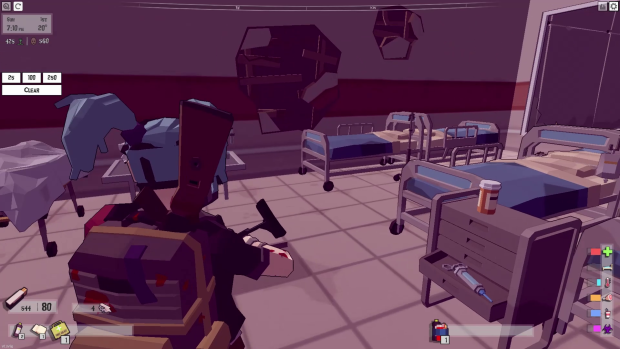 Medical items are most commonly found around hospitals, and medical workstations are only ever found in them or in the upcoming research labs. Players should now feel a great deal of relief whenever they happen across a hospital since they can rest assured that some medical supplies are nearby, and they can use all of the brain samples and syringes they've acquired to craft the life-saving Brain Stims.
With these new additions in place, I am very much looking forward to finally putting zombie attacks in place. Given the amount of testing and concept work I have already done in that area, I expect that things will come together pretty quickly. For now, however, it's time for a much-needed break from zombies. I've accomplished a lot this year already and am anxious to keep progressing towards the demo release this fall, but I also value my sanity and am overdue for some time in my backyard soaking up some sunsine.