The second ever IndieDB Spotlight video now will more VO! This month we bring you six of the best Independent releases found on IndieDB.com, both retro and modern, action and puzzle. Also let me know what you guys think of the format, I'm more then happy to change things.
July 2010 IndieDB Staff Selection
Robotz DX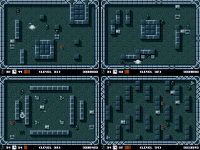 (these guys need more screen shots :P)
Robotz DX is an unashamedly old-school, single-screen shoot-em-up with strategic game play. Although simple in concept, it is a difficult game to beat; you will die many times before you master all 30 arenas - and even when you do conquer the game, it's randomly generated level layouts will provide a new challenge on every subsequent play-through.
Featured
Till next time mod away my good friends and watch this group for updates.