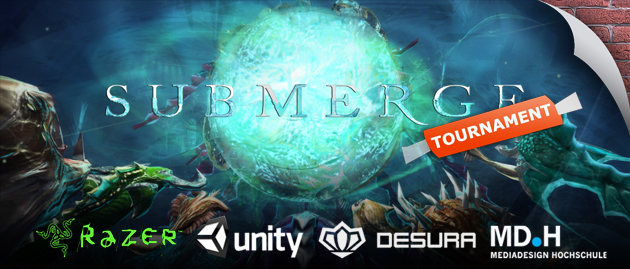 Hey folks,
we are releasing our Alpha Version of Submerge with a huge impact. At the Gamescom 2012 in Cologne we are hosting a tournament from 15th to 19th August at booth E044 in hall 10.1. Forget all the other boring "rts" games. :) It's time for some innovations. It's time to submerge.
We get sponsored by Desura with many great games. The daily tournaments start at 2 pm and will last about 2 hours. After that the prizes will be given to the winners. Thanks a lot to the whole Desura/Mod and Indie DB Team. Thanks for your great job you did the last years.
Razer and Unity Technologies will sponsors us with soft- and hardware products as well. So we got a huge bag filled with awesome prizes. There is no application required, so just visit our booth and play between 2pm and 4 pm. You can train the rest of the day. :)
Well, stay tuned and visit our booth.