I'll do a video devlog soon to show what's new in terms of gameplay.
For now, I wanted to get in one more update before I travel back to Thailand tomorrow, so here's my latest art & animation update!
Stamina "Moonwalk" in action!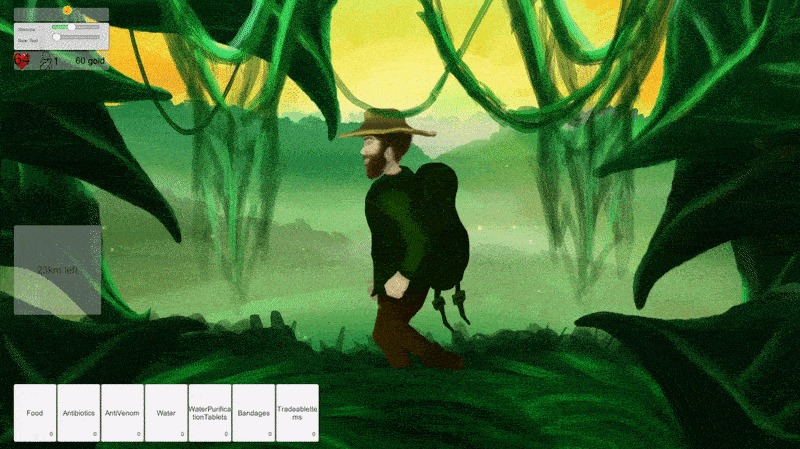 What's New
Character Art
Not much to say here. This was one of my first attempts at character art, so I'm pretty happy with how he turned out.
Idle Animation
You can see this when the game is paused for UI events in the below video.
Walk Animation
"Moonwalk" to show Stamina on character
I like the moonwalk effect I ended up with. Currently, the character's speed is tied to Stamina. (You can see the player speeds up at night, as Stamina depletes faster at night. I'll have to replace the sun in the background so this is more obvious!)
It's possible I'll change this so character speed is instead tied to actual speed and instead display Stamina through animations (a hunched over animation for low Stamina). It's a work in progress.
Note on the UI
I'm slowly replacing as many UI elements as possible by displaying them in the world. (I have a few ideas for how to display other elements on the player (such as the inventory), rather than relying on game menus.)
Tools
I'm a Game Designer/Programmer, so I'm still very new to the character art and animation side.
Fortunately, a free Unity tool made it fairly easy to add bones to the character and animate (Anima2D).
Someone recommended I use another tool - Dynamic Bone - to add a bounce effect to the backpack straps. It's awesome how easy it is to set up and get a nice result.
Video
In this video, you'll notice the speed increase when it changes to night.
The player also gets an option to rest when his Stamina gets too low (and is more likely to get an Injury event if they don't rest, which happened in the video). When he reaches the right side of the screen, the player is forced to rest.
I don't have a sleep animation yet, so he just walks back to the left side of the screen when he's "sleeping."
I haven't given much thought to a sleep animation yet. I could place him in a hammock for sleep, or, if I want to take a more comical route, add a small speech bubble with, "Zzzz" as he walks. I haven't decided on the comedic/realism balance I'm going for!
Which do you prefer?
Plenty more to add on the art front! My next priority, in terms of art, will probably be a parallaxing effect on the background, so it looks like he's actually moving.