It was good to put a survey right at the beginning of our pre-alpha. Almost 50 people filled it out and I want to show you some of the results of my evaluation.
The best result is that most people who played the game seem to like it. First mission accomplished.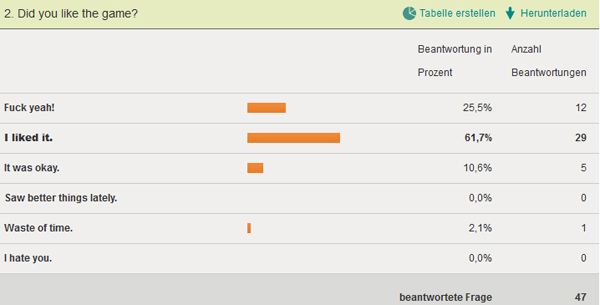 Looking at the time people spend in TRI makes the result a bit sobering, because most players took the dive into the game for less than half an hour.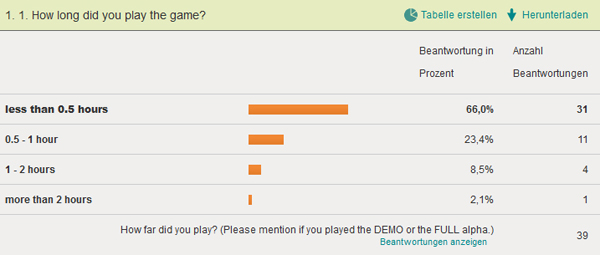 This makes us a bit sad, but I also know that most people who answered the survey just played the demo which really has a playtime of 0.5 hours only (of course you can spend more time in it, if you wish).
What did people like most in the game?
Everybody seems to enjoy the TRI-creating (phew!) and the walking on the walls. Pushing around physicalized objects and being creative is what fascinates most of the players, too. Reaching unexpected places is something we need to enlarge in our level design - many people love searching around and being rewarded with Gummi Bears.
Story and the reflection of light rays was seldom mentioned. Reading longer letters is a bit too distracting from the gameplay or just annoying. The light rays also were not mentioned by the survey-takers, because they are not prominently included in the demo; you need to buy the pre-alpha to get access to those levels.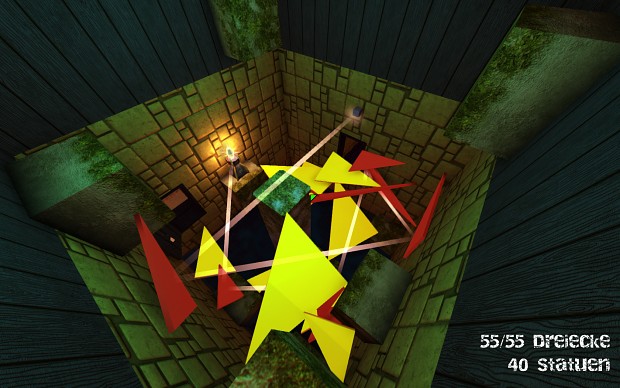 What players didn't like
Making TRIs is still a mystery for some players. "When do they get solid? Why can't I build them here? Why can't I delete this triangle? Why isn't the wall-walk working? Why are they red or yellow?".
Gamers that are used to instant success might get annoyed by the (non-)usability of the TRIs. You can't just push the balls (the three corners with which you build a triangle) everywhere and a TRI is there. We are still working on fixing that, but it's not that simple, because it's the main gameplay.
Dragging and crate-stacking are on the big hating list close to the top. Both will hopefully be better working with the upcoming updates.
Controls, either mouse controls or walking/jumping, didn't work out for all of you. For platformers those are the most important, but the most complicated issues, too. So the character controller will be refined with every update, but not at once.
The mouse controls are a bit tricky. On Macs the cursor is spinning madly, while in Windows he reacts like a slug. Friedrich (our programmer) experiments with the operating system's own hardware cursor now, instead of using a software cursor (which means using a little texture for the image showing the cursor status: dragging, no-dragging, standing on objects, etc.). This should at least somewhat remove the "sluggish" feeling.
Another big problem we can't reproduce mentally is orientation in the levels, due to the fact that we build those. But with the upcoming content update there will be more details and different looking corridors, so you probably will know where you came from even after spinning your head several times.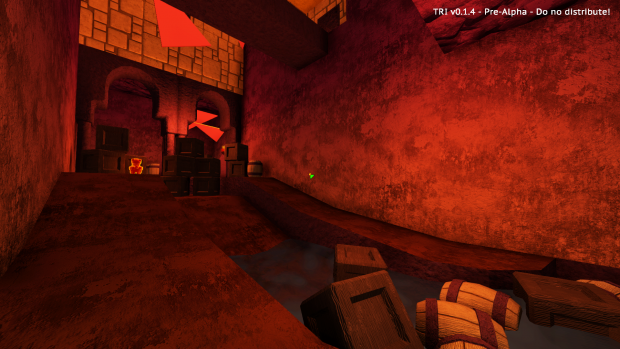 Last point: reading. Some people really enjoyed the letters and liked the humor. But most players just skipped them - the too-well-known "TL;DR" (Too Long; Didn't Read) syndrome. We are not going to remove them totally, because written fiction is something we both enjoy in games (e.g., the letters in Thief and the books in Morrowind). But we try to make them more interesting now that the story is completed. And we already differ between story text and tutorial instructions, which is very important for those players who even don't like to click on a book or letter once in a while.
Upcoming update
In the second week of August we are going to do the first technical TRI update. This means that not much content will be added BUT we fixed some bugs and usability issues.
performance improvements (occlusion culling, normal maps size)
hardware cursor implemented
saving issues on Mac fixed
dragging (crates and crystals) improved
climbing works better on chamfered edges
added option "Camera smoothness", makes camera rotation less direct and choppy
online version check
new shader for the TRIs - added glow to important objects
We also added some bugs ;) EYEBUGS walking around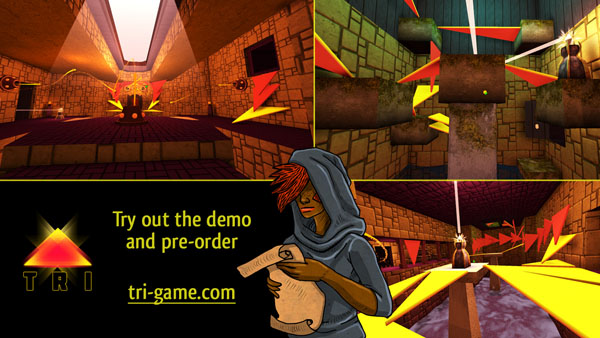 Something not completely different:
We are on Kickstarter! Together with 8 other developers we seek some funding for our development progress. You can get all of the games and soundtracks for just $20 or pledge more if you like.