Dear reader, all screenshots have been taken straight from the development console... so textures, meshes or whatever might look weird.
---- What to Do in Order to Get a Different City Simulation? ----

My name is Sebastian and I'm a big fan of city building simulations. Over the past 2 decades, I've played almost every title that was related to this genre and I've noticed, as probably most of the virtual mayors, how little innovation has been brought into this genre – it felt a bit like playing always one and the same or similar game from the 90's.
So in 2014, you can guess after which city simulation has been released, I thought it would be a great idea to launch an own project, having the target to address this issue. The challenge was to make the cities more "flexible" and to create a "new style" of gameplay.
At that time, frankly speaking, I thought that the game will address only a small group of players who is interested more in gameplay rather than in graphics, so I down prioritized the nice and fancy textures. As a result of the development, the buildings got resizable and re-useable, the city economy became very challenging and the traffic system was completely released from its conventions.
Believe me, testing it was pretty addictive and time-consuming :-).
Finally, in Oct. 2015 the game was ready to be published on Steam Greenlight and you know what happened? Many players commented that they voted 'NO', because even though they liked the idea very much, the game was simply too ugly. When similar comments appeared on Simtropolis, the forum with probably the most experienced city builders, I started to understand that the game got more attention than I have expected and I had to do something about the visual part.
Reviewing the comments, in particular on Simtropolis, I caught myself also reviewing the nice buildings that the community uses to share there. Instantly I understood that people love to look at their cities and love to share their cities with the community after having invested so much time in creating them. I started to ask myself, whether CitiesCorp Concept was in the position to handle that in a similar way and whether someone would post pictures of his or her CitiesCorp City – the simple answer was no, because the cities in other games looked much nicer. The unpolished CitiesCorp Concept even did not have modding, which could allow people to change the visuals according to their needs. So why should people bother to tell their friends?
Being backed by the comments that it's a good idea but an ugly game, it reminded me of the fairy tale of The Ugly Duckling that matured into a beautiful swan – I thought it would be a great analogy to CitiesCorp Concept and a motivation to start to make some changes. It was clear that it won't be easy, but I wanted to see whether the opinion of the community would change in case it started to look better. So I started to polish the game step by step...
----- The Community Responded Immediately ----

It took me just some few days to publish the first screenshots of the polished artwork and after one month I published a gameplay video on my Youtube channel. The community reacted very positively – the voting ratios on Steam turned upside down and the game started to catch and to rank up. The polishing comments have been just reduced to parts which I did not start to polish at that time at all and first "wow, looks great" appeared as well. How cool was that?
These positive feedbacks gave me even more motivation to put in more efforts into the remaining polishing process, including changing models and adding new features – I simply did not want to disappoint the growing number of followers.
DEAR COMMUNITY, THANK YOU FOR YOUR FEEDBACKS AND YOUR SUPPORT.
I HOPE I CAN MATCH YOUR EXPECTATIONS.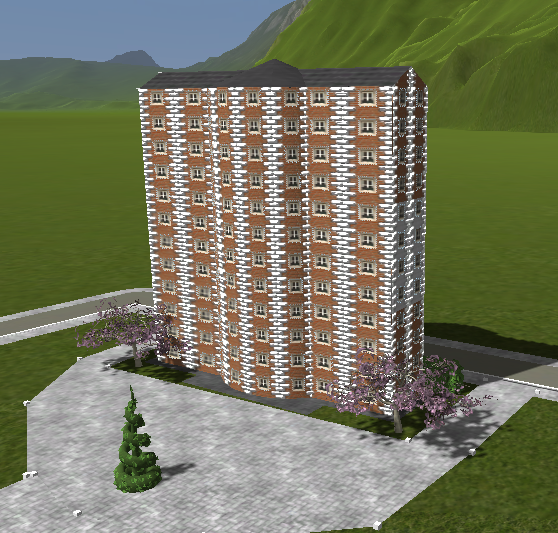 ----- Where is the Game Today? ----
The good news is that CitiesCorp Concept will be available on:
Steam, because it has been already Greenlit,
IndieGameStand; actually, they have been the first ones who said "OK",
Maybe GOG? Well, that reminds me of contacting them ;-).
Personally, I hope that I can accomplish a beta version by end of 1Q2016.
As already indicated on CitiesCorp Concept's Greenlight site, it took a bit longer, because also the preparations for modding started. Unfortunately, the modding itself won't be ready until the release date, but it will be definitely patched at a later point in time.
----- The Metamorphosis ----
Initially I thought to record a new video, but finally I've decided to post screenshots, straight from the development console, due to 2 major reasons.
First, the game is still a bit buggy, many textures are unfinished and some parts are still not connected to databases, so a smooth gameplay video is still not possible.
Secondly, I wanted to show you also the screenshots that show the contrast between the first unpolished versions and the actual version, so you can make up your own mind how a game can change within some few months.
Have fun.
Polishing areas now and then
- User Interface, now and then

- Streets & Cars, now and then
- Environment items today - this is new, including "freestyle" pavements (sight behind the hedge) :-)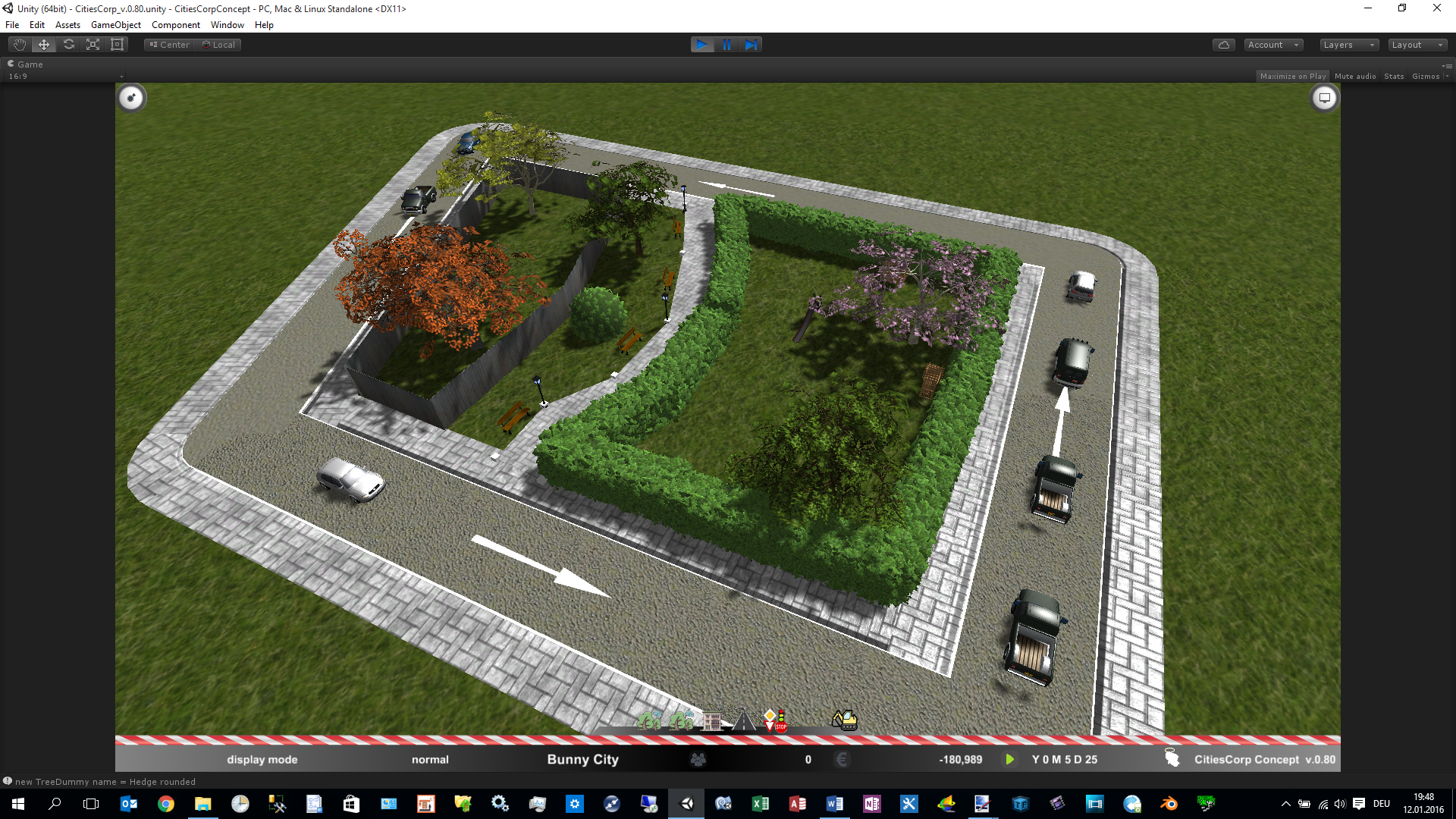 - Buildings now and then,
prototyping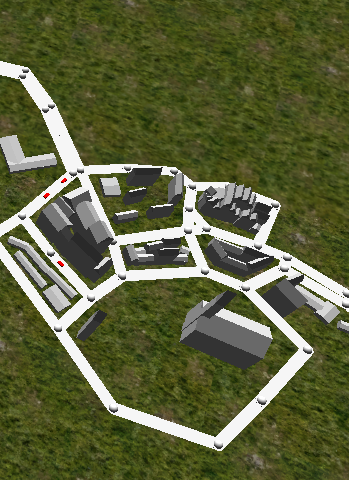 unpolished version
unpolished buildings in an polished environment
today - created during a save-load testing session.
Please leave a comment whether you liked it or not – but please leave something that I can work with…. the game is called concept, because I want to keep changing the game continuously by adding also your ideas and thoughts. In other words, commenting "it's a sh*tt* game" is unfortunately not really something that can be coded, isn't it? ;-). I'm just kidding.
Have fun and take care,
Sebastian