Brief Overview Tutorial
The first step is to load the level editor. This will load you into a blank map. It will contain two Player Starts, one for each player in co-op, as well as a simple floor and the End Level Star.
You can create a larger floor space by dragging out floor tiles from the pathables menu. The dev tiles located here will work great to help block out a level.
Once you have a floor, you will want to move the Player Starts and End Level Star. The End Level Star will be set to the default of 70% of the level burned, and for most levels this should remain at this number. You will want to place this in an area that the player can reach it without having to clear 100% of the level. You usually will give it a 1 tile open space around it where no other entities or objects are placed. The Player Starts should generally be placed in an area that is a good intro to the level, but also lets the player move a bit without fear of running directly into a hazard and dying instantly. Both the Player Starts and End Level Star will likely move quite often before you finish the puzzle, so don't worry about this part too much yet.
Now you start building your puzzle. Drag out blocks from the Entites->Block menu such as the burnable crates, circuits, and floor-switches to help fill out the puzzle. Add hazards from the Entities->Hazard menu to add a bit of danger to the level. Make sure to add pickups such as the bombs, rocket-launcher and collectible stars from the Entities->Pickups menu.
When you are ready to test your level, press Ctrl+Shift+R to run the level in the game. We recommend using a common-controller to control the game. When you are ready to go back and edit some more, press Ctrl+Shift+E to return to the editor.
Remember to save your level often by pressing the Save button, or Save As button if you need to give your level a new name.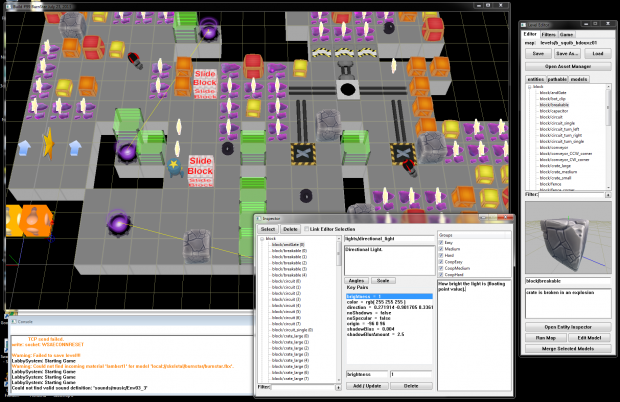 Basic Hot Keys
Left Mouse( Hold )- Pan Camera
Right Mouse( Hold )- Rotate Camera
Left+Right Mouse( Hold ) - Move Camera Up/Down
V - Toggle between Free Move Camera and Game View Camera
Left Mouse Click - Select object
Left Mouse Click + Drag - Move Selected Object
Ctrl + Left Mouse Click + Drag - Copy Selected Object
Arrow Keys( with object selected ) - Move Selected object a
grid space
Ctrl + Arrow Keys( with object selected ) - Copy Selected
Object over a grid space
Left Mouse Click+Drag( from Entity/Pathable/Model lists ) -
Create new object in scene
Esc - Deselect
Minus - Decrease Grid Size
Plus - Increase Grid Size
G - Show/Hide Grid
Ctrl+Shift+R - Run the level in the game
Ctrl+Shift+E - Edit the level in the editor
I - Inspector Window