We were very excited during the last month – it is our first game project and first experience, but we managed to catch the eyes of some cool game let's players. Moreover now we have lots of friends in media and other interesting people in game sphere, who help us to show Wanted Raccoon to the world despite of some problems (such as bugs).
We are very thankful to the bloggers' attention - some of their reviews are really make you laugh so much!
Here's a little video with funy moments of the gameplay by let'splayer H20 Delirious (: so emotional!
We've checked all your comments and reviews, and all the week has been spent on fixing the bugs and making patches for the game. It's a big help from all our players to write us about the problems they faced up during the game, and definitely it makes the game better.
Some of the fixes are already done and available on steam and some in the process of fixing. The next updates will be uploaded on Steam in the near future (hope that in several days).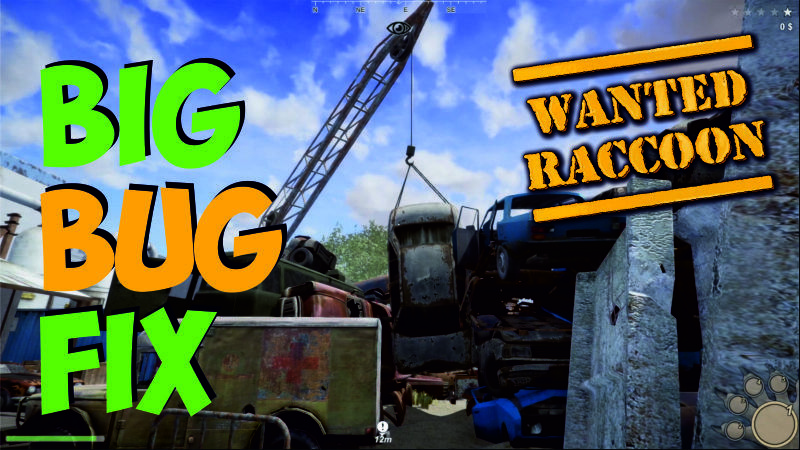 Here is the list of some of the 1st big bug fixes, and the result of our work for this last week:
1. Now you can take a trapwire in inventory;
4. The plot works correctly if NPC was stunned or tied up ahead of time;
5. The problem with some missing colliders on objects;
6. The player no longer appears in the kennel while catching at the construction site;
7. Getting stuck in boss pickup and garbage truck after loading the game is fixed;
9. The problem with turning on sleep effects in the city after a dart hit;
10. Fixed some missing icons… and other bug fixes and news you can find here: Store.steampowered.com
Write to us on our email or discord about your bugs and we try to fix them!
e-mail: raccoonwanted@gmail.com
discord: Discord.gg