Years ago I did a crowdfunding campaing for this game, we failed, but recently I started working on this project again.
This time, the plan is to make a demo/prototype to show it to some publishers, in order to get funding for a small group of developer, so we can work completing this game full time.
I'm aiming to have a playable prototype by february of this year, and have been working on it since July of 2016.
Right now it's just one programmer working on the project, me.
So, what have we been doing all this time?. Most of it is just code for the simulation, which we won't show because code is not interesting to show. Besides there is not yet an interface between the simulation and the player, so the simulation just shows cryptic text and numbers.

Right now I have been focusing on developing the player interface with the simulation, and that's what you'll see in the coming updates.

Here are some very very early screenshots of our progress, take a look! :D
This is our procedural map generator. Here you can see different terrain types, whichi is basically a grid of rectangles painted with different colors.
Here is the same procedural map, but this time we can see blocks and streets. You can see more clearly that the map is divided in a grid of "sectors", or little boxes. Each sector stores different data, natural resources, value, population, etc.
Here we have a window, used to show information of a personal contact.
From here, you will be able to:
1. See the stats of the person, divided in different types of intelligences (logical, visual, social, etc etc)
2. See the person qualities (Shy, corrupt, extrovert, lazy, etc (similar to Crusader Kings 2)).
3. See the skills he/she posesses.
4. See the picture, name, age, and more.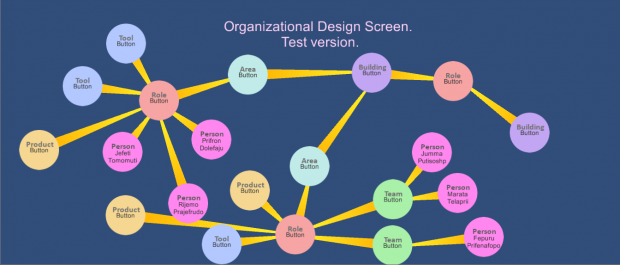 Here is an example of what an organizational system could look like, formed by modules of different types and links between them.

Here is a video showing the basics of the organization design screen, where you can see the basics of the contextual menu system, how to create modules, and links.
Stay tuned for more news on this project!.
Also follow my steam greenlgiht page for update:
Steamcommunity.com

My facebook page:
Facebook.com