Update #28: Analytics
Recently we've been getting mod support ready for Parkasaurus and hopefully will have a test version up on PTR this week.
A few people have asked us about a discount. Our response is that we feel the game is currently on a discount until more content (like a campaign, breeding, ++) is implemented and the price will slightly increase. We have no intention of putting the game on a discount until after 1.0; the main reason being our community who supports us in Early Access deserves the best-priced product for them taking the risk in believing in us. We don't take that lightly.
Blah blah blah, but what is this update about? Alright! Lot's of background work:
This update:
Update:
Mod Preview
We're aiming to have a mod enabled version of Parkasaurus up on PTR very soon. Currently you will be able to add Dinosaurs, People and Buildings. Implementing mods for the game has turned out to be more work than expected – hence you didn't hear from us for a little while. Sorry about that!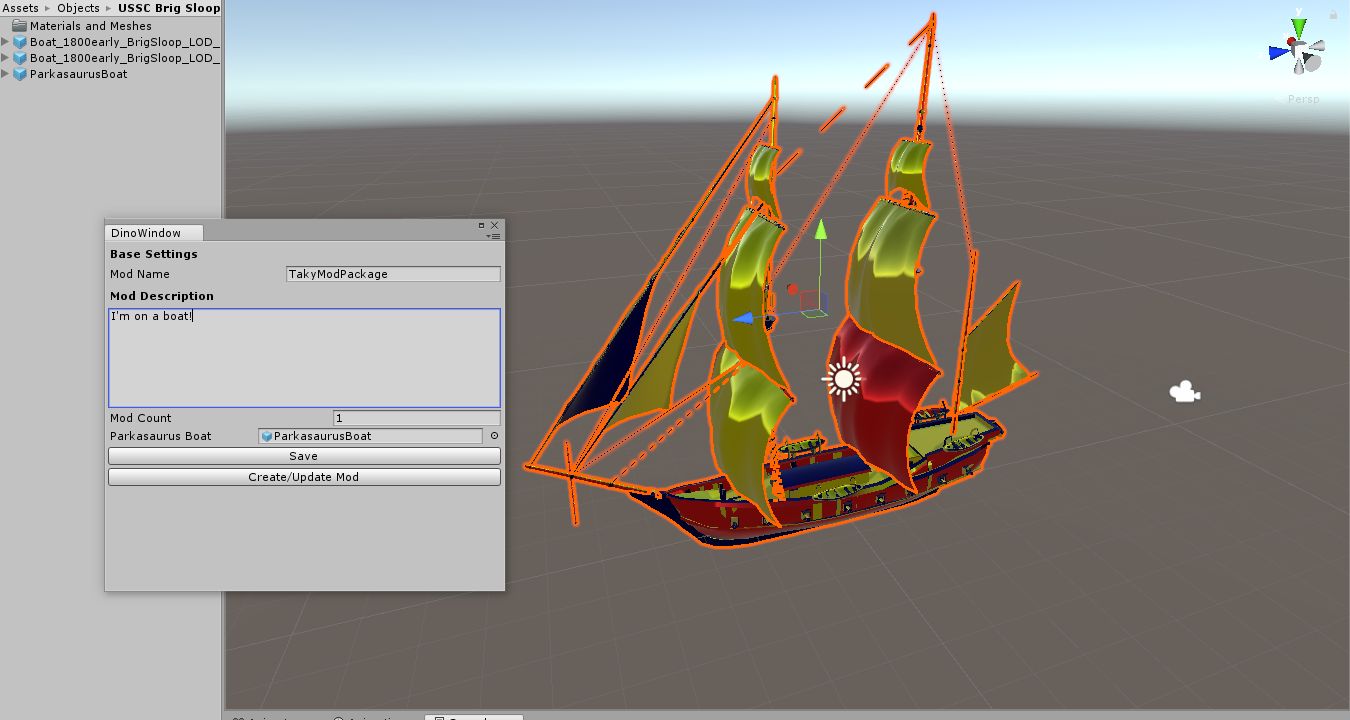 Today I was testing out some free assets from the Unity store and figured "Hey what about a ship that serves fish and chips?". Right? Well just so happens they had a free ship. I added our custom building shader and wham bam we have a ship store in Parkasaurus.
Of course, dinos and people are presenting more of a challenge. Still, we persevere for the community!
Now, to be clear, this is NOT the Parkasaurus style, and I find it quite hum drum… but, a "realistic" dino skin. (where are the feathers?)
Ok ok, I can maybe get a bit more on board for dino party skin.
Now, rocket launchers on an Achelousaurus? GROW UP.
Analytics
This might be less interesting to some, and more interesting to others. Recently more time has been spent looking at the newer systems we've implemented in the game – for example maintaining the energy of your guests. If your guest's energy goes to 0, they leave the park. Seen below, we started to examine, "Ok, should I see a difference between a park with no benches (energy refillers) versus a park with benches"
The top graph shows a histogram of the number of dinos seen by guests depending on if the park as benches or not. The park without benches clearly has a lower distribution of maximum dinos seen, a huge portion maxing at 11. The park with benches has a distribution of higher seen dinos, most notably a lot of guests who saw 13 dinos, then 14, 15 and 16. Great! This indicates the benches are extending the time guests spend at the park by maintaining their energy above 0.
The bottom graph demonstrates the difference between guests who have a total park allotment time of 0.4 vs 0.8, 1.0 being a full day of time. Guests that have 0.4 total park time see no difference between a park with benches or without benches. This indicates to us the limiting factor is not guests running out of energy but rather running out of allocated park time. We will likely be tuning this a bit.
Here we decided to examine a few basic metrics to ensure we didn't have issues with our guests going into idle too often. graph top-left: Shows us the total amount donated by guest depending on the number of dinos they've seen. As you can expect, the more dinos seen the more guests donate. Of course, there seems to be a plateau around 12 that we're looking into. Any ideas? graph top-right: We were worried that guests were chilling (a random idle) too often, but see that the average donated by guests seems fairly consistent regardless of their chill totals. graph bottom-left: We also were worried that doing non-dino activities (like shopping) was consuming too much a guest's allocated park time, and again this was not the case. graph bottom-right: Finally it was interesting to see the actual distribution of chills per guests during their visits. Some guests chilled 26 times? Talk about taking it easy. Anyway, from all of this we're hoping to push the perk system into a more meaningful gameplay experience.
To all the early supporters who have helped us in Early Access thanks again. We have a long journey ahead of us and you motivate us each and every day.
Thanks. Xoxo
Here are a few ways to follow us:
Disclaimer: Any crazy features we write about might change by the Early Access version