December, the good old final month in the year. It's when the weather gets cold, the stores start stocking eggnog, my heating bills shoot up, and of course it's when Santa Claus emerges from his cocoon of meat and amniotic fluid to once again wage his forever-war against mankind. Meanwhile I'm still trying to shake off the last bits of the turkey haze of November, but said is not hazy enough to stop all kinds of important Underspace work from being done.
The goal now is to get demo 1.5 out by the end of the year, obviously it hasn't come with this devlog, as the main thing still missing is the tutorial, but that's written out and nearly scripted out. In the coming weeks I'll be grinding away at finishing said tutorial, as well as going over the demo for bugs. I'll post another update when the new demo is launched and ready.
As always, this is just a taste of the full update, which you can read on our Kickstarter page here:
Graphical Passes & Improvements
You may recall in a previous update I went over creating new assets for nebulas and suns. These weren't fully implemented, and last month I went over all 70 star systems, giving them an updated pass for graphics on stars and clouds.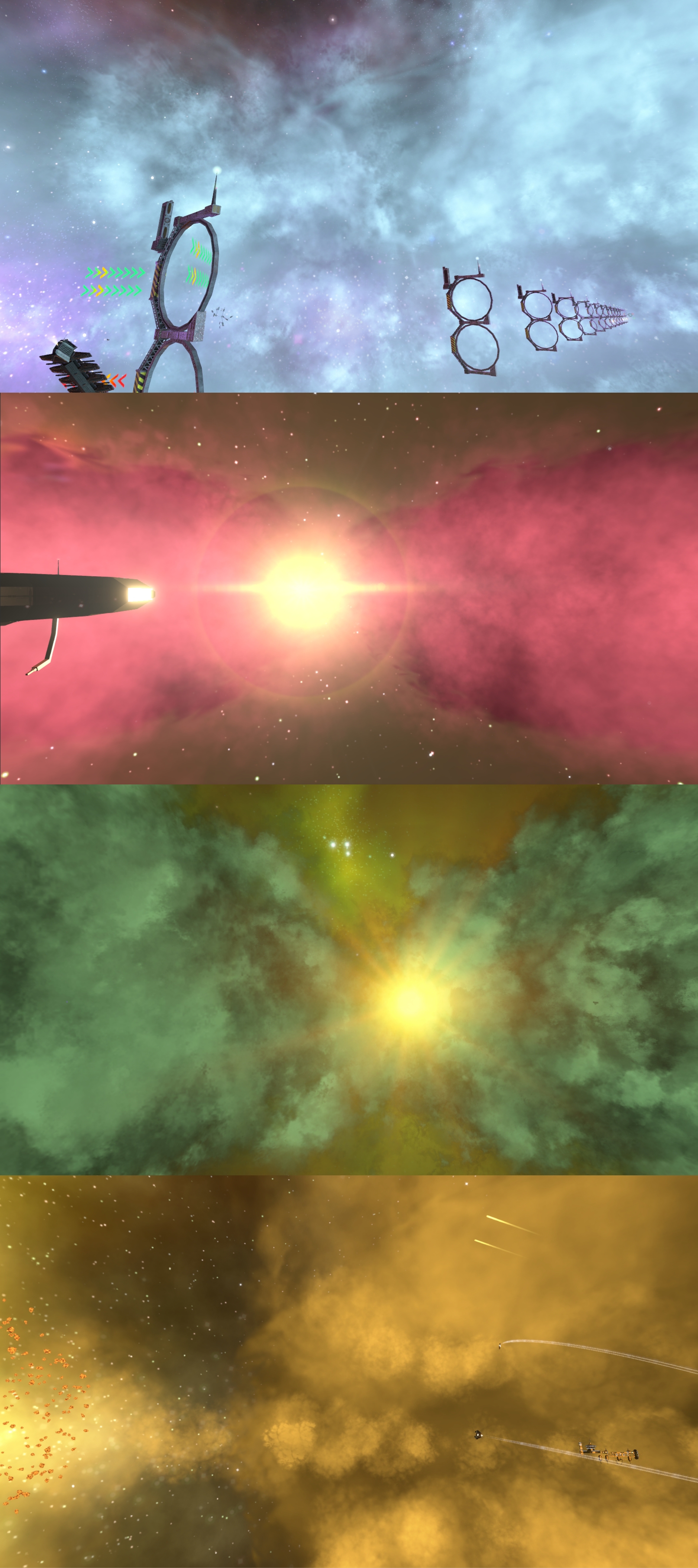 This isn't done yet, as the only real way to get a good sense of what clouds work and what need adjusting can only be done through regular play.
Of course clouds and asteroids aren't the only thing getting a touch-up! Explosions, fire, and everything burny got an overhaul, and both run and look better. Now when fighters and freighters die, or when you launch a missile or mine, they'll look much better.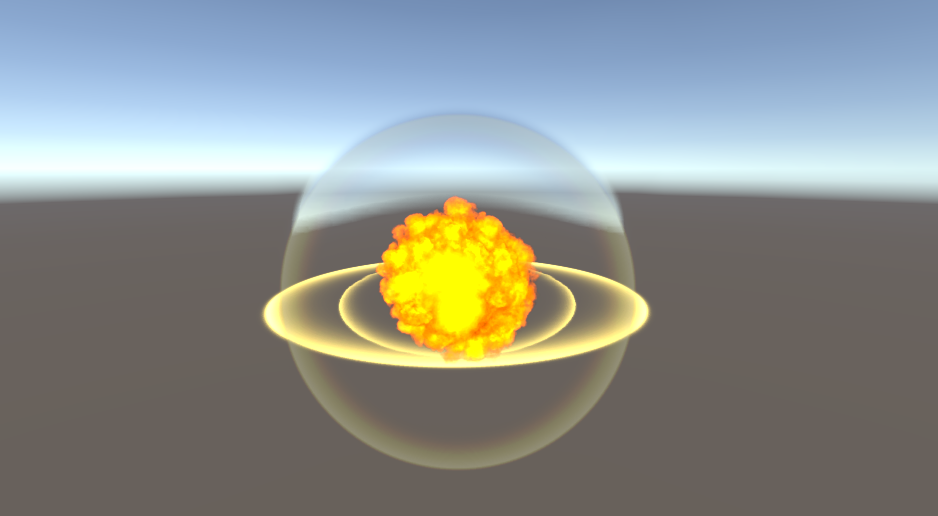 There's also been some other graphical work done, with things like color-grading zones and lights flickering on wreckage (still a WIP, as wreckage assets need to be made from existing ship models).
Asteroid Redos
Perhaps the biggest and most exciting new update is a total overhaul of our asteroid rendering system. Previously this was a major source of performance issues, due to the nature of how Unity renders things combined with how our system works. This is no longer the case, and asteroids run far far better now, with my own computer seeing a 30 FPS increase while in heavy fields.
Because they run so much better, we also took the time to completely overhaul their graphics, making them look much nicer. We also added a few new asteroid types on top of this!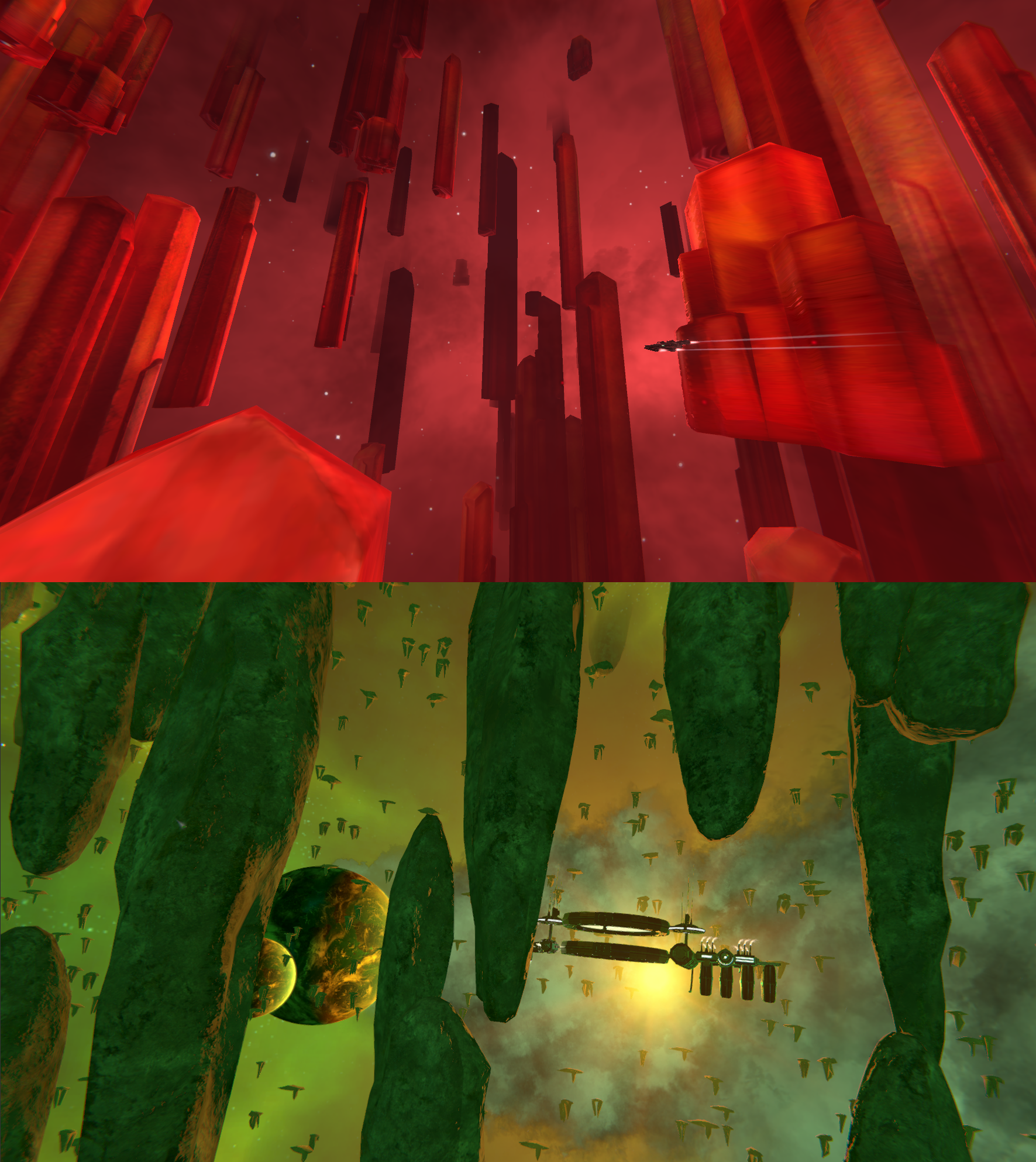 This system's not done yet, as the new asteroid types (and new variants for existing types rather than just replacements) aren't all in yet.
Meta Inventory & Item Changes
Previous all items in the game were tied to your ship's cargo hold, but we've made a new system that has player-specific inventory items.This meta-inventory tends to hold more abstract possessions, or items used in quests and for crafting materials. This change coincides with a change to how looting wrecks work. Wrecks now give damaged equivalents of existing equipment, which have to be repaired with special repair meta-items (gained as rare drops, or through quests, exploration, and bossfights).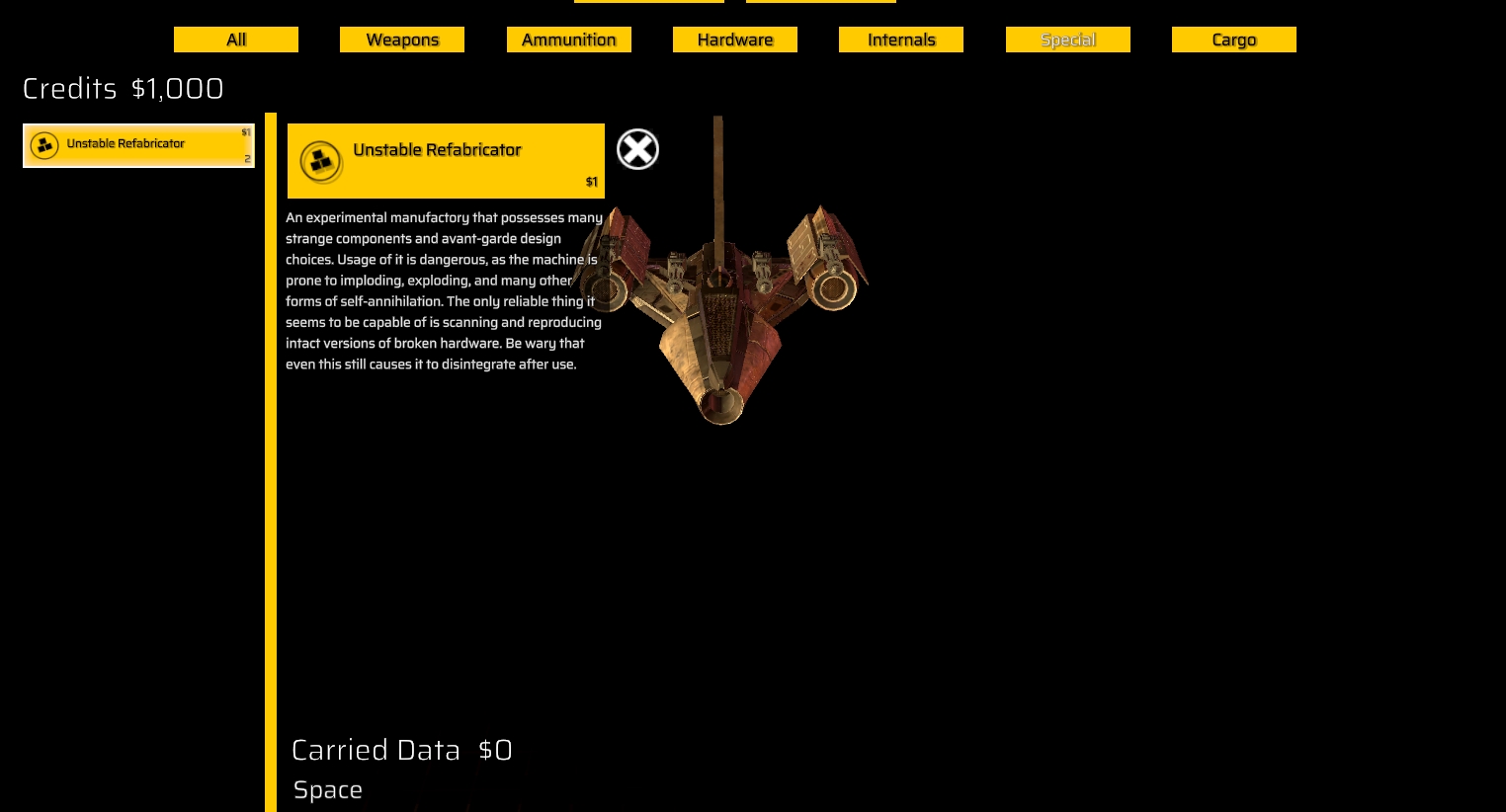 Items also have reputation requirements now too! If you want that shiny new gun from the military, you're going to have to get them to trust you first.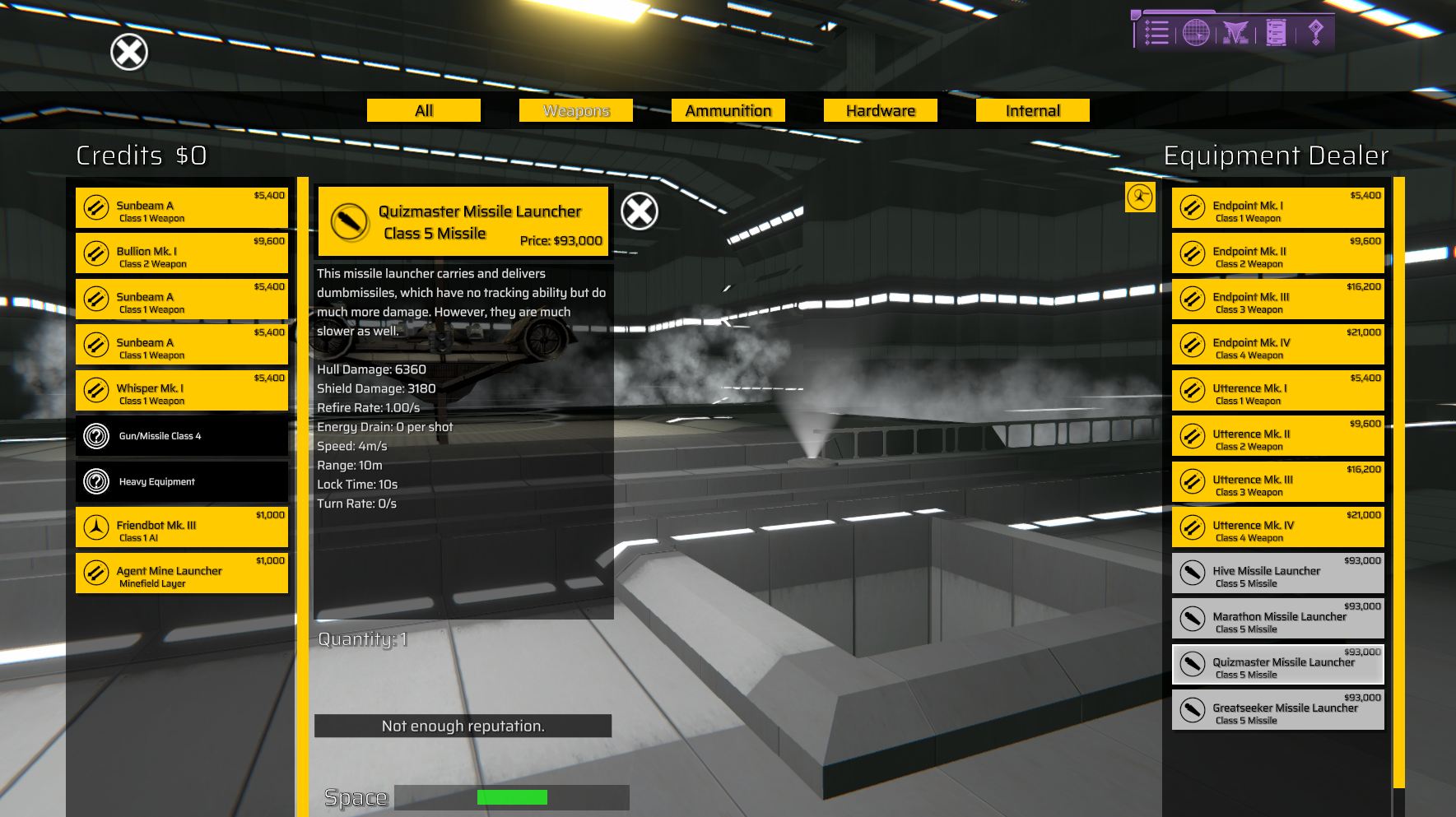 Missiles, Mines, & Countermeasures
Last month I talked briefly about getting mines working. In addition to giving missiles and mines new explosions, NPCs are now able to use them. Unfortunately, they're also able to use them.
Luckily most NPCs also have a limit as to the number of missiles and mines they can use, and all in-game ordnance has all been adjusted for speed, power, clarity, etc. Countermeasures also work properly now, so when you've got thirty million missiles chasing you, you can take some of the heat off you.
Other Content
Ancient space highways, bioluminescent space deer, battleships, new station models, frog… things! And more! As the game edges closer to release this kind of thing (namely actual content) is what you'll start to see more and more of.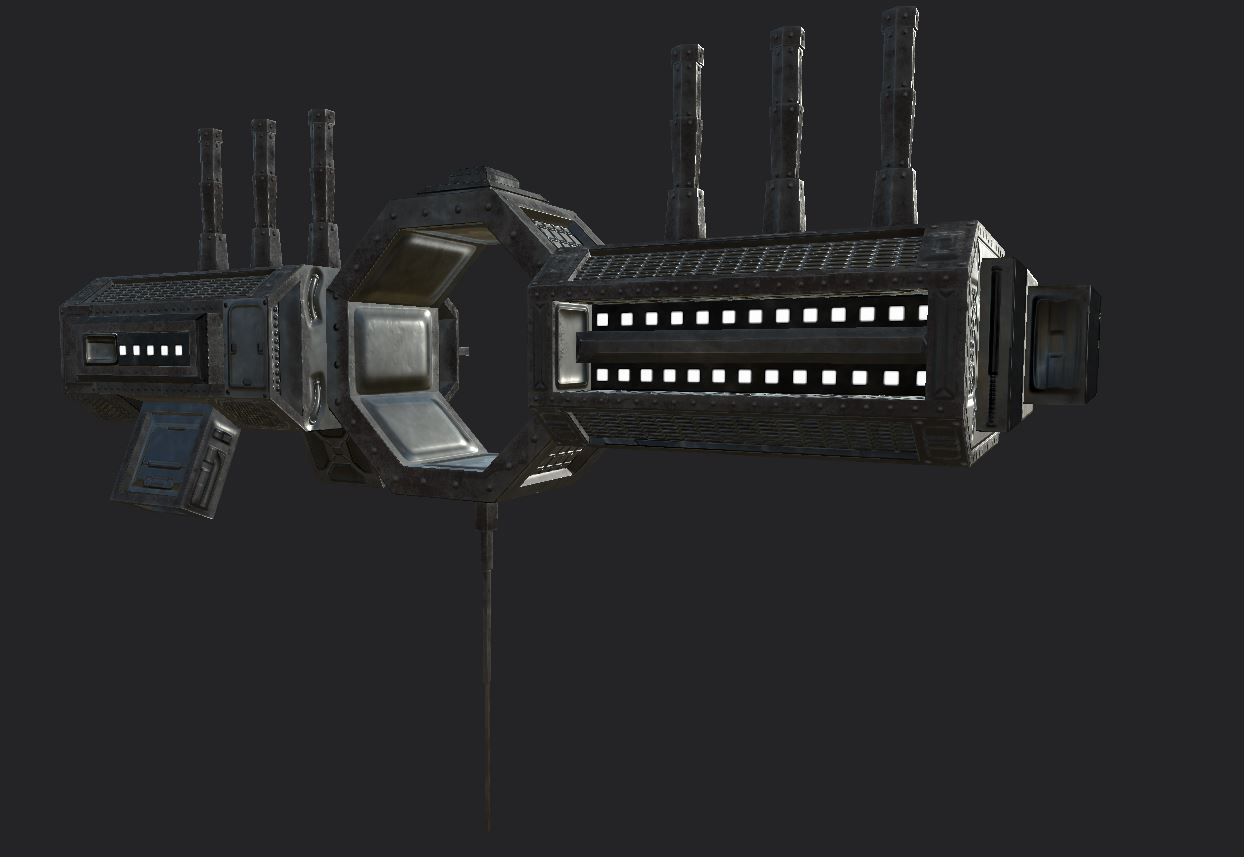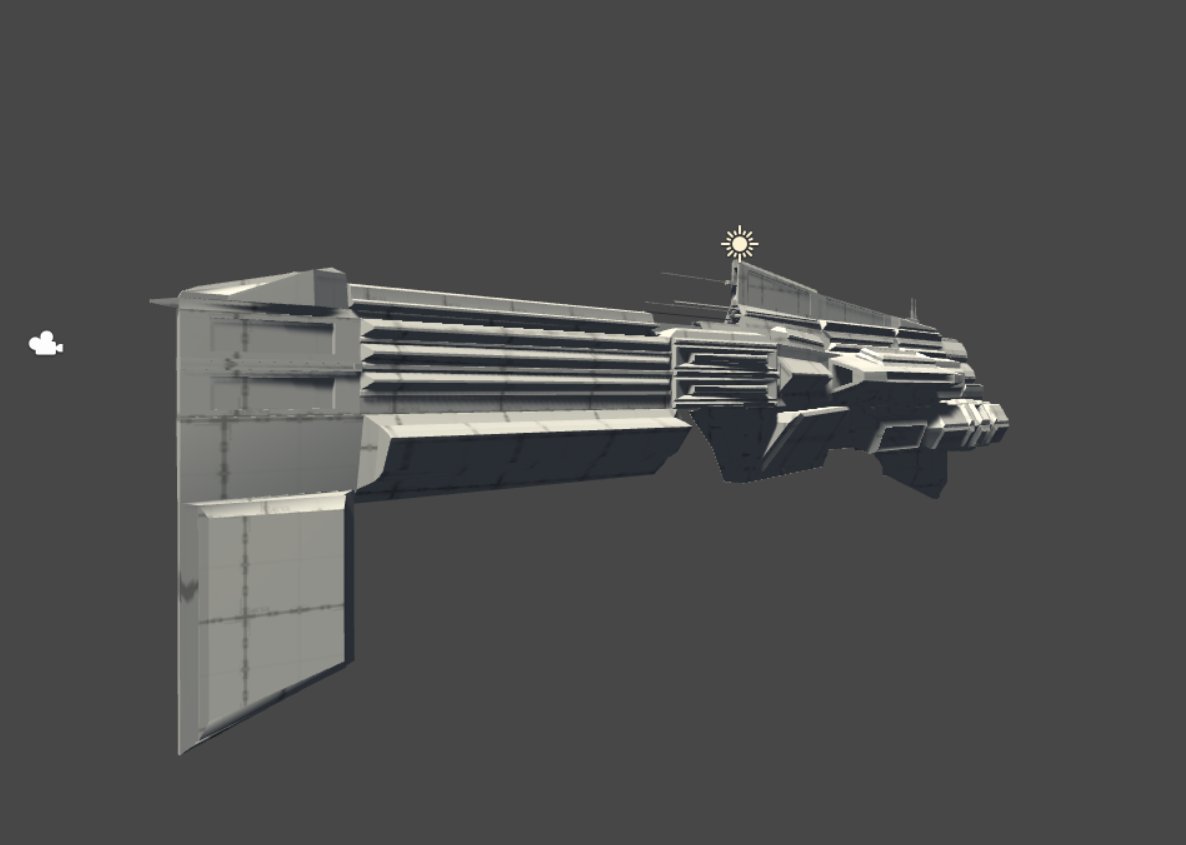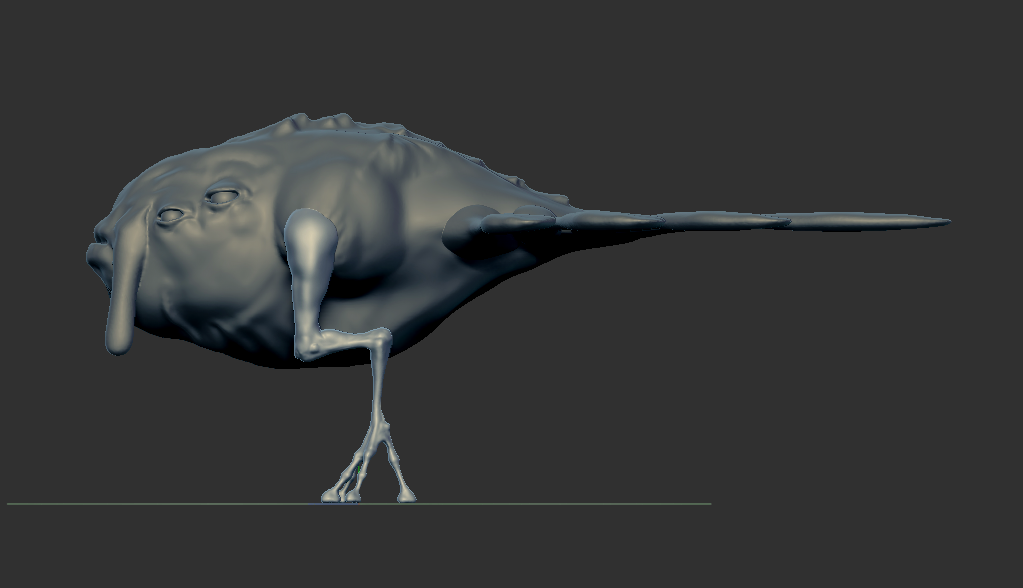 And that's all for this month. As always, take a look at our Kickstarter page for more information and in-depth info! We'll be back next month with another update, and keep an eye out this month for demo 1.5!