Welcome to the first Tides of War devblog! We are kicking off the month with a new devblog covering the changes taking place.
Tides of War - New Name
Lets hit the largest topic first. The name of Letters of Marque has been changed to Tides of War: Letters of Marque.
There are several factors that led to this. First, after several tests we found that the word "marque" was hard to convey correctly. Most testing showed that people tried to search for 'mark', 'marc', or even 'marquee'. Second, we had set the name Letters of Marque as something of a working title and really just never got around to getting a new name since we were rather busy with mechanics and art. Third, we want to grow the game series beyond a single game with a theme that binds several games together, and the current title was not good for that. Fourth, we wanted to do the name change before we reached anything close to an alpha stage where the name would be associated with the product from that point on. After quite a few meetings we voted through many names and finally settled on Tides of War as the major series title and Letters of Marque as the subtitle for the first project that is currently underway. Along with the name change, the domain address, IndieDB link, and other marketing material is being switched over so be sure to update your links to the new versions.
You can check out the new site at:
Along with that comes the NEW LOGO! Look forward to seeing this getting pushed to all of our media outlets in the next week. We look forward to feedback on the new design as well!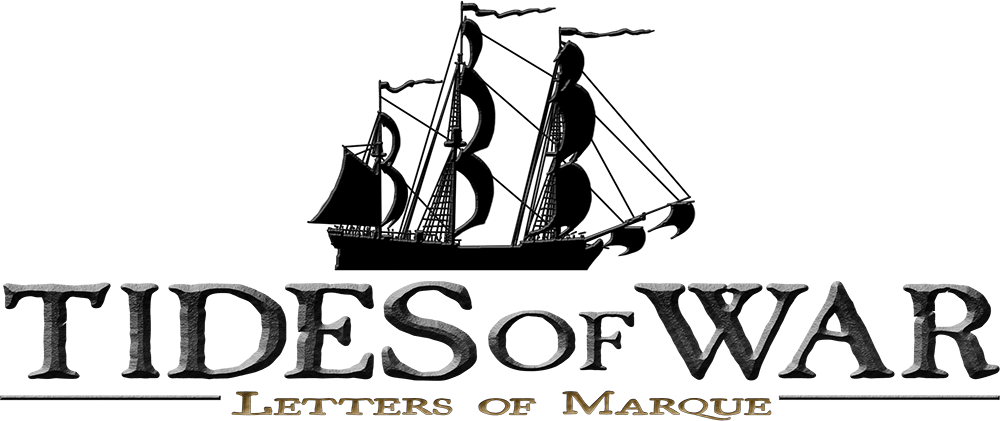 New Model - 14-22 gun Swan Class Sloop
The newest ship is getting built into the game! It is an 18 gun Sloop based on the HMS Fly (1776), a Swan class sloop. Her crew of 125 were packed tight into the 29.4m long hull. With her drawing 2m of draft she was a light and fast cruiser used for convoy duties. The design was used to build 25 vessels from 1766 to 1780. She initially carried 14 x 6lb cannons and 16 swivel guns. Later refits allowed for 16 x 6lb guns and 2 x 12lb carronades. Some models even were upgraded to 4 more carronades on the quarterdeck for a total of 22 guns. Quite the armament for such a small vessel!
New Battle Scene
The first of our new battle scenes is called 'The 5 Islands'.... real original, huh? It is a varied set of small islands with cuts and inlets around the map that allow for a more varied tactical approach to the battles. The new terrain includes houses, trees, rocks, beaches, etc. All the basics needed to create a much more immersive environment to sink and capture each other in.
Better AI
In our quest to be able to get the AI to the point of not being completely useless we have started the process of implementing behavior trees for them. What this means is we can begin to add in many new mechanics that the AI will be able to utilize beyond the current "target, navigate, shoot" they are currently running. As our new levels are created, they are mapped to use navigation meshes that will enable more robust ship movement, including being able to not have them run aground constantly. We look forward to having more engaging battles with the AI ships for those that enjoy single player matches. Combined with new ships and new levels, it will be a great time sinking your enemies!
Updated Wake
A subtle, yet powerful clue to a ships speed is the wake it is leaving behind. The faster they are moving, the larger and longer the wake will be. To that end we have added a new wake to the ships to give a more realistic look to their motion. The new wake modifies the water surface height, adds a change to the normal maps behind the vessel, and even makes new foam trails based on the speed it is moving. So far we are very pleased with the effect and look forward to tweaking it some more to make it even better over the next few weeks.
Wheres my demo build?!?!?!
It is coming, we promise! The ship addition process is getting refined and we expect the newest build to take another week or 2 before it is fully ready. We have a few new systems to get put in (which will be explained in the next devblog) and we want them to be more stable before pushing them out. Until that time you are still welcome to play the current release from our website. Yes, we know it doesn't have the new name, but the new version will! Hope you enjoy the latest info and we hop to see you out on the seas soon!