Hello everyone,
Did you know that Raji: An Ancient Epic is launching on PC, PS4, and the Xbox One the 15th of October? That's less than two weeks now and we're really getting excited!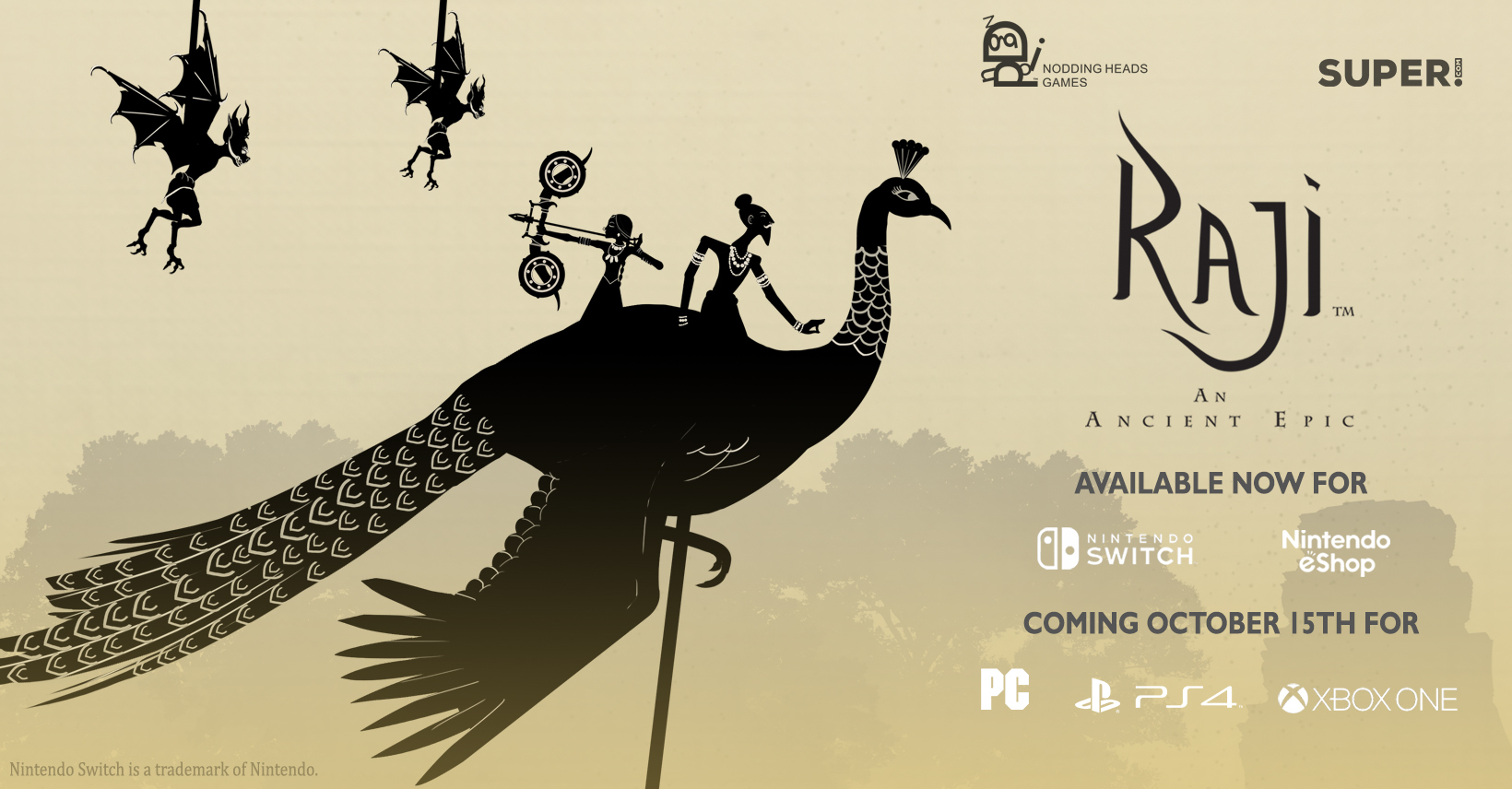 With our launch quickly coming up, we're working hard on the finishing touches for the launch, optimizing what we can and fixing any remaining bugs that exist. In the end, our goal is simple, to have as smooth a launch as possible.
Naturally, we want to share our excitement with everyone in the Raji community and beyond (there are always new people noticing up) between now and the launch, we're giving a special focus specific parts of the game.
First up, we're looking back at the game's development (that's today's post), coming up later next week is a focus on the entire team - including the many dogs that the various members of the team look after, So if you want to get to know more about the team, keep your eyes on us.
Now, without further ado, let's have a look at what the game's development was like!
---
Looking Back at the Game's Development
The journey to this point can only be described as one crazy rollercoaster ride with both euphoric highs and extreme lows. That said, what is important is that we got to this point in the end!
On that point, the first thing that we want to share is a quick look at what the game's development looked like throughout the years. Of course, we've got to give a special tip of the hat to the Nodding Heads Games team dogs, we'll be doing a feature on them quite soon.
---
A History of Development - the Tezabsura
Next up is a special look at the development of the Tezabsura, this particular showcase was put together for two reasons:
We've had a lot of interest in the game's art and have had countless people reaching out to us asking for advice/tips/tricks on how to draw in the style that we do, so it made sense for us to have a showcase of the art.
With the first point in mind, we had to pick something to showcase. The Tezabsura made sense as it is one of the oldest demons in our game. In-fact, the Tezabsura was the first demon that we showcased here (on IndieDB) as we made a special feature video of it.
So, please sit back and enjoy this look at how the initial concept art of the Tezabsura developed overtime.
---
Talking About the Journey so far
To wrap things up, we want to link to you a special article/interview that took place for gamesindustry.biz. The reason for this is because many of you have asked us exactly what it was like working on the game. After all, we've said that we came close to calling off the project in the past, but not much more was said on that matter.
Here's a quick extract to give you a taste of what we talk about there:
Ghosh adds: "Investors [in India] don't understand how a PC or console game is made, how much time and effort goes into it. What they look for is a quick turnover for their investment. Most investors that we spoke to at that time, they always wanted us to finish in six months, to do it episodic. They didn't understand what we wanted to do with the game... It was a struggle to even talk to some of them."

At the end of 2017, Nodding Heads attempted to raise money with a Kickstarter campaign. When that failed to reach its target in time, Ghosh sold her apartment to fund Raji's development for a little longer. Even with that tremendous personal sacrifice, the future of the project remained unclear.

"There was a point where me, Avichal and Ian had a conversation that was, to me, the most difficult conversation we've had," Ghosh recalls. "We set a date, and if we didn't finalise [a deal] by that date... we [agreed to] let the team know to go and find jobs -- and look for jobs ourselves.
Thankfully, we were able to avoid falling off the cliff and the rest is (positive) history. If you are interested in learning more about our journey, do check out the article here.
---
That's it for this first special highlight on the team, we hope that you enjoyed reading it. As we mentioned at the start of this piece, coming up next will be a look at the core team behind Raji: An Ancient Epic, both the humans and the sanity saviors that are the team dogs!
Raji: An Ancient Epic launches on the 15th of October on PC (Steam), PS4, and the Xbox One. If you are a PC user and are interested in the game, please consider wishlisting us if you have not done so already!