Ploxmons DevLog #9
- Player Profile Progress

Hello everyone! A week has passed so it's time for the new Dev Log.
Player Profile work continues
The last week was mainly spent with developing the profile screen of a player, which was teasered in our discord-media channel. This task has been almost completed. Only a few minor tweaks are left to do - especially the part with the user ranking since we didn't decide yet how we wan't to handle rankings / tiers / ... To achieve this, some changes in the database were made to store the players match history as well as how often a specific ploxpower was played. This data was missing until now because we didn't use it in the past.
The following pic is very WIP: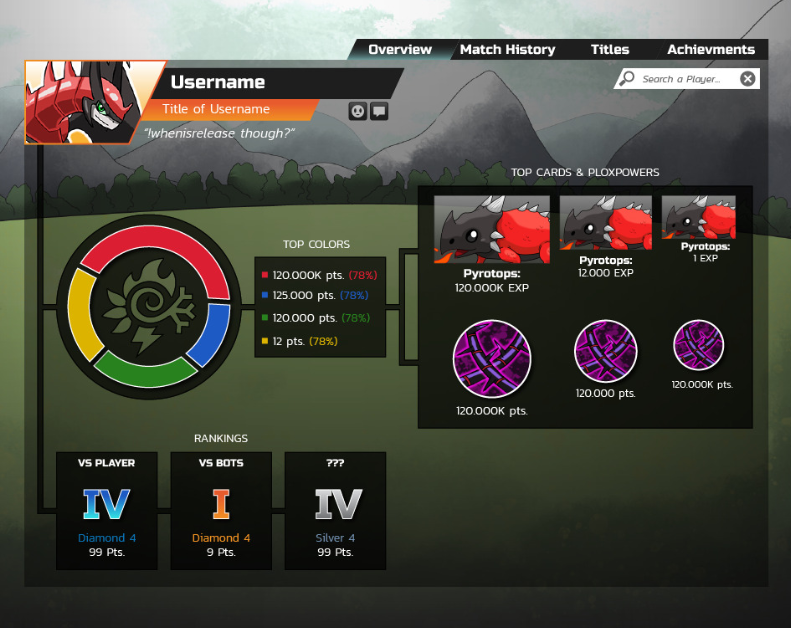 The overview of a profile gives interesting information about the player:
• Most used ploxpowers, colors and monster cards
• Rank of the player in various queues
• avatar, username and title of that player
Over all the profile view is a really nice addition to the game because a user can now review his match history as well as his overall progress / playstyle - which feels really nice. Also we added the possibility to inspect other user profiles. With this possibility to view others progress players can feel a lot more involved into the game now.
What's next?
After finishing the profile section - which should be done in very little time - the next tasks will be most probably more visual additions like tuning the ingame screen to make ability execution more visible and clear. Overall visibility and clearness of the ingame screen needs to be improved a lot - which is one of the big main tasks left to do. All in all the progress has been quite good this week and I am really excited to see this changes live in action at some point :) That's it for the devlog. See you guys in the chat and thanks for staying by!
Community Spotlight

In this video by AniStalBastion, he shows off a deck he built, how matches play out AND he opens some card packs. There's a lot to do in such a small video.
Where to find us

Join us on our Discord community to get even more insights about the project and to chat with us and the plox community! Our Discord members have acces to playtest the game occasionally.
We also have fun mini games there with our very own "PloxBot"!
Follow us on Instagram, Twitter and Facebook
Support us onPatreon!
Website: Ploxmons.com