It's hiiiigh tiime... foor.. an update!

Gosh, it's already been two months since last update. Time flies! But just because there hasn't been any updates, doesn't mean there hasn't been any progress.

Up until about two weeks ago I was mainly focusing on making white box levels, which I've found to be quite tricky to share in a DevLog update, hence the lack of updates. But now! Now, now I've got some new exciting things to share with you all.

Let's start with something that I've been pondering for a while: A high-speed motorcycle chase sequence!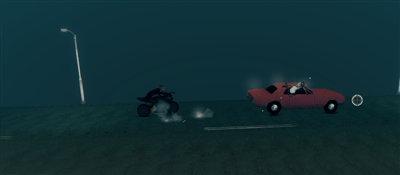 It's still in a very early stage (as with most things currently in this game) but I feel like I've proven that the gameplay is really good fun and totally worth investing the time to polish it up.

The next thing that gets me really excited is this new move I've added to the core mechanics of the game. You can now spin in the "local y-axis of the player" to dodge bullets. Check it out: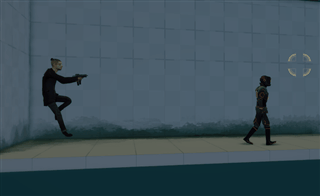 ... Adding this was pretty huge for me since it opened up possibilities of more challenging enemies later on in the game. It also makes you feel like a total bad-ass when pulled off right.

So! After adding the spin-dodge I started sketching out some new heavier looking guards which take a bit more damage and are generally a bit harder to deal with. This is what they currently look like:


The idea is that these guards will be working for whatever will end up being the big bad boss you're fighting in this game. So I thought it could be cool if they could appear in different, more surprising, ways from the other "gangster" enemies. So I started experimenting with having them rappel through glass ceilings: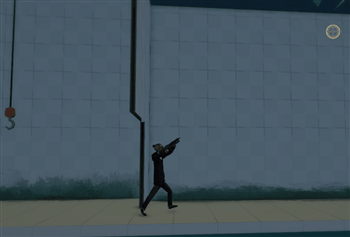 Another little thing I thought could make things interesting is adding some other technology to these guards arsenal. I made these little "shield projectors" which you have to destroy before being able to shoot the guards. I believe placing these shield projectors in interesting places can create some nice gameplay.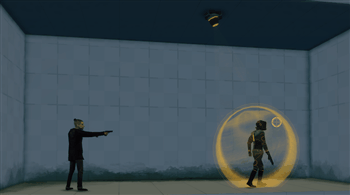 And finally I've done a quick experiment with this "laser-detection-mine" which homes in on you if you're detected.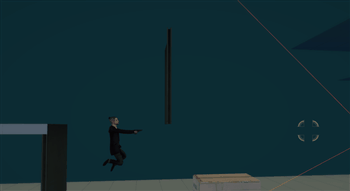 Aside from all of this there has been quite a lot of little tweaks and things going on in various places. There are some new levels and all in all I think there is currently about 1 hour worth of unedited gameplay (that's me speed-running through it). Some of that will probably be scrapped, but there will definitely be loads more to come.

That is all for now. I can't make any promises about when the next update is coming, as per usual. Just trying to keep my head down and stay busy!

So until next time,
Buh-bye!