New Icon by Freepik
Hello guys! A new update is out now and I wanna share with you this video. It shows how C++ performances are incredibly higher compared to Blueprints. This is why i decided to use C++ for this system and i want to keep updating it to support even more Blueprint functions in the future. If you have any advice about Blueprints please let me know in the comments or dm me, I really appriciate and it really helps me improve this content.
This update introduces a new C++ Class ment to spear time and save performance. This new AnimInstance has a custom node and 3 native variables.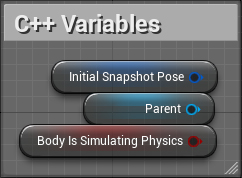 It'll be easy for anyone to update their existent projects by changing the current AnimBP from "AnimInstance" to "AnimCPP_BodyPart", set the new node and change variables in the AnimNodeGraph. Follow this video for detailed instructions:
If you are new or you need more instructions I recently updated the Quick Startup Video to v0.2.1 and it's 10 mins shorter:
To all of you who's financing this project buying it but also people who's simply following, really, really thanks! I received a lot of useful tips and I really hope you're enjoying those features!