Instead of me posting an update for APB the past couple of weekends, we had TruYuri and ChopBam both give you some pretty informative blogs on what we've been looking into, and I ended up doing a recap of the TSR release last week. If you haven't read them, take a look, there's good stuff there.

We've been talking about some rather ambitious plans to overhaul infantry and tank combat for A Path Beyond, which have actually been coming together quite well. I've alluded to being able to hide better with infantry, and ambush passing tanks. I'd like to explain how some of that works, now. A recent change Saberhawk made exposed tanks to the existing damage scaling subsystem, and a proof of concept was made shortly after. We then posted the following video to our ModDB and YouTube pages:
In the above example video, the Heavy Tank is set up to need just over four shots to destroy it. However, the tank has specific weak points. These numbers aren't final and are just there to illustrate the concept, and we're going to be conducting testing to find the right balance to reward ambushes and superior maneuvering/positioning -- without making tank battles end before they can really begin. The areas that take damage on the Heavy Tank are pretty well defined, however, and are about the same for Medium Tanks as well.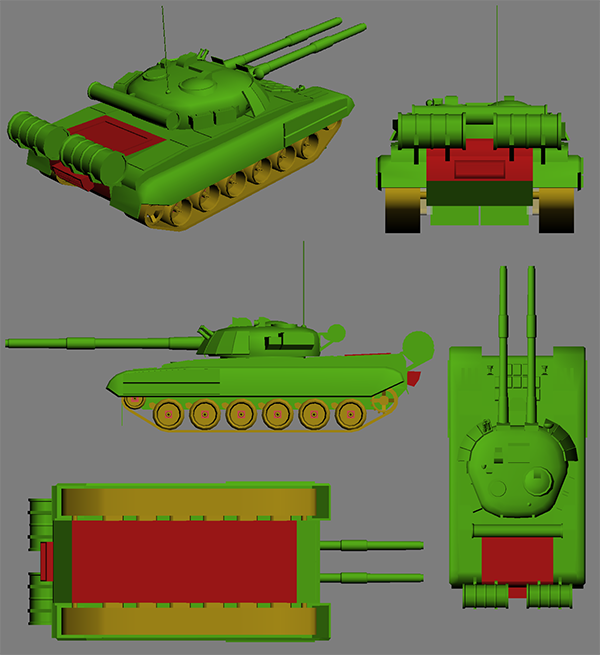 For the demonstration, the damage settings were as follows:
The green area, the main armor, receives 100% damage

The yellow area, the tracks, receives 150% damage

The red area on the top and rear receives 300% damage

The red area on the very bottom also receives 300% damage
The fuel barrels on the back themselves do not have any damage bonus, and actually partially obscure the main weakpoint of the tank. Splash damage is basically unaffected by this, so it does not matter whether your tank has its front or back facing a V2 explosion. This also means that you cannot simply multiply the damage a tank takes from a head-on shot by 3x to find the damage that would be dealt to its back, because some portion of the damage the front took was from splash damage; it will be a little bit less than 3x, therefore, in practice.
Last blog, we showed off the new helicopter refill pads. Bases will often have extra service depots and helicopter refill stations, to help you get ready for your next attack faster instead of spending time waiting in line. Cuddling, who's totally back now and it's awesome to have him around, has also made destruction animations for these. Have a look, they come complete with Cuddling's usual taste in music:
Keep in mind there will be sparks, fire, smoke, sounds, and the works when you see them in-game.So that's news on tanks and buildings, but we've also got some exciting changes that were successfully tested for the infantry aspect of the game. I won't go into it all right now, but hints are fun! If anybody was hoping for snipers to return, there is now a chance for a marksman sort of unit if it fits into the balance scheme well, although the days of "kiting" other soldiers while banging off easy headshots will remain a thing of the past. If anybody was hoping for an end to bunnyhopping as the dominant strategy, you're going to be pleasantly surprised at what we're testing. We'll have more on soldiers next week.