May was all about introducing RPG elements into Lord Of Decay. I'm really excited about this because a lot of the work we started in April is starting to come together.
Script & Lore
In the first week we took a break from implementing game features and bug fixes to write more about the world's lore, factions, locations, regions, actors and their motivations, plot and key events.
We also divided the story into three Acts i.e. ACT I, ACT II and ACT III and we've started building ACT I which takes place on a yet to be named island.
It was important to take time to write the story as it allows us to finalise the number of on non-playing characters, enemies characters, music, dialogue, cut scenes, locations, etc. which puts us in a better position to determine how much money we need to pay contractors.
The level design will remain be quite open, but the storytelling will remain reasonably linear. What I mean by that is that there will be no choice/consequence or multiple endings in the game.
As much as we would love to add these features we have to be realistic that we are only a small team.
A New World
The snowy demo level has served us well, but the time has come to throw it out and start building the levels that will appear in the final product. Hooray!
Armed with a new script and storyline we were able to start mapping out and building the island in ACT I.
This island will have a variety of different types of vegetation and grasses and bushes that blend seamlessly over all types of terrain e.g. mountains, beaches, swamps, forests, etc
These types of terrain are defined by altitude and weather conditions. For example, you will find snow-covered ground and leafless vegetation at higher altitudes and green leafy vegetation at lower altitudes.
Palm trees will of course be found on beaches and vegetation will be different again in wetlands and swampy areas.
We've increased the size of the play area to approximately 2km x 2km. That's 4x bigger than the demo level and we will be streaming in realtime without any loading screens.
ACT II and ACT III are expected to be larger again.
These are some test images Scott has produced with GAIA and are not a fair representation of the final product. Still some work to do.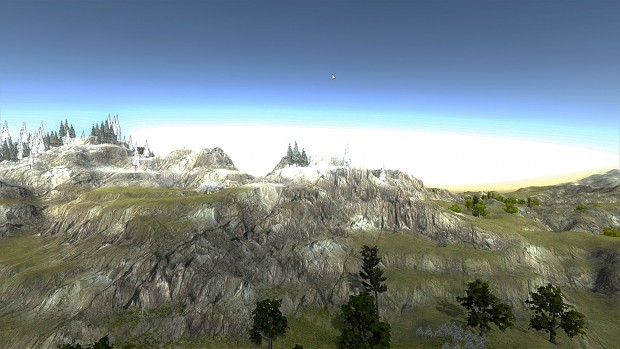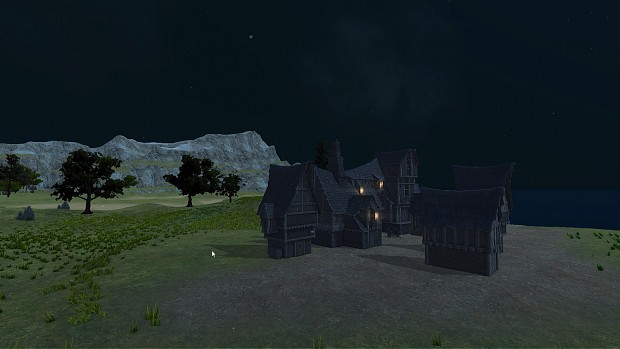 Moisture is the Essence of Wetness
We had a frozen pond in the demo which made sense in the snowy environment, but the new environment call fro real water. In the next build you will find streams, lakes and oceans that show realtime reflections and respond to the weather. For example lakes and oceans will be calm in blue skies, but will change to an angry swell in stormy conditions.
There are even some nice features like shoreline details, splashes when characters are walking in the shallows and boats and debris will bob on the waves as you would expect.
Again, these are some test images and are not a fair representation of the final product.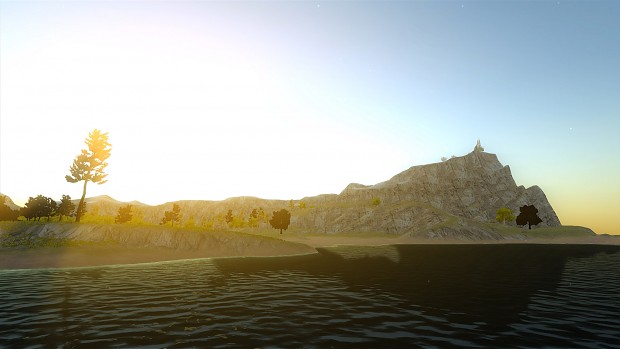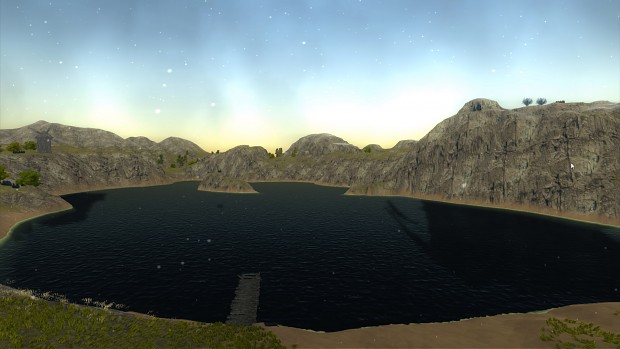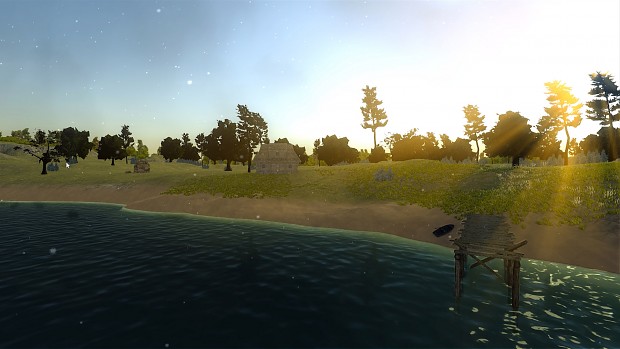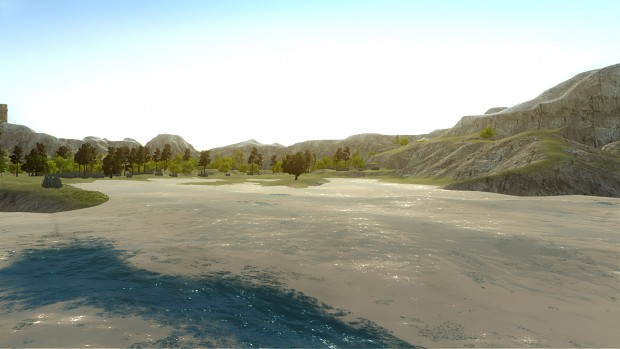 Notes & Books
We've added literature to the game so you can learn about the lore of the world and gain insight into current events by reading books and letter scattered around the world.
Reading literature can also open quests.
Literature comes in the form of either one page notes or a book.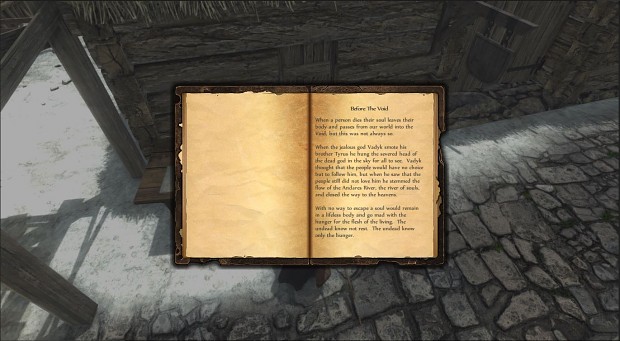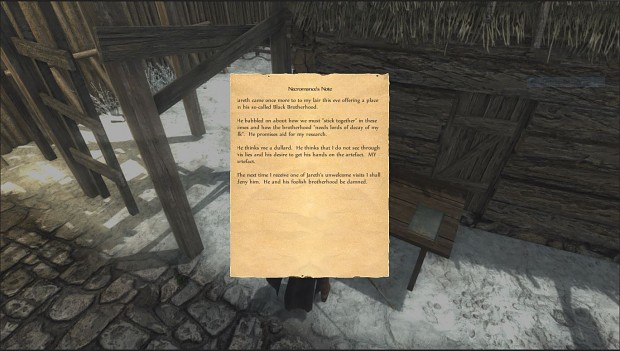 Dialogue
It is now possible to talk to NPCs and dialogue is a great way to learn about the world and the people who live in it.
We're using a Hub Dialogue system similar to Mass Effect or Dragon Age that you can use to investigate further if you so choose as well as progress with main quests and side quests.
At this stage there is no plan to support branching dialogue or choices/consequence through dialogue. However, we're looking at ways to make conversations in Lord Of Decay different and worthwhile.
Here is a test of speaking with Jareth in the Necropolis who is the Grand Magister of the Black Brotherhood.
Note: The user interface art and font will change in a future update.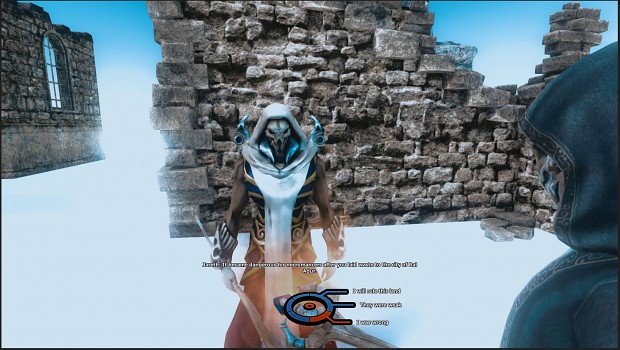 You will notice the Necropolis looks pretty bare right now because we have not decided on where it is exactly.
More on that later.
Quests
I spent a lot time researching and designing the new Quest System which defines types of quests, quest issuers, rewards and how it relates to the dialogue system and the literature system.
You can see already that a lot of systems feed into the quest system. We have gone out of our way to design interesting quests that require you to interact with people and the game world so that it has some meaning and is not just a shopping list.
As with most RPGs there will be main quests that you are required to complete before you can advance the story as well as optional side quests.
You can receive quests from reading a book, entering a location, talking to NPCs and other ways that I won't go into here.
Quests are composed of one or more tasks that must all be completed before the quest can be considered complete.
The "Open Level" nature of the game allows you to explore and complete quests in any order you choose and let's you piece the story together as you meet certain milestones.
That wraps it up for another update.
Don't forget to vote for the location and style of the Necropolis here
You can follow us on Twitter or Facebook for all the latest news, pictures and updates.
You can get involved in the discussion on the Forum.
Watch the latest dev videos and technology demos on YouTube
Thanks for the support
Damian
Sandbox D7 Team