Greetings and salutations!
This week's screenshot shows the page-image that corresponds to the lore-entry icon shown as last week's main screenshot: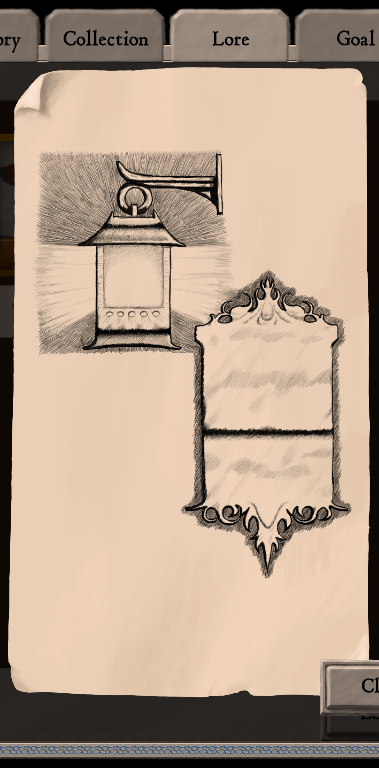 The week just past was a bit of a slow one--but I did hit a major milestone, I believe!
As indicated in the title, I believe that the content for the demo now entirely complete! There's testing to be done, and I still want to re-read one lore-entry for editing and perhaps make one or two minor code-changes, but otherwise I believe that everything is in!
With that point reached, and aside from the changes just mentioned, I intend to start in on making new screenshots, videos, and the like, gearing up towards the release of the demo.
This is an exciting and somewhat-nervous time! 0_0
(Although once again, I'm currently waiting for the release of the next version of the Panda3D engine before building the demo, so I still don't have a release date, I'm afraid!)
Of the specific changes made in the week just past, most were fairly minor elements of polish, I think--moving an object slightly, fixing bugs, and so on. Only three seem worth mentioning here:
First is the page-image shown above. The lore-entry in question is a bit of history regarding the place of brass in the city of Tenereth (the location of level two). The image thus displays some its use: a shining lantern, and a decorative mirror.
Second is that, with help from the Panda3D forum, I improved (I hope!) the game's logging of messages, warnings, and errors. Where the editor simply prints these to the console for me to view, the full game should now write all of them to a log file. Should users encounter issues with the game, such a log may be very useful in figuring out where those problems lie!
And third, in the level-editor it's now possible for me to toggle whether bounding-shapes are shown for in-game objects. Such shapes are rather useful when editing--they show which object has been selected, and give me an idea of how big it is. However, they can also sometimes get in the way of taking screenshots and recording videos--hence the ability now to turn them off.
As to my "wandering visual-novel" side-project, that continues to make slow progress--it seems that completion of the tile-editor is further off than I'd thought! Most recently, I added support for "decor" objects--non-interactive objects that add some variety and detail to environments; things like carpets, lamps, and so on. There's more to be done on this feature, but I'm happy with it thus far!
That then is all for this week--stay well, and thank you for reading! ^_^