We're Crunching Koalas - a new indie game development studio run by three promising developers: Tomasz Tomaszewski, Łukasz Juszczyk, Krzysztof Lesiecki and supported by casual games industry veterans: Konrad Olesiewicz and Maciej Biedrzycki, founders of Codeminion and creators of many games, such as Saqqarah or Phantasmat.
Our mission is to deliver fulfilling experiences, by patiently crafting cheerful digital entertainment for all those, who need a break.
What does it mean? It means, we don't want to waste your time – we want our games to be short, packed with rememberable content and designed for everyone who's willing to spend their spare time on playing games.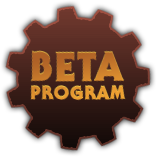 We would like to invite everyone to our Beta Program, available for Windows, Mac and Linux users, through our blog : Crunchingkoalas.com
Our Beta Program will enable everyone to play, test and send feedback on very early versions of our games, for free.
Everyone who actively participates in the Beta Program will be mentioned in the final game credits and will hopefully have an impact on the look and feel of the final game.
We're also planning on rewarding the most committed Beta Program members with full versions of our games and discount coupons.