Hey everyone, Ian here, game designer and artist for Crimson Keep. Over the last week we've made some strides with the player UI and a new area of the game, the crypt, as well as setting up enemy progression.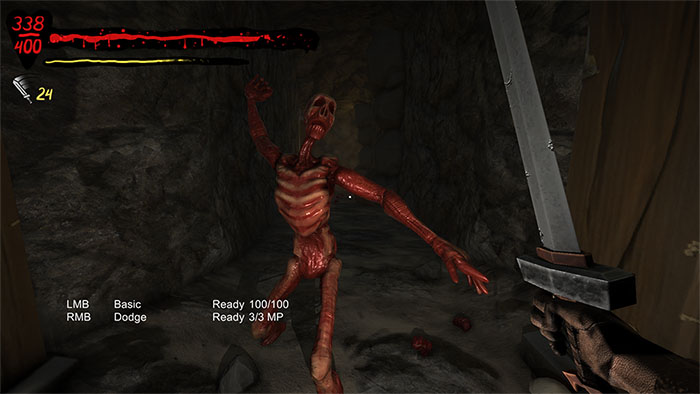 After a couple publishers showed interest in playing the game, we felt it was time again to introduce a little more polish into the look and feel of the game. User interface tends to be a big part of this. Although the art I made for the interface is far from finished, it sets the mood better than plain white text with the Arial font did. There's still a lot of work to do with UI, but I think we've taken some good first steps.
Getting the game setup so that we can place monsters of varying difficulties in each subsequent area of the game, and balancing their stats with the player's is an important task. So over the last couple weeks Ben got the game hooked up so it knows how far into the game each area is, and can spawn different monsters depending on that. In the end we really want to avoid just doing basic reskins with different stats, fortunately there is a lot of things that can be tuned: attack speed, attack range, turn speed, charge stun/snare power/duration, personal buffs, and a lot more. We aim to have around unique enemies in each tileset, with their own strengths, weaknesses, and abilities. The plan is to have 9 levels of the dungeon, with 7 distinct tilesets.
Thanks for your continued interest and support for our game! Stay tuned for more articles in the coming weeks. Please feel free to offer up any questions or comments you might have about the game, we're always looking for more feedback.