Hello, everyone

TL;DR - Wishlist Cold Shell on Steam > Cold Shell Steam page :)

I keep on the development and it's just about time to write a new progress log here. And wow - it's devlog #25. Don't know if it's good or bad, really. I (try to) do lots of stuff in the game, but the number of the devlogs is growing fast. I'm pretty much sure at that point, that some people be like "oh c'mon, just finish the game already, i wanna play, not read stuff". Welp, anyways, i'll stick to the articles for the time being.

First off for this article - soda vending. It's pretty common and can be found both on the streets and in the offices.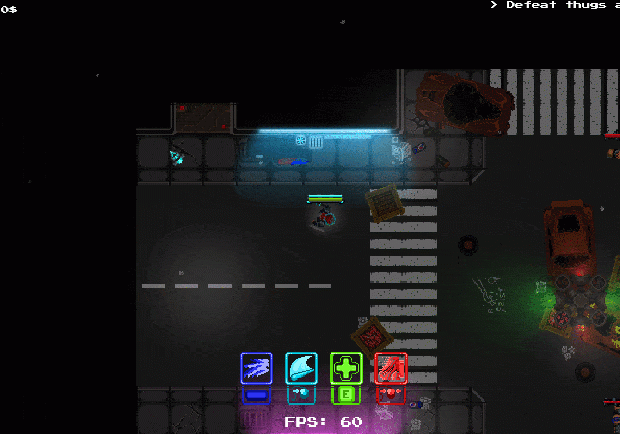 If damaged during a battle it will spit some soda cans before going offline.

One of the offices' (act 2) missions is to eliminate some corrupt top managers of rival corporations.

When you encounter them, they will run off and lock up in their cabinets. You can easily track them by a money trail they leave behind fleeing.

One of the missions on the streets (act 1) is to take down thugs gangs. Waves of enemies spawn inside of buildings. Sometimes, on some rare ocasions, the enemies AI goes blank and they stuck inside, failing to find the player.

So, i've decided to remove a part of the ceiling when enemies spawn. So, even if the enemy will bug inside, you will be able to see it and take appropriate battle measures.

One of the player's room idle animations was updated.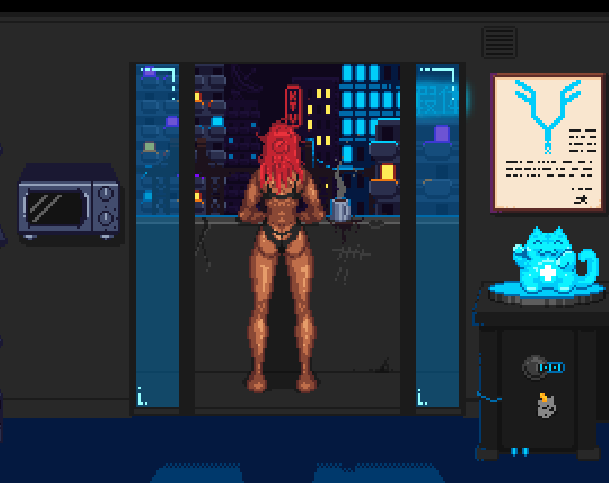 It has no functional impact. But exists to give a little more to the overall cyberpunk feeling to the game.

Lastly, the new office enemy, the corp trooper guard guy, now has an arena version.

Agent cybersmith - has tons of HP and creates his clones during the battle. Quantity over quality for this battle. This (arena 4) battle is secondary, and not needed to complete the game, so it's not as easy, and the enemy is rather powerful. But if you choose to complete it, you'll get a new room customization option.
That's it for now, will keep you updated on how it goes on!
Wishlist Cold Shell on Steam > Cold Shell Steam page :)
Thank you for reading it all the way here. It means a lot to me.