Conclusion of the event
The first event in 3x64 is over with 19 participants (including me as Satik64 :) ). The event lasted 3 weeks, but the first place was clearly defined within the first minutes of the release by our great fan inż. Compman. The badge 'Christmas 2019 Champion' belongs to him with the incredible score of 6354 points.

Also congratulations to the 6 players who achieved rewards in the form of Christmas skins for the threat blocks!
What will happen next?
During the event, we were working on an upcoming update 1.2 with many new features. In the game menu you might have already noticed an upcoming Simple mode with just the basic match-3 mechanic, which was highly requested by our players in Poznań and Prague sessions.
Another big feature will be replays - the whole session will be saved alongside your high score in the leaderboards, and you will have a chance to view replays of another players. The replay feature is already partly implemented, but there is still a lot of work left.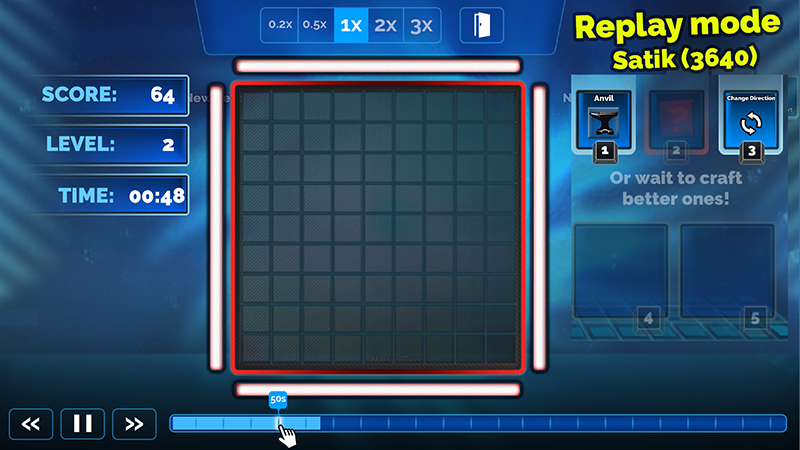 Concept of replays
There is much more planned for the 1.2 update, but some features will be announced later - the easiest way to be notified of all upcoming features is following our Twitter or Facebook, where you can often find some work-in-progress material :)
Minor updates
During the event we have been releasing some small changes and bug fixes, here is a summary of these updates to the base game, since the Christmas event is already finished :)
Improved menu UI text effects
Enabled antialiasing
Added multiple game mode support
Fixed wrong threat blocks spawning
Fixed changing volume during the game
Fixed broken Color TNT when falling on a Color Block
Fixed The Collector achievement, which worked only after activating another powerup after collecting all kinds