[Description]
Today is the first installment to the trailing of the mini-dev logs I plan on producing. This way content is easier to digest and retain. In today's mini-dev log I'll be going over the new implementations designed in the growth system.
[Overview]
After tons of research it turns out that 80% of the animals in the sea - the females are bigger than the males, to my 'wow' factor I never realized this so I took this as a challenge to do something unique in the game. I've already got the basis of Sexual Dimorphism built into the growth system! What this means is the server-side growth system knows the difference between male and females with custom settings files that server owners can adjust (they can make males bigger, etc if they really want).
But by default the growth system acknowledges these differences, so not only do the females get bigger, but it also dynamically adjusts the mass over time, so it's not just an illusion of 'getting bigger' it's actually adjusting the physics system with it, their speeds change, their weight changes, hunger, (thirst and air for mammals) are already implemented and adjust based on the gender and species type an so forth.
[Sexual Dimorphism Chart]
The image below is showing the differences in sizes and characteristics are below. The female shark grown to the size of the popular "Deep Blue" female shark vs the size of a male great white shark. This is the default size constraints I will be keeping for the time being.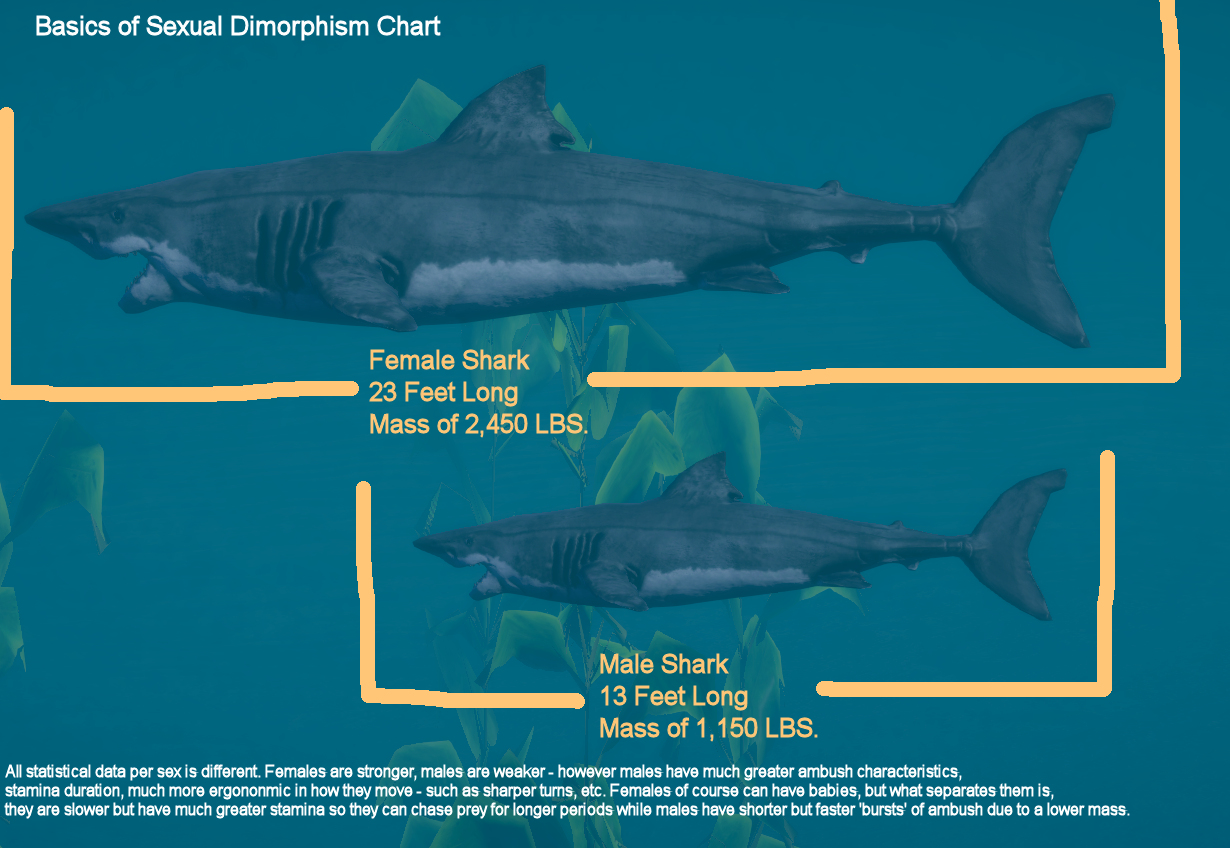 Everything is reflected in the dimorphism system - the mass, speed, ambush speeds are independently different between the two genders, despite being the same exact species.
[Ending Message]
Thank you everyone, I really hope you all enjoyed this read, it was really fun to make and I hope you had fun reading the cool content coming your way when the game is released! If you have any questions, comments or anything else at all please feel free to ask in the comments!
Thank you, David.