Happy Halloween everyone! Without anymore hesitation I'll crack on with the update!
---
House Atreides Remote & Timed Explosives
We've been busy working finishing off the House Atreides weapons and the most recent two are the Remote and Timed explosives. These charges are only properly effective against building Main Frames.
The remote explosive works very straight forward, you throw it with left click and detonate it with the right click. The timed explosive is thrown with the left click and explodes after 30 seconds of being placed.
Model and texture by Venom775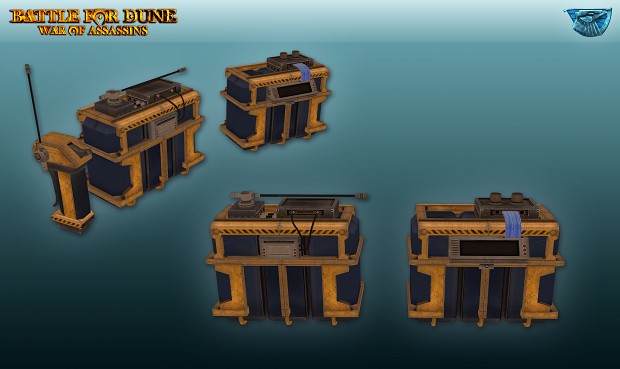 ---
Carryall Demo
triattack has been hard at work reworking our new Carryall & Harvester logic. Our old Harvester script was fairly clunky and didn't really work how we wanted it, so triattack has remade it to be more flexibly and more to how we need it.
Here's a video showing off how it basically works.
---
House Atreides Interiors
We have also been busy with House Atreides building interiors. A nice set of basement tiles have been put together, courtesy of Venom775. He has been creating and keeping a very nice style for the Atreides, which is shown in the video below!
---
House Ordos Not Making the Cut!
Now, some sad news. As you may guess from the above title, House Ordos are not making it into first release. Now this was seriously not an easy choice to make, seeing as it's one of the 3 major Houses in the game.
This decision was heavily based on the fact that they are the most under finished House, we have been working on this game for long enough without more setbacks and we've really like to give this House as much attention and care as we have given the other two.
This isn't to say they are cut completely. We are going to get them in the game via a patch or the 2nd main release, so DON'T PANIC! We just feel that we can still make a good first release with the force from the Atreides and Harkonnen fighting it out. Ordos will come in soon enough after, in the true glory they deserve.
Sorry for those House Ordos fans out there, but please keep the faith until their return!
---
Folding Space
Well this is the end of this blog's journey. Be sure to keep following us here, on our site, Facebook and Twitter!