Hello, Jukka here. This time I'll explain a bit about process of creating a teaser and why we even wanted to have a teaser.
We are currently working our way towards alpha. With each step in development, we are also trying to reach more audience. As a young and still pretty much unknown dev team, we need to employ as many means as possible to make Interplanetary and ourselves known out there, unless we want to count everything on people finding us through Steam Greenlight. This is not that reliable strategy because of the sheer amount of other games that go there. Trailers are of course very, very widely used in games and movies, so a we knew we'd be making at least one at some point.
The Nordic Games Conference was looming in the horizon when we decided on making a teaser, which we could show around. Though some of us aren't exactly fans of teasers, since the information they give usually isn't much and doesn't even necessarily include actual gameplay... But, as the name suggest, it's supposed to tease the viewer to see if we manage to pique their interest or at least when they bump into it in the future, they'd recognize us or the game. Also it's short, so it's quite easy to show it around to people in person.
The Idea
So by the time we first wanted to have the teaser we had something of a playable prototype, but its purpose was to test some of the game mechanics and most of all, familiarize the crew with Unity. So it wasn't really something we wanted to feature on a video. Instead we decided to focus on artwork and try to tell something about the setting and the mood of the game.
Romeo & Juliet
So we sat down to think up ideas... And then pretty much jumped the first train which felt interesting: The prologue of Romeo & Juliet:

"Two planets, both alike in potency, In distant cosmos, where we lay our scene, From ancient greed break to a mutiny, Where great arms, shake the grounds apart."
So obviously, we made some modifications to it (here's the original) and it was only the first few lines we wanted anyways. It kinda fitted and we hoped to get that "I see what you did there"-effect when someone would recognize the source material... We even got someone to record the lines in genuine British accent.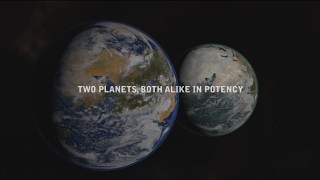 The pacing made it feel much longer than 30 seconds.
NGC
So comes the deadline along with Nordic Games Conference and the teaser is finished. We had planned to have the teaser running at the Kavio Cluster's booth we shared with our fellow dev teams, but in the end, we didn't have a big display or sound, so Niklas showed it around on a tablet. After he got back we had "post-mortem" about the event and the feedback we got and concluded the teaser didn't really do what we wanted... Turned out nobody really made the connection to Shakespeare and so it just felt like a poetic narration and the whole shooting-at-planets-thing didn't quite fit, even in any particularly funny way.
Revision
So, when the first version of the teaser didn't work, we sat down again to come up with a new plan. We wanted to use the existing material as much as we could and still we wanted to tell something about the setting, so we came up with the idea of following a railgun shot as it flies through space, towards its target.
Execution
My main tools for the job were Photoshop, Blender, After Effects and Premiere. After Effects I hadn't used before and there's still much to Blender and 3D-modeling for me to learn. For both versions I made a storyboard of some kind. For the first version, I animated some sketches and transitions in Photoshop. Although it gave a good idea on how things would look in the final product, I should have used more time on the sketches themselves. I ended up using more time on animating their movement than on the actual images. So for the second version I stuck with more traditional storyboard and instead put more thought on what I needed from the material that I would need to create still.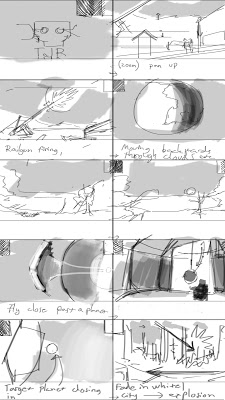 Storyboard for the second version
It is still very rough so if it's not you who's doing the editing/material I suggest you put a bit more effort into making it clearer for outside viewers.
Images
I'm not yet a very fast artist, so I often find having to remind myself not to get stuck in one image for too long. I've been also watching the videos from FZD-school channel on Youtube, and one point that Feng Zhu often makes in his videos, is to keep in mind what is the selling point - the most important part of the image - and make sure that that part is well defined and presented. So, since I didn't have the time I needed to go through the images and make everything detailed, I tried focused my efforts on just certain parts. This also made sense because a single image wouldn't be shown so long that the viewer could explore every part of it.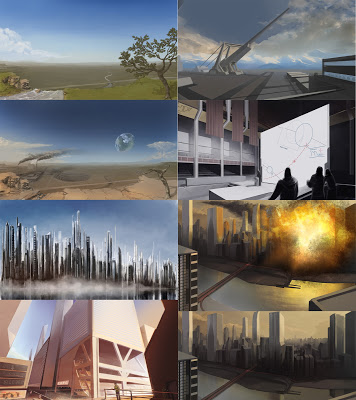 All the images used in the teasers. Only half ended up in the final version.While working on the second version Tarita, our artist, suggested we add a bit more life to the images by adding some animation in them. I hadn't planned for this to start with, so it meant a little extra work, but we figured it was worth it. I went through each image sliced them to layers, adding some extra where I needed. Most of the animations I did in Photoshop, except the final image with the city and explosion. It had so many bits and pieces that After Effects was easier to work with than Photoshop CS4's pretty clunky animation system.
Will it Blend?
3D is not exactly my main proficiency, but thankfully, planets are not the hardest thing ever to model, although, if anyone knows a good way of avoiding texture distortion at the poles of a sphere in Blender, I'm all ears! There isn't much I can say about making the 3D material, except that rendering the it as separate images, and using After Effects to turn them into actual video, was a life saver. It was mostly due to me forgetting to adjust some setting or noticing something in the middle of an animation that I didn't like, but having to render the whole animation again would cost me so much time since my work computer cannot handle Blender rendering and working in Photoshop at the same time.
An added bonus was that I could render just the planet on a transparent background and add the background in premiere and adjust it however I wanted.
Music
Although we can find a way to do pretty much anything we want on our own, sometimes it's just better and faster to rely on other professionals. And concerning the music, we were fortunate to come across Vince Parrish, who agreed on making the music for the teaser and even the game itself.

And that's it, the story of creating a teaser. After we reach the alpha, we are also planning on finally getting some gameplay footage out there. So, look forward to it!
Check our website for more info on our rocking team and projects!