Released on Sept 19th around the time of the famous FB storm area 51 event was announced.
The basic version of the game with raiders storming the areas trying to breach their defenses and save the aliens was released. Prestige system added with the skill tree as well.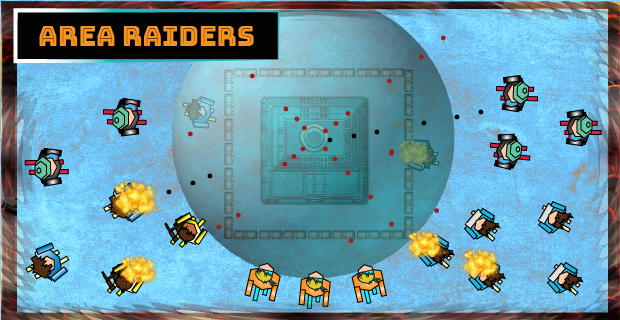 Development in October
Our first game expansion plans were soon implemented on Area Raiders. After fixing the most urgent bugs and adding some improvements on top, we started building up more skills by integrating a new convert feature (sacrifice rescued aliens for new skills), adding Quality of life stuff (like OCD buttons), progression scalings, …
Started to work on the bigger update with goals/ missions and new mini-game feature.


Dev in November
Released 1st major game content update – new world (arctic) released
New feature Unlocks released where players can now overwhelm more and more government secret bases, reveal secrets and discover that Nevada is not the only place where they hide many secrets!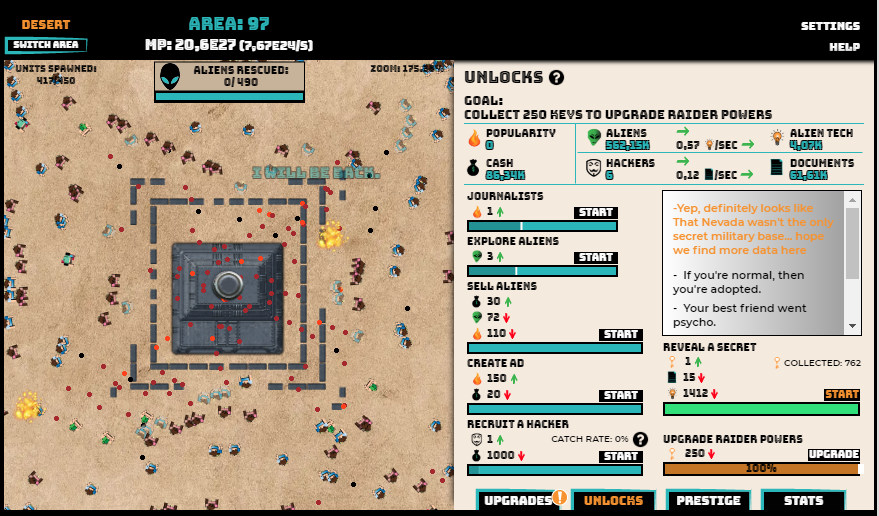 Massive game performance optimizations were done during that month:


Use of quad-trees and spatial maps for performant collision detection
Optimized object rendering that will help the game run much more smoothly
Some rebalances of unit MP gains, as there was a bug that allowed for essentially infinite gains (any users that "reached it", will also get a game popup about this, and suggestion to rebalance their game state)
Regenerating energy shield in Arctic Area, where a unit is immune to each area, that will have you focus more on attacking power of your units to destroy them in time
The addition of a second area has separate prestige points to skill conversion prices, AND a ton more aliens to save. This will help you gain many more skill points.
More stats added and prettified display of them
Option to reset your skills at any time added! Play around with different builds!
Details of unit gain multipliers added on Hover info in upgrades
Notifications on unlocks (when you complete missions)
Some mobile-friendly adjustments added
…and we added Time Machine and UFOs update on top of all previous updates.
That included:
a) Content additions/ changes:
- UFO spaceships added to the raiding part of the game (hmm… might they be carrying some boosters!?)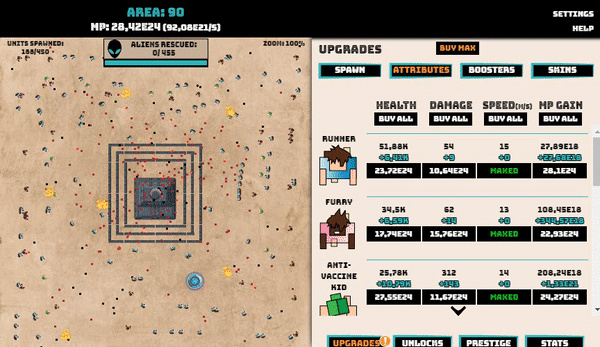 - Time-machine created and added into Upgrades -> Boosters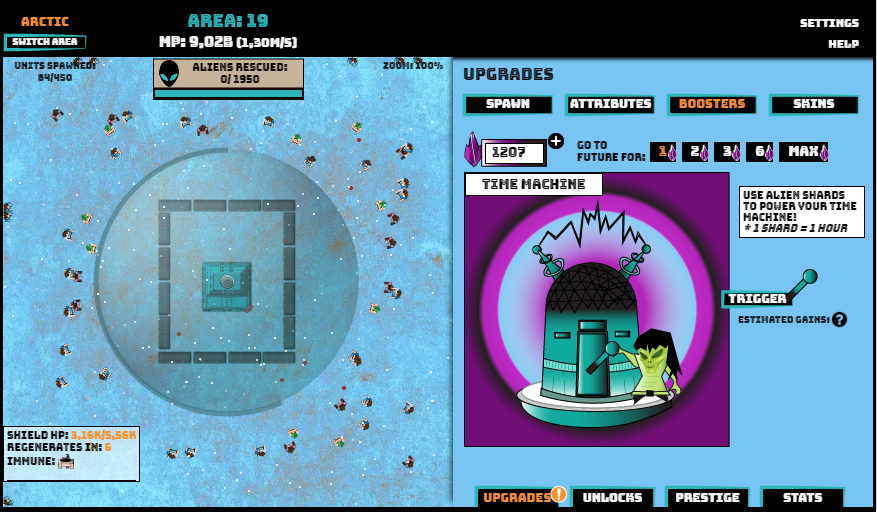 b) UI changes:
completely new UI with side-menu integrated– so you can freely catch the ufo without a need to close the popup at first
Upgrade section now showing actual difference buying will do instead of absolute new number
zoom indicator added to the map
c) Progression changes:
initial prices of all raiders reduced by half
initial cost of first skill reduced from 10 to 1 Prestige Point
price reduction in MP gain, prestige skills
d) Other:
online saving added
a bunch of bugs and display issues fixed
some additional performance optimizations were done
pretty much all sounds reduced in volume as they were quite annoying
Focus in December
We didn't stop just on those updates, as we still have tons of stuff to prepare and add it to the game in the following weeks/ months ahead. Let's not reveal too much today, as we'll try to update you guys here every now and then when we find some time to write about the updates.

But just in short:
- we are working on adding cool new content
- improving the UX, UI, progression and adding some smart tutorials where needed to make the game more friendly for a first-time player
- we're about to publish the game on new platforms
- ?? lots more…

-Area Raiders Team
____________________________

You can PLAY the game here:
Area Raiders - Kongregate
or on our fresh/ new site (play without ads):
Area Raiders - Official


Feel free to follow our social media channels (we just started with, so you're going to be one of the first :)
Facebook- Area Raiders
Twitter-AreaRaidersGame

Join us on Chat:
Discord Invitation